Girl faints on Bangkok street, wakes up in hospital with 300K missing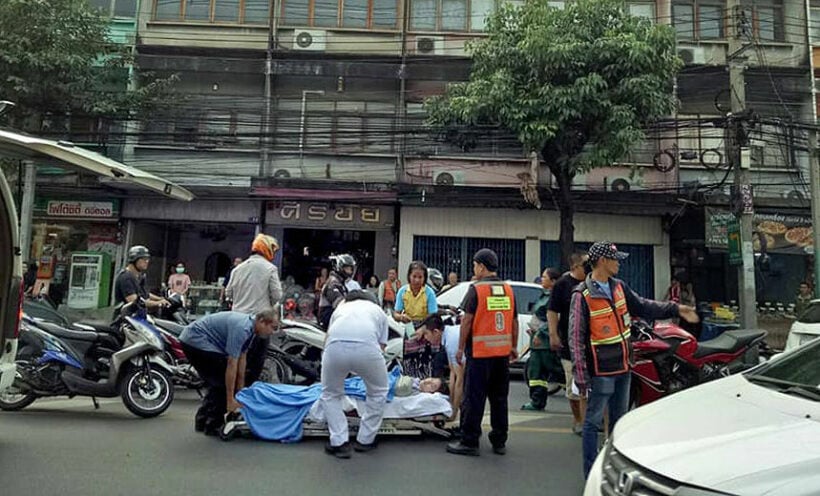 A Facebook User 'โรจน์ โชว์รูม' posted online calling for help. He relates the story that at 4.30pm on Itsaraphap Road on Monday "my girlfriend had just withdrawn 320,000 baht from a bank".
"She fainted on the road and when she regained consciousness the brown envelope with cash inside was gone. If anyone saw what happened, please contact me at 0971415777."
The post also includes CCTV footage showing the girl fainting in the middle of the road. Passersby ran to her aid and a small crowd gathered around her. Some people helped her and organised her delivery to a nearby hospital.
"But when she woke up on the hospital bed, she asked if anyone saw a brown envelope but it turns out someone did see it and the same person might have taken it."
The victim is 3 months pregnant and she lost consciousness as she was walking back from the Phran Nok Market in the Bang Chang Lo district of Bangkok, on the west banks of the Chao Phraya. She is also engaged. The bride to be says she remembered dropping her bag.
"The money was for the wedding and my child."
The boyfriend stated in the post that he was saving up for the wedding. 200,000 baht was a gift to the bride's parents at the wedding, and 100,000 baht was for purchasing things for the wedding. He says he hopes that a good citizen will return the money.
"The wedding won't be cancelled as the wedding invitations have been delivered to all the guests."
He says that if the money is lost forever then he plans to apply for a bank loan for the wedding set on November 23 .
SOURCE: Thai Residents | Facebook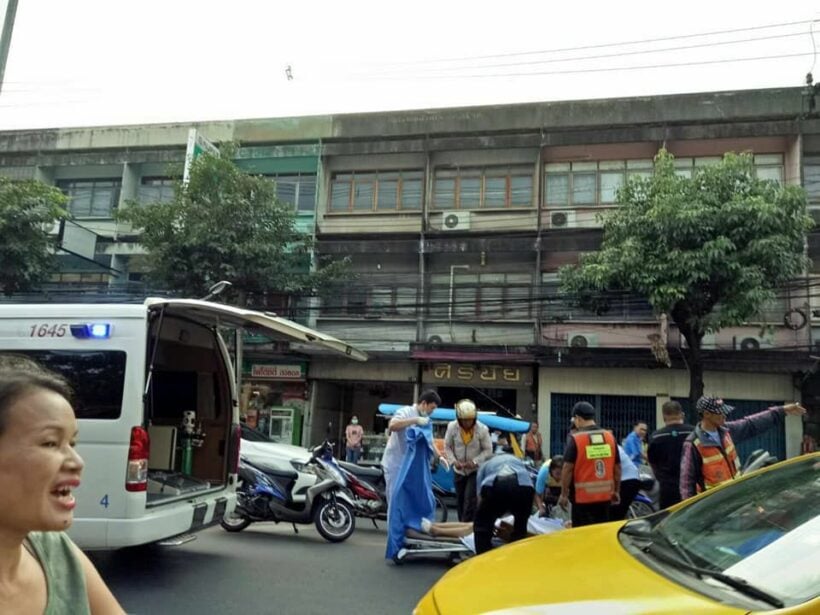 Keep in contact with The Thaiger by following our
Facebook page
.
Lucky racer blames oil slick in Ferrari crash in Samut Prakan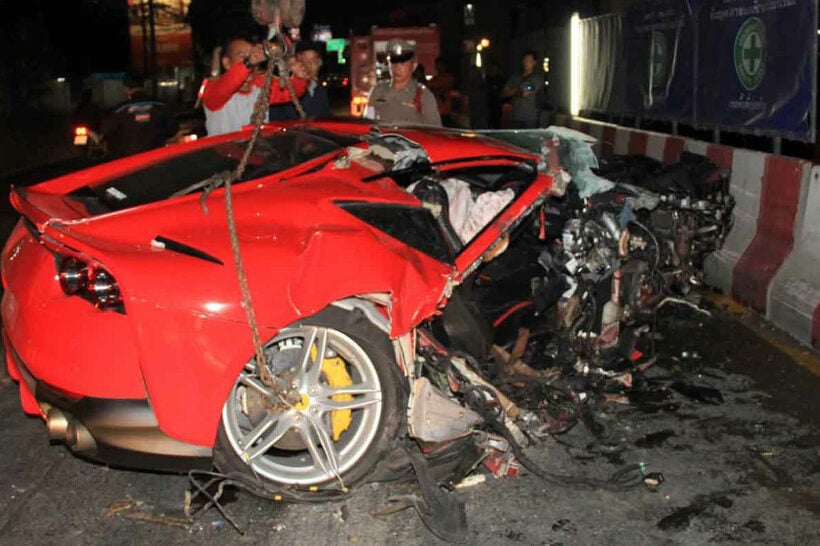 PHOTO: Sutthiwit Chayutworakan
A beverage maker and auto racer, and his actress passenger, have escaped with only minor injuries after his Ferrari crashed in Samut Prakan, just south of the capital. The vehicle hit a concrete barrier at a monorail construction site and the front of the red car was almost completely destroyed.
36 year old Sarawut Sereetoranakul was trapped in his seat inside the totalled Ferrari, with a broken right leg. Rescue workers used hydraulic 'jaws' to extract him. Looking at the photo, the two occupants were lucky to survive.
Sereetoranakul is the managing director of JS Asia Beverage Company, and races professionally for the PSC Motorsport team. His passenger was 25 year old actress Sananthachat Thanapatpisal, aka. Fon Hormones, who suffered slight chest pains as a result of the crash. They were taken to a nearby hospital and later referred elsewhere.
Sereetoranakul told police that it felt like the vehicle slid on an oil patch, causing him to lose control and plough into the concrete barrier in the middle of the road. Police are checking local CCTV and investigating the accident.
SOURCE: Bangkok Post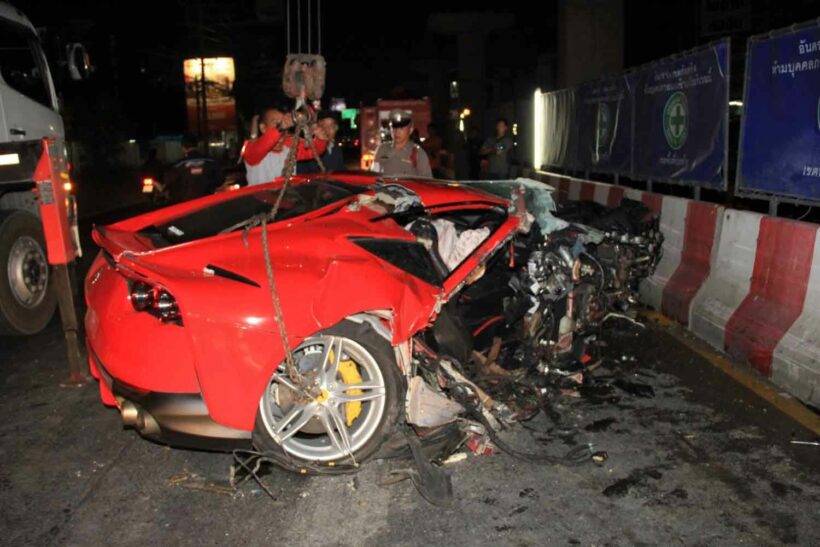 Keep in contact with The Thaiger by following our
Facebook page
.
Officials carry out spot-checks on silly-season gift baskets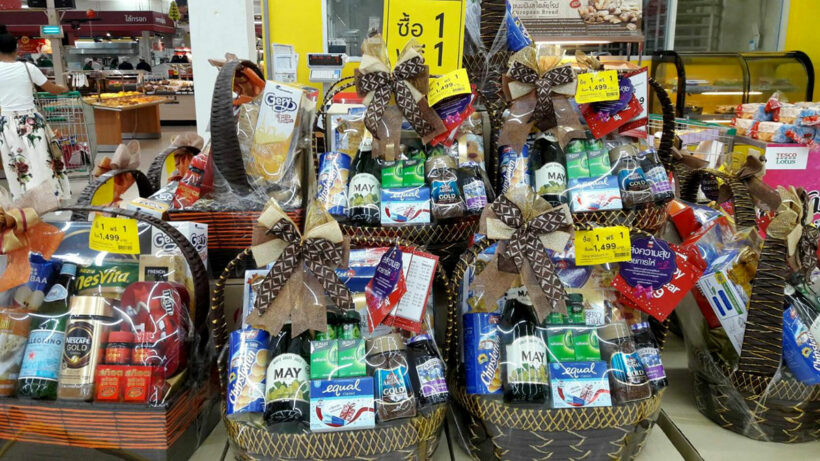 PHOTO: 77jowo.com
You're only weeks away from receiving a few of those plastic-wrapped and ribboned baskets of unwanted goodies for the silly season – but do you wonder what's inside most of them?
Now officials are making a list and checking it twice… Officials in Bangkok are out and about checking those prized Christmas and New Year gift baskets to make sure nobody ends up feeling a bit cheated.
The Nation reports that officials from Department of Health, Ministry of Public Health, accompanied by Deputy Bangkok Governor Sophon Pisuthiwong, visited a selection of shops around the capital this week to make sure their Christmas and New Year's gift baskets are legally compliant.
Sophon says their intention in carrying out the checks is to ensure people don't end up receiving inferior or even out-of-date products and that retailers are transparent about the cost of items in the baskets. The gist of the suspicions is that retailers put one or two items of value at the top of the basket, pack it full of surplus and out-of-date stock, and then scrunched up paper at the bottom to make it look full.
"The Bangkok Metropolitan Administration is committed to protecting consumers against low quality or expired products that some retailers may try to bundle in the gift baskets. Retailers are also required to display the list of each item in the basket along with their prices to let customers know what they are buying and that each of them is priced correctly."
Deputy Bangkok Governor Sophon also stresses the importance of supplying products with more longevity, saying they must display an expiration or best before date and that fruit and vegetable baskets should not be prepared more than 3 days in advance of sale.
"According to Food Act BE 2522, packages of all food products must display expiration or best before date, or manufacturers will be fined a maximum of 30,000 baht. To apply this law to gift baskets, we require the sellers to put only products that expire after January 31 in the baskets and must allow consumers to return the products until February 29 in case they are not satisfied with product's quality."
"As for fruit and vegetable baskets, we advise retailers to prepare the baskets not more than 3 days in advance of the selling date to ensure freshness of the produce."
Finally, Sophon reminds retailers that gift baskets containing alcohol cannot be displayed in store or even in brochures. He says doing so would contravene Article 30 of the Alcoholic Beverage Control Act and could lead to an 11,000 baht fine and/or up to six years in prison.
The checking of New Year gift baskets is part of a wider campaign being run by the Bangkok Metropolitan Administration in conjunction with 32 department stores and retailers, focusing on price and quality control of the baskets. The campaign also seeks to promote the use of more environmentally-friendly materials, such as leaves and paper instead of the usual foam and plastic.
SOURCE: The Nation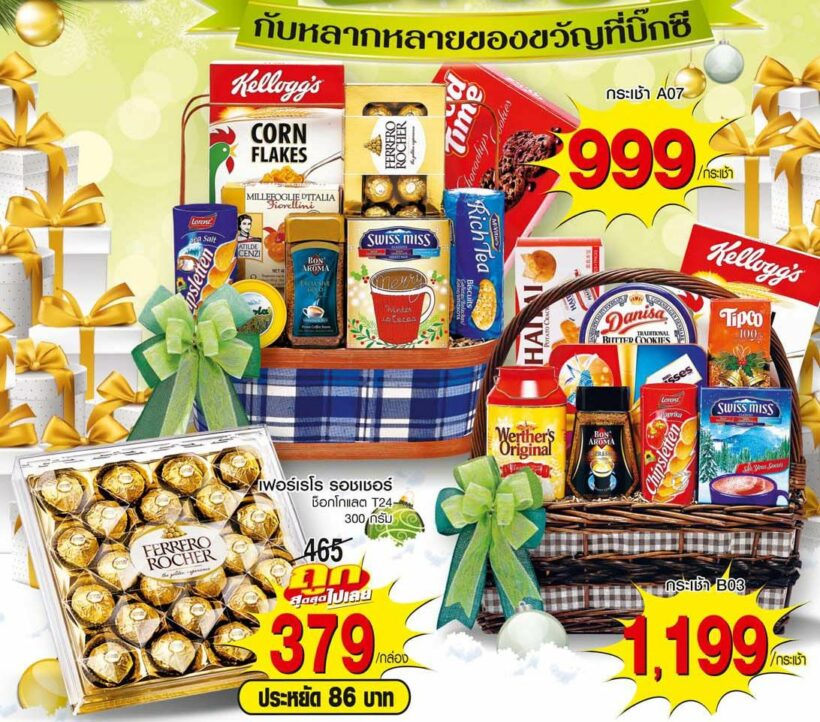 Keep in contact with The Thaiger by following our
Facebook page
.
Thai officials criticised for serving up shark fin soup at Government party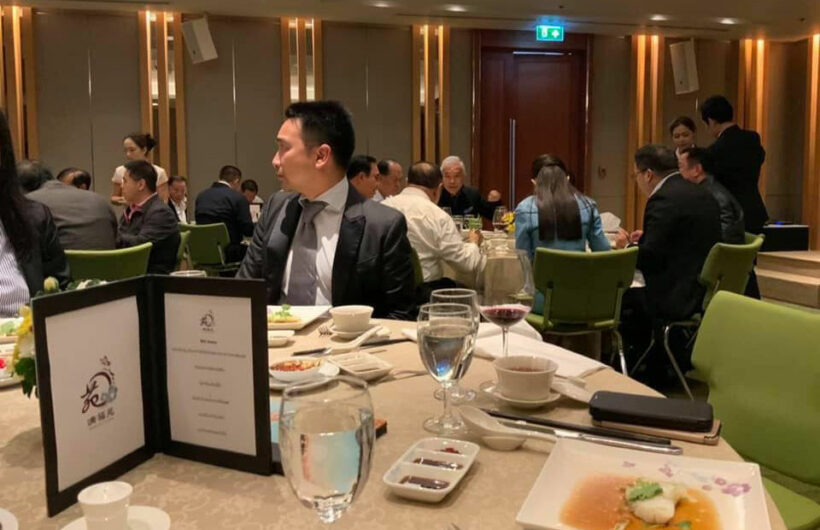 PHOTOS: Thai PBS World
Environmental groups are outraged after shark fin soup was served at an official Government party in a Bangkok hotel on Tuesday. The Thai PM Prayut Chan-o-cha attended the event.
Thai PBS World reports that the soup was served at a gathering of various pro-government parties, as part of a menu that included steamed snow fish in soy sauce, dim sum and egg noodles with river prawns and vegetables.
The inclusion of the controversial soup has led academics and conservationists to blast the Government for its indifference on environmental matters, pointing out the irony of the dinner taking place the day before Thai Environment Day.
One Facebook user, Sak-anan Plathong conceded that attendees may not have known the soup was being served as the menu was decided by officials who are seemingly unaware of the worldwide campaign against eating shark fins. However, he says responsibility still lies with the government for not having checked the menu in advance.
A survey carried out by non-profit conservation group Wild Aid Thailand claims that Thailand is still one of the biggest consumers of shark fin soup in the world, with the soup served at 72% of Thai weddings, 61% of family gatherings, and 47% of business events.
The government party on Tuesday night, attended by the PM, Deputy PM and Interior Minister, was held for government and coalition members, to remind them of their "pledge to work together and observe joint resolutions".
SOURCE: Thai PBS World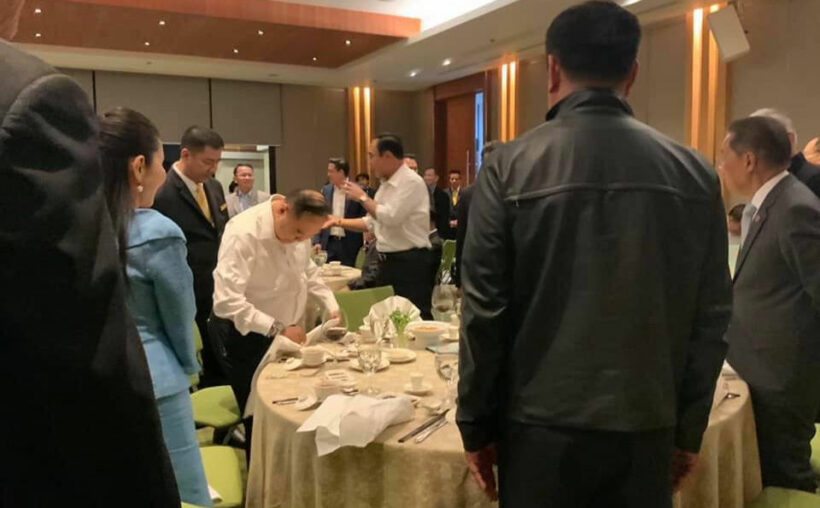 Keep in contact with The Thaiger by following our
Facebook page
.