Chinese Medical Tourists visiting Thailand set to exceed 1 million by 2020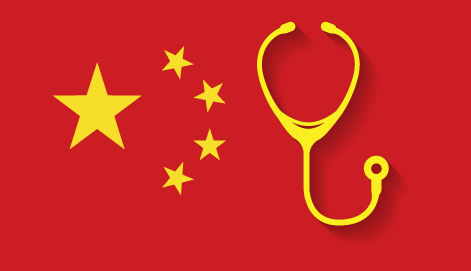 With a flourishing medical tourism industry worth nearly $4 billion dollars annually, foreign patients are no strangers to enjoying Thailand's cosmetic and plastic surgery treatments.
From liposuction to laser hair removal, overseas travelers are continually driving the expansion of private clinics and hospitals across Thailand. Last year there were 35 million visitors, of which an estimated 9% were specifically for medical tourism, with a large share coming from China.
And it is from this area, not to mention Japan and Myanmar that Thailand is seeing rapid growth. According to a study from the Kasikorn Research Centre, economic differences and changes to medical policies have seen Chinese tourists flock to South East Asia's medical hub.
The facts speak for themselves, despite the recent downturn, the research house unveiled a number of interesting statistics. In 2018, more than ten million Chinese tourists visited Thailand alone for travel, contributing to a continual annual increase of 6%-8%. As a result, the potential for growth has been limitless as the country embarks on new and innovative promotional methods.
This is coupled with a variety of services such as dental treatment and fertility management. In addition, there has been greater awareness and interest across China of these specific procedures which remain of lower quality back home. This is compared to the 60-plus JCI-accredited private hospitals in Thailand offering top-notch medical care at a fraction of the price.
Despite further investment in medical tourism in China, natives are searching for alternatives leading to wealthier individuals seeking Thailand's groundbreaking medical sector. Furthermore, thanks to its burgeoning middle class, many Chinese natives are earning more and, in a position to spend elsewhere.
"The Chinese market continues to grow year on year. In fact, there were more than half a million nationals visiting Thailand for medical tourism in 2018 alone. With more than 800,000 Chinese patients already undergoing cosmetic procedures, interest is rising slowly as hospitals look to expand their services to satisfy demand," adds Andrew Waters of MyMediTravel.
Despite numbers of Chinese patients at a low level at this stage, K-Research earmarked this growing sector should not be underestimated. This is especially the case when it comes to spending on beauty procedures and fertility management.
Thai facilities are now looking to up their game in double-quick time thanks to this emerging Chinese market. Hospitals are working harder than ever in order to win over customer business with some even trialing Mandarin-speaking nurses. The market is already fiercely competitive in Asia with many Chinese opting first for Japan, Malaysia, and South Korea.
Chinese medical tourists are still traveling to Japan and South Korea initially but Thailand is slowly catching up. This is largely in part down to what they can receive as an overall medical tourism package, featuring highly-trained specialists, stringent hygiene, bilingual staff, price-busting procedures in state of the art clinics and of course Thailand's stunning scenery.
Whether it's a rhinoplasty, facelift, placenta anti-aging or living cell therapy, the influence of Chinese patients on Thailand's pioneering medical sector is growing steadily with visitors projected at more than a million by 2020.
Six-Pack Surgery offers painless solution to lazy gym goers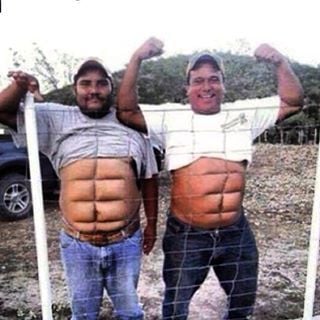 It's time to banish those bums and tums thanks to an intriguing treatment that's becoming increasingly popular in Thailand.
Many of us have dreamed of strutting our stuff down one of Phuket's golden sandy beaches. And now you can. If you want the ultimate beach body without pumping any iron, then six-pack surgery could be the ideal solution. Over the last four to five years, this surgery has seen many patients fly to South East Asia in order to obtain the ultimate figure.
Overseas patients and their almost beach-ready bodies don't even need to set one foot inside a gym. Say goodbye to sweaty towels and dusty lockers and hello to rip-roaring abs. But this treatment comes at a price. Costing around $4,000, it demonstrates that becoming body beautiful certainly comes at a price.
Of course, many medical tourists are turning to a number of different treatments for the ultimate chiseled figure. From liposuction and Coolsculpting to breast implants and double eyelid surgery, the medical tourism sector is growing at a rapid rate with a 20% year on year rise.
"There has been a noticeable uptake for instant six-pack surgeries in clinics across Thailand. Perfect for those looking for a quick fix, patients can enjoy top-notch, cost-effective surgery in luxurious surroundings and state of the art medical facilities. Consequently, patients benefit from a longer-lasting sculpted appearance whilst recovering in style," says Andrew Waters of MyMediTravel.
In addition to this, many patients are tempted by Thailand's 60-plus JCI-accredited hospitals where they can take advantage of liposuction and fat removal. Together with convenient travel, direct flights to major airports, such as Bangkok and Phuket, and breathtaking resorts for pre and post-op recovery – it's no surprise demand is steadily growing.
So, what is actually involved in this specific process? In this case, silicone implants are not inserted into patients' abdomens. Instead, a patient's six-pack region is usually etched initially with liposuction then performed to remove fat located around the stomach.
As a result, the abdomen area looks far more natural and defined in contrast to regular silicone fillers. Although the recovery process is somewhat, excuse the pun, abnormal, with significant dressings and bandages around the area, there are a host of patients looking to undergo this surgery. This includes both fitness-phobes as well as fitness aficionados who are unable to achieve their targets.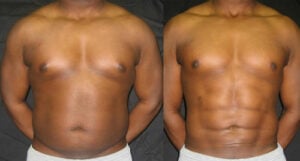 In fact, there are some individuals who despite regular workouts cannot shift anything around the abdomen and have turned to plastic surgery to gain confidence. Whether male or female, stubborn belly fat is one of the hardest things to shift. No matter how many gym visits or strange diets one may take up, it can be a long, hard slog. This is especially the case when it comes to age, as metabolism rates slowly decrease.
Call it frustration or call it quick progress, there is no doubt many patients are seeking new and innovative medical alternatives to ensure they take to the beach with absolute confidence.
US pushing for delay to Thai ban on glyphosate in order to protect imports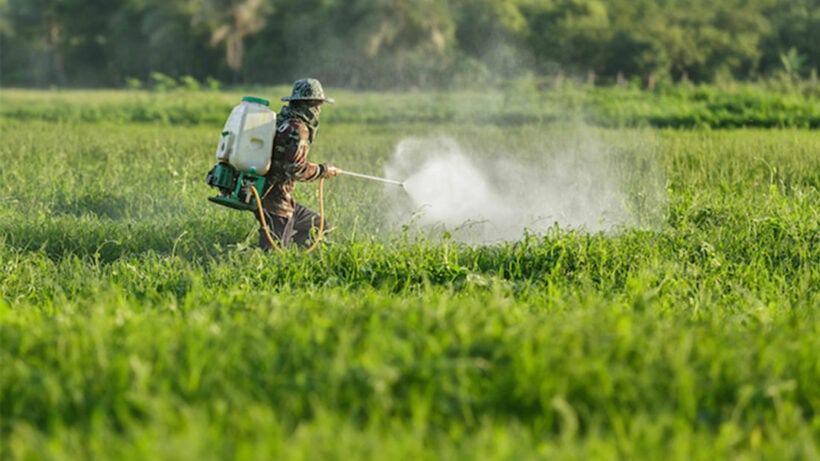 The US is urging Thailand to delay its forthcoming ban on glyphosate, saying it will have a significant impact on the country's import of soybean, wheat, coffee, apples, grapes and other produce from the US and elsewhere, which totals around 51 billion baht annually.
The Nation reports that the US Agricultural Department made the request after Thailand announced a ban on paraquat, glyphosate and chlorpyrifos, in response to claims from lobbyists that the farm chemicals are toxic.
It's understood that Ted McKinney from the US Agricultural Department has written to PM General Prayut Chan-o-cha and nine other ministers asking the Thai government to reconsider the ban on glyphosate.
Mr McKinney claims the decision was not based on scientific evidence and says the Environmental Protection Agency (EPA) in the US hasn't found any evidence that glyphosate is a threat to human health.
"The EPA's findings are consistent with scientific reviews conducted by others including Japan, European Union, Australia and the Joint Food and Agriculture Organisation of the United Nations/World Health Organisation Meeting on Pesticide Residues."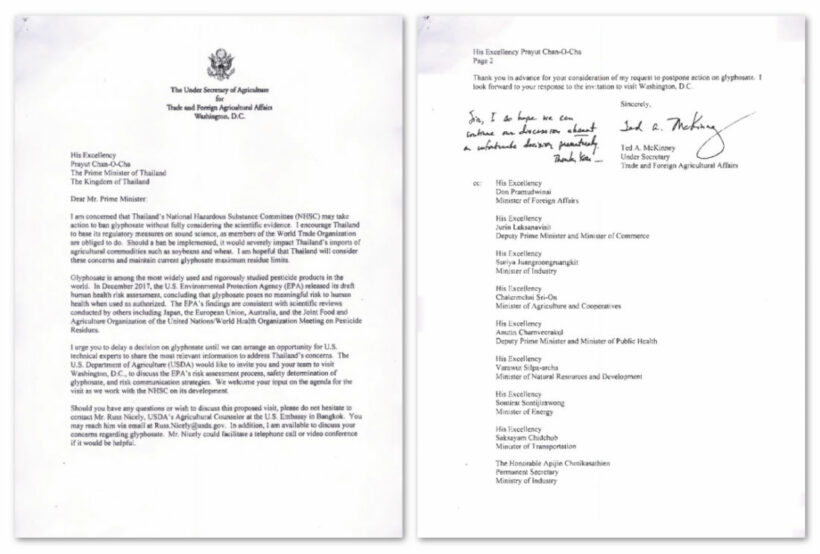 Photo: nationthailand
The US Embassy in Bangkok has also written to Industry Minister, Suriya Juangroongruangkit, expressing concern over the impact on Thai farmers and US exports to Thailand.
It estimates the cost to Thai farmers could be between 75 and 125 billion baht due to the expensive substitute products needed and if substitutes prove ineffective, manual labour would need to be employed to remove weeds, adding to the costs. These expenses, when added to the fallout from crop-yield losses, could lead to costs of up to 128 billion baht.
"Of the greatest concern to the US and other Thai agricultural trading partners is an immediate cessation of trade in soybeans, wheat, coffee, apples and grapes among other crops, with the disruption to trade that Thai imports worth as high as $1.7 billion (52 billion baht) annually."
Suriya has called for the government to carry out a detailed study on the proposed substitutes due to the number of groups that will be affected by the ban.
SOURCE: nationthailand.com
Three toxic farm chemicals to be banned from December 1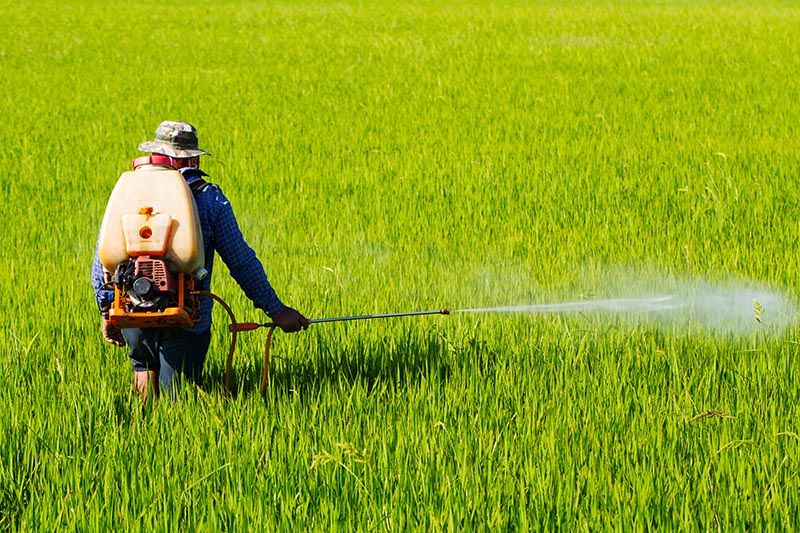 The National Hazardous Substances Committee (NHSC) resolved on Tuesday October 22 to ban the import, sale and use of paraquat, glyphosate and chlorpyrifos in Thailand from December 1.
Deputy Prime Minister and Public Health Minister Anutin Charnvirakul, a vocal supporter of the ban, hailed the resolution, saying the "heroic act" of the committee will be inscribed in the history of Thailand. He maintains that the ban on the three chemicals is not a political issue and his Bhumjaithai party did not politicize the issue for its own benefit, adding that as of December 1, possession of any of the three substances will be illegal.
26 of the 29 members of the NHSC attended the meeting, three of whom opted out of the vote over concerns of conflicts of interest arising from their close connections with the chemical industry.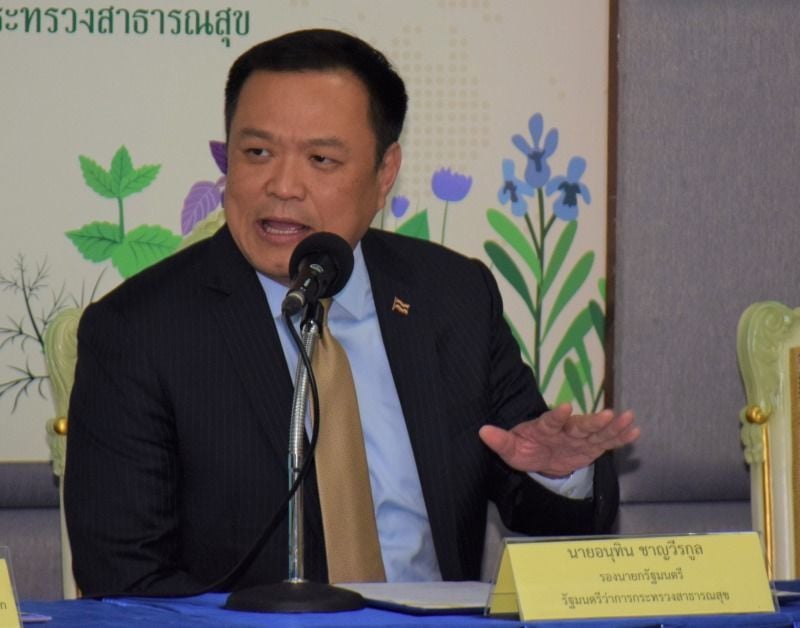 Before the vote, the committee "considered reports from the Ministry of Agriculture and Cooperatives, assuring the availability of alternative chemicals, and from the Public Health Ministry regarding the health risks posed by the three chemicals and the monitoring of residues of the substances in farm produce," according to Thai PBS World.
Unlike previous votes by the committee, which were conducted behind closed doors, the Tuesday's vote was open and transparent.
Meanwhile, the Rak Mae Klong group, which opposes the complete ban, has threatened to lodge a petition with the Administrative Court, demanding an injunction to suspend the December 1 enforcement of the ban. The group's leader, Mrs. Anchulee Lam-amnuayporn, said that they will go to the Administrative Court on October 28.
SOURCE: thaipbsworld.com
Keep in contact with The Thaiger by following our
Facebook page
.