Two Nigerians arrested, one still at large, over investment scam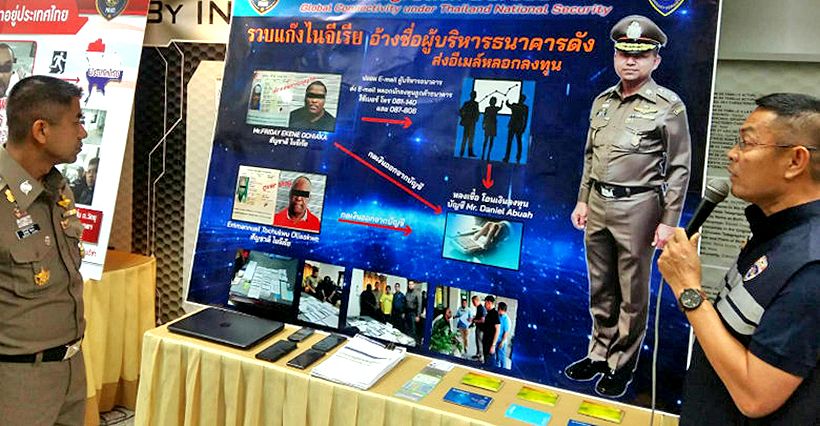 PHOTO: INN News
Immigration chief Lt-Gen Surachate Hakparn has announced the arrest of two Nigerian scammers who posed as officials at a financial institution to defraud investors. They were also found to have overstayed their visas.
Arrested were 55 year old Emmanual Olichagew and 41 year old Friday Ochiaga at a rented room in Bangkapi, Bangkok.
Surachate says that a financial institution had made a complaint saying that the men used emails to pose as real staff at the institution.
But they had used their own phone numbers for communications with their victims which allowed police to track them down leading to their arrests.
The two men were found to have overstayed their visas by 1 year and 9 months. Police are now trying to find another Nigerian citizen involved with the scam who is believed to have received much of the stolen funds.
SOURCE: INN News


Read more headlines, reports & breaking news in Bangkok. Or catch up on your Thailand news.
Thailand releases Burmese migrant activist, will deport him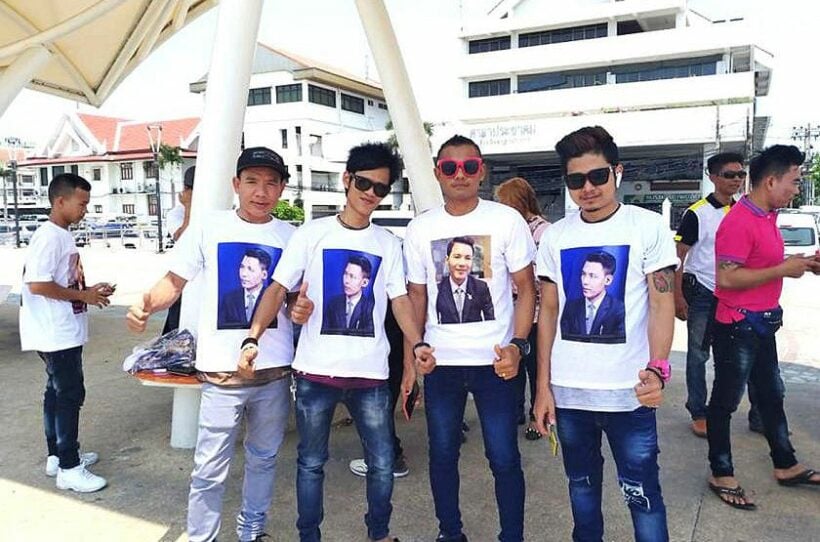 PHOTO: Facebook/Ye Min- Migrants workers wearing T-shirts with the image of Ye Min wait for his release in front of the court in Samut Prakan, Thailand
A prominent Burmese migrant activist Ko Ye Min, one of founders of the Aid Alliance Committee in Thailand, has been released from jail pending deportation by a Thai court.
"Ko Ye Min was freed from jail," U Khaing Gyi, director of the AAC, said on his Facebook page.
AAC officials declined to comment when contacted, saying the organisation will only issue statements about Ko Ye Min on its Facebook page.
U Khaing Gyi recently told Myanmar media that Ko Ye Min was sentenced to four months in jail and fined 30,000 baht (US$950) for defamation over a comment he posted on Facebook about a Thai employment agency.
He was released after spending about five months in jail, and the Thai court banned him from engaging in migrant-rights activities for one year.
He has been transferred to the immigration detention centre pending deportation back to Myanmar, according to a news report.
Ko Ye Min was arrested last October 19, when he went to the Thai immigration department to extend his visa. After his arrest, he was slapped with several charges, including defamation and for overstaying his visa. He had been detained at Samut Prakan prison, south of Bangkok, since October last year.
The AAC was formed in 2014 by U Khaing Gyi, Ko Ye Min and Ko Naing to protect Burmese migrant workers in Thailand.
The group has faced pressure from labour brokers, employment agencies and employers in Thailand for championing the rights of migrant workers.
SOURCE: Myanmar Times
Porsche driver charged with reckless driving after death of two women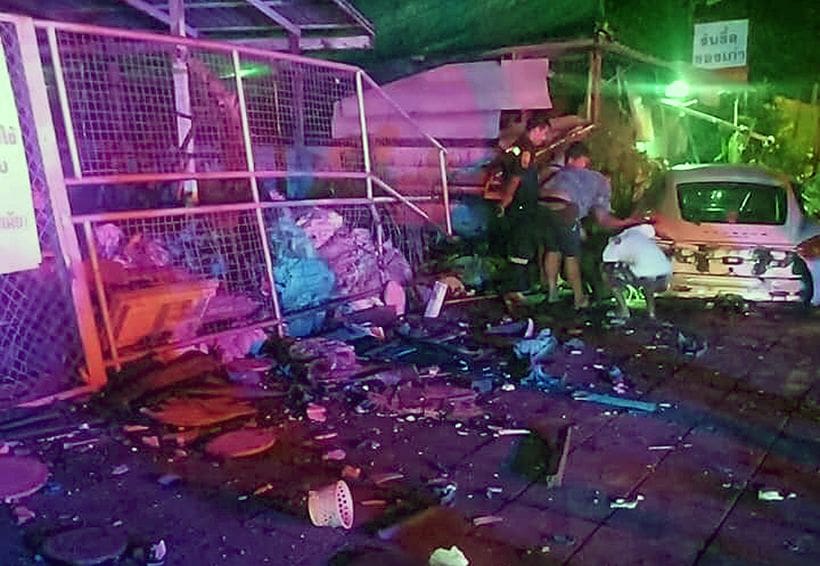 Bangkok Police have charged a Porsche driver who crashed into a motorcycle, killing two women, one of them also losing her unborn baby and being rushed to hospital, only to die soon after.
The accident also damaged a roadside motorcycle-repair shop.
The original report from The Thaiger HERE.
Police announced that Somkiat Pakdeenok had been charged with reckless driving causing death and injury. He was tested for alcohol consumption and the results could lead to further charges.
Police spoke to reporters after outrage mounted on social media over the weekend amid reports that the driver in the crash in Nong Khaem district had been removed from the scene while victims lay dead and injured.
One of the women died instantly at the scene. The other lost limbs as well as her unborn baby and succumbed to her injuries soon after being taken to hospital.
While claims were persisting that no one had yet come forward with offers of help or restitution for the family of the women killed, another report indicated the driver's wife contacted police to offer each the families of the women killed 50,000 baht for funeral expenses, (about the cost of an iPhone). The wife insisted her husband was not drunk.
The driver is reported to have crawled from the wreckage with broken legs, possibly intoxicated, and been placed in a Toyota Fortuner, which sped away before emergency responders arrived.
Acquaintances of the dead women spread the story online with a hashtag referring to cases of wealthy people going unpunished for their crimes.
Wongsatorn Karnsasomsap, owner of the repair shop that was damaged in the incident, says that the Porsche driver had not yet contacted him about paying for an estimated 300,000 baht in damages. He and his friends could have been crushed too had they remained sitting inside the shop as usual, he said.
One friend, Somkid Maneetham, said he heard the sound of brakes just as he was about to leave on his motorcycle.
"I gunned the engine to get out of the way and then heard a bang and went back to help the victims," he said.
Unconfirmed reports suggest the Porsche driver may have been "showing off" when the accident occurred.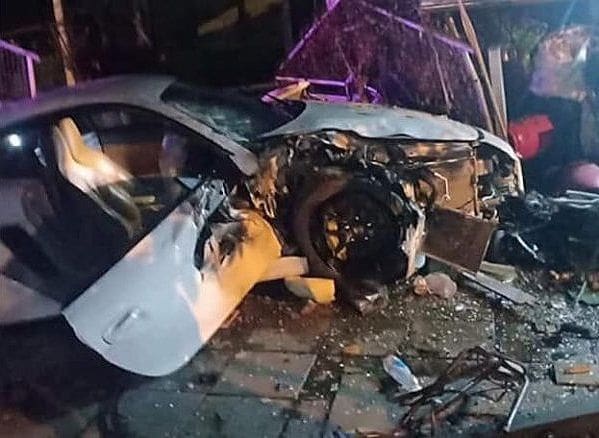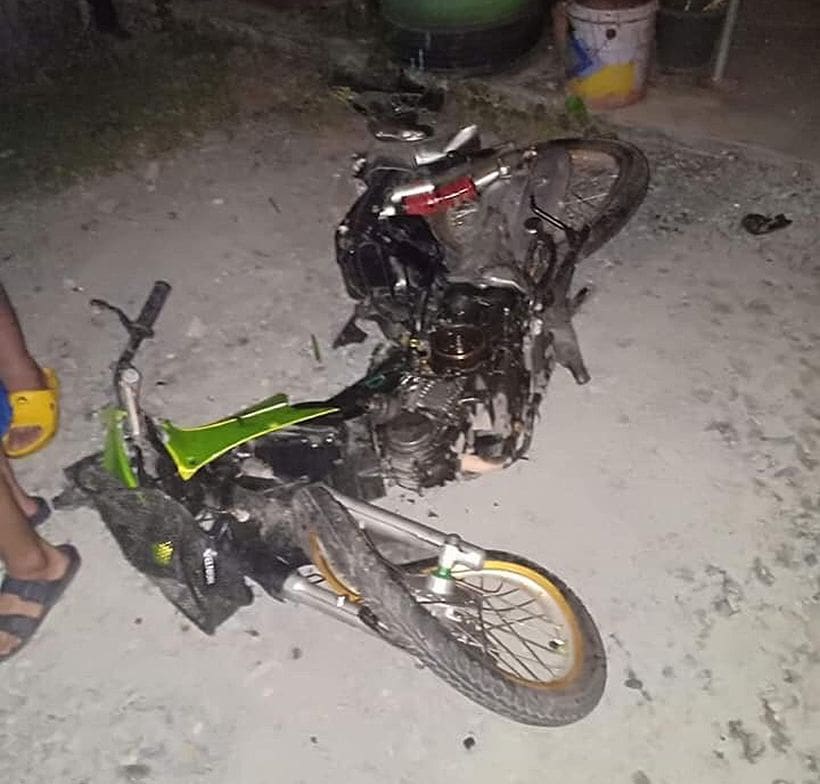 SOURCE: The Nation
Reduce Bangkok's motorcycle death toll by 82% – add dedicated lanes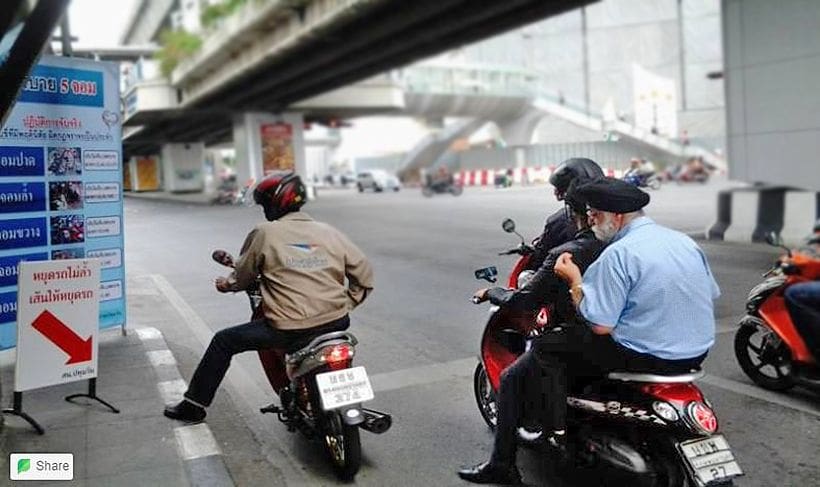 PHOTOS: Daily News
Dedicated motorcycle lanes might be the answer to lowering the death toll around Bangkok's congested streets.
A leading engineer has suggested that Bangkok should introduce motorcycle lanes.
The Engineering Institute of Thailand's Dr Thanet Wirasiri says that Thailand has some of the most dangerous driving conditions in South East Asia – and things were getting worse all the time. He claims that the death toll could be reduced by 82% with such lanes.
In Bangkok about three quarters of deaths involved motorcycles and motorcyclists and noted that there were 3 million motorbikes on the road around Bangkok.
His think-tank at the Engineering Institute of Thailand is proposing motorcycle lanes on major roads as part of a coordinated approach to improve road design and reduce the risk to riders on the city's roads – a key problem in Thailand.
SOURCE: Daily News