Thai Airways has officially lost its state enterprise status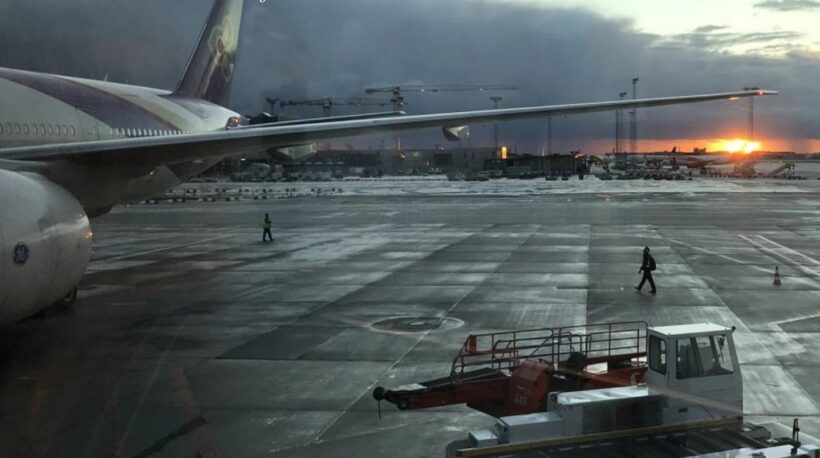 The State Enterprise Policy Committee announced that Thai Airways has lost its state enterprise status after the Vayupak Fund bought a 3.17% stake from the Finance Ministry yesterday.
The purchase was undertaken at a price of 4.90 baht per share, with a trade worth 285.2 million baht, leaving the national carrier owning 48% of its own shares and stripping its state enterprise status.
Bangkok Post reports that Thai Airways has an outstanding debt of 200 billion baht, 30% of which is domestically owned.
Meanwhile, a 'superboard' will be assembled by the Finance and Transport ministries to monitor the rehabilitation plan for the airline with Deputy Prime Minister Wissanu Krea-ngam acting as chairman and overseeing legal affairs.
The two ministries say the superboard itself will not implement the plan but will only "examine and inspect" the work and report its progress to the PM.
As the first steps of the rehabilitation plans begin, the superboard must send a selection of applications for court approval to act as future recovery managers. Although it's not yet official, the following officials have been recommended by the Transport Ministry.
Deputy Transport Minister Thaworn Senneam, who supervises Thai Airways,
Chaiwat Tongkamkoon, permanent secretary for transport,
Chayathan Promsorn, chief of the Office of Transport and Traffic Policy and Planning,
Pirapan Salirathavibhaga, a former justice minister.
Other members will be nominated by the Finance Ministry after the Cabinet officially allows it to play a role on the superboard.
Finance Minister Uttama Savanayana says he's extremely concerned with the ongoing trade of Thai Airways shares on the stock market, as the price has skyrocketed.
"I've asked the Stock Exchange of Thailand to look into the issue to find out whether it's normal."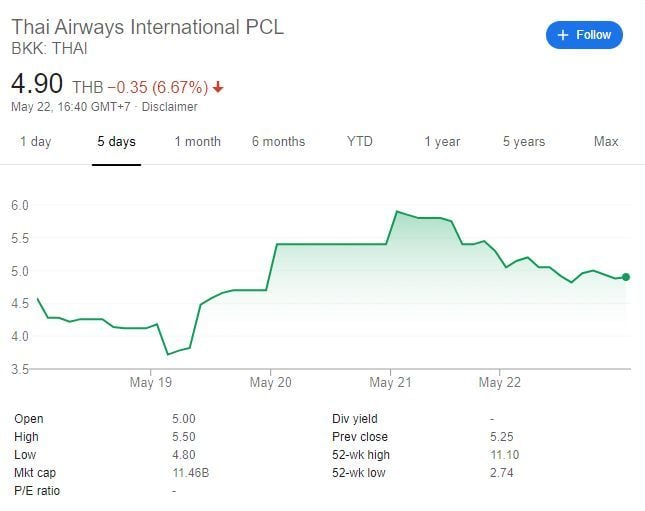 According to SET data as of April 1, the 5 major shareholders of Thai Airways are as follows…
Ministry of Finance, holding 1,113,931,061 shares or 51.03%.
Vayupak Fund 1 under MFC Asset Management, holding 165,037,582 shares or 7.56%.
Vayupak Fund 1 under Krungthai Asset Management, holding 165,037,582 shares or 7.56%.
Thai NVDR Company Limited, holding 71,645,528 shares or 3.28%.
Government Savings Bank, holding 46,409,885 shares or 2.13%
SOURCE: Nation Thailand | Bangkok Post
Keep in contact with The Thaiger by following our Facebook page.
Never miss out on future posts by following The Thaiger.
Police to issue arrest warrants for 2 people allegedly involved in bombing outside Bangkok shopping centre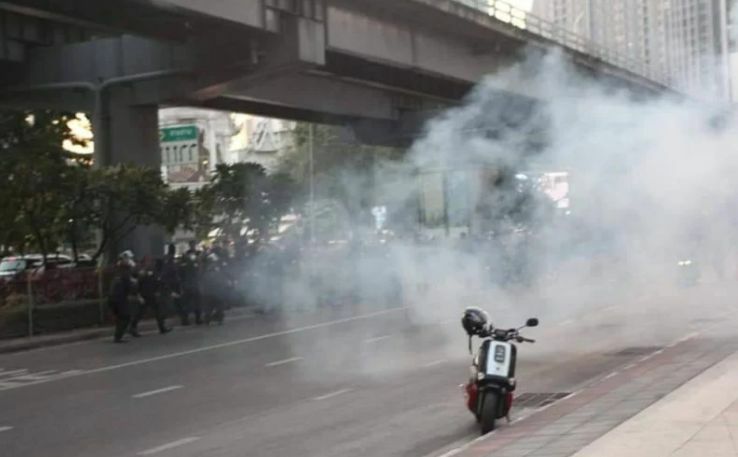 Police say arrest warrants will be issued for 2 people allegedly involved in the bombing outside Bangkok's Chamchuri Square shopping centre following a rally protesting Thailand's draconian lèse majesté law. The suspects allegedly drove together on a motorcycle on the Thai-Japanese Bridge and threw a "ping pong bomb" down on a group of police officers Saturday evening.
The smoky handmade explosive, which contained small nails, reportedly injured 4 people, including police officers and a reporter. Photos of the injuries are very small scratches. (See photos below.)
The explosion was sometime after a rally at Victory Monument where protesters demanded the release of 2 people who had been arrested on lèse majesté charges. Since November, 43 people have been arrested for insulting or defaming the Thai Monarchy which carries a punishment of up to 15 years in prison. Many have called for the Thai government to abolish the lèse majesté law, which is Section 112 in Thailand's Criminal Code.
At the rally, protesters wrote messages on banners about the lèse majesté law. Some messages said "Thai education needs to be improved", "Stop harassing people", "A failed government, a divisive society" and "Covid-19 is an excuse".
Protesters and police clashed on Saturday before the rally was broken up. Police said the public gathering violated the Emergency Decree and Disease Control Act.
Nation TV posted a video of the explosion. Click HERE to watch.
SOURCE: Bangkok Post
Keep in contact with The Thaiger by following our Facebook page.
Never miss out on future posts by following The Thaiger.
Police arrest "prime suspect" in narcotics case linked to 10 deaths in Bangkok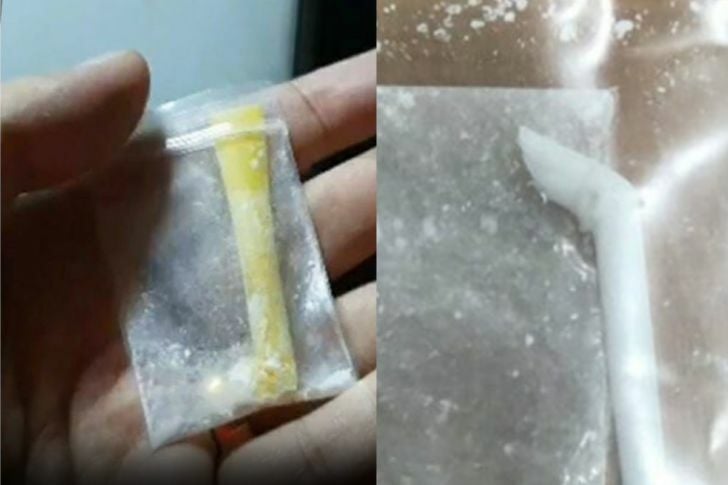 Police arrested a man suspected of producing the ketamine-based illicit drug cocktail linked to at least 10 deaths in Bangkok. The man is also charged with attempted murder for allegedly shooting his girlfriend at a Bangkok apartment.
Police say 33 year old Amornthep Chalermwat, known as Un Kiwi, fled Bangkok and was arrested in Phetchabun's Bung Sam Phan district yesterday. Police say Amornthep admitted to distributing the "K powdered milk" drug cocktail, but denies producing it.
Police say the narcotic cocktail contains ketamine, methamphetamine, heroin and the sedative diazepam. The mix of drugs is suspected to have caused 10 deaths in Bangkok. Others have been hospitalised after taking the drugs and losing consciousness.
On January 9, Thachchai Klomjai fell unconscious and his boyfriend died after taking "K powdered milk." When Thachchai regained consciousness, he told police he bought the drugs from Amornthep and another suspect, Kulnathee Iemloy, who Amornthep also named and has been arrested. Bangkok police reported 6 other deaths that weekend from "K powdered milk."
The next day, Amornthep allegedly shot his girlfriend, Apisa Hongkhan, at an apartment in the Chatuchak area. Police say the woman was severely wounded. They suspect Amornthep shot is girlfriend out of suspicion that she had stolen the drug cocktail and sold it.
Some small-scale dealers have been arrested over the past week, but police say they believe Amornthep is a prime suspect.
SOURCE: Bangkok Post
Keep in contact with The Thaiger by following our Facebook page.
Never miss out on future posts by following The Thaiger.
Police raid Bangkok restaurant, more than 80 people face charges for violating Emergency Decree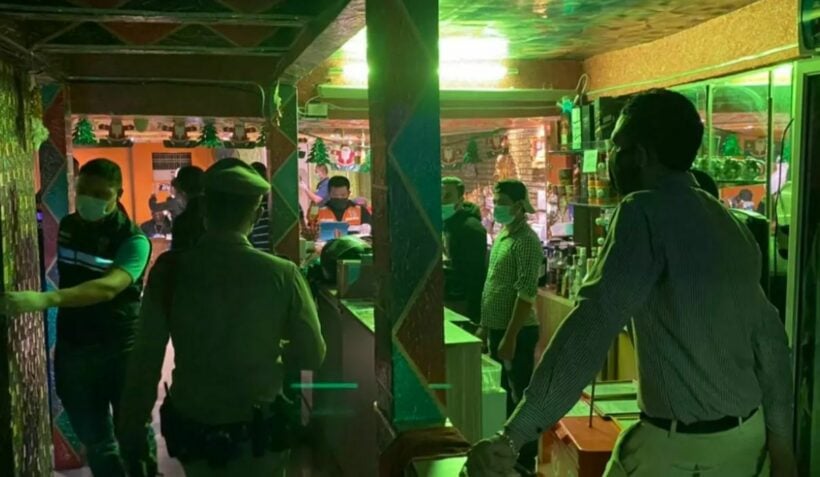 More than 80 people face jail time and fines for allegedly violating disease control measures under the Emergency Decree after police raided a Bangkok pub and restaurant.
The Indian restaurant Taj Café off Sukhumvit Road in the Watthana district was raided over the weekend after a complaint reporting that customers were smoking hookah, which is illegal in Thailand, and that the venue employed undocumented migrants.
Under an order from Bangkok City Hall, bars and pubs must close until further notice to help control the spread of Covid-19 while restaurants cannot serve alcohol and must stop dine-in services at 9pm to reduce gathering.
Officers from both immigration and the Lumpini police station raided the Indian Restaurant at 1:10am Saturday. Police say the venue was crowded, no one was social distancing and customers were not wearing face masks.
Pattaya News reports more than 80 people were arrested, while the Bangkok Post reports 65 people were arrested.
According to the Pattaya News, 42 people each face a month in jail and a 5,000 baht fine. Another 40 people, who were foreigners from Nigeria, India, Somalia and Myanmar, face between 4 months to a year in jail as well as fines ranging from 5,000 baht to 16,000 baht, according to the Pattaya News. Police say many of the foreigners violated both the Emergency Decree and the Immigration Act.
The Bangkok Post says the manager of the restaurant, 28 year old Mamdeep Singh, was charged with working without a permit, offering hookah to customers and violating both the Emergency Decree and City Hall order.
SOURCES: Bangkok Post | Pattaya News
Catch up with the latest daily "Thailand News Today" here on The Thaiger.
Keep in contact with The Thaiger by following our Facebook page.
Never miss out on future posts by following The Thaiger.