Department of Land Transport vows to get tough on public transportation in Thailand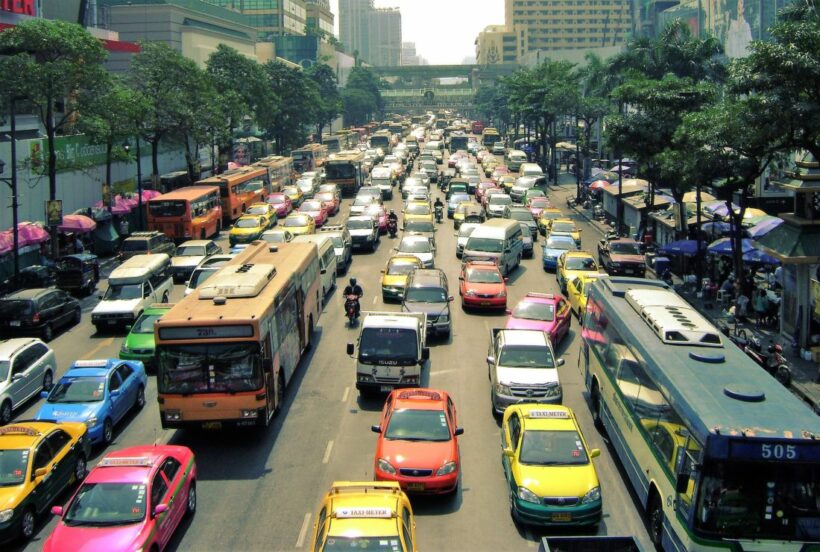 PHOTO: Wikipedia
A major crackdown is planned on the country's public transport, following orders from Thailand's new transport minister, Saysayam Chidchob.
It's understood this will even include asking passengers in public transport vehicles if they feel they're being driven safely. If they don't, the driver can be prohibited from going any further.
In addition, drivers who are found to be intoxicated or too tired will be prevented from continuing their journey and risk having their vehicles seized.
It's planned to carry out these checks at gas stations around the country and more than a million drivers will be stopped and checked. They will have their vision tested, including their ability to recognise colours, and will also have their reaction time tested.
Checks will also be carried out on all public transport vehicles, to ensure they are road-worthy.
In total, 245 checkpoints will be installed at gas stations 90 kilometres apart, on more than 100 routes across Thailand. The checkpoints will be manned 24 hours a day.
Minister Saksayam has only held his position for a few months, but has already proved to be one of the most active and vocal of the new ministers. His proposal is part of a wider plan to improve public transport in Thailand.
SOURCE: The Pattaya News
Keep in contact with The Thaiger by following our
Facebook page
.
Thousands of people have been travelling between provinces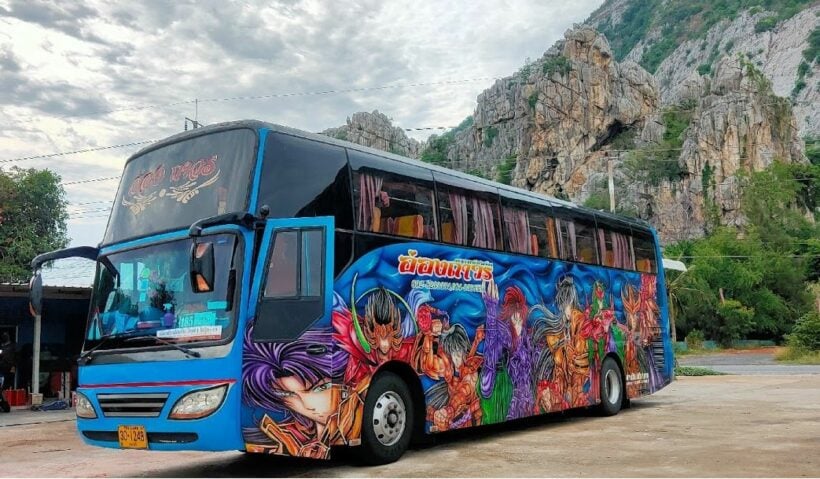 … but not quite as many as before, so far. The Director General of the Department of Land Transport says that more people have been using the inter-provincial buses services after the government recently easing Thailands' lock down situation.
He says…
"Although some long distance services are still not in operation to comply with the night time curfew, many inter-provincial routes of around 300 kilometres are open and have seen many commuters."
"The department will gradually add buses to facilitate increased use and maintain social distancing."
The department has announced that there were just under a million passengers per day using public buses running between Bangkok and nearby provinces from March 1-25, (the period before the State of Emergency).
141,240 passengers per day taking buses between the capital and other provinces,
9,128 using buses between provinces,
2,379 using buses within a province.
Reports have revealed that after the emergency was effective across the nation from March 26 to May 1, there was a decrease in the number of passengers with 472,210 passengers per day travelling from Bangkok to surrounding provinces, 4,090 from the capital to other provinces, 5,612 on inter-provincial routes and 2,156 passengers between provinces.
After the lockdown was eased on May 2 up to today, the number of passengers has increased to 508,490 per day travelling from Bangkok to surrounding provinces, 6,000 from Bangkok to other provinces, 9,020 on inter-provincial routes and 4,020 passengers between provinces.
SOURCE: Nation Thailand
Keep in contact with The Thaiger by following our
Facebook page
.
Thai Airways has officially lost its state enterprise status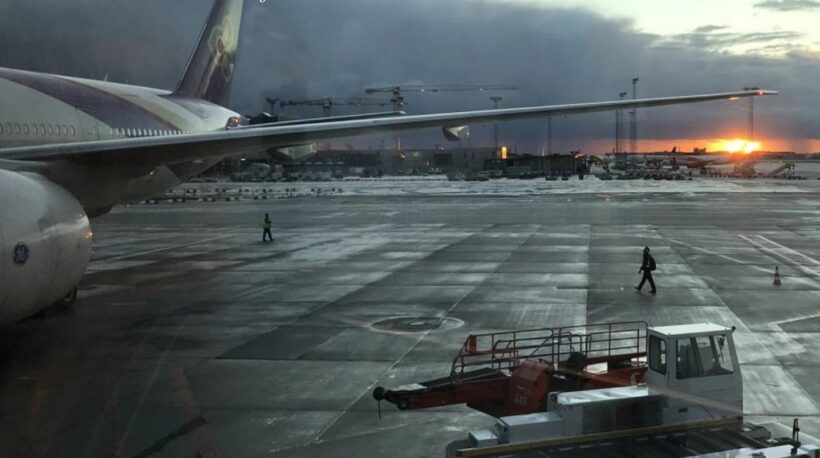 The State Enterprise Policy Committee announced that Thai Airways has lost its state enterprise status after the Vayupak Fund bought a 3.17% stake from the Finance Ministry yesterday.
The purchase was undertaken at a price of 4.90 baht per share, with a trade worth 285.2 million baht, leaving the national carrier owning 48% of its own shares and stripping its state enterprise status.
Bangkok Post reports that Thai Airways has an outstanding debt of 200 billion baht, 30% of which is domestically owned.
Meanwhile, a 'superboard' will be assembled by the Finance and Transport ministries to monitor the rehabilitation plan for the airline with Deputy Prime Minister Wissanu Krea-ngam acting as chairman and overseeing legal affairs.
The two ministries say the superboard itself will not implement the plan but will only "examine and inspect" the work and report its progress to the PM.
As the first steps of the rehabilitation plans begin, the superboard must send a selection of applications for court approval to act as future recovery managers. Although it's not yet official, the following officials have been recommended by the Transport Ministry.
Deputy Transport Minister Thaworn Senneam, who supervises Thai Airways,
Chaiwat Tongkamkoon, permanent secretary for transport,
Chayathan Promsorn, chief of the Office of Transport and Traffic Policy and Planning,
Pirapan Salirathavibhaga, a former justice minister.
Other members will be nominated by the Finance Ministry after the Cabinet officially allows it to play a role on the superboard.
Finance Minister Uttama Savanayana says he's extremely concerned with the ongoing trade of Thai Airways shares on the stock market, as the price has skyrocketed.
"I've asked the Stock Exchange of Thailand to look into the issue to find out whether it's normal."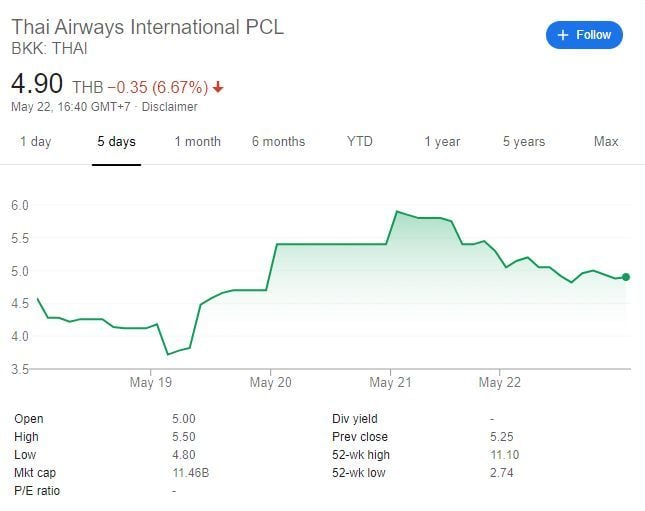 According to SET data as of April 1, the 5 major shareholders of Thai Airways are as follows…
Ministry of Finance, holding 1,113,931,061 shares or 51.03%.
Vayupak Fund 1 under MFC Asset Management, holding 165,037,582 shares or 7.56%.
Vayupak Fund 1 under Krungthai Asset Management, holding 165,037,582 shares or 7.56%.
Thai NVDR Company Limited, holding 71,645,528 shares or 3.28%.
Government Savings Bank, holding 46,409,885 shares or 2.13%
SOURCE: Nation Thailand | Bangkok Post
Keep in contact with The Thaiger by following our
Facebook page
.
U-Tapao airport maintenance facility going ahead despite obstacles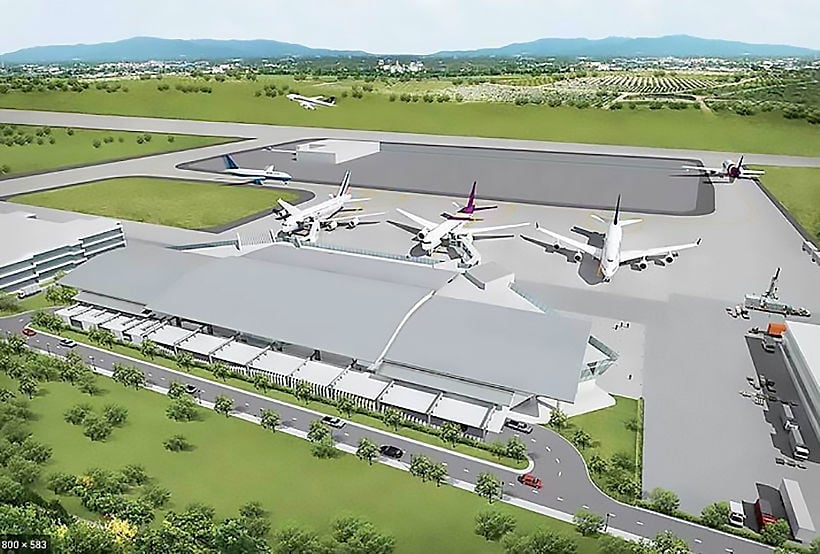 U-Tapao Rayong-Pattaya International airport is going ahead with its proposed Maintenance, Repair and Overhaul project, despite Thai Airways entering bankruptcy, according to the secretary general of the Eastern Economic Corridor Office. The 11 billion baht project to has already been approved by the Cabinet and a contract is expected to be signed in June.
"In early June, project owner the Royal Thai Navy will sign a contract with bid winner BBS Joint Venture, which comprises BTS Group Holdings, Bangkok Airways and Sino-Thai Engineering and Construction. Meanwhile, the Aeropolis development project in a 30 kilometre radius around the airport was awarded to Narita International Airport Corporation, and is expected to be complete by 2023, coinciding with the opening of the MRO facility."
There was wide speculation that the MRO project would be delayed after European aerospace giant Airbus withdrew from the joint venture. The Covid-19 outbreak and Thai Airways' recently announced bankruptcy did little to assuage those fears. But the secretary-general says "the MRO project will proceed as planned as it is a part of government's mega-project to develop the Eastern Economic Corridor."
"Airbus pulling out of the joint venture is not a problem, as 4 or 5 companies have reached out to the EECO expressing their interest in the project."
The EECO also estimates that when the Covid-19 outbreak is over, air transport of goods will recover within a year and a half, although they estimate that passenger travel will take 2 years to return to normal.
"Therefore, the outbreak should not affect the project's time frame, which is scheduled to be completed within 2023."
The project is forecast to generate 15,600 jobs annually for the first 5 years and total revenues estimated at 1.3 trillion baht throughout the 50 year term of the contract.
SOURCES: Nation Thailand | Thai PBS World
Keep in contact with The Thaiger by following our
Facebook page
.