"Tourist arrivals to plunge 50% in first half of 2020" – Thai Tourism Minister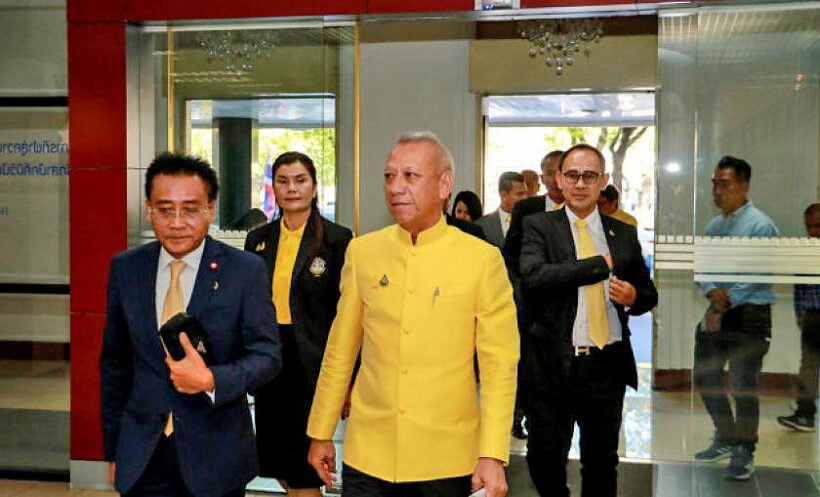 Thailand's Tourism and Sports Minister Phiphat Ratchakitprakarn has painted a gloomy outlook for Thailand's previously-robust tourism industry. He says he expects tourist arrivals to plunge by 50% in the first half of 2020 because of the coronavirus outbreak.
His predictions are born out by sluggish arrival numbers at the country's main airports, hotel forward bookings and 'landing slots' cancelled by international airlines into Thailand.
A drop of 50% in Thailand's visitors would be catastrophic for millions who are either directly or indirectly employed by the Kingdom's hospitality industry, let alone the businesses and investors in the vast tourism and hotel infrastructure.
The Minister announced his gloomy prediction at a government-private sector meeting yesterday where measures were discussed to counteract the slump. This week the Thai government also foreshadowed that it is ready to throw some financial lifelines, including soft loans, tax incentives and training in return for income, to tourism operators ravaged by the coronavirus outbreak, according to the Deputy PM Somkid Jatusripitak.
"Relief measures are needed to take care of tourism operators, and each state agency has been tasked with proposing measures to the cabinet that should be rolled out by March."
"The impact of the deadly virus on tourism is adverse and the government is concerned because the sector makes up a significant portion of the economy."
A Phuket hotelier, who asked not to be named, painted a similarly dramatic picture of the slump being felt in one of the country's favourite tourist destinations.
"Dramatic overnight drop in new bookings with cancellations piling up until the end of February, and not much movement in March. Continuation of cancellations including guests traveling via China or other so called 'affected' countries. MICE market (Meetings, Incentives, Conferences Exhibitions) came to a complete stop and weddings postponed until mid-year for the time being. Inquiries completely dried up."
"Resorts and hotels are looking at cutting costs as much as they can immediately. Complete stop on new recruitment unless absolutely necessary, and close entire resort buildings to reduce operating costs."
Another operator of a five star resort in Chiang Mai reported that the situation in the north was also very tight.
"The last month has been desperately quiet and that was on top of a major slump for the last six months. Our forward bookings situation is looking very sick and many of our peer businesses are making quick changes and even putting off staff to try and minimise the impact on the bottomline."
Minister Phiphat reported that tourist numbers from February 1 – 9 were down 43.5%, and among Chinese visitors 86.6 %.
"We expect the situation to pick up in April and will be discussing with Airports of Thailand ways to manage flight schedules for Chinese tourists to reduce airport congestion. There's also been the news about the speedboat collision in Phuket in which several tourists were killed, so we want to put the priority on tourist safety."
"A 50% reduction in tourist numbers in the first half means cutting the prediction from 40 million people to 20 million.
"The Tourism Authority of Thailand will need to work harder in the second half to compensate for the first."
SOURCE The Nation
Keep in contact with The Thaiger by following our
Facebook page
.
Thailand News Today – Monday, March 30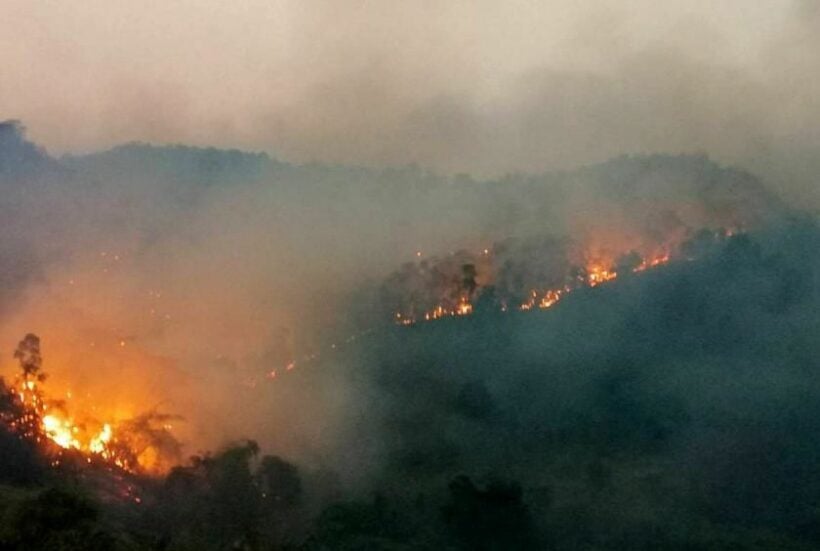 136 more virus cases confirmed in Thailand as outbreak spreads out of Bangkok
A spokesman for the country's newly formed Covid-19 Situation Administration Thailand confirmed 136 new Covid-19 coronavirus cases today.
This raises the total number of infections to 1,524. Deaths in the Kingdom remain at 7. As of yesterday, 54% of Covid-19 infections were found outside Bangkok with a growing trend of additional infections in the provinces.
The number of newly infected health department personnel yesterday was 8.
14 million Thai's crash online registration for 5,000 baht cash handout
It is estimated that 14 million Thai citizens have registered for the government's measure for a 'cash hand out' to self-employed, freelancers and part-timers.
And they've crashed the government's website with all the traffic. The number of people registering was 4 times greater than the government's initial predictions.
The number of people who had registered reached 14 million yesterday morning, not bad when the total population of Thailand is around 66 million. The program had opened on Saturday evening for online registration.
Fortress Phuket. The island closes off Sarasin Bridge and boating traffic, except supplies
Phuketians, you are now marooned on a tropical island. Well, almost…
Last night the Phuket Governor rolled out another level of lockdowns for the southern island. There are a few exceptions.
• Sarasin Bridge, the bridge linking Phuket to Phang Nga province and the mainland, is now closed.
• No boat traffic in or out of Phuket, except cargo with food and medical supplies.
• The airport remains open for domestic and international flights, but only until April 10.
• The new closures are in force until April 30.
Additionally, all beaches on the island are now closed until the end of April and everyone is required to wear a face mask when in public spaces or shopping.
Red hazardous waste bins spring up in Bangkok for used masks, tissue
Used face masks and tissue paper are now classified as hazardous waste during this Covid-19 coronavirus outbreak, at least in Bangkok.
Bangkok's governor is urging people to dispose of used face masks properly, using the new red bins which are designated for hazardous waste. He said "this also includes facial tissue used to wipe noses or bodily fluids."
It remains to be seen whether other urban areas will follow Bankok's example.
Air pollution levels remain critical around northern Thailand
Air pollution across the upper North of Thailand remains at critical levels. And it's been unpleasantly hot there as well.
Authorities are monitoring almost 400 active hotspots and in and around Chiang Mai province, many still burning as of this afternoon. The air quality did not improve this morning, with air quality recordings "very unhealthy" to "hazardous". Temperature in Chiang Mai today, is again 40 with more of the same on the way this week.
Keep in contact with The Thaiger by following our
Facebook page
.
"Hot to very hot" in the North and Northeast, thundershowers predicted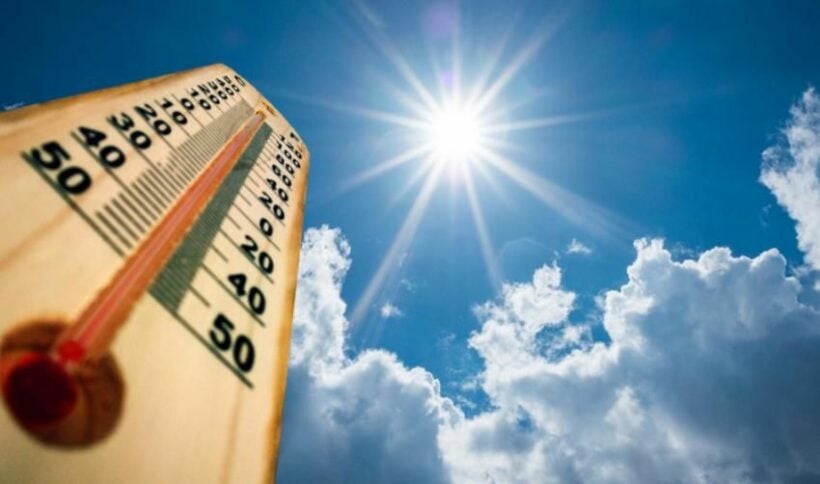 A thermal low still covers upper Thailand, while southerly and southeasterly winds prevail over the Northeast and the East regions. Thailand is now in the 'shoulder' season, between the dry season and wet season, which is set to kick in sometime in April. (Bangkok, Phuket and Chiang Mai 5 day forecasts below)
Chiang Mai is poised for another week of scorchers, each day predicted to be over 40C.
"Hot conditions still prevail over most of upper Thailand and very hot weather is forecast for parts of the North, the Northeast and the Central regions," according to the Thai Meteorological Department.
"Thundershowers and gusty winds are forecast for the Northeast and the East. People should beware of severe weather and keep off unsecured buildings and wilderness areas. Farmers should beware of crop damage."
The weather forecast for the next 24 hours is as follows:
Northern region: Hot to very hot; temperature lows of 18-25℃ and highs of 38-41℃.
Northeastern region: Hot to very hot with thundershowers in some areas; lows of 22-26℃ and highs of 36-40℃.
Central region: Hot to very hot; temperature lows of 24-26℃, highs of 37-40℃.
Eastern region: Hot with thundershowers and gusty winds in 10% of the areas; lows of 25-28℃, highs of 33-38℃; waves a metre high.
Southern region (east coast): Partly cloudy with thundershowers in 10% of the areas; lows of 23-27℃, highs of 33-36 ℃; waves a metre high.
Southern region (west coast): Partly cloudy with thundershowers in 10% of the areas; lows of 24-26℃, highs of 35-38℃; waves a metre high, higher offshore.
Bangkok and surrounding areas: Hot during the day; lows of 26-27℃, highs of 34-39℃.
Bangkok's 5 day forecast…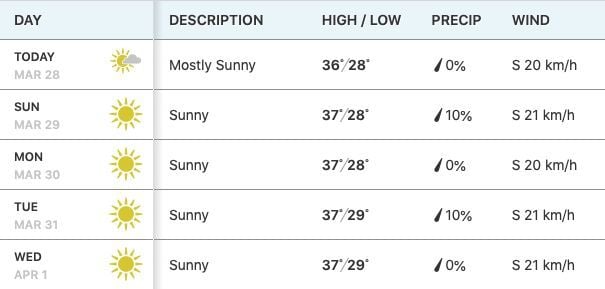 Phuket's 5 day forecast…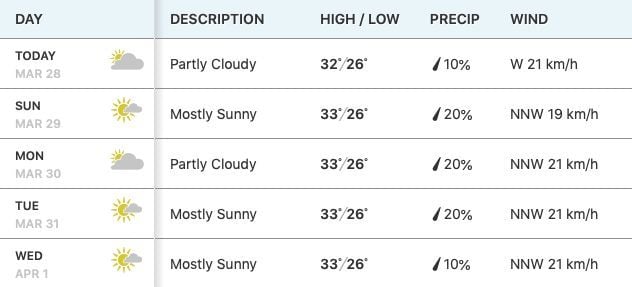 Chiang Mai's 5 day forecast (yikes!)…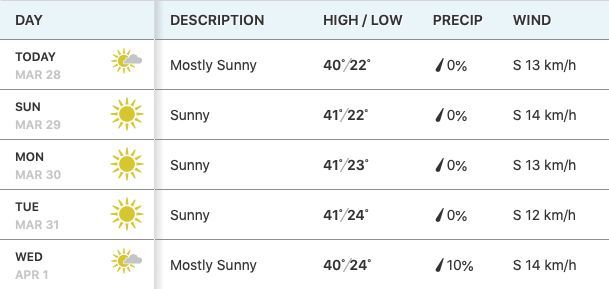 SOURCE: The Nation | Weather.com
Keep in contact with The Thaiger by following our
Facebook page
.
Thailand News Today – Friday, March 27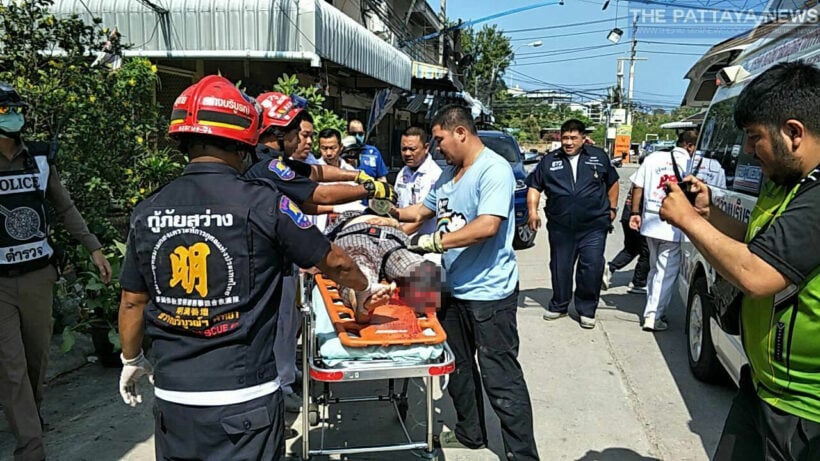 91 new coronavirus cases, 1 more death in Thailand
Thailand's Department of Disease Control has confirmed a 91 new cases of the the Covid19 coronavirus at their daily press briefing this morning. There was also an additional death reported.
The new numbers bring the total number of confirmed cases in the country to 1136 and deaths to 5. 
Of the new cases today…
• 5 from the Bangkok "boxing match cluster"
• 7 from a nightclub cluster
• 18 people who are close contacts with previous confirmed cases
• 10 people back from abroad (9 Thais and 1 foreigner)
• 5 individuals who were working tourists and visitors
• 46 cases who are still being identified and traced
• The new death was a patient in Narathiwat
• 2 Thais have also died in the past 2 days in New York
Worldwide the USA now leads the number of cases, surpassing China overnight and registering over 12,000 cases in the last 24 hours.
People 'strongly advised' to stay home for 7 days
People nationwide are strongly urged to stay home and stop socialising for the next 7 days, starting this weekend, as the government steps up efforts to stem the coronavirus."
The Chief of Thai Defence Forces, who is also in charge of security affairs says…
"We need your cooperation not to leave home and to cancel all activities. Stay home and stop the spread of the virus for the sake of the nation, and continue doing this for a week."
"The country is not yet under total lockdown yet, but if infections continue to rise, it may be inevitable."
China closes its borders, only allowing Chinese nationals, diplomats and C visas to enter
How the tables can turn within a month or so, now it's China that is closing its borders. 
China's Foreign Ministry has announced that they will temporarily suspend foreign entries into China.This will also include foreign nationals holding valid visas or resident permits in China. 
People with the diplomatic service, courtesy or C visas will not be affected and foreign nationals visiting to China for economic, trade, scientific or technological activities may apply for visas at Chinese embassies or consulates.
Chon Buri crane collapse injures 3, damages homes
A crane collapse in Chon Buri's Banglamung district this morning has severely injured three and damaged six adjacent buildings. 
Authorities rushed to the scene after they were notified at 10:30am of the incident in the Naklua subdistrict. Officers, emergency responders and reporters arrived find the collapsed crane which had fallen and badly damaged six buildings, many of them residential.
Three people have been seriously injured, including a 65 year old, a 12 year old boy and the 31 year old crane driver. They were all taken to local hospitals. The cause of the collapse is unclear, and police are still investigating.
Chiang Mai fire spikes air pollution up to 20 times 'safe' levels
A bushfire roaring away in the Doi Suthep-Pui National Park in Chiang Mai is causing continued concerns for Chiang Mai residents.
500 local officials and soldiers from the 3rd Army Region were called in to fight the blaze and spent 14 hours bringing it under control, including calling in helicopters to drop water as they tried to control the spread.
It also pushed air pollution readings in the region up to record highs, up to 1000 where the upper safe level is meant to be 50 mg per cubic metre. This afternoon it's back to around 156.
Potential catastrophe facing Thailand's elephant camps
Elephant Nature Park in Chiang Mai, along with many other camps in Thailand, have been forced to close their doors due to the current Coronavirus situation in Thailand. 
Apart from resulting in hardship for the elephants, the closures will seriously hurt Thailand's tourism industry in the future if no support is forthcoming soon. "Lek" Chailert, owner of Elephant Nature Park and founder of Save Elephant Foundation,believes many of the closures will be permanent.
"If there is no support forthcoming to keep them safe, the elephants will either starve to death or may be put onto the streets to beg. It's a very bleak outlook unless some financial help is received immediately."
You can read that story at thethaiger.com
Keep in contact with The Thaiger by following our
Facebook page
.