Philippines tourism surges, despite last year's Boracay closedown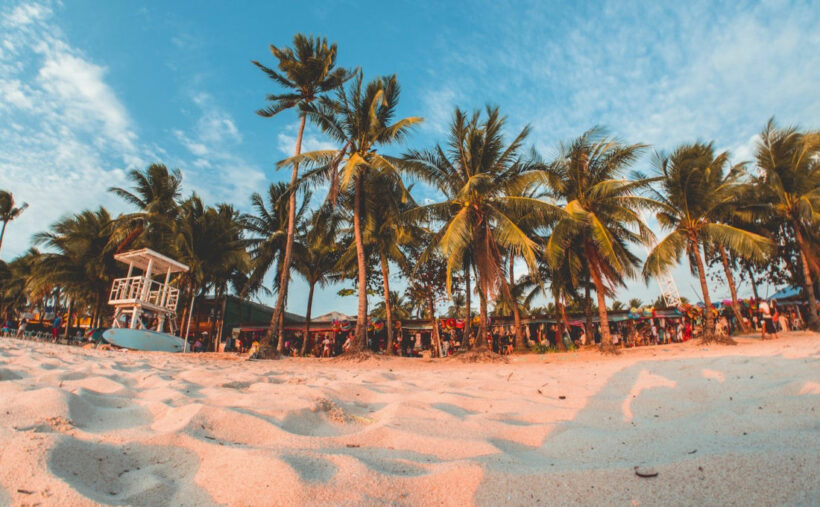 The Philippines Department of Tourism is reporting that 2018 closed with a 7.68% increase in tourist arrivals. Last year's six month closure of tropical paradise Boracay, from May to October, seems to have little affect on the overall growth of the country's tourism.
The island closed down last year for a 'makeover', mainly to tackle pollution after the country's president described the island as a "cesspool." Installation of water treatment systems and public utilities is now complete. However, strict rules apply to meet island capacity limits. Tourists must stay in hotels and guesthouses that are registered and have passed an environmental fitness test.
368 accommodation establishments have now been authorised for tourists to book. It gives the island more than 13,000 rooms.
Earlier this month, authorities lifted the moratorium on airline flights to the island in a move to boost visits. But restrictions on beach parties and even smoking on the beaches are being strictly enforced. Boracay is no longer the party island is once was.
Last year, The Philippines registered 7.1 million international tourist arrivals, a record surpassing 6,620,908 trips in 2017.
The general tourism narrative is that travellers switched to other Philippine beach destinations like Cebu and Siargao. Meanwhile, for the first five months of 2019, the country welcomed 3,489,270 visitors, which reflect a 9.76% increase over the same period last year.
SOURCE: Philippines News Agency
Keep in contact with The Thaiger by following our
Facebook page
.
Powerful 6.4 earthquake kills five in the Philippines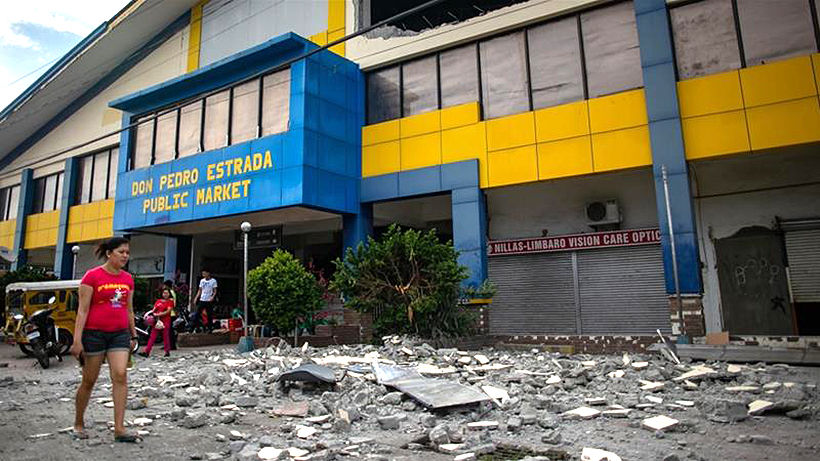 PHOTO: AFP
A strong 6.4 magnitude earthquake has struck the southern Philippines, killing five, including one child, destroying property and disrupting power supply. The death toll is expected to rise.
The powerful quake was felt across the Mindanao region, even causing a 3-storey shopping mall to burst into flames. Residents were evacuated and a child was killed when a house collapsed in the town of Datu Paglas.
AFP reports that the quake was 14 kilometres deep and followed by two aftershocks. The Philippines is part of the "Ring of Fire", a zone of constant seismic activity that stretches from Japan through Southeast Asia and across the Pacific.
Several injuries have been reported as a result of falling debris. The shopping mall that caught fire was evacuated when the quake struck, but it's not yet known if there were still people inside as the fire took hold.
The mall was still on fire three hours later as nearly 100 firemen battled to put it out.
Residents on the coast in Davao fled to higher ground fearing a tsunami, even though a government seismologist reassured people there was no tsunami risk as the quake had occurred inland.
It's understood that prisoners in the municipal jail in the town of Bansalan were also let out, but placed in handcuffs and held outside for the duration of the evacuation.
SOURCE: AFP
Keep in contact with The Thaiger by following our
Facebook page
.
Burmese surfing team head to SEAsia Games, a first for Myanmar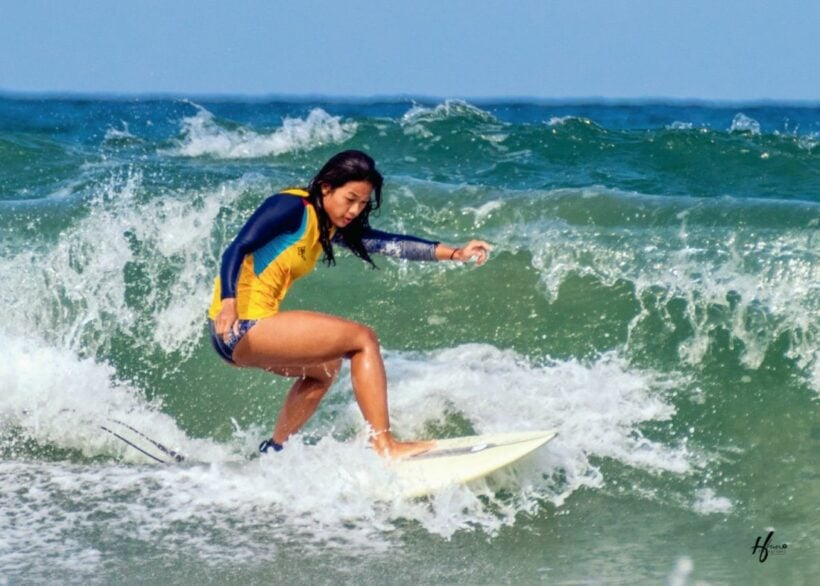 PHOTO: Burmese surfer Thwe Thwe Soe practicing off the coast of Ngwe Saung – Myanmore
Paddling hard and smiling, Thwe Thwe Soe flung herself up on the board just as a wave was breaking, spreading her arms out for balance before getting knocked off.
"I can't live without surfing. I did not expect to be chosen for the national team but I'm thrilled at the opportunity."
Thwe Thwe Soe was speaking after a day in the blue waters off the small coastal resort town of Ngwe Saung. Competitive surfing was barely known in Myanmar a few years ago but one local beach town is riding a wave of enthusiasm to the Southeast Asia Games for the first time ever.
The Southeast Asian country is flanked by surf-ready coasts to the west and south, but decades of military rule, lack of equipment and poverty kept aspiring athletes from testing the waters. The 25 year old encountered the sport while studying in southern California and has been hooked since, saying she "always feels happy" on the water.
Now she is going up against the region's giants at the December games in the Philippines. Thwe Thwe Soe has one of the best chances to medal among the handful of surfers going, but all are training hard.
"We surf for at least four to six hours a day," said American coach Robert Brickell, a 26 year old originally from New York.
The mild waves at Ngwe Saung present a paradox for competitive surfers – they are good to learn on but much tamer than the conditions in surfing hotspots. The team went to Bali in Indonesia for two months to get used to some "big wave surfing" and have made enormous strides in a short amount of time, Brickell said.
"My hope is that we can show everybody that people from Myanmar, we know how to surf, we know how to respect the ocean. And of course our hope is to win some meets."
The Surf Association of Myanmar was established only this year. The sport is slowly gaining prominence thanks to the impassioned surfers, most from a village near the beach and newcomers themselves. Ngwe Saung is the heartland of the growing craze and has now hosted several competitions.
"We hadn't heard of surfing before 2017. It will be a difficult competition but we will do our best for sure." said 19 year old Aung Min Naing.
SOURCE: Agence France-Presse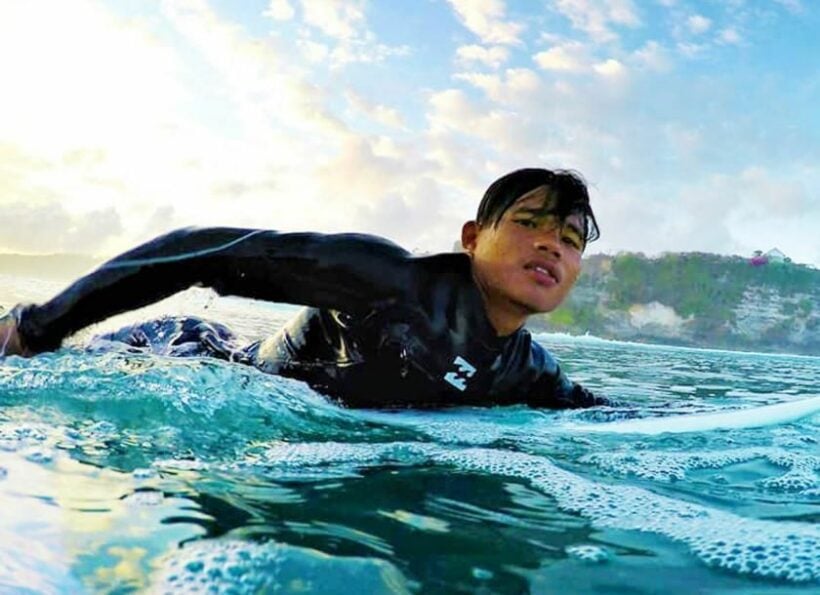 PHOTO: Aspiring new Burmese surfer, Aung Min Naing – MMTimes.com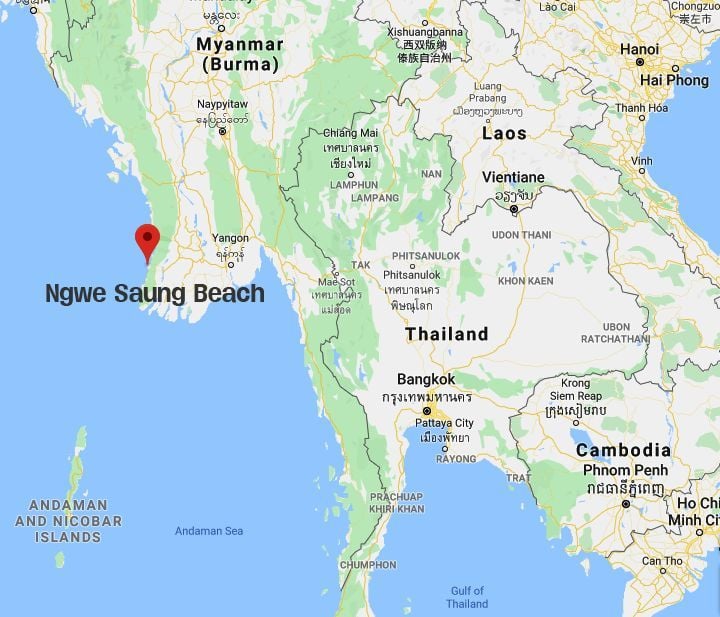 Keep in contact with The Thaiger by following our
Facebook page
.
"Philippines: Deadliest country in the world for land defenders" – Global Witness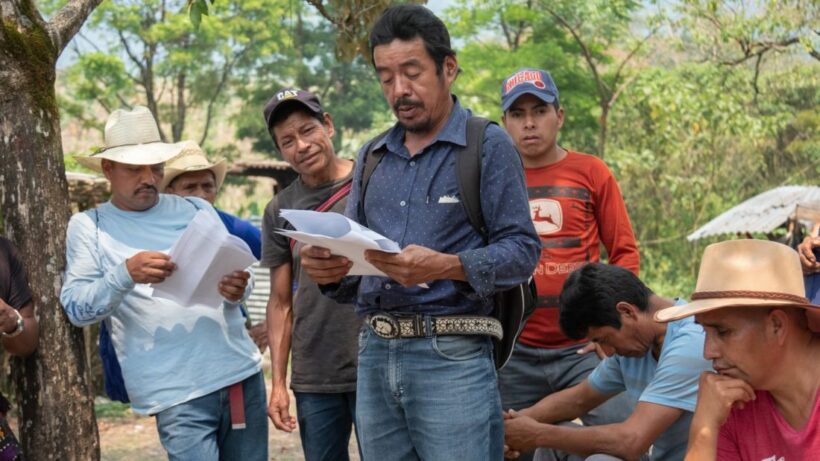 Murders of environmental activists and land defenders in The Philippines continue to rise sharply under President Rodrigo Duterte. The accusations from an international rights watchdog, alleging his speeches and policies have "emboldened" the killers.
Campaigners who challenge powerful logging, mining and fruit growing interests have long faced deadly violence in The Philippines, but the recent increase mark a "disturbing" jump, according to the report from Global Witness.
In July, the group said 30 killings in The Philippines last year made it the deadliest country in the world for land defenders – a first since the group began reporting such deaths in 2012.
Senior Global Witness campaigner Ben Leather says that since President Duterte came to power, there's been a huge increase in the killings of land and environmental defenders including indigenous activists.
"The president's aggressive rhetoric against defenders, coupled with the climate of violence and impunity fostered by his drugs war, has only made things worse."
The report claims the toll was at least 113 since Duterte became president in mid-2016, while no fewer than 65 were killed in the three years before his rule.
Duterte's presidency has been marked by his internationally condemned anti-drugs campaign that authorities say has resulted in more than 5,500 dealers or users being gunned down by police. Rights groups say the true toll is at least four times as high.
The president also threatens enemies in his frequent, rambling public statements that are peppered with profanity and are part of his popular appeal in The Philippines. During a 2017 press conference, he threatened to bomb tribal community schools, which he accused of pushing students to become communist rebels, according to the Global Witness report.
"The President's brutal 'war on drugs' has fostered a culture of impunity and fear, emboldening the politically and economically powerful to use violence," the report added.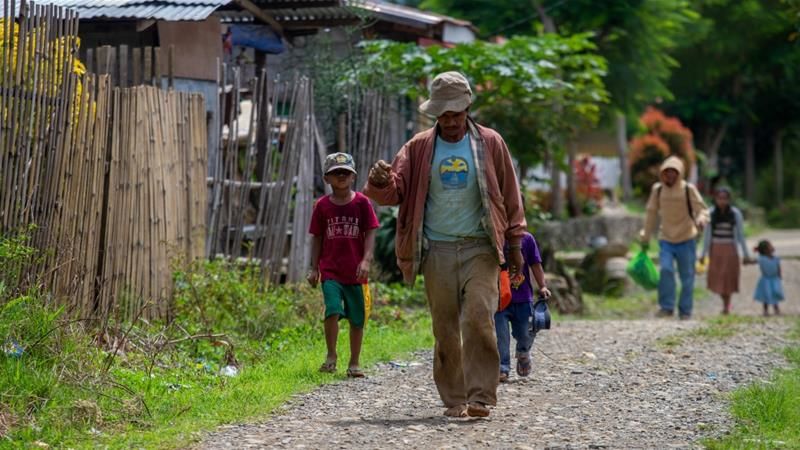 Since January there has been at least 16 killings in the province of Bukidnon in the island of Mindanao – Jeoffrey Maitem/Global Witness
The report cited a series of killings carried out since Duterte won a landslide election victory on his promise to fight crime and corruption.
In 2017, a member of an environmental watchdog group was shot dead while attempting to confiscate illegally cut timber destined for boutique hotels being built amid a tourist boom on Palawan island, known as the country's last ecological frontier, the report said.
The victim was the 12th member of the group to be killed since 2004, it added.
A community leader in Mindanao was shot dead in a 2016 ambush after speaking out against a mining project run by a company headed by a businessman who was an election campaign donor for Duterte, Global Witness said.
It said it also investigated cases of ranchers growing pineapples and bananas for fruit multinationals on land claimed by tribesmen, one of whom was killed — allegedly by security guards of a Del Monte Philippines contract grower in 2017.
In 2016, security guards of another rancher who grows bananas for Dole Philippines destroyed the houses of tribesmen claiming the land, uprooted their crops and chased them off the property with gunshots, the report said.
Dole and Del Monte dominate the industry in the Philippines, which the UN's Food and Agriculture Organisation ranked as the world's second-largest exporter of both bananas and pineapples last year.
Continuing to do business with these ranchers "makes both companies complicit with the violations", Leather said.
Del Monte Philippines, in a statement, denied the report's allegations, adding that it "vigorously promotes the welfare of stakeholders across its global supply chain".
Dole Philippines, controlled by Japan's Itochu Corp, did not immediately reply to a request for comment.
SOURCE: Agence France-Presse
Keep in contact with The Thaiger by following our
Facebook page
.