Saturday night protests around Bangkok end peacefully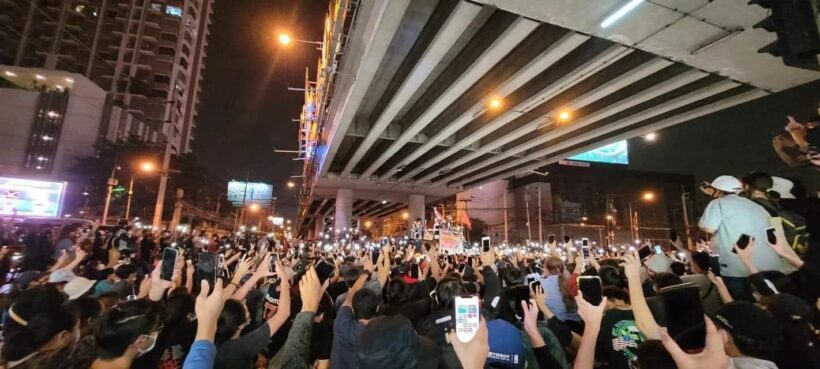 Four different locations, between 15,000 – 20,000 protesters, all ending peacefully. Police were not far away from any of the gatherings but a clear message has come from the top to avoid another violent display like Friday night at the Pathumwan intersection in Bangkok's central shopping district.
Police and government officials tried to short-circuit the protesters plans early yesterday afternoon by shutting down large chunks of the mass transit system – the Sukhumvit Line and the Airport Link, even parts of the MRT. Later they closed down the whole system in a blunt, but useless, tactic to try and stop the protest gatherings.
Their aim was to remove the means of transport available to the protesters to get to the venues. Their tactic had the effect of removing the popular mode of transport to all Bangkokians and did nothing to prevent protesters from getting to their protest locations.
Participants, of course, made their way to 3 other protest locations announced just after 3pm. Without the BTS they still had a myriad other means of getting to the rally positions, and they did. Rally organisers announced they would finish the rallies at 8pm. Most of the city's transport routes resumed normal services between 8.30-9pm.
Police didn't intervene at any of the protest locations.
The main gatherings were in Udom Suk, with a march to Bang Na (south east of the main city centre on the banks of the Chon Phraya), Wong Wian Yai (in Thonburi along the BTS line) and Lat Phrao (north east of the city centre). Other gatherings emerged at Sam Yan, Asok and Phaya Thai. There were also gatherings in other provinces, including Chiang Mai and Chon Buri (Pattaya), and smaller gatherings elsewhere.
It was an afternoon of cat and mouse with the protesters completely outmanuovering the police. Police secured the Victory Monument area, and later around the Asok BTS, but the protesters were never at Victory Monument and had moved on from Asok by the time they arrived.
In Lat Phrao, one of the largest gatherings, protesters were well prepared for another assault by riot police and handed out safety hard hats, goggles and raincoats. But the crackdown never came and the rally-goers dispersed of their own accord around 8.30pm.
The government is coming under heavy criticism after ordering riot police to bring an end to Friday night's peaceful assembly at Pathumwan intersection in central Bangkok. Among a host of others, national artist Suchart Sawatsri and activist Nuttaa Mahattana, have joined the chorus of voices urging the Thai PM to stop using violence against the student-led protest movement.
Chulalongkorn economist Narong Petchprasert stated that there were two groups that disagreed with each other on the role of the monarchy… one wants to maintain the status quo and the other wants reform… while the third party aims to exploit the conflict between them to gain power and wealth, according to Nation Thailand.
The office of student council of Mahachulalongkornrajavidyalaya University also released a statement saying that it doesn't support violence by the government against the people, adding no violence should happen in society.
Greenpeace Thailand issued a statement that it "condemns the violent crackdown on a peaceful demonstration".
"People have the right to perform non-violent protests, which are a fundamental human right. Greenpeace calls on the Thai government to stop the violence and unjustified action now".
Across the landscape of social media there has been little support for the Thai PM and the police' handling of the protests. The trending tags on social media have all been versions of demands for the Thai PM to stand down and a call for no more coups.
From his side PM Prayut Chan-o-cha has said he wouldn't rule out a general curfew if the protests continued. He announced a State of Emergency on Thursday morning at 4am that prevented gatherings of more than 5 people with warnings about posting and sharing of information online that "could adversely affect national security". The warnings were aimed at Thai citizens and the media.
Human Rights Watch have also sent an open letter to the Thai government condemning their crackdown on students and using weapons against peaceful protesters. The Pm has publicly backed up his Police Chief who claimed that the use of the batons and water cannons on Friday night was within "international laws". But Human Rights Watch disagreed.
Under the 2020 United Nations guidance on less-lethal weapons in law enforcement, "Water cannon should only be used in situations of serious public disorder where there is a significant likelihood of loss of life, serious injury or the widespread destruction of property." In addition, water cannon should "not target a jet of water at an individual or group of persons at short range owing to the risk of causing permanent blindness or secondary injuries if persons are propelled energetically by the water jet."
In Pattaya, Chon Buri, there were several prominent pro-democracy protests in two locations. Protesters gathered around the Bali Hai Pier, then to the Pattaya City Police Station after being told by police that they were breaking the law.
In Chiang Mai there was a large and peaceful gathering at the Chiang Mai University. Police didn't become involved in that meeting.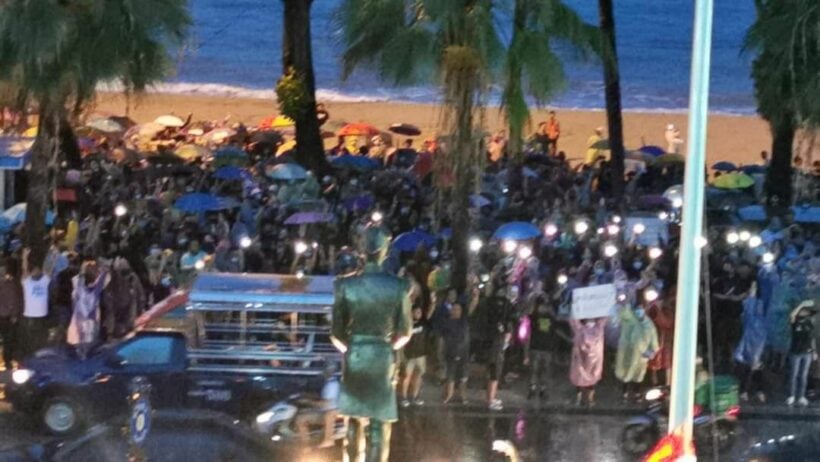 Protesters gathering at Pattaya – Phakchira Sittiwong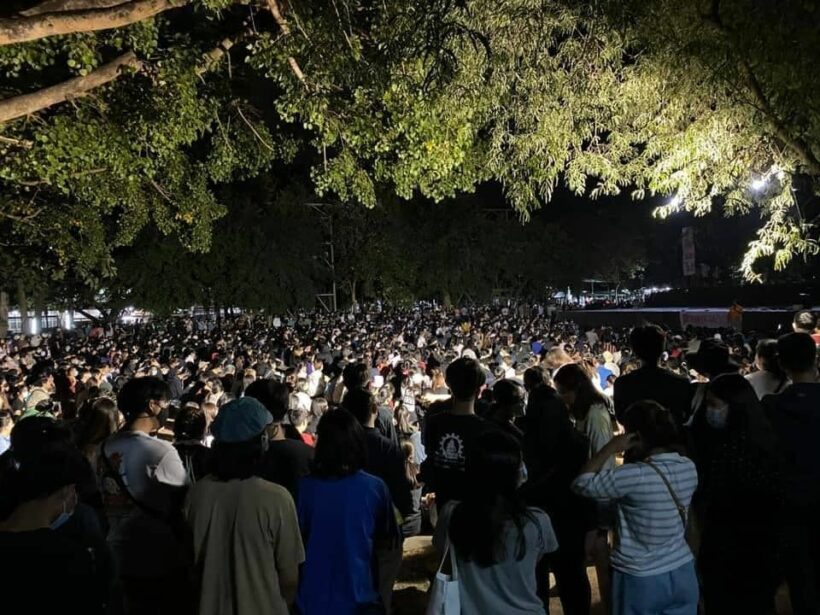 Protest gathering outside the Chiang Mai University
Keep in contact with The Thaiger by following our
Facebook page
.
Never miss out on future posts by
following The Thaiger
.
Some Thai students decide to boycott their graduation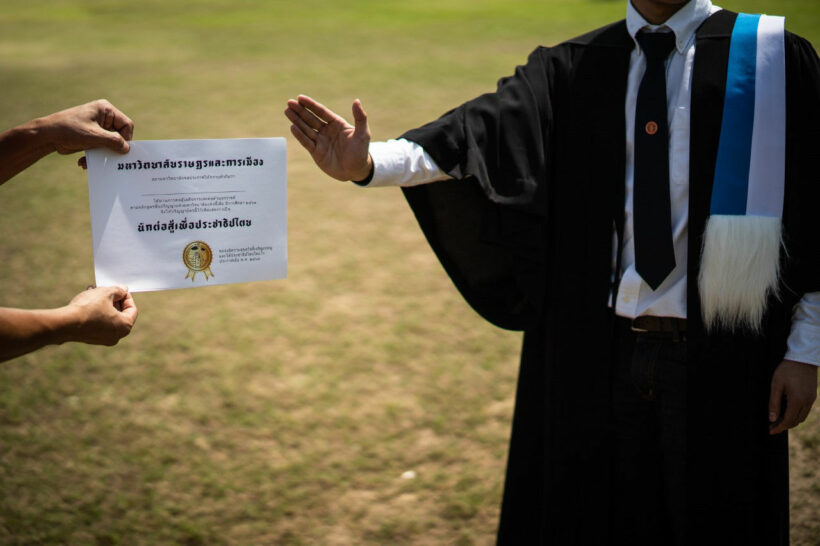 Their Majesties the King and Queen of Thailand will attend Thammasat University's graduation ceremonies tonight and tomorrow evening. But there's been a growing contingent of graduates who are boycotting the ceremony as a personal protest in relation to current rallies around Thailand about government and constitutional reform.
The night, the biggest night of a student's schooling, is a special event for many Thai students when a member of the Royal Family frequently attend the ceremonies to confer the degrees in a parade of passing students.
The protests, that started back in July by a core of university students, openly mentioning the reform of the Thai Monarchy for the first time, have now morphed into a common thread of discussion in social media. The role of the Thai Monarch, in the past a taboo topic for polite conversation in Thailand, is now being subjected to frequent media coverage and discussion.
Usually a night to remember for many students, it's not completely uncommon for graduating students to miss the commencement ceremony. The highly choreographed graduation ceremonies are voluntary although the chance to accept their certificate from a member of the Royal Family, including the photo that would take pride of place in homes around Thailand, is usually not passed up.
Now a rump of students, not only at Thammasat, are taking the opportunity for a significant personal protest, and deciding to forgo the ceremonies and make their own symbolic statement about the current protest issues. In most cases the events involve an entire day of rehearsals, culminating in mere seconds as they receive their rolled-up certificate in a regimented, solemn and formal ceremony. There can also be quite a lot of costs involved with the hiring of graduation garments with strict dress codes surpassing the wardrobes of many of the young students.
One post itemised the costs including up to 500 baht for a new skirt, a 1,000 baht for hair and grooming, including a hair cut and dyeing their hair back to black if they'd decided to go 'colour' during their studies, and a pair of shoes for up to 1,000 baht. Then there's make-up fees, a photographer (some graduation photos can be 'event' in themselves), both adding another 6,000-10,000 baht to the costs.
Some protesters earlier this month announced on social media posts that they were missing their graduation describing it as a "superfluous and onerous event". Although plenty of graduates have missed the ceremonies in the past for various reasons, now they're posting about their boycott, complete with explanations calling for reforms for the role of Thailand's Head of State.
Some graduates have also taken to social media explaining why they will be attending the graduation ceremonies, in most cases saying they will attend for the benefit of their parents.
Keep in contact with The Thaiger by following our
Facebook page
.
Never miss out on future posts by
following The Thaiger
.
Court rejects bid to arrest activists who led march on German Embassy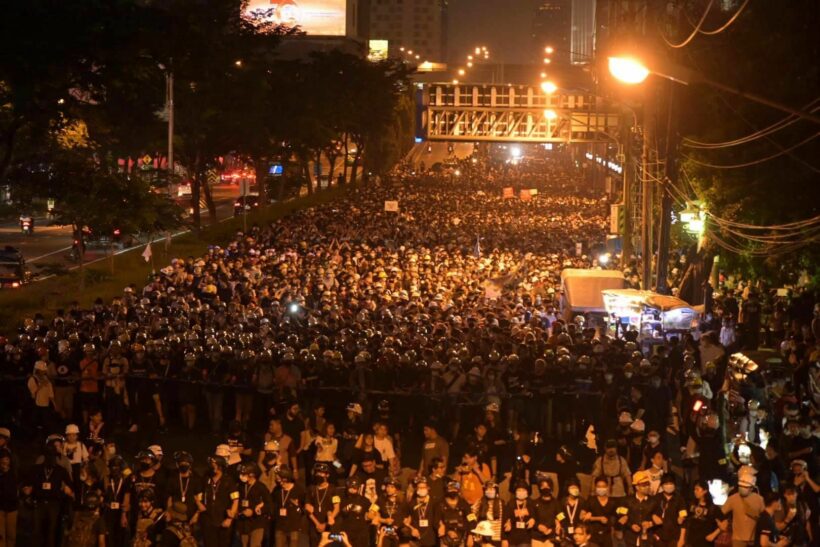 A bid to apprehend 5 anti-government activists, who led a march to the Germany Embassy on Monday from the Sam Yan intersection, has failed, after a court in Bangkok rejected a police application for arrest warrants. The Bangkok South Criminal Court has turned down an application from Pitak Suthikul, acting superintendent of Thungmahamek police in Bangkok.
Pitak had requested arrest warrants for Passarawalee Thanakijwibulpol, Korakot Sangyenpan, Chanin Wongsri, Cholathit Chotsawas, and Benja Apan, who would have faced charges of sedition and other offences, if taken into custody. However, the court told officials to instead issue a summons, given that the protesters are students who only gathered for a short time and are unlikely to flee.
On Monday, protesters marched to the German Embassy to submit a petition calling on the country's government to investigate whether Thailand's Head of State conducted official business while in Germany. The German government has responded to confirm there has been no violation of the country's ban on conducting foreign politics on German soil.
SOURCE: Nation Thailand
Keep in contact with The Thaiger by following our
Facebook page
.
Never miss out on future posts by
following The Thaiger
.
Tests show Samui woman did not contract virus at quarantine hotel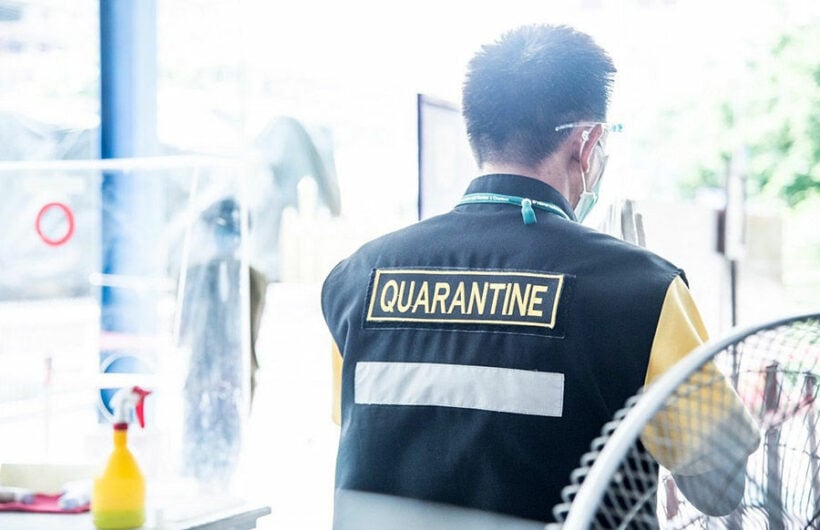 Tests carried out by the Disease Control Department show that the woman who tested positive for Covid-19 after being discharged from quarantine and travelling to Koh Samui, did not become infected at the quarantine facility. Dr Sopon Iamsirithaworn says the results do not match those of 2 other guests who tested positive at the hotel in Samut Prakan, just outside Bangkok.
Tests show that the woman, who has dual Thai/French citizenship, contracted the infection 17 days earlier. However, Sopon says that while officials are still unsure as to where she became infected, the existing guidelines for quarantine facilities need to be reviewed.
"Though we haven't found the source of her infection, we still have to revise our guidelines for alternative state quarantine sites and cut down the risk of spreading the virus."
A national quarantine policy, currently at draft stage, sets out strict safety and hygiene standards for all quarantine facilities to adhere to. The guidelines cover everything from screening for suspected cases, data collection and reporting, as well as the provision of services and overall management of the venues. Health officials are also proposing cutting quarantine to 10 days and using movement tracing for an additional 4 days after guests are discharged.
SOURCE: Nation Thailand
Keep in contact with The Thaiger by following our
Facebook page
.
Never miss out on future posts by
following The Thaiger
.