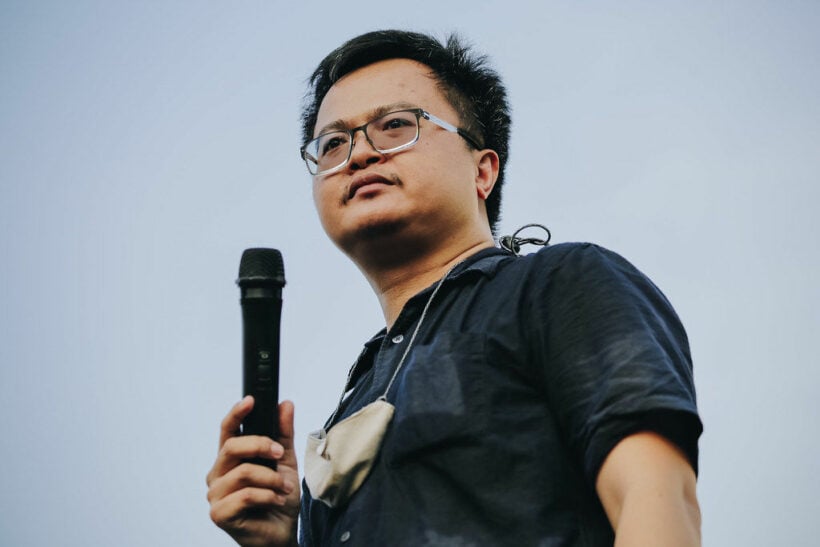 Human rights lawyer and protest leader, Anon Nampa, has been released from custody, alongside 3 other pro-democracy activists. Thai PBS World reports that Aekkachai Hongkangwan, Somyot Prueksakasemsook, and Suranart Paenprasert left Bangkok Remand Prison with Anon, just after midnight last night. Their release comes after the Criminal Court rejected a bid by police to retain the 4 in custody.
Anon had spent a total of 19 days in custody on a number of charges, including the most serious charge of sedition. Somyot had been held for 18 days, also on sedition charges. Aekkachai was also held for 18 days, on charges of threatening Her Majesty the Queen. Suranart, facing a similar charge, spent 13 days in custody. Both Aekkachai and Suranart were in the frontline of protesters that were allegedly yelling at a yellow Rolls Royce and motorcade when it passed through a group of protesters on October 14. The following day the Thai PM imposed a State of Emergency, partly related to the unplanned interaction between the protesters and members of the royal family.
Supporters gathered outside the prison to welcome their release, with Anon taking to a microphone to address the crowd. He reiterated the protesters' demands, saying they have not changed. The anti-government activists are demanding that PM Prayut Chan-o-cha resign, as well as calling for a re-write of the Thai constitution, and reform of the Monarchy. Anon added that the activists' lawyer had told them there is currently no other warrant out for their arrest.
SOURCE: Thai PBS World