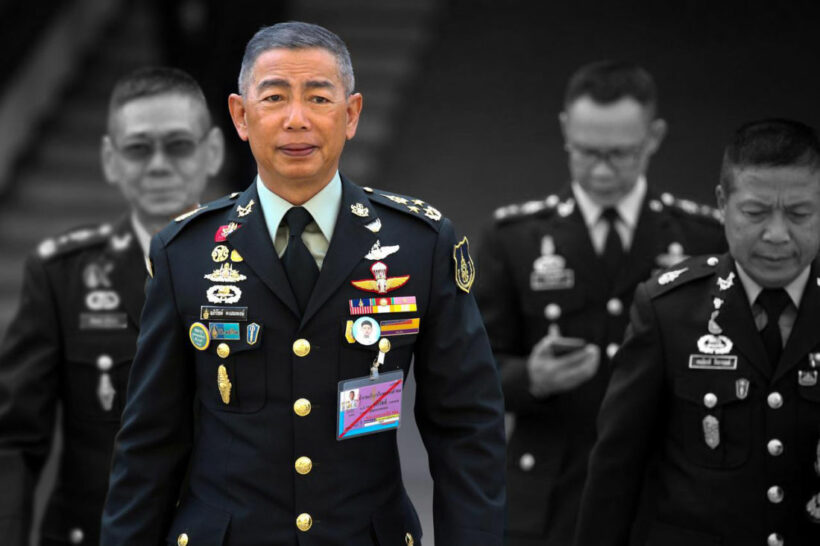 ORIGINAL PHOTO: Reuters
"The threat now is fake news."
The Thai army chief General Apirat Kongsompong says that the army is now fighting a new hybrid war against enemies who are trying to turn young Thais against the military and the monarchy.
He was speaking to Reuters in a follow up to the bomb attacks around Bangkok seven days before (August 2). The General believed that the attacks had been timed to coincide with ASEAN meetings in the capital to "embarrass and undermine" the new Government.
General Apirat believes the army was now fighting a struggle that he compared to the war against the communist insurgency in the 1970s and '80s, but he said the challenges now are propaganda disseminated on the internet. The General's father was also an army chief who led a coup in 1991.
"It's like cyber warfare. And when it combines with the (bombing) incident that happened last week, it's like hybrid warfare.
"Now it is not just an open enemy like the old time. So we have to reorganise and improve our knowledge, and reorganise our units and many things to maintain peace and national security."
He used his interview with Reuters to disparage the opposition parties in the new parliament.
"Some political parties, just born a couple of years ago, had the platform of their propaganda directed to people when they were 16 and 17. They try to educate them with fake news."
He was clearly directing his comments towards the Future Forward party, formed in March 2018. The party emerged from nowhere with strong performances in the March 2019 election (getting the third highest numbers of primary votes). The leader of Future Forward, Thanathorn Juangroongruangkit, ran against the existing PM Prayut Chan-o-cha in the two-way contest for the position of prime minister in the new government. He lost the vote narrowly.
General Apirat say the new party specifically targeted young voters and is now allied with Pheu Thai, which was leading the government before being tossed out of the office in in the 2014 coup.
Whilst noting that none of the opposition parties had advocated violent against the army or government, he noted that police believed last week's bombings were "linked to political issues".
Despite his politically charged comments in the Reuters interview, General Apirat vowed that the military would stay out of politics and said there would "be no coups under his watch".
"As long as I am in this position I will never let the army cross the line. After the election, the army has to step back."