"If anyone talks about fear, we should tell them that, if we are afraid, we will never be able to step forward."
Thanathorn Juangroongruangkit, Future Forward's 40 year old leader, assured the public yesterday that the party is not aggressive and will not seek to turn everything upside down and inside out "but move Thai society forward whereby democracy is not an alternative, but the only path for the country."
This was the central message as he gave his vision speech at Thammasat University, on the first anniversary of the founding of the party (June 8, 2018).
In just one year Future Forward has gone from zero to hero in the minds of many Thais, especially the younger generation, who flocked to the new political alternative giving the new party third place in the general election on March 24 this year, ahead of the Democrats and other more established parties.
Last Wednesday Thanathorn faced off against Junta leader Prayut Chan-o-cha in a vote for PM – a vote stacked against him with the Senate participating in the parliamentary election and voting as a bloc for the incumbent PM.
The Future Forward party says they aim to transform Thailand into a more livable society, where its people are not divided by hate politics, the military is democratic, with a decentralised bureaucracy and no monopolisation by big business, according to Thai PBS.
Noting that the next battle, to restore the power to the people, will be tougher,  he pleaded for support from the people to push for new ideas in order to put to rest the politics of fear, the "politics of yesterday".
"Our Future Forward party's politics are about hope. They said, if the country is without Khun Loong (Gen Prayut), it will collapse. If anyone talks about fear, we should tell them that, if we are afraid, we will never be able to step forward.  Their politics is about yesterday, but ours is about tomorrow.  Their politics means that we must not mess with their power, but if we don't mess with it, they will just carry on reaping the benefits."
The firebrand Future Forward party leader vowed to shake up local politics by sending candidates to contest, in the initial stage, 10-20 provinces when local elections take place end of this year, in order to put an end to nepotism, with the parents being members of parliament as their children become local administrators.
Painted as a Thaksin puppet by his detractors, Thanathorn has always said he has no one controlling him and that Future Forward is setting its own policies, and has no links with Pheu Thai other than the desire to end the rule of the Army and elites in Thailand.

PHOTO: Thai PBS


Have something to say? Scroll down to leave a comment, or visit our Thaiger Thailand Q&A Forum to discuss people, events, to-do and more with the local community.
From 'Sawadee' to 'Pad Thai'. Who was Phibun?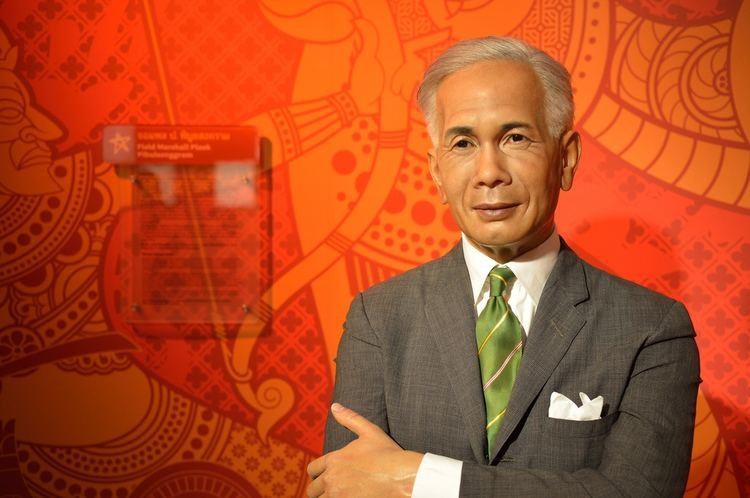 by Dan Brook
Thai culture is ancient and one can even see evidence of its beautiful bronze-age civilisation in Ban Chiang, near Udon Thani in Isaan, Thailand's lesser-visited north-east region.
But not everything in Thai culture is quite so old. In fact, some major things closely associated with Thailand are relatively recent — and all of them are related to Field Marshal Plaek Phibunsongkhram.
Phibun – as he is often called in the West, though he is better known as Chomphon Por in Thailand — was one of the leaders of the coup that overthrew the absolute monarchy in 1932, creating the constitutional monarchy that Thailand has had since. He also exerted more state control over the economy through nationalisation.
Culturally, however, Phibun may have had even more influence. As Thailand's longest serving prime minister, he supported fascism (though he later de-emphasised this and embraced a form of democracy), extreme nationalism, and a cult of personality focused on himself. His photos were ubiquitous and his quotes were regularly in the newspapers. He mandated that Thais salute the flag, know the national anthem, and speak Thai.
Phibun changed the country's name from Siam to Thailand in 1939, changed the new year from the traditional Thai one on April 13 to the European Gregorian one on January 1, and codified, promoted, and possibly created Thailand's signature eponymous dish, pad thai, by adapting a Chinese noodle dish. His law requiring Thais to wear hats in public, however, clearly did not endure.
Shortly after he simplified the Thai script, Phibun adopted the word sawadee (from svasti, the Sanskrit word for blessing or wellbeing) from a Chulalongkorn University professor and made it the "official" Thai greeting, starting in 1943, still commonly used.
Any one of these changes is huge. Combined, Phibun helped create modern Thai culture as we know it!
Dan Brook, Ph.D. teaches sociology at San Jose State University, from where he organises the annual Hands on Thailand (HoT) program. Dan has free ebooks on Smashwords.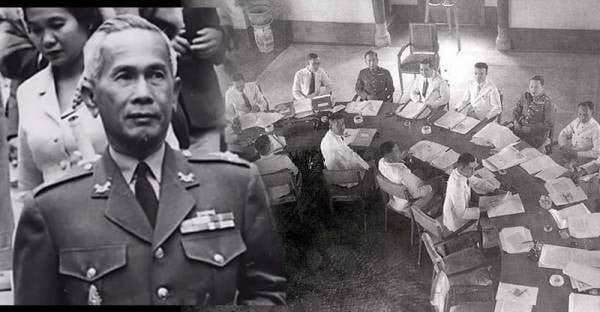 Toon's running again, pounding the pavement for Thailand's hospitals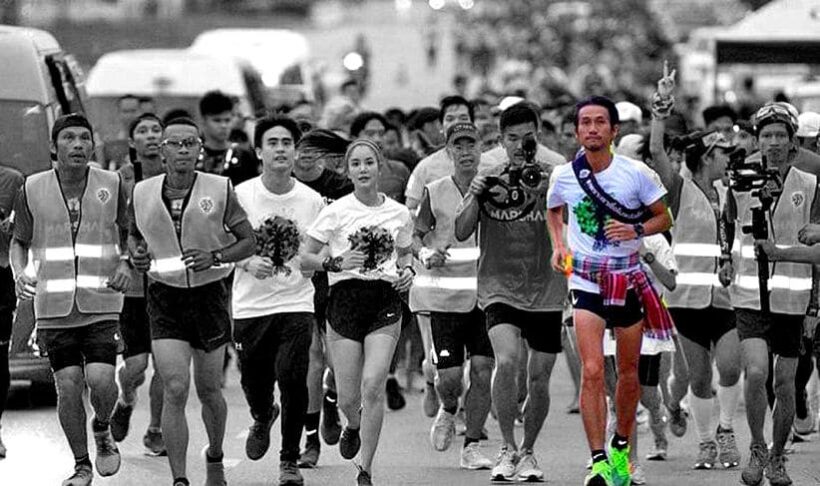 PHOTO: Kao Kon La Kao Foundation
Artiwara "Toon" Kongmalai has started his latest series of charity runs, kicking off in north-eastern Nong Khai province to raise funds for small hospitals to help them buy much-needed equipment.
Artiwara and his entourage started at 5am under the title of "Kao Kon La Kao – Kao Tor Pai Duay Palang Lek Lek – Isaan" (One Step Each by Each Person – Move On With Small Force – Northeast).
Artiwara led the first lap of the run for 10 kilometres before handing over the task to another actor. During the first hour of the run, donations worth of 15 million baht poured in, according to the Kao Kon La Kao Foundation Facebook page.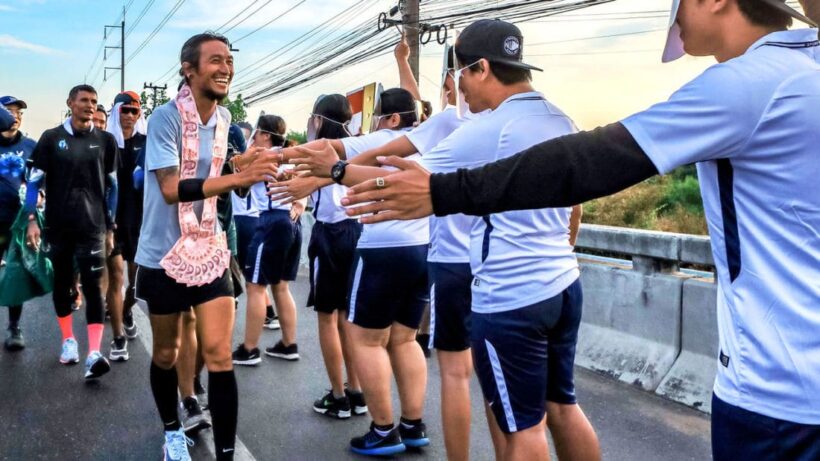 The first run of the Isaan charity run series aims to raise funds for eight hospitals in the region.
Toon became a national hero following the huge success of his epic 2017 charity run "Kao", which took him and other participants all the way from Thailand's southernmost to northernmost tips.
By the conclusion of that drama-filled effort, Toon had not only raised more than 1 billion baht for hospitals in need, but also catapulted Toon to 'national hero' status. That run has even become the subject of a Netflix documentary film (highly recommended viewing. It's called "2,215", referring to the number of kilometres he ran during the epic fund-raising journey).
Toon's 'Kao' project raised more than 1.6 billion baht in total for hospitals between 2016 and 2018. On May 8 this year, the project officially evolved into the Kao Kon La Kao Foundation. The Thaiger will continue to follow the progress of the new fund-raising journey.
Wai Khru – setting a bad example for the future. Thailand's demand for respect from its young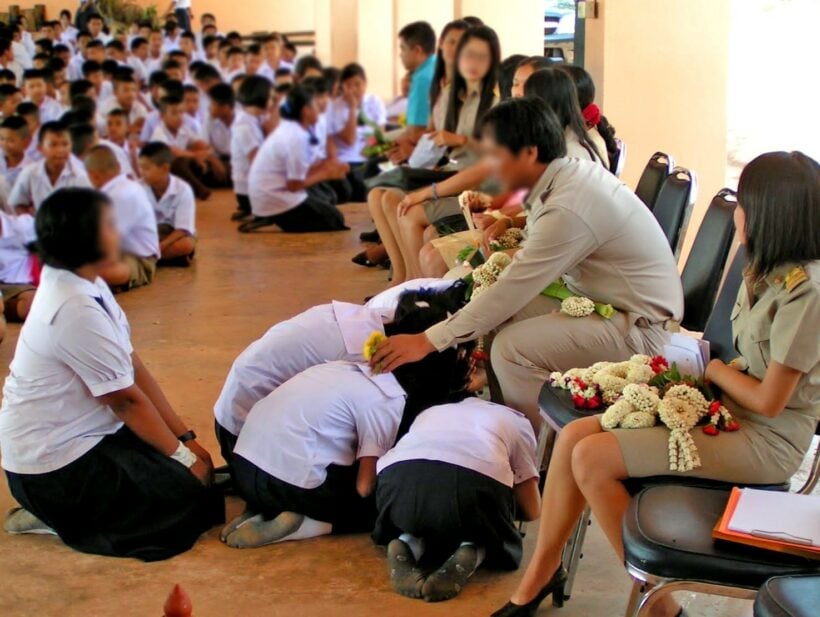 Hazing (US English), initiation ceremonies (British English), bastardisation (Australian English), ragging (South Asia), or deposition, refers to the practice of rituals, challenges, and other activities involving harassment, abuse or humiliation used as a way of initiating a person into a group including a new fraternity, sorority, team or club.
In Thailand, hazing is not only rife, it's seen as a rite of passage for young Thais as part of their cultural inculcation into the subservience they're expected to display elders or people with more money or higher positions than them. What's mistaken for 'respect' is actually a cultural party trick where children and young adults are 'trained' to be deferential from an early age.
In recent years there have a been a few high-profile deaths of army trainees, in the care of their Academy leaders, but allegedly subjected to initiations and bastardisation that is just 'par for the course' for the education of young Thais.
In a response to the recent death of Phakhapong Tanyakan at the Armed Forces Academies Preparatory School on October 17 last year, the Thai Deputy PM and Defence Minister Prawit Wongsuwan claimed that he "was not beaten to death, but just too weak to withstand tough training."
He went further saying "I was once beaten more than I could take and I fainted too. I didn't die. For this, before the school accepts kids for entry, they must give them a proper physical check-up."
When you get you get such official, public, responses from the top you can see how this hazing culture continues to thrive in the, otherwise, Land of Smiles.
We spoke to three foreign teachers in Thailand, all speaking on condition of anonymity, about the culture of hazing in their schools and the benign version of that in primary schools, 'wai khru'.
"Hazing is seen in many different types of social groups, including gangs, sports teams, schools, military units, fraternities and sororities. The initiation rites can range from relatively benign pranks and was khru, to protracted patterns of behavior that rise to the level of abuse or criminal misconduct."
For the families of hazing victims these ceremonies can be catastrophic, as in the tragic case of Phakhapong Tanyakan.
A 19 year old armed forces cadet, previously subjected to harsh physical discipline, suddenly died a day after returning to school from a break. His parents were told he suffered from a sudden cardiac arrest but became suspicious of possible foul play after a detailed autopsy report never came. – Khaosod English
But he's not the only one. Hazing and cruel or unusual initiations are conducted every day around the Kingdom but with a growing concern about the practices, both from the young students themselves and concerned older Thais, who realise the dangers of 'persuading' youngsters to respect elders needs examination in a modern 21st century Thailand.
We spoke to a respected senior Thai businessperson, again on the condition of anonymity, who said he had seen too much hazing going on during his time at school and then whilst training in the military.
"I was a victim of this type of bullying. I was told to 'be a man' and that all Thai men have to go through this. I think it is degrading and breaks human spirits. It teaches fear of those we are meant to respect. It has to change."
It all starts when young Thais are subjected to the Wai Khru or 'Teacher Wai' where students are expected to prostrate themselves in front of their teachers in a show of respect. But a broad spectrum of foreign teachers not only feel uncomfortable with this faux-deference, some of them go out of their way to be away for that day or, sometimes, even speak out about their concern with this tradition.
"I made the mistake of speaking out about the Wai Khru in our school. I just found it demeaning for the poor students who had to rehearse all week for this totally meaningless show of respect. I didn't feel respected, I felt sick. I ended up being ostracised and had to leave that school."
Whilst many Thais continue to wonder why westerners might find all this kowtowing and prostrating could cause concern, you just need to examine the deaths in the Army preparatory schools as the end result of 'demanding' obedience and deference to elders. In western culture, I have learned, respect is something that is earned, not demanded.
"Hazing is undignified, humiliating and cruel… not my words, but the words of students who are made go through this horrible experience. It's meant to be a sign of showing respect to your seniors but it's nothing more than a shameful indulgence at the expense of the students," said a long-term foreign teacher.
"Making students crawl around on the ground acting like animals in front of their peers, does nothing for either senior or freshie students. I have stopped attending Wai Khru day as I find it terribly uncomfortable for myself and for the students. You can see the look in their eyes as they approach you and are ordered to bow before the teacher. Teachers, like everyone else, should learn how to earn the respect of their students."
A young female foreign teacher first thought that the Wai Khru was 'cute' but has changed her tune over the years.
"Wai khru was the highlight of my first year teaching in Thailand. I was, and still am, extremely humbled and deeply touched by this beautiful tradition intended to recognise a teachers' role in children's life and to give said children the opportunity to express their gratitude to their teachers.
"But throughout the years I have started to look at this event with a more critical eye and I wish it weren't as rehearsed and staged as it unfortunately is. At our school, rehearsals for Wai Kru start a week prior to the event. During this week, children are drilled incessantly until they have mastered the walk, the bow and the wai leading up to the offering of the flowers that they are eager to free their sweaty little palms of."
Wai Khru continues to be practiced in all Thai schools as a long standing tradition and show of respect for teachers.
"Although I understand and commend the wonderful intentions behind such practices, I feel that much like other sorts of drilling that these students endure, this sadly takes away from the true purpose of it all. For want of a picture perfect event, meaning is lost and a demonstration of gratitude is transformed into a dreaded labour," she said.
An investigation into the death of Army cadet Phakhapong Tanyakan, by military investigators, found no wrongdoing by the Preparatory School. The parents have consistently called for a probe into their son's death and are still pursuing legal action.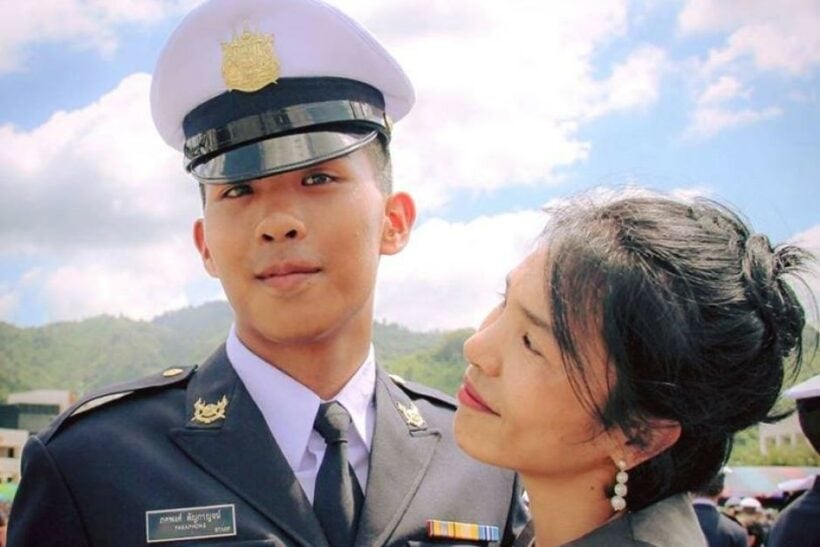 PHOTO: Army cadet Phakhapong Tanyakan, who died at the Armed Forces Academies Preparatory School on October 17 last year.