"If anyone talks about fear, we should tell them that, if we are afraid, we will never be able to step forward."
Thanathorn Juangroongruangkit, Future Forward's 40 year old leader, assured the public yesterday that the party is not aggressive and will not seek to turn everything upside down and inside out "but move Thai society forward whereby democracy is not an alternative, but the only path for the country."
This was the central message as he gave his vision speech at Thammasat University, on the first anniversary of the founding of the party (June 8, 2018).
In just one year Future Forward has gone from zero to hero in the minds of many Thais, especially the younger generation, who flocked to the new political alternative giving the new party third place in the general election on March 24 this year, ahead of the Democrats and other more established parties.
Last Wednesday Thanathorn faced off against Junta leader Prayut Chan-o-cha in a vote for PM – a vote stacked against him with the Senate participating in the parliamentary election and voting as a bloc for the incumbent PM.
The Future Forward party says they aim to transform Thailand into a more livable society, where its people are not divided by hate politics, the military is democratic, with a decentralised bureaucracy and no monopolisation by big business, according to Thai PBS.
Noting that the next battle, to restore the power to the people, will be tougher, he pleaded for support from the people to push for new ideas in order to put to rest the politics of fear, the "politics of yesterday".
"Our Future Forward party's politics are about hope. They said, if the country is without Khun Loong (Gen Prayut), it will collapse. If anyone talks about fear, we should tell them that, if we are afraid, we will never be able to step forward. Their politics is about yesterday, but ours is about tomorrow. Their politics means that we must not mess with their power, but if we don't mess with it, they will just carry on reaping the benefits."
The firebrand Future Forward party leader vowed to shake up local politics by sending candidates to contest, in the initial stage, 10-20 provinces when local elections take place end of this year, in order to put an end to nepotism, with the parents being members of parliament as their children become local administrators.
Painted as a Thaksin puppet by his detractors, Thanathorn has always said he has no one controlling him and that Future Forward is setting its own policies, and has no links with Pheu Thai other than the desire to end the rule of the Army and elites in Thailand.

PHOTO: Thai PBS
Keep in contact with The Thaiger by following our
Facebook page
.
Never miss out on future posts by
following The Thaiger
.
The Isan Project honours a hero of Tham Luang cave rescue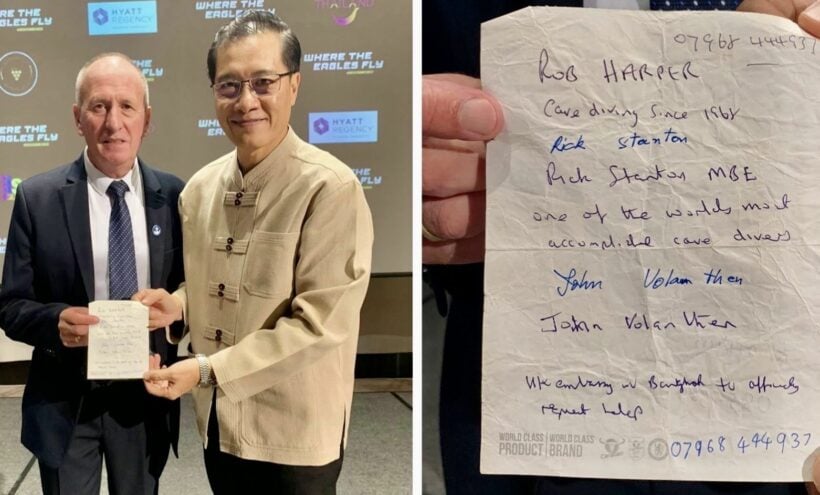 The Isan Project has collaborated with the TAT on new marketing campaign featuring music commemorating the Tham Luang cave rescue.
The story of how 13 young men, members of the Mu Pa (Wild Boar) football team, were saved in the caves of Chiang Rai continues to ignites interest in the miraculous internationally-followed rescue in July 2018 from the flooded Tham Luang cave
To honour the safe rescue music video company The Isan Projectrecently launched "Where the Eagles Fly", video to pay tribute to the British hero of the dramatic saga, Vern Unsworth MBE.
The release of a movie and Netflix mini series shortly will also boost interest globally in Thailand. The series includes the first individual interviews with the boys and they coach.
The launch, in collaboration with the Tourism Authority of Thailand, and supported by the Hyatt Regency Bangkok Sukhumvit and Serenity Wines, was attended by several key persons involved in the rescue mission two years ago, including former Tourism & Sports Minister, Weerasak Kowsurat, who played a major role in flying in special cave divers from the UK as requested by Vernon Unsworth, a recognised cave explorer, who knows virtually every inch of the Tham Luang cave.
"It is absolutely true that without Vernon's persistence in obtaining the help from the UK cave diving experts to initially spearhead the rescue mission, the boys and their coach would not be alive today."
"Needless to say, assistance from experienced and skilled cave divers from around the world, who later volunteered to join as well as our own Navy Seals, all contributed to the mission's ultimate success."
Vernon Unsworth MBE, his partner Woranan Ratrawiphakkun, and his caving buddy Kamon Kunngamkwamdee, all starred in the "Where the Eagles Fly" fantasy music video, which was set in deep jungle and caves in the mountain of Doi Nang Non in Chiang Rai, Thailand.
"I'm truly honoured to have this song written about me. It was very moving to relive parts of the rescue while making the music video, especially when I think back on how Kamon and I covered over 16 km. on the first day after we knew the boys were missing. We virtually lived in the cave for the first 4 days prior to the arrival of my cave diving colleagues from the UK".
The story of how the football team were saved in the caves is a heart warming one. For many attending the event it was a privilege and an honour to meet 63 year old Vernon Unsworth in person. An event filled with stories of bravery, emotion and moving music.
Vernon, who has mapped the cave system for 8 years, was the first professional cave diver at the site and realising the enormous danger the boys were in, played a significant rôle in the rescue and earned him the UK's high honour, an MBE medal.
As the rescue became a race against time ahead of impending monsoon rains, Vernon undertook reconnaissance dives upstream through flooded passages against strong currents.
Weerasak Kowsurat, the former Minister of Tourism and Sports, recalled how a message written on a piece of paper by Vernon and handed to his colleague for safe keeping with instructions that it was to be handed over in case Vernon, fearing the worst, didn't make it out on an exploratory dive. It was very dangerous work and one Thai diver died during the course of the rescue.
Although Vernon was safe, the message was handed to the Minister who was at the cave site. The message was to contact the British Dive Caving Association and gave names of expert divers and telephone numbers. Within 24 hours the Tourism Minister had managed to get the UK divers on a hastily arranged flight to Thailand to assist in the rescue effort.
The team of UK divers, working under appalling conditions and with time running out, in poor visibility located the team marooned on a ledge above the water about 4 kilometres inside the cave complex.
Writer and executive producer of The Isan Project, Will Robinson says… "Although I had penned and produced "Heroes of Thailand" honouring all those involved in the Tham Luang cave rescue, I felt it was time to pay a special tribute directly to the mastermind of the extremely complex mission."
"Vernon is such a humble man, I wanted to create a song not only to honour him, but also to establish Tham Luang and what is now known as the 'Wild Boar Cave', where the boys were found, as a new tourist attraction for those who love to explore caves."
At the beginning of the video it reads…
"On June 23, 2018, 12 boys from the Wild Boar football team went exploring the Tham Luang cave with their coach in Chiang Rai. They never returned home that night, next day locals contacted cave explorer Vern Unsworth in nearby Mae Fah Luang. Over the course of the next two weeks Vern put his life on the line for the young football team with a daring rescue engineered by Vern and Elite British cave divers. This song was written in honour of Vern Unsworth M.B.E. and inspired by the above events."
You can watch the video HERE.
Commenting on the Isan Project Tanes Petsuwan, TAT's Deputy Governor of Marketing Communications said, "TAT appreciates Will's love of Thailand, and we are delighted to be supporting this launch. We also believe that this song combined with the newly-published children's book, "All Thirteen" and the soon-to-be released Hollywood movie, "Thirteen Lives", will help to dramatically boost tourism in and around Chiang Rai even though we will need to rely mainly on domestic tourists until the end of the year while international travel is still restricted."
"Where the Eagles Fly", co-written by Will Robinson and Daniel Ryan, and performed by Daniel himself, is tipped to top the charts when the MGM blockbuster movie, "Thirteen Lives" and the Netflix mini-series about the epic story of the Tham Luang cave rescue are released. The song is now available from all digital music stores including iTunes, Spotify, Apple and Amazon.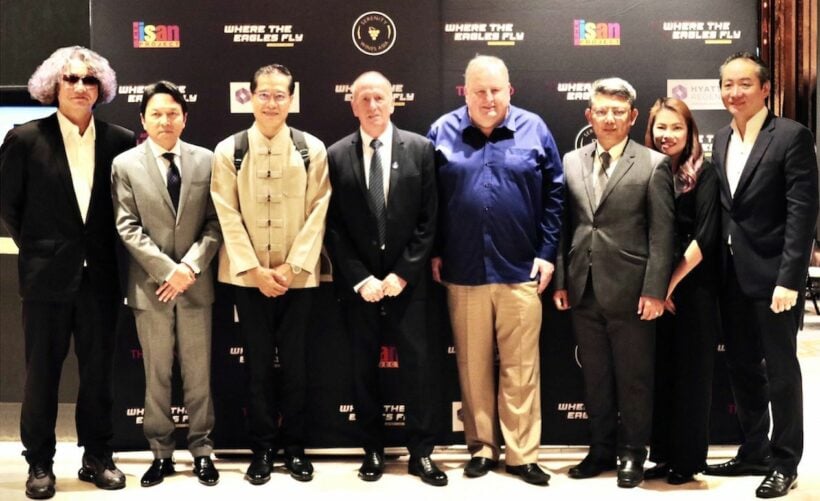 From left: Mr. Sobchai (Ford) Kraiyoonsen Singer/composer, Mr. Tanes Petsuwan TAT's Deputy Governor of Marketing Communications, Senator Weerasak Kowsurat former Minister of Tourism and Sports, Mr. Vern Unsworth British cave explorer, Mr. Will Robinson Writer and Executive Producer of The Isan Project, Mr. Nithee Seeprae TAT's Executive Director of Advertising & PR Department, Ms. Woranan Ratrawiphakkun Vern's partner, Mr. Sammy Carolus GM of the Hyatt Regency Bangkok Sukhumvit
Keep in contact with The Thaiger by following our
Facebook page
.
Never miss out on future posts by
following The Thaiger
.
King Bhumibol Adulyadej – in remembrance of the "Father of Thailand"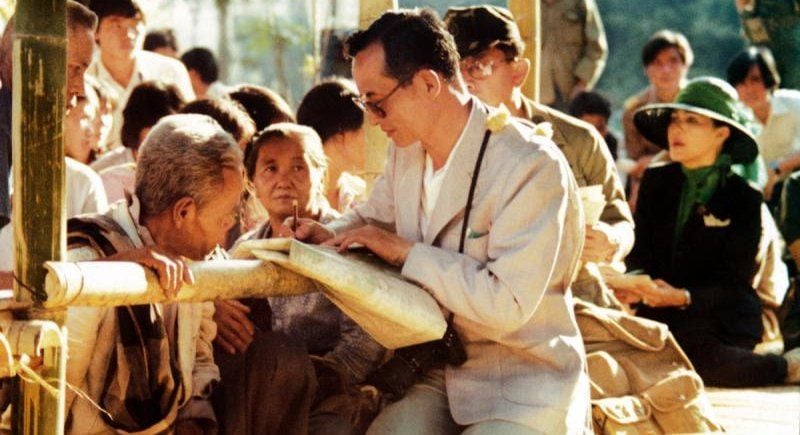 His Majesty King Bhumibol Adulyadej was Thailand's monarch for just over 70 years. At the time of his passing in October 2016, King Bhumibol was the world's longest-serving head of state and the longest-reigning monarch in Thai history. Amongst his many other gifts, he was was revered as a calming and compassionate influence, overseeing Thailand's stormy political history in the second half of the 20th century.
Four years later his enduring legacy casts a wide shadow over the Kingdom of Thailand with his influence shaping, not only Thai culture in the second half of the 20th century, but also Thailand's standing in the region with a deft avoidance of some of the more debilitating conflicts around South East Asia.
His Majesty King Bhumibol, Rama 9, the ninth king of the Chakri Dynasty, was born on December 5, 1927 and passed away on October 13, 2016 at the Siriraj Piyamaharajkarun Hospital in Bangkok. He had been living in and out of the hospital in the years before his passing.
Bhumibol's early days
It's a surprise to some, but Bhumibol Adulyadej was born on December 5, 1927, in Massachusetts, USA, not in Thailand. As the second son born to his parents, and because his birth took place outside of Thailand, young Bhumibol was never expected to ascend Thailand's throne. His reign came about through his older brother's mysterious death.
His father, Prince Mahidol Adulyadej, was studying for a public health certificate at Harvard University. His mother, Princess Srinagarindra, was studying nursing at the same time.
When Bhumibol was a one year old the family returned to Thailand, where his father took up an internship in a hospital in Chiang Mai. Prince Mahidol died of kidney and liver failure in September 1929.
Thailand's democratic revolution
In 1932, a coalition of military officers and civil servants staged a bloodless coup against King Rama VII. The Revolution of 1932 ended the Chakri dynasty's absolute rule and created a Thai constitutional monarchy, with an elected parliament. Princess Srinagarindra took her two young sons and daughter to Switzerland a year later where the children were placed in Swiss schools for their early education.
In March 1935, King Rama VII abdicated leaving his 9 year old nephew, Bhumibol Adulyadej's older brother Ananda Mahidol as Thailand's new monarch. But the child-king and his siblings remained in Switzerland due to his young age and nascent political developments in Thailand. Two regents ruled the kingdom in his name. Ananda returned to Thailand in 1938 but his brother Bhumibol continued his schooling in Switzerland until 1945 .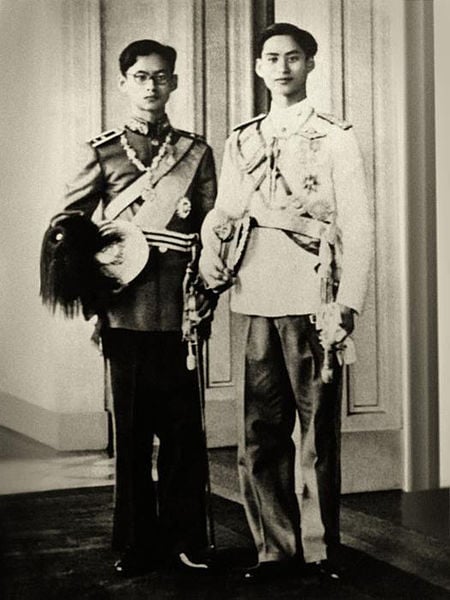 PHOTO: King Mahidol Adulyadej and his younger brother Bhumibol Adulyadej
On June 9, 1946, the young King Mahidol was killed in his palace bedroom from a single gunshot wound to the head. Two royal pages and the king's personal secretary were convicted of assassination and executed, although controversy still swirls around the incident. The young Bhumibol returned to the University of Lausanne in Switzerland to complete his degree and his uncle was appointed Regent, ruling in his place, back in Thailand.
Marriage to Queen Sirikit
The young King Bhumibol met the daughter of the Thai ambassador to France, a student named Mom Rajawongse Sirikit Kiriyakara, during a visit to Paris. Adulyadej and Sirikit began a courtship some time in 1946.
In October 1948, Adulyadej crashed into a truck and was seriously injured, losing his right eye and suffering back injuries. Sirikit spent a lot of time nursing and entertaining the convalescing king. King Bhumibol's mother encouraged Sirikit to transfer to a school in Lausanne so that she could continue her studies and spend more time with the young King.
Adulyadej and Sirikit were married in Bangkok on April 28, 1950. She was 17 and he was 22 years old. Bhumibol was officially crowned a week later to becmme King Bhumibol Adulyadej. Queen Mother Sirikit is still living in Bangkok and is frequently visited by members of the Royal Family.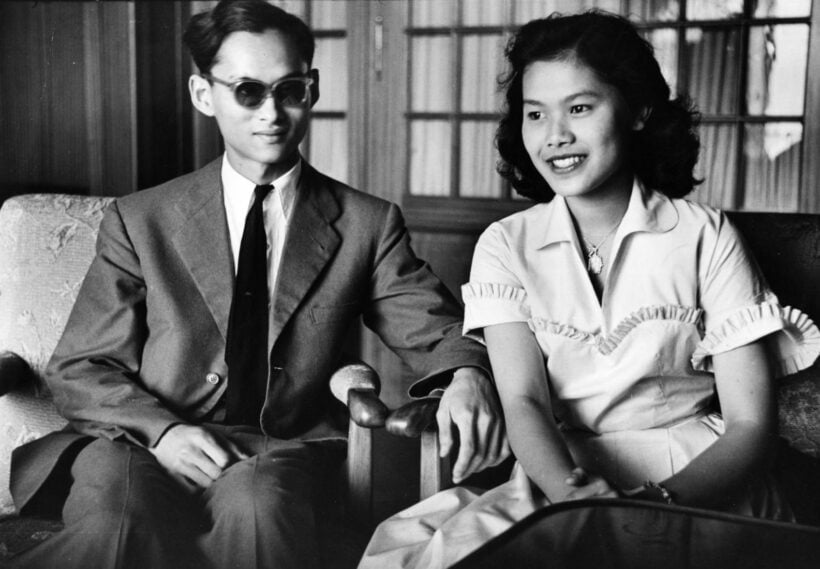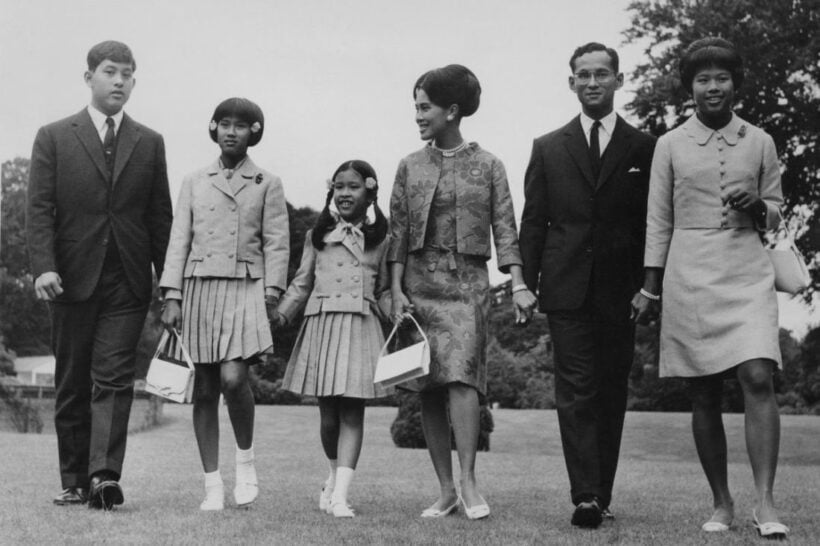 PHOTO: King Bhumibol Adulyadej, Queen Sirikit and his four children (a young Prince Maha Vajiralongkorn on the left)
Half a century of military dictatorships
In the early days of his reign, Thailand was ruled by a military dictator, Plaek Pibulsonggram, until 1957. Then the first of a series of coups, which would dog the Kingdom for the second half of the 20th century, removed him from office. The King declared martial law ending with a new military dictatorship formed under a trusted ally of King Bhumibol, Sarit Dhanarajata.
During the next phase of his rule the young King would revive many abandoned Chakri traditions, including the need for subjects and staff to kowtow – bowing and keeping their head below the monarch. He also started to make public appearances around the Kingdom – an activity which would become a hallmark of his reign, significantly reviving the prestige of the Thai monarchy and standing of the royal family.
Coups took place in 1963, 1977, 1980, 1981, 1985, and 1991 (and more in the 21st century). Although King Bhumibol worked hard to remain above politics, he refused to support the 1981 and 1985 coups, and was seen as a settling influence in the swirling political events, stepping in only when the situation needed to be diplomatically diffused.
Democratic governments
When a military coup leader was selected as PM in May 1992, huge protests broke out around Thailand. Known as 'Black May', the demonstrations turned into riots. Fearing a civil war, Kong Bhumibol called the coup and opposition leaders to a televised audience at the palace.
Adulyadej pressured the coup leader to resign. New elections were called and a civilian government was elected. This intervention was the beginning of civilian-led democracy that has continued, with a few military "interruptions", to this day, most notably the intervention of the military in a coup in 2014 when the National Committee for Peace and Order seized power. A quasi-democratic government, mostly made up of leadership from the 2014 Army coup, was elected in 2019.
King Bhumibol's image as an advocate for the Thai people, reluctantly intervening in the political fray to protect his subjects, became an enduring legacy.
Death
Since 2006, King Bhumibol suffered a number of health issues and was hospitalised frequently. He died at the Siriraj Hospital in Bangkok on October 16, 2016. Crown prince Maha Vajiralongkorn became the 10th King of the Chakri Dynasty, and his official coronation was held between May 4 – 6, 2019 in a grand spectacle watched on by millions of Thais.
Although Bhumibol was never intended to be Thailand's king, he is lovingly remembered as a successful and beloved Thai monarch, who helped calm successive political turbulence over the seven decades of his reign. Indeed, he is fondly referred to as the Father of Thailand, reigning for more than 70 years.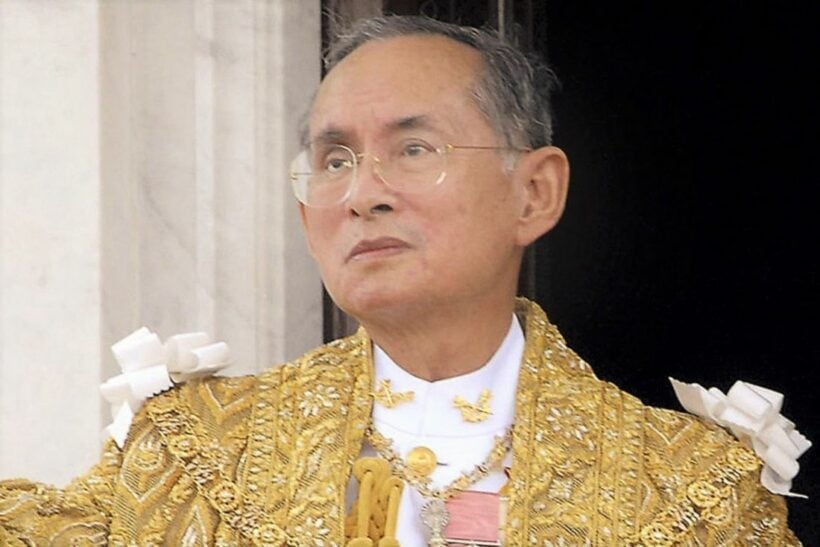 Keep in contact with The Thaiger by following our
Facebook page
.
Never miss out on future posts by
following The Thaiger
.
Soi Dog Foundation co-founder John Dalley honoured in Queen's Birthday Honours List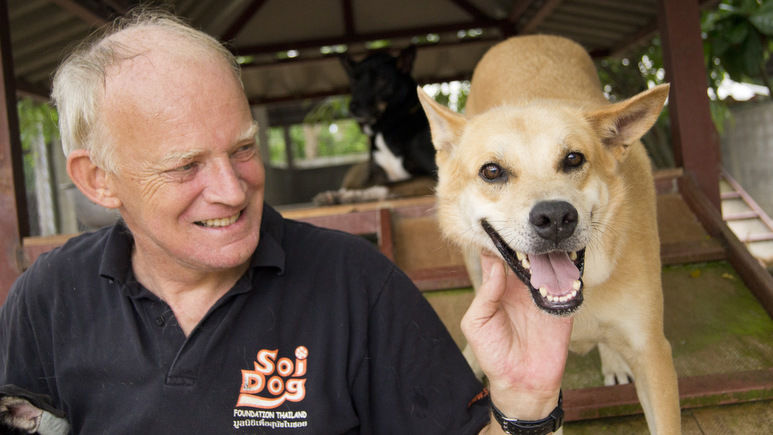 Thailand's Soi Dog Foundation co-founder John Dalley has been honoured in the Queen's Birthday Honours List and been awarded an MBE, the Most Excellent Order of the British Empire, for his animal welfare efforts in south east Asia.
John Dalley, from Leeds, UK, was named alongside celebrities, volunteers, medical staff and key workers in this year's Queen's Birthday Honours List. When asked for a comment, John expressed that the award was really a recognition of the work done by thousands of volunteers and supporters that have kept the foundation alive for the past 17 years.
One such supporter was John's late wife Gill, whom he wishes was able to share in the award. Gill, also co-founded the organisation, and received many awards for her work during her lifetime. One notable achievement by Gill was being honoured with Asian of the Year in the Channel News Asia annual awards-a first for a non-Asian by birth to receive such an honour.
John and Gill founded the Soi Dog (soi=street in Thai language) Foundation in 2003 when they retired in Phuket, where the organisation has since flourished into an epicentre for sterilising and treating dogs – more than any other organisation in the world. Fellow retiree Margot Homburg also co-founded the organisation which is expected to see half a million animals sterilised and vaccinated since its commencement by this December, a feat that has recently been quite tremendous due to the Covid-19 pandemic.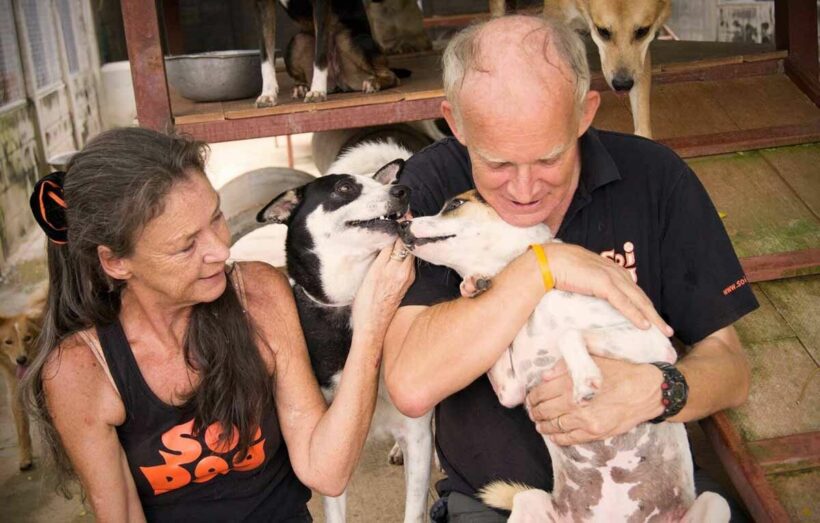 PHOTO: John and Gill Dalley, co-founders of Soi Dog Foundation. Gill died in February 2017.
Soi Dog's Phuket shelter in Mai Khao has been hit hard by overcrowding this year as owners, affected by the pandemic, could no longer afford to take care of their animals. However, instead of closing its doors, the Foundation constructed new dog enclosures and purchased additional land. Such tenacity in times like this show the strength of the founders as it hasn't been their first go with hard times.
Gill's untimely passing in 2017 came after continuing her work with the foundation, despite losing her legs over 15 years ago. Since then, the foundation has fought Thai smugglers who engaged in selling hundreds of thousands of dogs to Vietnam's meat markets and have pushed to strengthen the Animal Welfare Act, which the foundation helped to introduce in 2014. Dalley says education, legislation and large-scale sterilisation is the best way to help street dogs in the future.
With those goals in mind, the Soi Dog Foundation is opening a brand-new education centre which focuses on educating the next generation in respect for both stray and domestic animals. John says it will continue its mission to improve the welfare of dogs and cats in Asia, to create a society without homeless animals and to end animal cruelty.
The Foundation operates on donations and its 'Catch, Neuter, Vaccine, Return' program remains at the forefront of its objectives. Dalley, Gill and Margot have set a prime example of how a few people can truly change the world for the better.
Keep in contact with The Thaiger by following our
Facebook page
.
Never miss out on future posts by
following The Thaiger
.