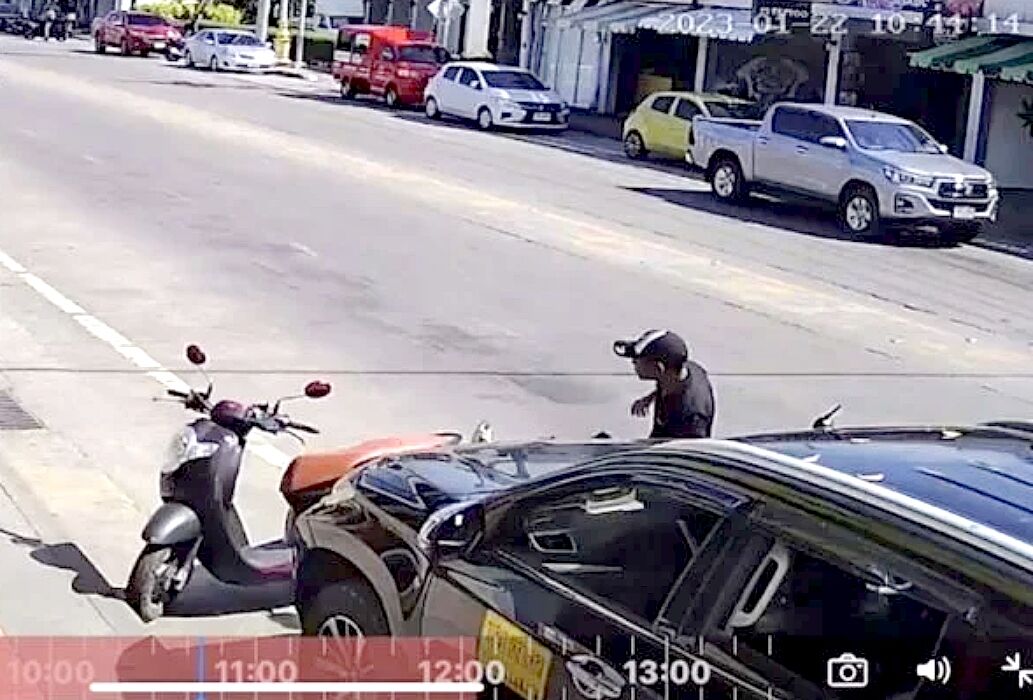 An angry taxi driver is in hot water after being caught on film kicking over a motorbike. The bike was parked legally in front of the owner's shop. The incident took place on Sunday in Patong on Phra Metta Road.
A video of the fit of rage was posted online. It shows a man, later identified as a 45 year old taxi driver, kicking over a parked motorbike in a show of angry frustration. When the video went viral, outraged by the incident and also by the lack of police action afterwards, accusing the Patong Police of blowing off the crime.
In response to the video, Patong Police took action and brought the taxi driver in for questioning. They tested the angry driver for drugs, for the test results were negative. The police will now examine the motorbike to determine the repair costs which the taxi driver will likely have to pay.
The owner of the motorbike said that he had just stopped by his shop to install a fan and parked his motorbike directly in front of it. He said there was plenty of room for the taxi to leave.
"I heard the sound of the motorbike falling over and came out to find him picking it back up. There wasn't much damage and I thought he had accidentally bumped the bike with his car. He just said, Sorry, sorry,' then got in his car and drove away. But after looking at the CCTV I saw that he had got out of his car and kicked the motorcycle until it fell over.
"I was confused and angry by the incident. Why was he acting so aggressively? Why didn't he just ask someone in the shop to move the motorbike? He was not in any mood for negotiating, he was too emotional. This parking area is public. Any kind of car can come in front of our shop and park here ‒ I don't care.
"I want to ask him to be reasonable about where he parks and who he meets. It's a bad habit. If he meets someone who is also hot-headed, he doesn't know how the event will end. I'd like to ask him to control his emotions too."
The taxi driver has now apologized for his rash actions during the incident, according to Phuket News.