From war heroes to war zeros: The unjust treatment of Julian Assange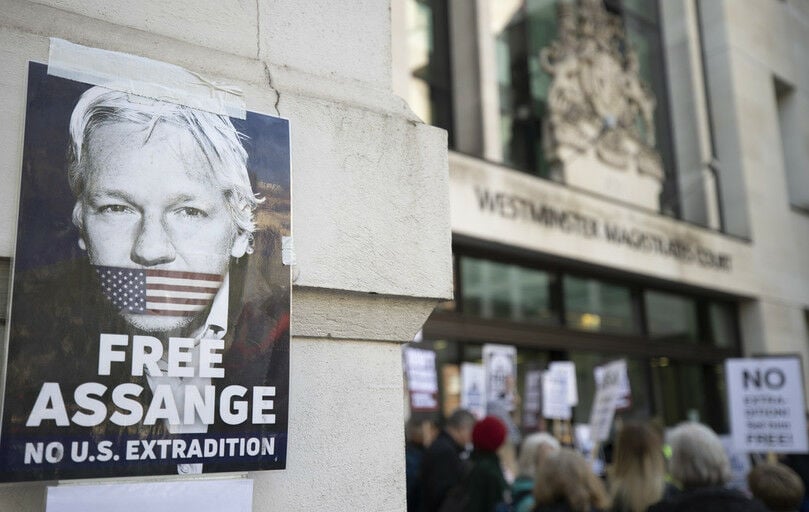 We live in a world where war criminals are celebrated, worshipped, and praised while those who hold them to account are vilified, abused and thrown in prison, as in the case of Julian Assange.
We live in a world where George Bush and Tony Blair can lead the United States, United Kingdom, and allies into an illegal war in Iraq and walk free instead of facing trial at the Hague.
We live in a world where Donald Trump boasts about sexually assaulting women, Boris Johnson pathologically lies about the benefits of Brexit, while the governments of the US and UK gaslight and mislead the world about China, Russia, and any other country that refuses to bow to their dystopian, subverted version of democracy. Yet when Assange exposes all of this, the illegal war, the atrocities committed in that conflict on the false premise of Iraq having weapons of mass destruction, he was vilified and had to seek political asylum. His life hangs by a thread.
The WikiLeaks founder failed last week in his latest attempt to fight extradition from the UK to the US where he is wanted on 18 criminal charges relating to the releasing of confidential US military records. He plans to renew an appeal next week.
Lawyers representing the 51 year old Australian journalist announced their intention to lodge another appeal with the same court, amidst mounting concerns that he may spend the remainder of his life behind bars.
In a three-page judgment issued on Tuesday, Justice Jonathan Swift of the UK High Court dismissed all eight grounds of Assange's appeal against the US extradition order, which had been signed by the former UK Home Secretary, Priti Patel, in June of the previous year.
According to the Guardian, Stella Assange, Julian's wife, said her husband would submit a "renewed application for appeal to the High Court" the following week. She added that the case would then be heard before two new judges in a public hearing.
"We remain hopeful that we will succeed and that Julian will not be extradited to the United States, where he faces charges that could result in a lifetime sentence in a maximum security prison. These charges stem from the publication of truthful information that exposed war crimes committed by the US government."
Assange's appeal asserted that Patel, in her capacity as Home Secretary, had erred in approving the extradition order since the request violated the US-UK extradition treaty, which stipulates that "extradition shall not be granted if the offence for which extradition is requested is a political offence." His legal team has consistently argued that the US's desire to prosecute Assange is politically motivated.
The appeal also contended that Assange was being prosecuted for protected speech and that the extradition request itself was an abuse of process. Additionally, Assange's legal team accused the US government of consistently distorting the core facts of the case before the British courts.
Justice Swift's rejection of the appeal grounds means that there is now only one final step remaining in the UK courts. The defence has a five-working-day window to submit a 20-page appeal to a panel of two judges, who will convene a public hearing. There are no further appeal options available domestically. However, Assange could potentially challenge the extradition at the European Court of Human Rights, which acknowledged receipt of an application from him in December of the previous year.
Assange's case bears striking similarities to the release of the Pentagon Papers—an assortment of classified government documents that revealed how the US had systematically deceived its citizens about the Vietnam War.
The New York Times began publishing stories based on these papers on June 13, 1971. However, publication was abruptly halted two days later when the Nixon administration sought an injunction, as reported by Al Jazeera.
In a historic ruling, the Supreme Court refused to curtail the First Amendment rights about a free press. The Court declared that the government had failed to demonstrate how publication would cause "grave and irreparable" harm. Nixon bitterly referred to it as a "stinking decision" and vented his anger at the judges.
Daniel Ellsberg, the man responsible for leaking the Pentagon Papers, was never acquitted in court. Despite facing a potential 115-year prison sentence, his case was dismissed not because he was proven right, but because the government had unlawfully collected evidence against him.
The question of what information the public has the right to know resurfaced in 2010 when Assange published leaked military and diplomatic documents. Among these leaks was a video from July 12, 2007, which captured the moment when two US helicopters circled unarmed civilians in Iraq and opened fire, resulting in the death of at least 12 people. The military had attempted to conceal this incident.
Presently, Assange is confronted with 18 charges related to WikiLeaks' disclosure of classified documents, which primarily resulted from a leak by former US Army intelligence analyst Chelsea Manning. Manning had been sentenced to 35 years in prison but had her sentence commuted by President Barack Obama in 2017.
If convicted, Assange could potentially face a combined sentence of up to 175 years in prison. Over the past four years, he has been held in Belmarsh prison, enduring deteriorating health, as he fights against the US extradition order.
Wouldn't it be nice to live in a world where criminals are vilified, abused and thrown in prison, and those exposing those crimes, holding those villains and vagabonds to account are celebrated, worshipped, and hailed heroes?
Solidarity to Julian Assange.
Expats
Opinion
Thailand News
World News

Join the conversation and have your say on Thailand news published on The Thaiger.
Thaiger Talk is our new Thaiger Community where you can join the discussion on everything happening in Thailand right now.
Please note that articles are not posted to the forum instantly and can take up to 20 min before being visible. Click for more information and the Thaiger Talk Guidelines.