Samui Elephant Sanctuary wins 'Responsible Thailand' award in London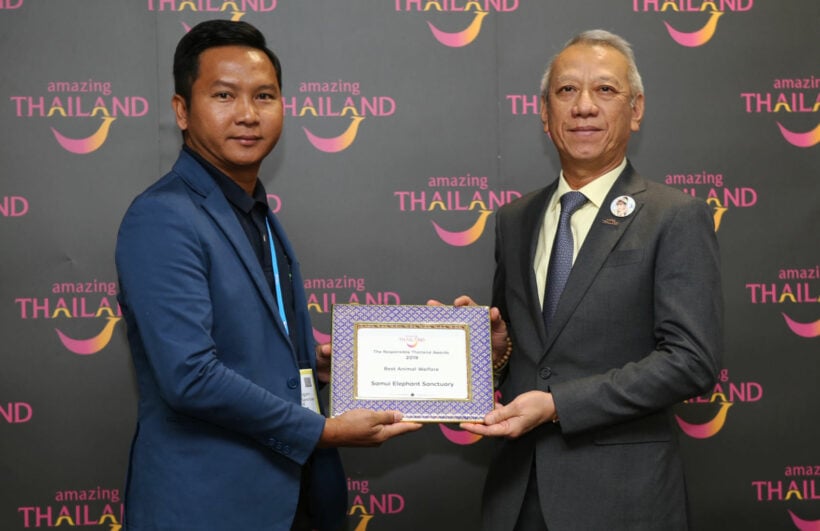 The Samui Elephant Sanctuary is this year's winner of the 'Responsible Thailand' award in the category of Animal Welfare for its work rescuing and rehabilitating elephants in Thailand. The award was presented by His Excellency Mr. Pipat Ratchakitprakan, Thailand's Minister of Tourism and Sports at the World Travel Market in London.
The same award was won by Elephant Nature Park last year. The Samui Elephant Sanctuary is a 'sister' sanctuary in Chiang Mai, highlighting the growing movement to save elephants from the trekking and 'elephant ride' industry.
Samui Elephant Sanctuary was the first ethical elephant sanctuary on Koh Samui in southern Thailand and is successfully freeing elephants from a lifetime of servitude, and at the same time pioneering ethical eco-tourism on the island. Since opening in January 2018 its owners have worked tirelessly to raise awareness of the plight of the Asian elephant with local and international markets.
The sanctuary was inspired and is supported by Lek Chailert, world renowned elephant conservationist, founder of Save Elephant Foundation and the world famous Elephant Nature Park in Chiang Mai. Lek is at the forefront of ethical elephant tourism in Thailand and throughout Asia, which is seeing a growing demand for elephant camps to transition from elephant riding to a sanctuary model, as promoted by Save Elephant Foundation and Asian Elephant Project's 'Saddle Off' programs.
The plight of the Asian elephant has received significant media attention in recent times and the question of what qualifies as 'ethical elephant tourism' is coming under scrutiny and is a controversial topic within the industry.
Supporters say that elephant riding can lead to serious injuries and doesn't allow elephants adequate time to eat and drink.
"This activity also leads to high levels of stress and has been known to cause miscarriages in pregnant elephants ridden to the point of exhaustion."
However, many visitors to Thailand are unaware of the possible suffering caused to elephants by being ridden and performing in shows. A recent report revealed that 40% of tourists from the top 10 countries visiting Thailand were planning to do an elephant ride, which translates to a demand for around 12.8 million elephant rides in the country.
Other performances includes dancing, painting, playing football, balancing acts – all of them unnatural and demeaning behaviour, according to elephant welfare supporters.
Visitors to Samui Elephant Sanctuary have the unique experience of observing elephants in an environment where they are respected, allowed to form herds, and interact naturally without fear of punishment.
"The well-being of the elephants is paramount, and the income provided by visitors supports the ongoing mission to improve the lives of elephants throughout Asia through the Save Elephant Foundation."
The 'Responsible Thailand' Awards are run by Wanderlust Travel Media on behalf of the Tourism Authority of Thailand, and are intended to bring attention to and encourage Thailand's dedication to the conservation of its natural and cultural resources, as well as support sustainable tourism development with consideration to the impact on our planet.
NOTE: The wild elephant population in Thailand has dwindled rapidly and is estimated today to be between 1500-3000, with some estimates as low as 1000. At the beginning of the 20th century, over 100,000 elephants are estimated to have roamed free in Thailand. The alarming demise is due to loss of habitat and poaching.
Keep in contact with The Thaiger by following our
Facebook page
.
Government applies for UNESCO status for Korat Geopark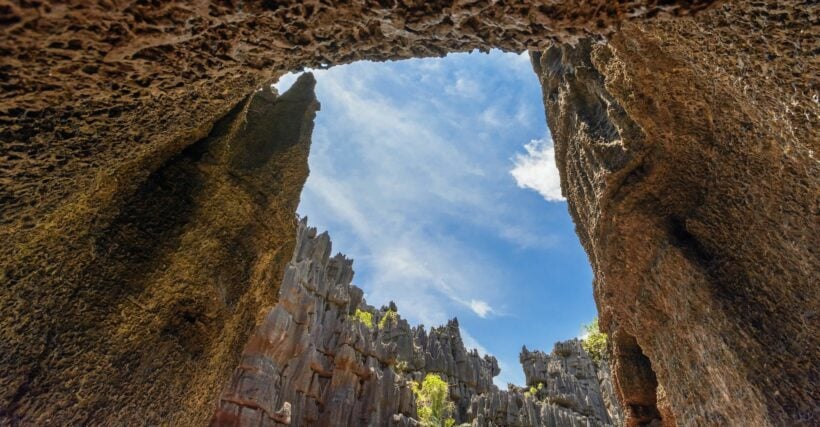 PHOTO: Satun Geopark already has a UNESCO Geopark – Greenpeace.com
Government deputy spokesperson Ratchada Thanadirek says the government is seeking UNESCO status for the Korat Geopark in Nakhon Ratchasima, north-east Thailand. The move follows a recommendation from the Natural Resources and Environment Ministry.
A geopark is an area with a rich geological and cultural heritage and a UNESCO Geopark is required to demonstrate best practice in conservation management, education, and research into sustainable development.
UNESCO Global Geoparks are single, unified geographical areas where sites and landscapes of international geological significance are managed with a holistic concept of protection, education and sustainable development. Their bottom-up approach of combining conservation with sustainable development while involving local communities is becoming increasingly popular.
The Nation reports that there are 147 UNESCO Global Geoparks, spread over 41 countries, four of which are in southeast Asia, including in Thailand, Malaysia, Indonesia and Vietnam.
Ratchada explained that Thailand's first UNESCO Global Geopark is in Satun, southern Thailand.
"Satun Geopark was given Unesco Global Geopark status on May 1, 2018. Korat Geopark covers 3,167 square kilometres of Nakhon Ratchasima's five districts – Muang, Chaloem Phra Kiat, Kham Thale So, Sung Noen, and Sikhiu. This geopark is considered a proper place for requesting UNESCO status since there are 35 sites of natural resources, geology and cultural heritage."
The Nation adds that if the Korat Geopark is granted UNESCO status it would be a big boost for the country, recognising Thailand's natural resources, attracting more visitors, and ultimately creating more employment and revenue for the region.
SOURCE: The Nation
Keep in contact with The Thaiger by following our
Facebook page
.
10+ Blacktip reef sharks flock to Maya Bay for breeding season – VIDEO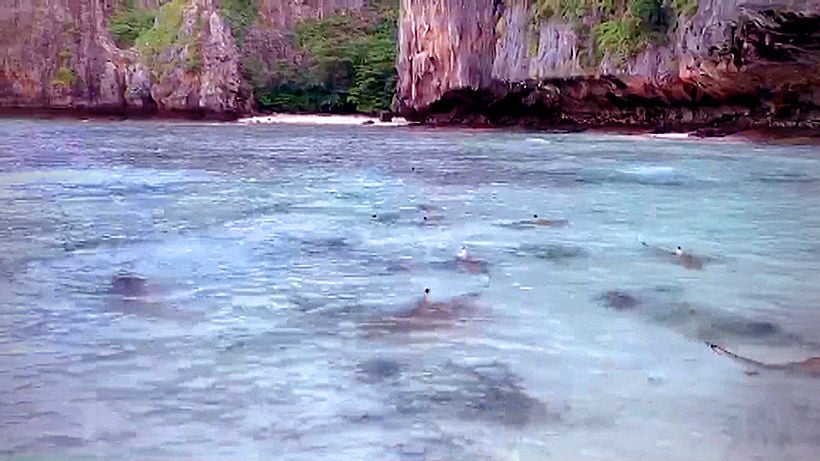 PHOTO: The Nation
Worapoj Lomlim, chief of Noppara Tara-Koh Phi Phi National Park in Krabi, says that more than 10 Blacktip reef sharks had been spotted hunting near Koh Phi Phi Ley's famous Maya Bay, some of them more than 2 metres in length. The sightings were made yesterday at the closed beach.
He noted that the presence of the marine creatures has been brought about by the closure of Maya Bay to allow the ecosystem to recover. The highly popular Bay was attracting up to 6,000 tourists a day at its peak with boats parking close to the beach and throwing their anchors overboard. The beach, the surrounding corals and the local marine life were suffering from the popularity of tourism in the Bay.
Maya Bay was closed to tourist on June 1, 2018. The Bay first became famous as part of the setting for the 2000 film 'The Beach' starring Leonardo Di Caprio. Read more about the closure HERE.
Worapoj Lomlim says that as the mating season for this species of shark is usually between the months of November to March, the Blacktip reef sharks are being monitored by researchers from Department of National Parks, Wildlife and Plant Conservation and Kasetsart University.
Ne noted that the birth of a shark in Maya Bay will increase the importance of preserving the island and limiting any tourism in the future.
SOURCE: The Nation
Facebook page
.
More than 30 dolphins spotted off Phang Nga coast – VIDEO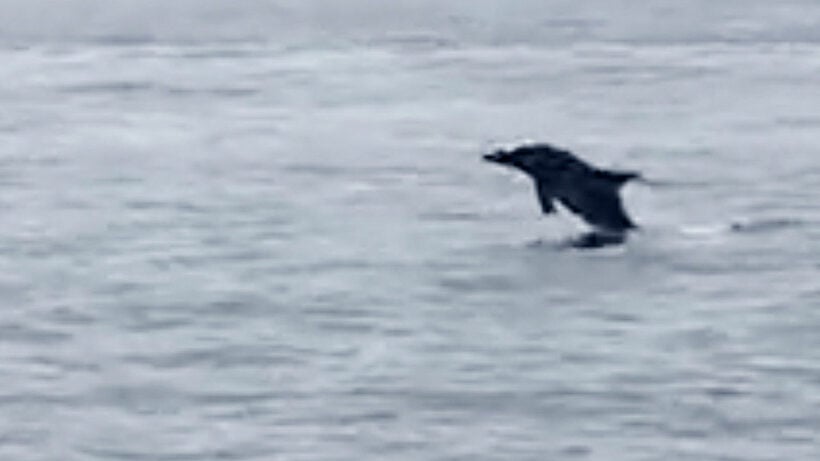 More than 30 dolphins were spotted around Phang Nga yesterday.
Yesterday morning (November 17), Dive Master Nattapong Ninsawit from Sea Bees Diving Khao Lak revealed that he and his customers spotted a number of dolphins on the way back from their diving trip to Similan Islands.
The group were travelling back, and while the boat was passing Similan Islands and Surin Islands, off Phang Nga coast, in an area known as Rua Jom Boonsoong diving spot, there were more than 30 dolphins jumping above the water surface and swimming around the boat for about 10 minutes before heading off.
The dive master said that the tourists on the boat were excited and impressed with the beauty and "pure nature" of Phang Nga which allows rare animals to live peacefully, and "this will make them come back to visit the province again which will generate revenue to the community".
Rua Jom Boonsoong was a 'platform' that was used during the mining era that was sunk after the mining has stopped in the region. It has become a big coral reef at 18-20 metres under the surface and has become a nursing area for several marine species as well as a popular place for dolphins, whales and whale sharks to come for hunting and food.
SOURCE: thairath.com
Keep in contact with The Thaiger by following our
Facebook page
.