Wan Yubamrung's subordinate arrested for attempted murder in Patong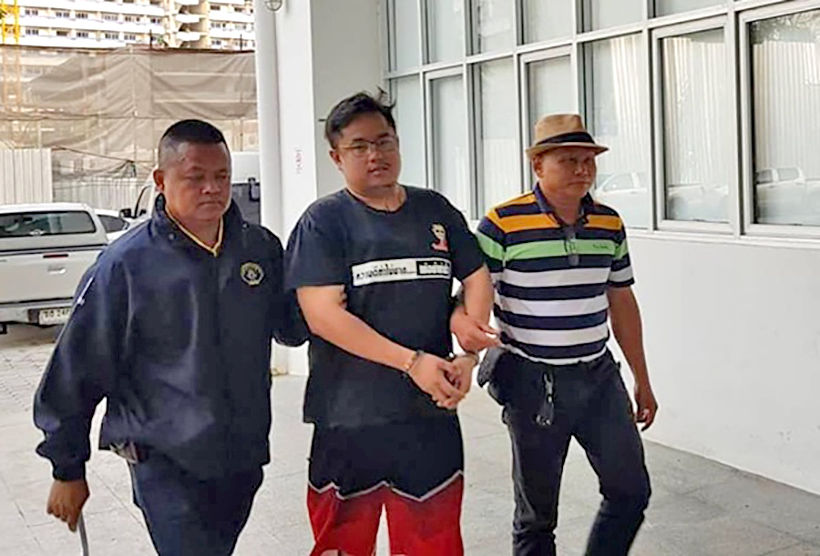 PHOTO: Manager Online
Last night (September 12), 32 year old Thanpawat Supchotiwanich, a subordinate of Thai Pheu Thai party politician Wan Yubamrung, was arrested in front of his house in Soi Ekkachai 135, in Patong, acting on a warrant issued back in 2010 after he shot a business peer over an undisclosed conflict.
Thanpawat is also known as 'Tong Deksuegaeng' and back in 2010, he and a friend shot Nattasak Mongkhonnitipat while he was sitting behind a motorcycle on Bangwat Canal road in Patong, causing the man to be critically injured.
Following the case, Phuket provincial court handed down a 12 years sentence to each of the 2 offenders, including Thanpawat. However, the appeal court decided to dismiss the case and allow the 2 men to be bailed.
The victim filed a petition to the Supreme Court to overrule the appeal. On the day of the sentence, Thanpawat fled. After fleeing, he changed his name from Kanit Suesuan to his present name and became a strong follower of Wan Yubamrung, who is Bangkok MP from Pheu Thai Party and Chalerm Yubamrung's son.
Wan Yubamrung also visited him at the prison and posted a picture together on Wan's Facebook to "cheer him up".
SOURCE: Newshawk Phuket
Keep in contact with The Thaiger by following our
Facebook page
.
Over 50 Chinese youth arrested for running scam call centre from Samui hotel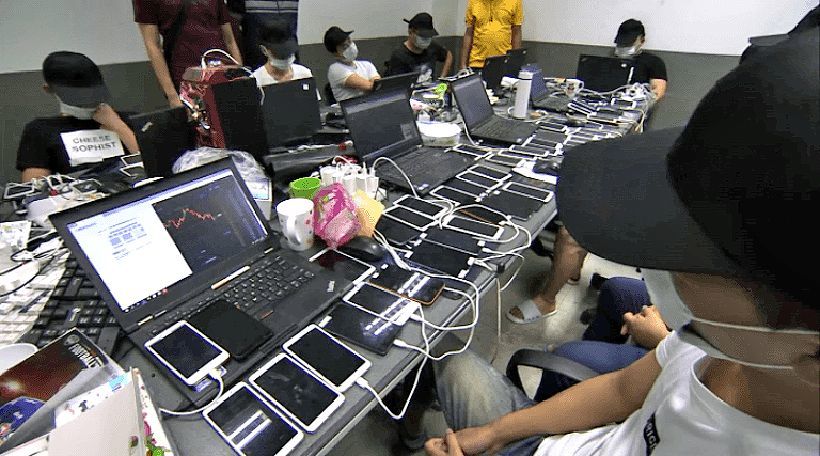 PHOTOS: CTN News
54 enterprising teenagers, most from China, have been arrested for running a call centre scam from a Koh Samui resort. The Chiang Rai Times reports that the arrests happened after police received a tip-off from a Chinese person who had worked for the call centre.
Police say the Chinese teenagers were enticed to come and work for the gang, which was running over 100 chat rooms tricking victims into parting with their cash. Workers at the call centre were given a target of 5 million baht to be raised from each person they spoke to.
Part of the con consisted of persuading other Chinese nationals to invest in fake stocks. Once the victim fell for the scam and transferred the funds, the app being used was closed down.
The gang leader is reportedly still at large and in possession of the Chinese teenagers' passports. Police believe he has not left Thailand. Meanwhile, the 54 workers have all been charged with working illegally in Thailand.
In another bust in Bangkok yesterday, 24 Chinese people were arrested for running another call centre that duped fellow nationals into investing in a cryptocurrency-style scam. It's understood the scam had been running since March.
The workers were arrested at various rental properties around the capital, with more than 500 mobile phones and dozens of computers seized. Immigration Police say they're working to identify any Thai nationals who may have been part of the operation.
SOURCE: Chiang Rai Times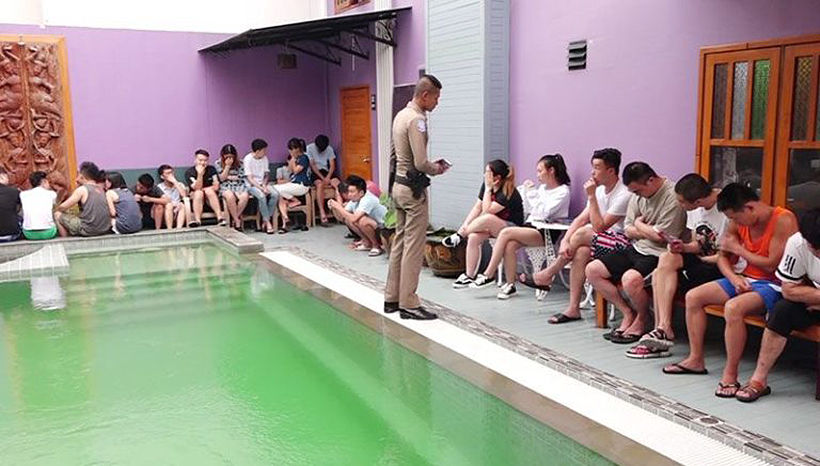 Keep in contact with The Thaiger by following our
Facebook page
.
Jealous boyfriend arrested over triple murder in Chiang Rai – VIDEO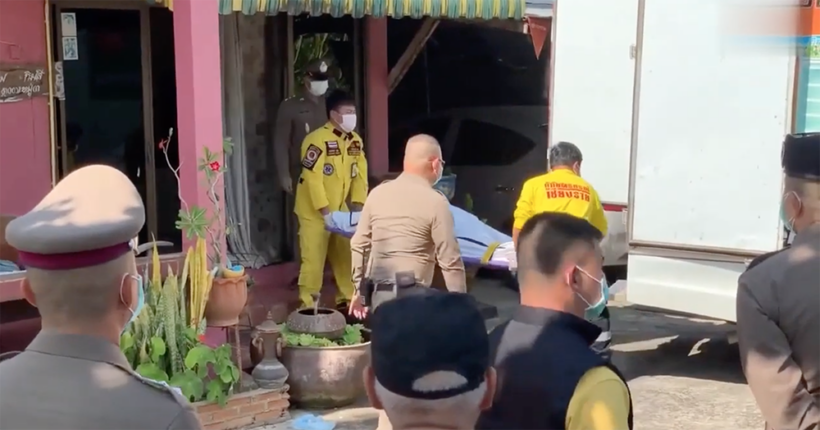 SCREENSHOT: YouTube
Chiang Rai police have arrested a man for the murder of his girlfriend and her parents, all found shot dead. 27 year old Nawaratorn "Nuan" Kunasangkam is currently in custody over the murders.
The victims were Udom Kimsi, his wife Nutcha Kimsi, and their 26 year old daughter Saowarot Kimsi, all from Chiang Rai. Their bodies were found by the mayor of Ban Du township, who went to check on Udom when he didn't turn up for work.
Police believe the bodies had been in the house since November 28. They say no weapon was found at the scene. Neighbours told police they heard gunshots on the night of November 28, but didn't think it was anything serious and paid little attention.
Police made the arrest after spotting the suspect's vehicle in front of a 7-Eleven in Chiang Mai. When he was caught he had a semi-automatic 9mm pistol and 14 bullets.
"Nuan" confessed, saying he acted out of jealousy. He told police his girlfriend had been communicating with an ex-boyfriend on the LINE app. He said after he killed Kimsi, her parents rushed to investigate the gunshots. Since they'd witnessed the murder, he killed them as well.
SOURCE: Chiang Rai Times
Keep in contact with The Thaiger by following our
Facebook page
.
Police shoot and kill major meth trafficker in Nakhon Si Thammarat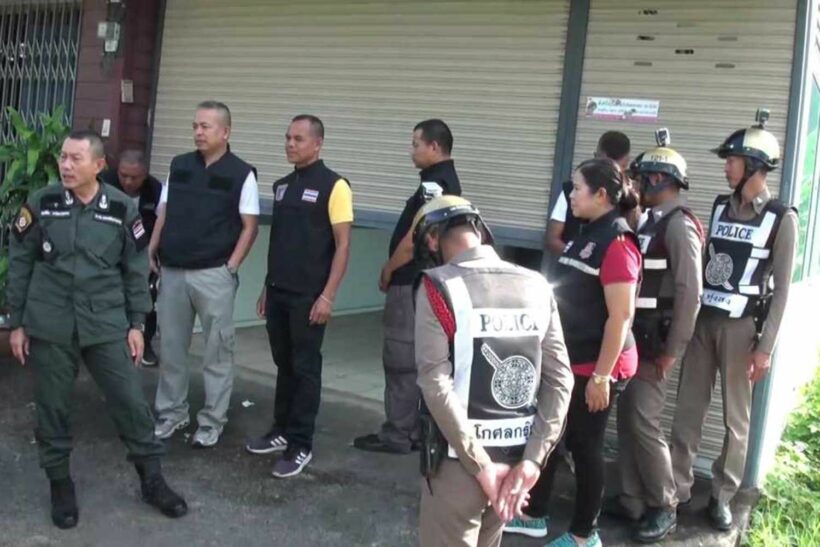 PHOTOS: Chiang Rai Times
A Burmese drug trafficker has been shot dead in a gunfight with police in the southern province of Nakhon Si Thammarat. The ambush was the result of a sting after police pretended to be buyers.
Authorities raided a house rented by the suspect and found a tablet press, 11 kilograms of methamphetamine powder, 500,000 'speed' pills and 10 kilograms of crystal methamphetamine (ice).
The house was used to produce and store crystal methamphetamine and other drugs, according to police.
The alleged Burmese trafficker, who rented the house, and named only as "Ou," was shot dead in a firefight with police Nakhon Si Thammarat, the Bangkok Post reports.
Ou agreed to deliver deliver drugs to police posing as buyers. When he arrived in his pickup trick he was surrounded by police.
Ou opened fire as he tried to escape. Police returned the fire, shooting and killing him. Police searched the man's truck whcih ended up in a roadside ditch. They found about a kilogram of crystal methamphetamine and 10,000 methamphetamine pills. They extended the investigation to search the house.
Ou's Thai wife, 23 year old 'Kittiya', was called in for questioning.
Kittiya claims she didn't know her husband was from Myanmar, and that he had told her he was from Chiang Rai and ran a used car dealership. She told police she met him on Facebook.
Kittiya said she and Ou stayed at another rented house and that she knew nothing about the house where the drugs and equipment were found. Police say Ou was a major international trafficker who had been wanted since on a warrant since last year.
SOURCE: Chiang Rai Times
Keep in contact with The Thaiger by following our
Facebook page
.