UPDATE: Thai Army soldier still at large in Terminal 21, Korat – Killed upwards of 12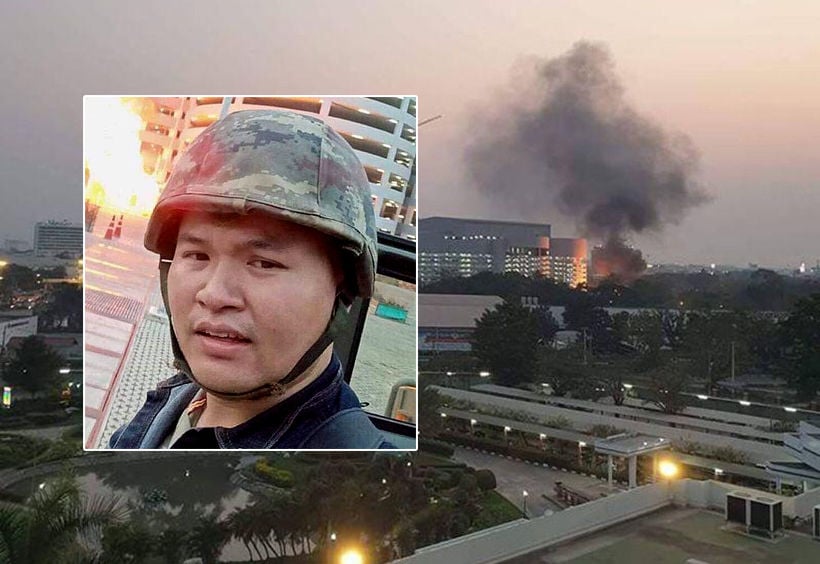 As we update the story about the crazed Thai Army sniper going on a rampage around Korat in Nakhon Ratchasima, north east Thailand this afternoon, this is the latest information we have…
• A Thai soldier allegedly killed his commanding officer before gunning down a reported 12 people. He was livestreaming the the entire incident as he slaughtered innocent people and posted selfies.
• The man has been identified as Sergeant Major Jakapanth Thomma, who after shooting his commanding officer, then shot two other soldiers at his Army base before stealing a Humvee (jeep) and heading to the Terminal 21 shopping centre. He spraying bullets at people as he was driving towards the shopping centre.
• He is understood to have shot more people inside the shopping centre and has take hostages. Currently, he is still understood to be inside Terminal 21.
• He has been posting photos and video of himself wearing full tactical gear throughout the incident.
• Police have confirmed at least 12 people are dead, although many more are feared shot from the rampage. Many other are wounded as a result of the gunfire.
"I cannot confirm the death toll right now, police sealed off the area."
• Video and photos posted online showed people panicking and fleeing the scene. The sound of automatic gunfire can be heard clearly on a posted Twitter video.
อิเหี้ย โคราชมีกราดยิงกลางเมืองแถวห้างเทอมินอล น่ากลัวสัส
กระจายข่าวด่วน พื้นที่อันตราย#กราดยิงทั่วเมืองโคราช#CUTUBALL74#ไวรัสอู่ฮั่น
pic.twitter.com/tgsaEkUOOO

— อิหมิน (@mhinbeauty) February 8, 2020
• Provincial police and Army tactical squads say they have sealed off the Terminal 21 mall but not captured the gunman at this stage.
• A 2km radius around Terminal 21 in Korat has been sealed off.
• A message, allegedly from the soldier, posted on his Facebook page, said…
"Getting rich from corruption and taking advantage of other people, do they think they can bring money with them to spend in hell?"
• The man's Facebook page has been taken down at 7.20pm. Before this he had been live-streaming the entire rampage and posting selfies.
Keep in contact with The Thaiger by following our
Facebook page
.
Bangkok cops bust online gun dealers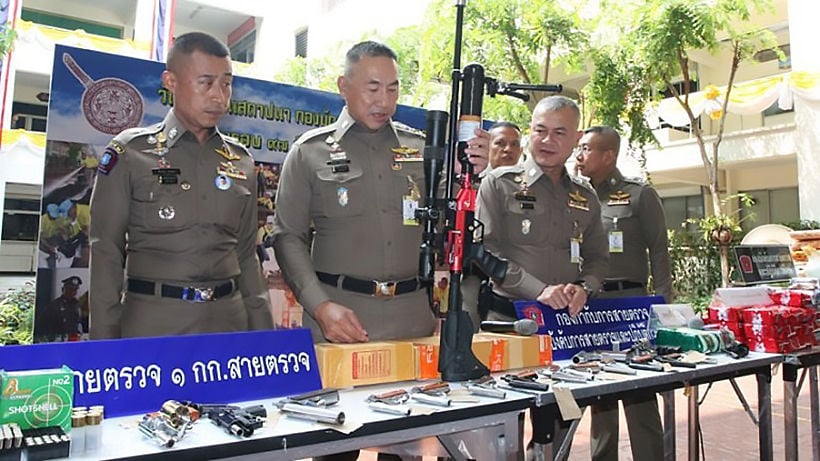 The chief of the Bangkok Metropolitan Police Bureau told a media briefing yesterday that officers have arrested six men and two women for selling firearms on Thai social media. They seized seven guns, ammunition and gun components. Police initially arrested Pairoh Chanchom for selling firearms without a licence. A subsequent, lengthy investigation led to raids on several premises and the arrest of seven accomplices.
Also arrested were 34 year old Thaweephan Jit-aree; 28 year old Saksid Kerdmanee; Suriyan Yodsaen, aged 38; 24 year old Kamphon Wongsriphuek; 28 year old Raen Senaphan, and two women; Intheera Thananwarawong, age 43 and 57 year old Uraiwan Krodsui. Officers seized seven firearms, 221 rounds of ammunition and also 38 gun parts. The suspects are charged with colluding in the illegal possession and sale of firearms and ammunition.
Police Major General Samran Nuanma, chief of Patrol and Special Operations Division 191, urges the public to call the 191 hotline if they have any information about unlawful activities on social media.
According to Gunpolicy.org of the University of Sydney's School of Public Health, Thailand has about 10 million privately owned firearms or one for about every seven citizens. Of those, they estimate about 4 million are illegal.
"I can't say whether Thailand has a gun problem, but it certainly has a gun culture," says Michael Picard, GunPolicy.org's research director.
"Guns are idolized as symbols of power and privilege, as they are expensive and not easy to legally obtain."
SOURCE: Chiang Rai Times
Keep in contact with The Thaiger by following our
Facebook page
.
4 Uzbek women rescued from human traffickers in Pattaya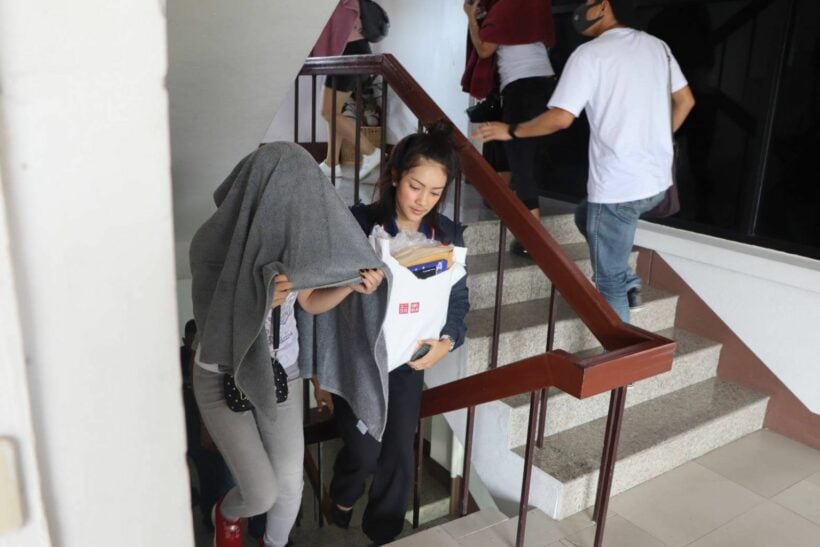 Four Uzbek women were rescued in Pattaya yesterday by Uzbekistan embassy officials and Chon Buri Provincial Police after allegedly falling victim to a human trafficking scam. A team of police raided a condominium in South Pattaya near the entrance of Phra Tamnak hill.
See the video version of this story HERE:
The raid comes after Chon Buri police learned from Uzbekistan's embassy that an Uzbek woman was tricked into coming to Pattaya with the offer of a high paying job, but upon arriving discovered that the work was not as described and she was essentially held against her will. The Embassy was alerted to the woman's plight by a concerned relative. Police did not disclose the exact nature of the work.
One of the women told police that she had been offered "a lot of money" for working in Pattaya but she didn't receive the cash and was being held against her will. Her name is being withheld.
A total of four Uzbek women were found in the condominium, including the woman who had come to the attention of the Uzbekistan embassy. All were rescued and will return home with the help of the embassy.
Chon Buri police are continuing their investigation and looking into the individuals who lured the women to Pattaya and offered the alleged employment.
SOURCE: The Pattaya News
Keep in contact with The Thaiger by following our
Facebook page
.
Chinese man found bound, dead in suitcase in northern Thailand had visited Pattaya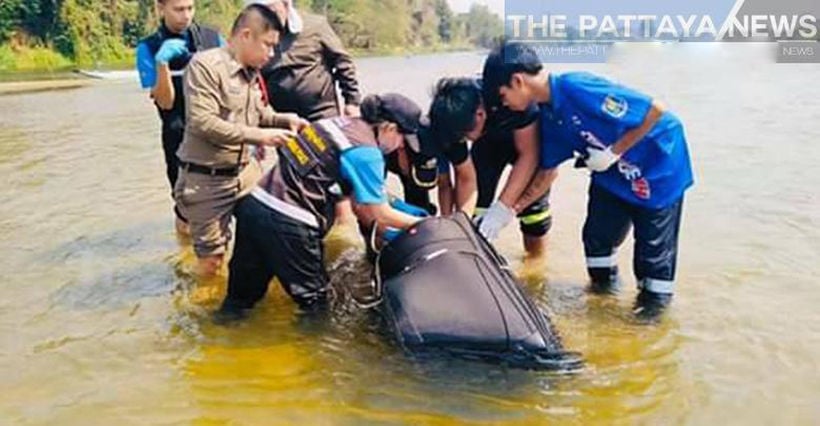 The body of a Chinese man, with arms and legs bound, stuffed into a suitcase, has washed up on a sandbank in the Ping River in northern Thailand's Kamphaeng Phet province. The body was doubled over and the ankles were tied with plastic cable ties. Red rope encircled the arms and legs.
Police believe the man was 30 year old Jun Wang, who had arrived on February 12 with a group of fifteen other Chinese nationals who visited Pattaya. The remainder of the group left the country on February 14, but Jun stayed on.
Police are investigating the connections the man had with the group and his reported residence in Pattaya.
A one kilometre stretch of the river was searched for an hour for additional clues.
An autopsy is being carried out at a forensics center in a hospital in Phitsanulok province and the cause of death is expected to be announced soon.
SOURCES: The Pattaya News | Thai Rath
Keep in contact with The Thaiger by following our
Facebook page
.