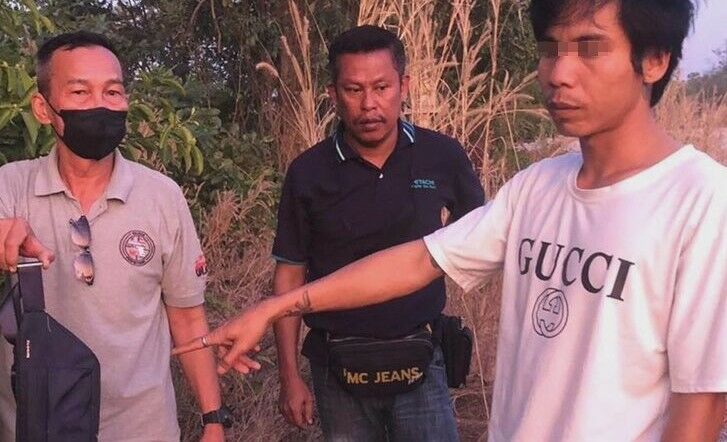 Netizens are praising the work of police in Sukhothai in central Thailand for tracking down and arresting a thief who robbed a German tourist in just 30 minutes and reuniting her with all of the stolen items.
Not only did police crack the case, but one investigating officer interrogated the thief and posted the video on his TikTok account earlier today.
Pol. Maj. Wanchalerm Kaewburi from the Sukhothai Provincial Police Force was performing his duties when he was informed that a German tourist had been robbed behind the Legenda Hotel.
Officer Wanchalerm rushed to the scene to find a German woman estimated to be 60 years old.
Luckily, the woman remembered the assailant's motorbike registration plate details.
Quick-thinking Wanchalerm matched the German woman's description of the thief with a criminal who was arrested for committing a similar crime in the past.
Wanchalerm remembered where the suspected thief lived so he drove straight to his house where he found a motorbike parked outside with the same registration plate described by the tourist.
The policeman arrested 30 year old Kamphaeng "Lek" Yodnual, a resident of the Mueang district, at his family home.
Lek confessed to stealing an iPhone, a credit card, 200 baht cash and a purse from the German woman.
The thief said he tossed the tourist's purse away after taking the contents inside.
Guided by Lek, police drove to the exact spot where Lek threw the purse and collected it.
On the way, Wanchalerm interrogated the suspect in the back of the police van, filmed it, and later posted it on TikTok…
"ํYou've been to prison before haven't you?"
"Yes."
"What for?"
"Snatching (theft)"
In the clip, the thief said that after he threw the purse away, he gave 100 baht to his mother who spent it on krapao leaves (Holy basil). Lek still had the other 100 baht.
The police returned the stolen goods to the German tourist who was very grateful.
Wanchalerm says the police's 30-minute arrest will make a good impression on foreign tourists.