Thai Immigration police nab human trafficker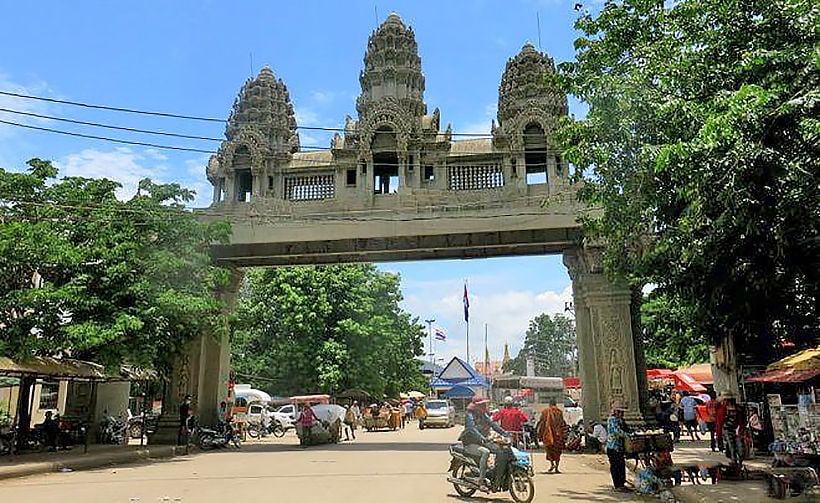 Immigration police have arrested a 55 year old "employment agent" who allegedly trafficked illegal migrant workers from neighbouring countries into Thailand. The Immigration Bureau's commissioner identified the suspect as Petcharat Sathon at a press briefing. Officers arrested her at a hotel in the eastern province of Sa Kaeo, near the Cambodian border. She's been charged with smuggling migrant workers into the kingdom, bypassing checkpoints.
Authorities say the arrest follows a tip off when the bureau learned the suspect had created a Facebook page called "Je Petch Poipet" to communicate with migrant workers looking to hire her to smuggle them into the country while borders are closed during the Covid-19 pandemic. Poipet is a Cambodian town on the Thai border.
According to Immigration, she claimed she could bring people into the country without the need to undergo a health check and the mandatory 14 day state quarantine. Customers paid 4,000 baht for the trip, with 500 baht paid before setting off and the remaining 3,500 to be paid after crossing the border and before being picked up by an accomplice, whose name and nationality are still under investigation
Authorities say they're trying to find out who else was involved in her network.
SOURCE: Bangkok Post
Want more from the Thaiger family?
📱 Download our app on Android or iOS for instant updates on your mobile
📧 Subscribe to our daily email newsletter
👍 Like/Follow us on Facebook
🔔 Subscribe to or Join our YouTube channel for daily video updates
Thailand, Cambodia and Malaysia – surprise spikes in Covid infections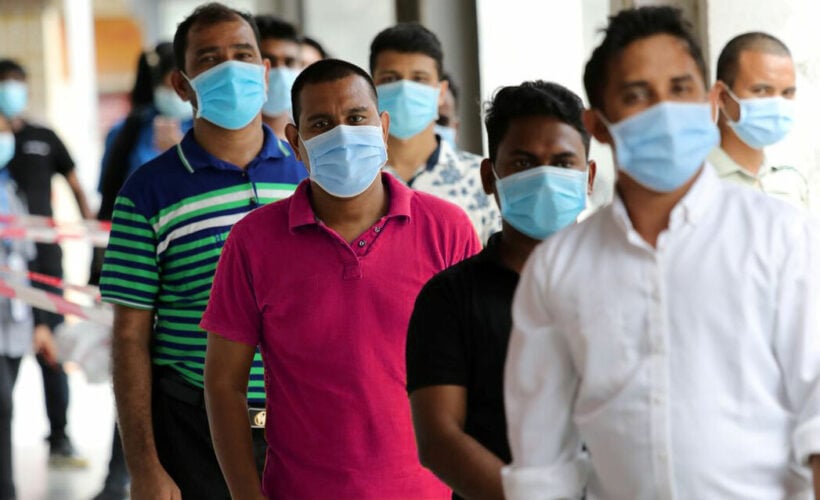 For Cambodia, Malaysia and Thailand, the Covid situation was 'under control'. Everything was going fine and the countries were mulling re-opening borders to general travel. Well everything was going fine, until it wasn't.
In just 3 bewildering weeks, Thailand has gone from 'let's re-open Phuket' to setting up thousands of field hospital beds. The daily infection totals over the past week have surpassed anything Thailand has had to face over the past year. A cluster of cases from Bangkok's hi-so nightclubs was followed by Bangkokians heading out of town for Songkran, mixing about with their families and friends, and then returning, a massive movement of people around the country.
The Thai government couldn't have come up with a more effective plan to spread Covid-19 if it had tried.
Restrictions have been now announced nationally, with some tighter measures being announced in red zone provinces. Bars and clubs have been shut, restaurants banned from serving alcohol and the opening hours of shopping centres have been cut. Some provinces are doing one thing whilst the province next door is doing another. Provincial police are not exactly sure what they're meant to enforce because it changes almost daily.
Some red zone provinces now have entry restrictions, including Covid paperwork, proof of vaccination or insistence to do a test upon arrival. More will follow.
Doctors, too, are reporting that patients in this current wave, which involves the more transmissible strain called B117, or the UK variant, are presenting with a different cocktail of symptoms. Thai doctors are reporting that about 40% of patients with symptoms developed pneumonia while in hospital – a higher proportion than in Thailand's previous waves.
A survey conducted by the UK Office for National Statistics in England found that people testing positive for the new variant were more likely to report persistent coughing, rashes, red eyes, tiredness, muscle aches, sore throat and fever compared to those who have the original strain.
Want more from the Thaiger family?
📱 Download our app on Android or iOS for instant updates on your mobile
📧 Subscribe to our daily email newsletter
👍 Like/Follow us on Facebook
🔔 Subscribe to or Join our YouTube channel for daily video updates
'Vice' removes retouched pics of Khmer Rouge victims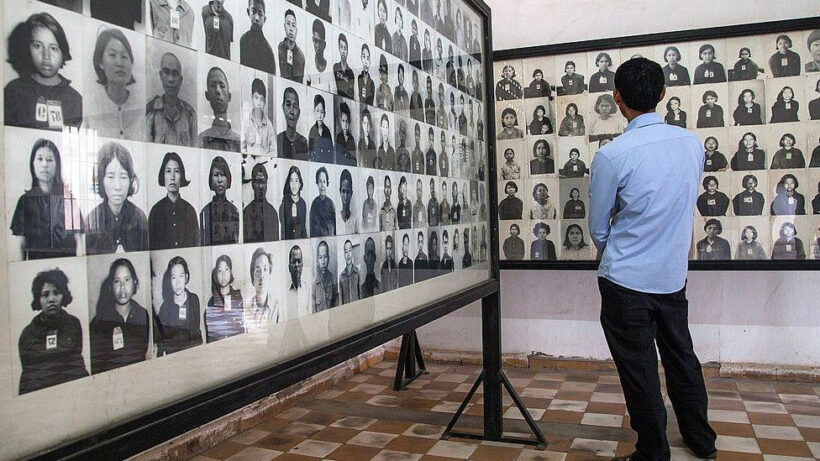 US/Canadian media company Vice has removed Photoshopped photographs of Khmer Rouge victims from its website after a furious backlash. The grim photos, originally taken before the victims were tortured and methodically killed, had been colourised and, in some cases, had smiles added.
"Vice Media Group LLC is an American-Canadian digital media and broadcasting company. Developing from Vice magazine, originally based in Montreal. Vice expanded primarily into youth and young adult–focused digital media."
Matt Loughrey, a digital artist, had colourised and 'touched up' photos from the notorious Tuol Sleng S-21 torture prison in the Cambodian capital Phnom Penh. It was at this notorious facility, previously a primary school, where 14,000 people lost their lives under the orders of Khmer Rouge leader Pol Pot. Only a handful of people survived to tell the tale of Tuol Sleng S-21 after the Khmer Rouge fell in 1979 at the hands of the Vietnamese.
Some 1.7 – 2 million people, around a quarter of the existing Cambodian population at the time, died from execution, disease, starvation and forced labour under the ruthless Khmer Rouge regime that opportunistically took over control of Cambodia between 1975 – 1979 and renamed it Kampuchea.
The Khmer Rouge led a one-party Marxist-Leninist totalitarian dictatorship and dragged the country back to a 'Year Zero' state where academics, teachers, lawyers, doctors, and clergy were targeted, tortured and killed. Even people wearing glasses were targets of their murderous regime.
Cambodian officials objected to the use of the gruesome images, noting that the digital artist had "added smiles". Cambodia's minister of culture and fine arts, Phoeurng Sackona, is quoted in a CNN article saying the use of the photos was insensitive.
"The alteration of these photographs shows an utter insensitivity for the people who died, the families who have had to continue on without their loved ones, and historical truth itself."
"The distorted photographs have needlessly once again traumatised the families and our nation."
At this stage neither Mr. Loughrey or Vice have apologised for the gaff.
The Vice article was attacked by readers, Cambodians and social media, who claimed that Mr. Loughrey had added smiles to some of the photos.
Vice has since removed the story and retouched photos from the internet.
"The story did not meet editorial standards. We regret the error and will investigate how this failure of the editorial process occurred. It included photographs of Khmer Rouge victims that Loughrey manipulated beyond colourisation."
An online petition demanded that Vice remove the article, gathering some 7,000 signatures.
(For an overview of the story of the Khmer Rouge and their murderous 4 year reign, watch 1984 movie, The Killing Fields.)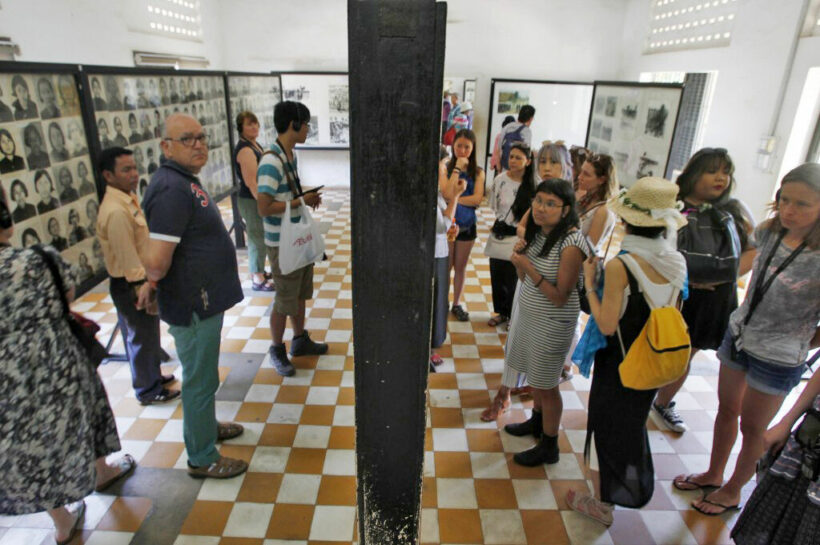 SOURCE: CNN.com
Want more from the Thaiger family?
📱 Download our app on Android or iOS for instant updates on your mobile
📧 Subscribe to our daily email newsletter
👍 Like/Follow us on Facebook
🔔 Subscribe to or Join our YouTube channel for daily video updates
Cambodia threatens jail for Covid-19 quarantine violations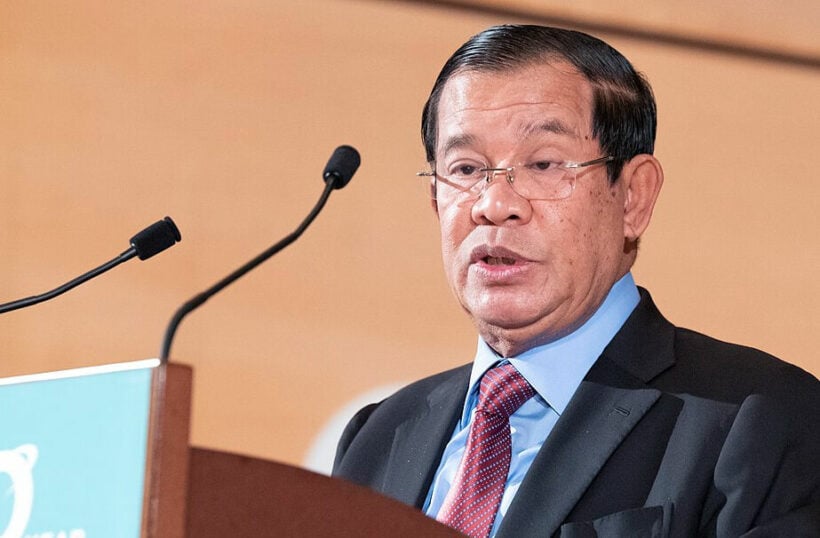 In the face of expanding Covid-19 infections in Cambodia, Prime Minister Hun Sen has warned that violators of quarantine may face prison sentences, and government workers could be fired if they don't get vaccines. More than 1,000 new Coronavirus cases were diagnosed in the last 2 days along, nearly 25% of the total cases since the pandemic began. The government has forbidden out-of-province travel and implemented evening curfews in the main city of Phnom Penh. They even shut down all the tourist attractions including the world-famous Angkor Wat temple complex.
Face masks are already mandatory now in Phnom Penh, with fines up to US $250 for anyone caught violating the order. But PM Hun Sen, himself having had a close brush with Covid-19 months ago, has imposed a 2-week quarantine and has made it clear that punishment for any rule-breakers will be harsh and swift. The government has already enacted a strict bill to curb the spread of Covid-19 in Cambodia, with prison terms of up to 20 years for serious violators. In an address broadcast on state-run television, he promised a "quick trial'.
"People who break Covid measures must be sentenced, I accept being called a dictator, but I will also be admired for protecting my people's lives."
Cambodia began Covid-19 vaccination in February, with a million citizens already receiving at least their first of two injections. In a country of 16 million, that 6% is a healthy start for their vaccination programme. The Prime Minister also declared vaccination mandatory for all state officials and members of the military. He asserted that their job was on the line if they failed to comply.
Cambodia had done well with low Covid-19 infection numbers during the pandemic, but in February, the virus tore through the Chinese ex-pat community, with the outbreak causing a surge in infections proliferating across the country. The situation is worsening now, as hospitals in Phnom Penh are running out of beds and the government is converting large halls and local schools into medical centres for mildly afflicted patients.
SOURCE: Bangkok Post
Want more from the Thaiger family?
📱 Download our app on Android or iOS for instant updates on your mobile
📧 Subscribe to our daily email newsletter
👍 Like/Follow us on Facebook
🔔 Subscribe to or Join our YouTube channel for daily video updates