Patient allegedly shoots and kills doctor in Phetchaburi for overcharging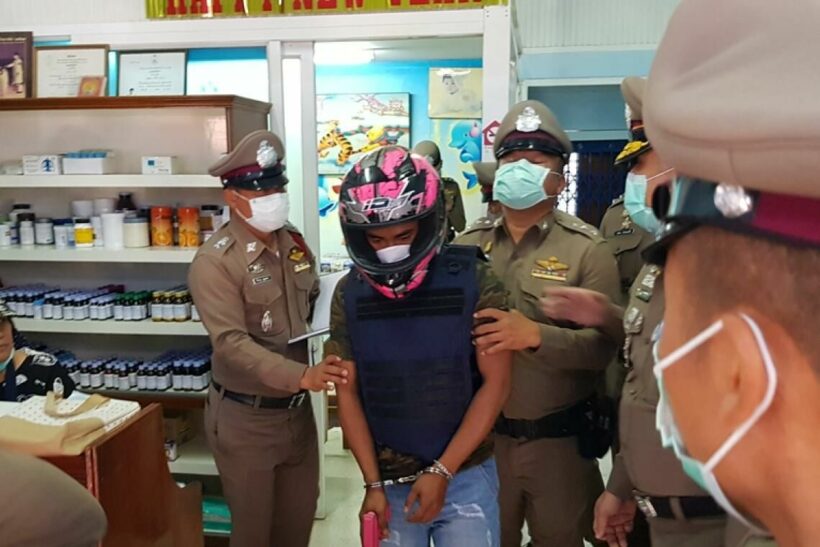 A patient allegedly shot and killed a doctor for overcharging him. When police arrested 22 year old Denphum "Phum" Sangthong and took him back to the doctor's office to reenact the crime, a regular practice in Thai law enforcement, a crowd of around 300 people gathered at the scene, some calling for Phum to be executed. 40 police officers were deployed to guard the crime scene while Phum wore a motorcycle helmet and a bulletproof vest for protection during the reenactment.
Phum allegedly told police he was sick and couldn't get in contact with the staff at the Phra Chom Klao Hospital in Phetchaburi to make an appointment, so he scheduled a visit at the hospital director's private practice. Police say Phum claims he was charged 130 baht for a consultation rather than the 30 baht fee he would've been charged at a public hospital. Phum then allegedly lost his temper and shot 58 year old Chumphon Dechamphai 7 times.
Before going to the appointment, Phum spent 1,000 baht on amphetamines, he allegedly told police. Phum was allegedly under the influence of drugs when the shooting took place.
Phum was arrested at a hotel in Samut Songkhram on murder and weapons possession charges.
SOURCE: Bangkok Post
Keep in contact with The Thaiger by following our Facebook page.
Never miss out on future posts by following The Thaiger.
Australian man wanted for allegedly sexually abusing children in Thailand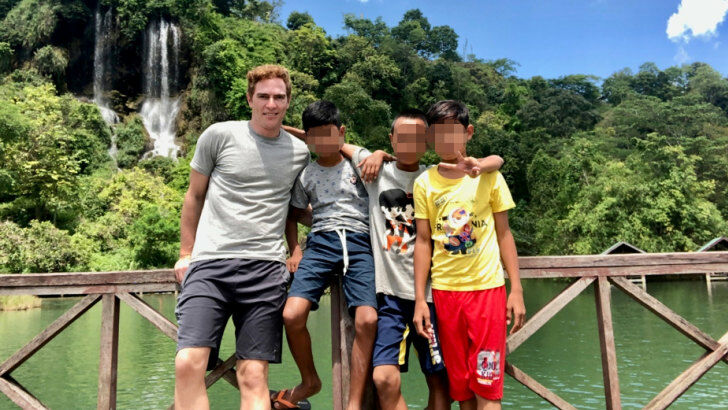 A 44 year old Australian man is wanted by Thai police for allegedly sexually abusing children in Thailand. Adam James Fox financially supported some migrant children in poverty stricken areas and allegedly sexually abused them.
Adam James Fox is wanted for allegedly sexually assaulting or abusing at least 3 Burmese boys, all under 15 years old, at his home in Tak's Mae Sot district near the Myanmar border.
According to the Sydney Morning Herald, Adam has claimed the accusations are a "set up." The Herald notes there is an explicit video allegedly involving Adam and a boy as well as messages that go into detail about sexual abuse.
Reports of alleged sexual abuse came in after a local school principal noticed some of the boys had been absent from class, according to human trafficking investigator Daniel Isherwood.
"All children were interviewed by local social workers from a multidisciplinary team. I can confirm serious sexual abuse was reported, including ongoing sexual violation and indecencies. Boys also report being photographed nude and having access to drugs."
Reporters from the Sydney Morning Herald obtained messages sent by Adam back in November on the messaging app Line. In a message about sexual acts with children, the Herald says Adam wrote "And I love it… And no one can do anything about it."
In another message, the Herald says Adam wrote about giving a boy methamphetamine and heroin, then sexually abusing him. He allegedly wrote in a message that he filmed the acts and posted it on the "dark web."
The Herald says reporters were able to contact Adam. They say Adam confirmed that he wrote the messages, but claimed he was angry and "didn't mean what he wrote."
"All right, I was an idiot to say that but, man, there's plenty of other things I said. I threatened to blow up the court building. I have been flipping out."
A local child welfare organisation reports that there is also a video of a child masturbating and Adam participating. Adam told the Herald that there is a video of a child masturbating, but Adam says his back was turned and the video was a set up.
The migrant boys who Adam allegedly abused live in poverty stricken areas. Adam says he was supporting their education and well being. According to local authorities, he paid a victim's mother 4,500 baht per month.
The Royal Thai Police first charged Adam early last year. He was released on bail, but failed to show up to his court date in December. Adam posted a video online saying he had bribed people, including government workers. The Herald says Adam is on the run in Bangkok.
"Corruption in Thailand is at all levels and with enough money you can get people to give you whatever you want, whatever you need."
SOURCE: Sydney Morning Herald
Keep in contact with The Thaiger by following our Facebook page.
Never miss out on future posts by following The Thaiger.
Police say at least 2 people to be arrested in Bangkok bomb attack – UPDATE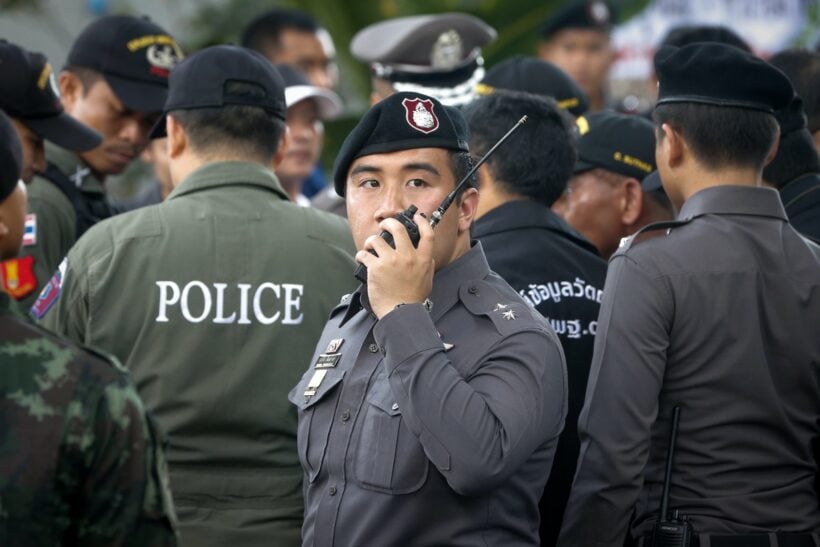 Police say they will issue arrest warrants for at least 2 people in connection to yesterday's bomb attackin Bangkok. According to Thai PBS World, the people are suspected of throwing a ping pong bomb into a group of police officers in front of the Chamchuri shopping centre that injured 3 policemen and 1 reporter. But previous reports by Khaosod English say the bomb attack saw only 2 policemen injured out of a total of 4.
Piya Tawichai, the deputy commissioner of the Metropolitan Police Bureau, says it is believed that the perpetrators threw the bomb from a vehicle on the flyover heading towards Hua Lampong railway station. Police say they found nails, wire and black electrical tape at the scene of the explosion.
The attack occurred at 6pm, during a pro-democracy rally over the government's enforcement of the lesé majeste law, which has seen over 43 people arrested, including students, since November. Just last week, a Thammsat University student was arrested in his dorm room over lese majeste charges. Ironically, the reason for his arrest was reportedly due to his calling for such a law to be abolished.
Earlier today, a group of pro-democracy protesters and Ratsadon guards rallied in front of the Internal Security Operations Command head office in Dusit district, demanding for the release one of the guards, who has been missing since last night.
ISOC spokesman Thanathip Sawangsaeng responded to the claims by saying that ISOC had nothing to do with Mongkol's disappearance because it is "not responsible for maintaining peace and order in the city."
Now, Thai Lawyers for Human Rights have reported that that Mongkol has been released in the Bangpoo area. Mongkol and his lawyer went to notify the police at the Muang district police station and say that Mongkol will be sent for a physical and psychological evaluation.
SOURCE: Thai PBS World
Keep in contact with The Thaiger by following our Facebook page.
Never miss out on future posts by following The Thaiger.
Police hunt for those behind Bangkok bomb attack near pro-democracy protest site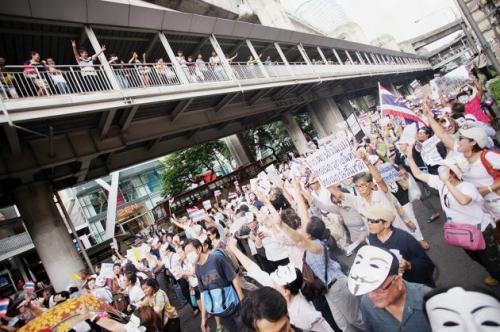 Police are hunting for those responsible for yesterday's bomb attack that hit near a pro-democracy protest site in Bangkok. The attack occurred at Samyan Intersection at around 6pm, leaving 4 people injured, including 2 policemen. Bangkok police chief Phukphong Phongpetra says the device used appears to be a pingpong bomb, which was filled with nails.
Demonstrators gathered yesterday in front of Samyan Mitrtown shopping mall to protest enforcement of Thailand's royal defamation law, which has been used sweepingly since the protests started up again last year. Riot police were deployed to the site as well as to Victory Monument, where police dispersed a group of activists earlier yesterday.
Since November, at least 43 people have been charged with lese majeste, including underage students, with most being comprised of activists that helped organise the protests in Bangkok calling for monarchy reforms.
"The government does not wish to see a rise in infections caused by political rallies. Therefore, we'd like to ask for cooperation from the public to comply with measures to prevent the spread of COVID-19."
The cooler weather is expected to last for another 2 days, after a cold spell from China washed over Thailand, with the northern part of the country expected to see a drop of up to 8 degrees Celsius in temperature.
Authorities are banning any unauthorised gatherings under the Emergency Decree, as Anucha confirms the need to carry out the decree as well as Thailand's Communicable Disease Act measures.
SOURCE: Khaosod English
Keep in contact with The Thaiger by following our Facebook page.
Never miss out on future posts by following The Thaiger.