Two Thais arrested for spreading fake coronavirus news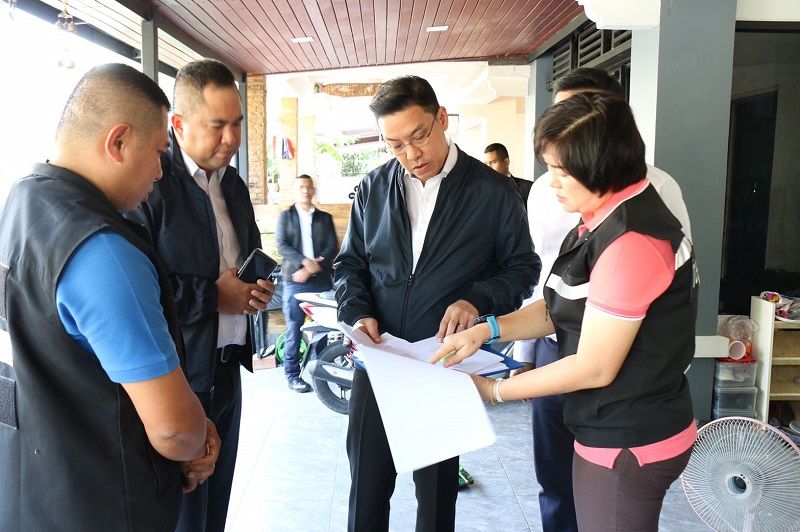 The Thai government says that two people have been arrested for posting fake news about the outbreak of the Wuhan Novel Coronavirus. Buddhipongse Punnakanta, the minister of the digital economy, says his ministry's "Anti-Fake News Centre" collaborated with the police to arrest Thitima Kongthon at her Bangkok house after she posted on Facebook that a patient infected with the virus died in Pattaya.
"The Anti-Fake News Centre is compiling evidence to root out the sources of fake news. We're working with the cybercrime police, but it's difficult to identify suspects, since sometimes they're anonymous."
Another suspect, Ritthisak Wongthonglueang, was arrested at his house in Bangkok's Taweewattana district. Buddhipongse says the man confessed to posting a video of a Chinese man collapsing at Suvarnabhumi Airport in order to mislead the public that it was connected to the coronavirus. The "victim" turned out to be drunk, but not infected with the virus.
Buddhipongse says operations are underway for other targets spreading false information, adding that the government is "not idle in combating fake news".
"We're not moving slowly. In fact, we've already arrested two suspects, while China could only arrest one. The PM has said combating fake news is a priority, since people's illness is a sensitive issue."
The two suspects will be charged with disseminating false information, which carries up to five years in prison if convicted.
The Anti-Fake News Centre says it has received 7,587 complaints about coronavirus stories since Saturday, and is verifying 160 cases with relevant authorities. It has declared 22 of them fake so far, including claims that a Thai Airways flight attendant contracted the virus.
The media have also came under criticism for reporting "hyperbolic news" and relying on dubious sources. In a case that has drawn widespread attention, Thai television wrongly quoted the mayor of Wuhan as saying that "most of the 5 million people" who left Wuhan before the lockdown came to Bangkok. Chinese state media say the number is closer to 10,000.
Thailand's National Press Council yesterday released a statement urging all news agencies to report on the coronavirus epidemic based on facts and to strictly follow media ethics.
SOURCE: Khaosod
Keep in contact with The Thaiger by following our
Facebook page
.
China reports further reduction in new coronavirus cases, down to 397; Korea has a second death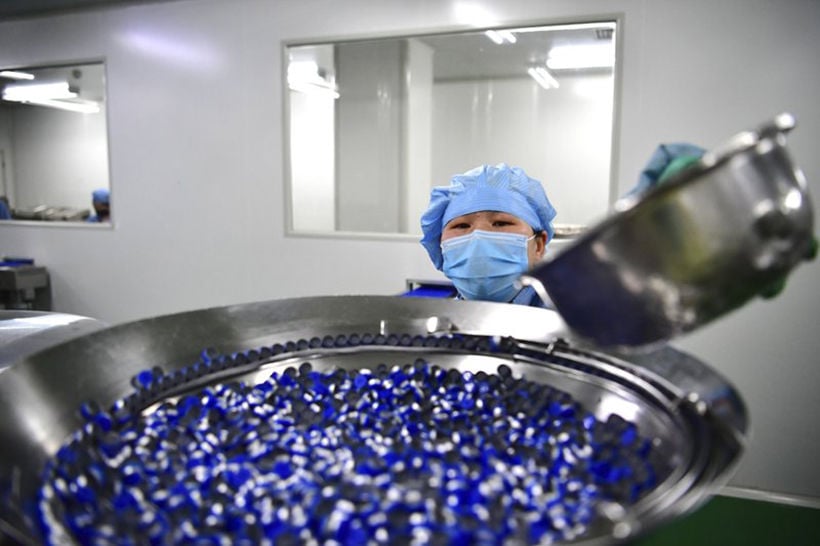 China's National Health Commission announced today that the country had 397 new confirmed cases of the Covid-19 coronavirus infections as of yesterday, down from 889 cases a day earlier. That brings the total number of confirmed cases in mainland China so far to 76,288. The death toll from the outbreak in mainland China had reached 2,345.
Hubei province, the epicentre of the outbreak, reported 106 new deaths, 90 in the capital, Wuhan. New infections in China have been falling for days, although changes in how it counts cases have caused doubts about the true trajectory of the epidemic.
China last week began recording new cases without waiting for laboratory results, causing a significant spike in the number of cases reported. But on Thursday it returned to its original method of counting, and removed some cases from the tally because test results were negative. The changes are sure to aggravate observers who say consistency is key to understanding COVID-19's path.
South Korea reported 142 more cases this morning, bringing the nationwide total to 346. The Korea Centers for Disease Control and Prevention reported an additional death, bringing the total to two.
Among the latest cases, 92 were connected to a hospital in Cheongdo, a southern city connected to a religious sect. More than 150 members of the Shincheonji Church of Jesus have now been infected, after a 61 year old woman developed a fever on February 10 but attended at least four church services in the city of Daegu before being diagnosed. Cheongdo, around 27 kilometres south of Daegu, is the birthplace of Lee Man-hee, Shincheonji's founder. County officials said yesterday that a three day funeral was held for his brother three weeks ago at a hall owned by the hospital, where the 92 new cases were confirmed today.
Iran announced three more infections Thursday, a day after it reported its first two deaths.
SOURCE: Bangkok Post | Thai PBS World
Keep in contact with The Thaiger by following our
Facebook page
.
No virus cover-up, PM tweets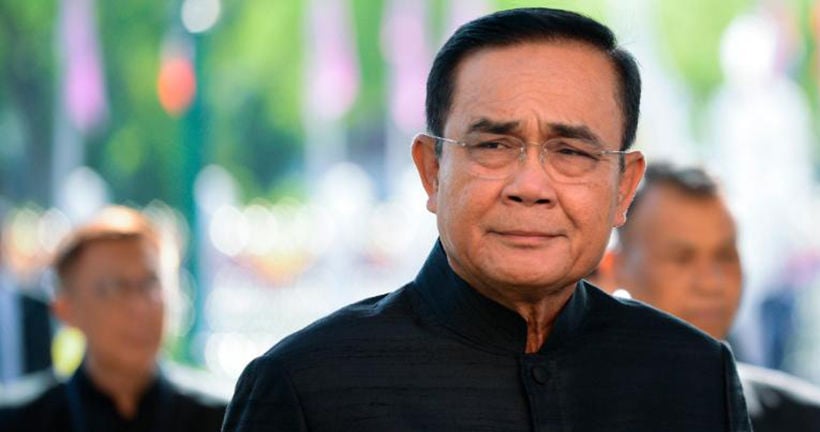 PM Prayut Chan-o-cha went on Twitter yesterday, in an apparent bid to counter "fake news," and announced there is no COVID-19 coronavirus cover-up happening in Thailand. He insisted the government is neither hiding nor distorting the number of infections in the country and said citizens should "gain confidence" in its remarkable success managing the disease. Earlier in the day, Prayut had urged the public to stay calm and not share "fake news or hate speech" about the virus threat, "because everyone, especially medical personnel, will be working on it until the crisis has passed."
Although several countries have expressed admiration for Thailand's ability to stem the spread of the virus, some foreign experts on disease control have doubted the small numbers of confirmed and suspected cases officially reported. Thailand has reported a total of 35 confirmed cases, seventeen of whom have made full recoveries, and has reported no fatalities
"The situation in Thailand today is still in a range we can cope with, and the government will take care of all affected sectors of society."
The PM came out of an afternoon meeting at Government House on the virus issue, saying the Cabinet will soon announce measures to support entrepreneurs who have been affected by the outbreak.
"Measures already taken have been able to control the situation effectively, but we plan to introduce more to help society cope and more again if the outbreak evolves to the next level. Meanwhile it's important to shore up the production and distribution of protective facemasks, which is still falling short."
Businesspeople, especially in the tourism sector, who've been hurt by the virus can count on state assistance, Prayut told reporters
"The virus has had an impact on all businesses, so we must resolve the problem in a comprehensive way. I thank all government agencies for their cooperation in helping solve these problems."
SOURCE: The Nation
Keep in contact with The Thaiger by following our
Facebook page
.
Coronavirus cases more than double in South Korea to surpass 150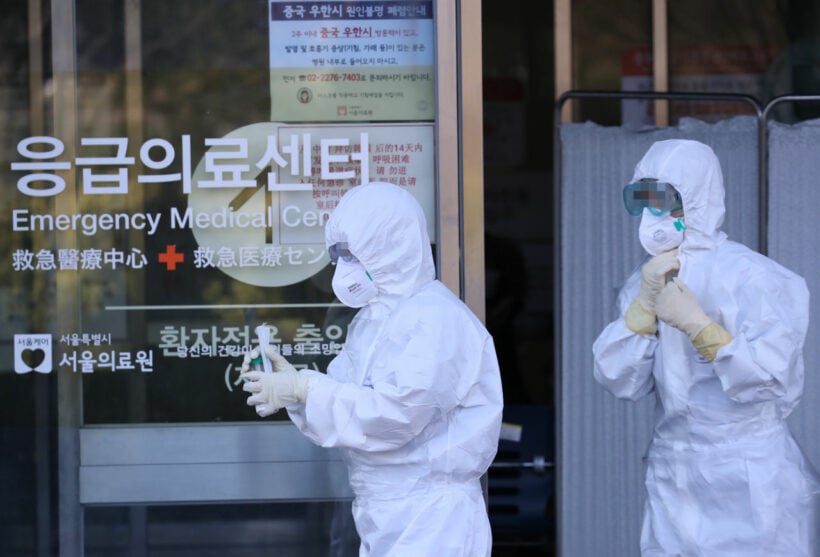 South Korea has reported its first death from the COVID-19 corona virus. The government reports that a 63 year old man, who died Wednesday, tested positive for the virus in a post mortem examination. The exact cause of his death has yet to be determined. He died in North Gyeongsang province, where he had been hospitalized for over 20 years, according to the Korean Centers for Disease Control and Prevention (KCDC).
A 10:30am today, the total number of infected people in South Korea stood at 156, with 70 of them in Daegu and nearby North Gyeongsang Province. Most of the cases have been traced to a church in the city that a 61 year old woman, confirmed as the country's 31st patient on Tuesday, had attended. Daegu fears becoming Korea's Wuhan, with largest cluster outside of China: in just 24 hours through yesterday afternoon, the area saw 53 new cases confirmed. Among the new cases, 39 people are linked with the Sincheonji Church of Jesus, a Christian sect to which the 61 year old woman, who tested positive Tuesday, belongs.
KCDC Director Jung Eun-kyeong said 1,001 church members who attended services with the woman are now in self-isolation at home. But the agency is leaning toward the possibility that the woman could have contracted the virus via a secondary infection. She is considered to be a potential "superspreader."
In a phone survey conducted by health authorities, 90 church members indicated having symptoms so far, although 396 could not be reached.
President Moon Jae-in vowed to mobilise all available resources to Daegu during a phone conversation with Mayor Kwon Young-jin. The central government plans to send medical professionals and facilities to help the city deal with snowballing cases.
Vice Health and Welfare Minister Kim Kang-lip says the country is facing a new situation that requires a different response.
"At this stage, (the government) has judged that COVID-19, which has been flowing in from overseas, is spreading locally with a limited scope."
He added that cases where the source of infection is unclear are emerging in Daegu and the capital, Seoul. There are at least 20 coronavirus patients whose transmission path is unknown.
South Korea is now one of the countries that has reported the highest tallies outside mainland China, along with Japan, Singapore and Hong Kong.
SOURCE: The Nation
Keep in contact with The Thaiger by following our
Facebook page
.