50% of Thai trucks checked in Don Mueang belching black smoke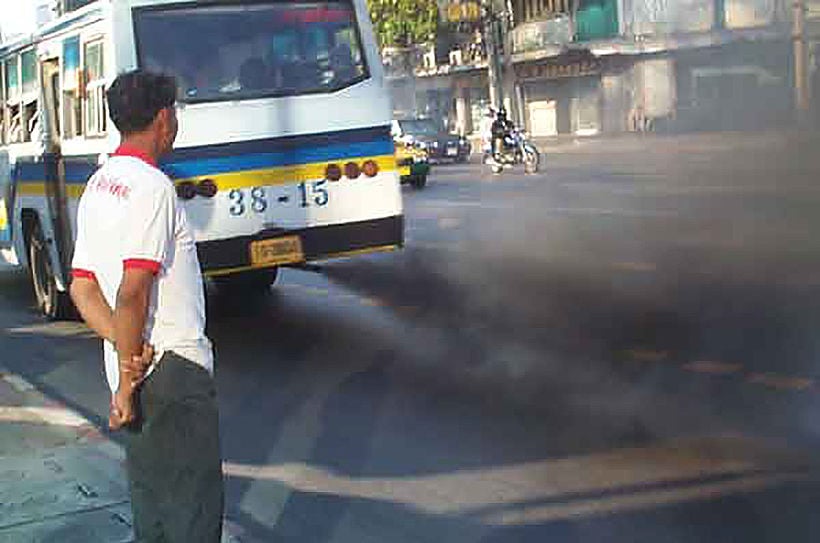 Last April Thai PM Prayut Chan-o-cha announced that those driving polluting vehicles would face arrest and fines, warning owners of transport businesses they'll be held responsible for toxic emissions. Now the Department of Land Transport announced it was stepping up measures to bring emission levels from trucks and public transport vehicles within safe limits. The measures are designed to alleviate pollution problems in Bangkok and surrounding areas. With poor air quality returning to the skies over Bangkok, residents are now demanding fewer words and more action.
Yesterday, random checks were conducted on trucks along Bangkok's Vibhavadi Rangsit Road. Inspectors included officials from the Traffic Police Division, Pollution Control Department (PCD) and the Don Mueang District Office. They spent about two hours flagging down trucks near the Don Mueang Airport. Twelve of the 25 trucks checked were belching black smoke in excess of safety standards.
A spokeman for the PCD says the department has the authority to order the drivers of the 12 trucks to keep them off the road while necessary improvements are made, which must be done within 30 days.
Operators of trucks that miss the deadline may be fined up to 5,000 baht.
SOURCE: The Nation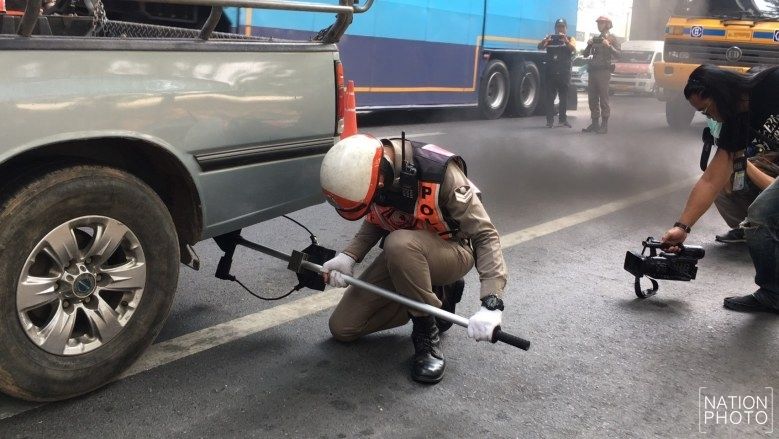 Keep in contact with The Thaiger by following our
Facebook page
.
Smoke from plantation fires continues to choke central and northern Thailand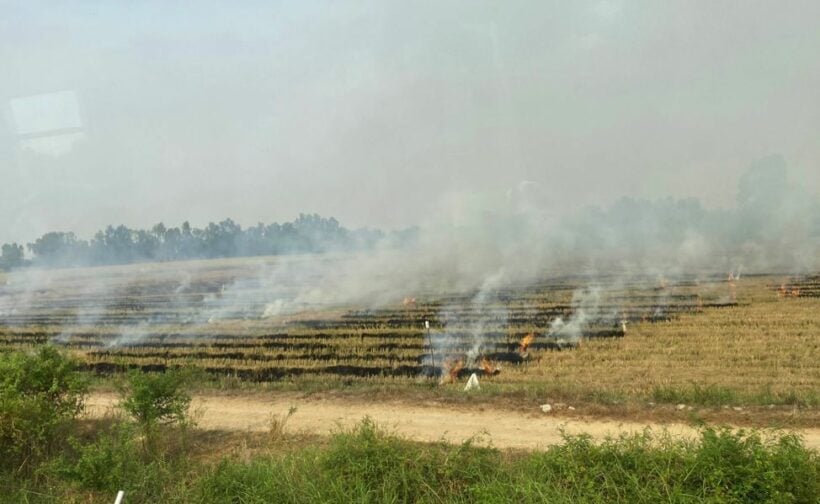 Smoke from fires, mostly deliberately lit, continue to choke sections of central and northern Thailand today. Light winds are not blowing away the smog and haze produced by the smoke, particularly in the north where Chiang Mai and Chiang Rai have readings today from 'unhealthy' too 'very unhealthy' – in a range from 170 up to 240 (particles of PM2.5 microns per cubic metre of air).
Chiang Mai's air quality is the 2nd worst in the world today, as measured by airquality.com, beaten only by the perennially bad air quality choking Dhaka in Bangladesh.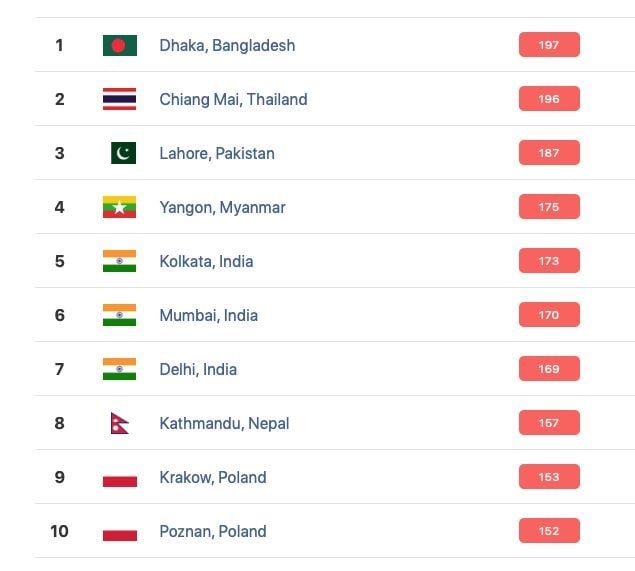 The satellite heat maps clearly indicates hundreds of deliberately lit fires in neighbouring Myanmar, and areas of central Thailand and Cambodia which are the source of the smoke haze impacting the northern cities and towns.
Whilst Bangkok's air quality has improved in and directly around the capital – from 'unhealthy' on Wednesday to 'unhealthy for some individuals' today – there is still plenty of smoke descending on the provinces directly north of the capital today.
Most of Bangkok's public schools, under the administration of the Bangkok Metropolitan Authority, were closed on Wednesday until today. Students will be returning on Monday after their two day enforced 'holiday'.
The government maintains that it is cracking down on the deliberately lit plantation and farm fires where farmers burn-off the remnants of the crops (as in the case of sugar, corn and some fruits), or prepare the areas (in the case of rice). But, in reality, there appears to be little or no reductions in the number of fires being lit in farming areas around Thailand.
The agricultural machinery to make these soil preparations and clearances is expensive and not readily available for the farmers. Driven by concerns over price, the farmers opt for the cheapest means possible – incinerating areas and producing enormous fires and smoke that can last for days.
Meanwhile, even if the Thai authorities are able to reduce the number of fires lit within its own borders, the satellite fire maps clearly indicates the hundreds of similar fires lit in neighbouring Myanmar and Cambodia, where Thai authorities have no control.
PHOTO: Richard Barrow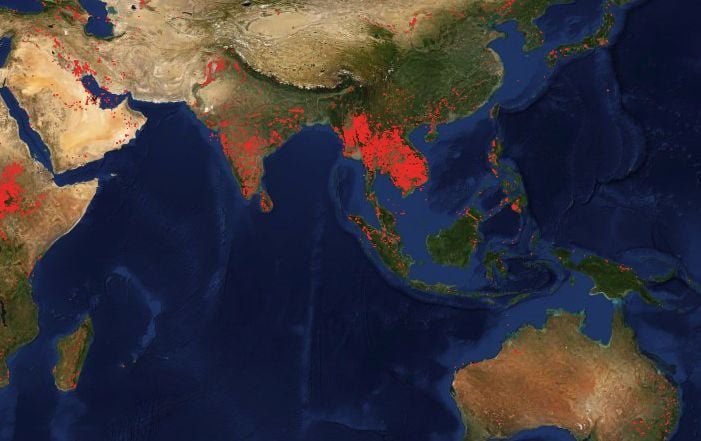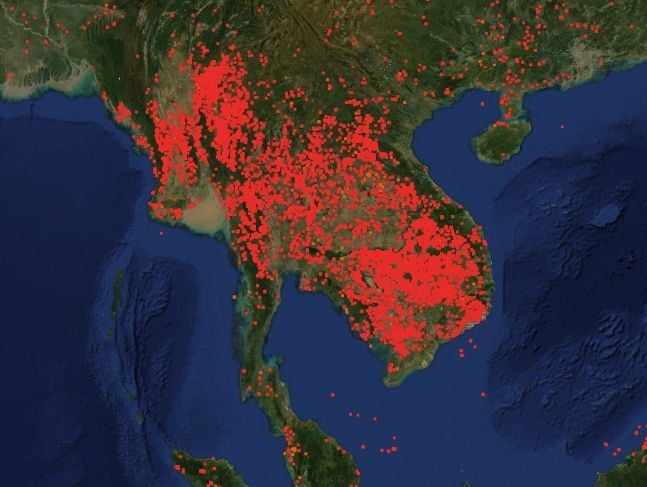 GRAPHIC: The satellite maps clearly show where the fires are popping up.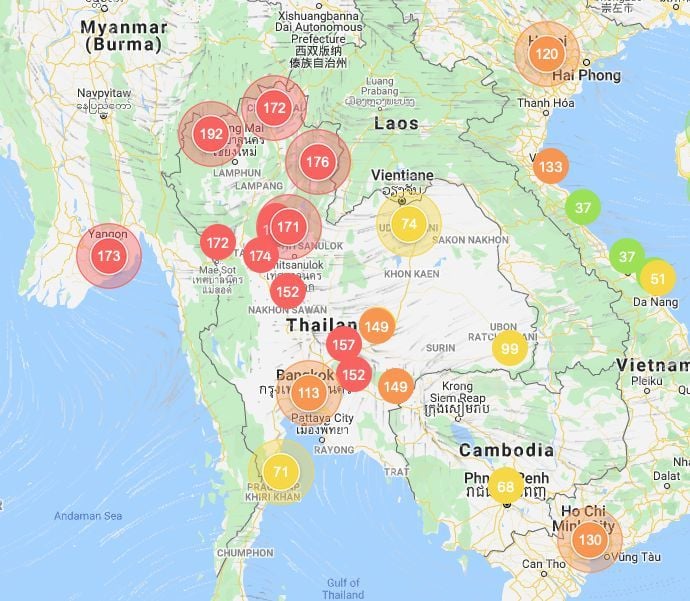 Areas in central and northern Thailand are suffering from bad air quality today. Check the readings, updated hourly from hundreds of monitoring stations around the country HERE.
Keep in contact with The Thaiger by following our
Facebook page
.
22 areas of Bangkok found with excessive PM2.5 dust in the atmosphere today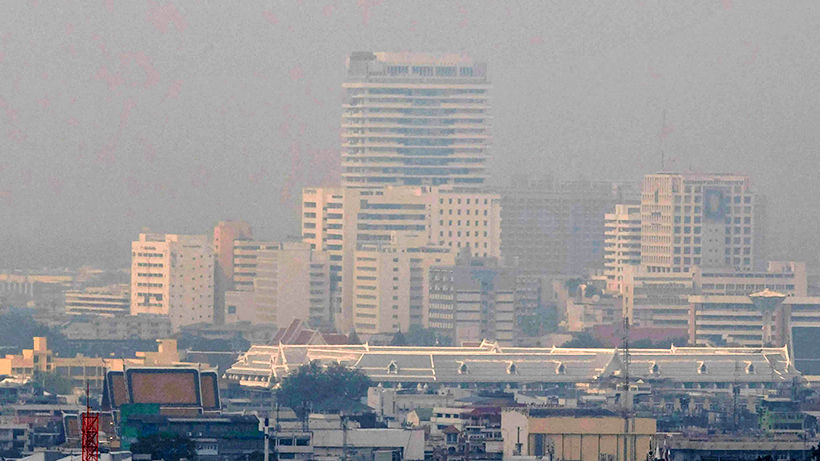 Bangkok was blanketed with excessive PM2.5 dust yesterday, measuring between 55 and 90 microns per cubic metre (µg/m3), above Thailands "safe" threshold of 50. Air quality has improved slightly today, with only 22 areas found to have PM2.5 dust above 50 microns. The limit set by the World Health Organisation is 25 µg/m3.
The Pollution Control Department (PCD) announced the levels of PM2.5 dust in the atmosphere today were measured between 38 and 79 microns, with excessive dust in 22 areas, including Lat Phrao Soi 95 in Wang Thong Lang district, which recorded the highest level, 79 µg/m3.
Bangkok Municipality spokesman Pongsakorn Kwanmuang said today that several Bangkok private schools couldn't suspend classes because their students are in the middle of final exams and that they've been warned to wear face masks to school. All Bangkok public schools were ordered shut until Friday
Bangkok areas with excessive PM2.5 dust today include:
Tambon Hirunrujee in Thon Buri district
Kanchanapisek Road in Bang Khun Thian district
Tambon Bang Na in Bang Na District
Tambon Khlong Chan in Bang Kapi district
Tambon Din Daeng in Din Daeng district
Tambon Chong Nonsee in Yan Nawa district
Rama IV Road in Pathumwan district
Intharapitak Road in Thon Buri district
Lat Phrao Road in Wang Thong Lang district
Din Daeng Road in Din Daeng district
Tambon Plabpla in Wang Thong Lang district
Tambon Bang Kruay in Bang Kruay district of Nonthaburi
SOURCE: Thai PBS World
Keep in contact with The Thaiger by following our
Facebook page
.
Cambodia burns, Bangkok chokes, schools closed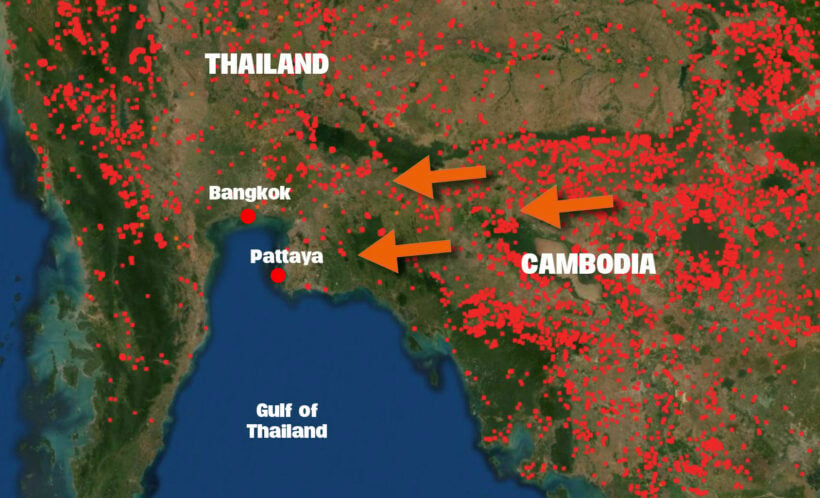 Bangkok mums and dads will need to sort out what to do with the kids for the rest of the week after the Bangkok Metropolitan Administration closed public schools from today because of the excessive air pollution. Most of the smoke and haze is blowing in from Cambodia with light easterly winds.
All schools under the supervision of the BMA will close until Friday. Air quality in the capital has worsened over the past two days with Bangkok recurring the world's 5th worst air pollution yesterday (today it is 10th). The forecast today is for light winds and poor air circulation which will compound the accumulation of PM2.5 dust and smoke particles.
In other measures City Hall is asking high-rise construction and electric train construction sites to suspend their operations until Friday.
And on the transport front Police have been asked to prevent trucks with six wheels or more from accessing the Ratchadapisek ring road until midnight on Thursday and to set up roadblocks to check vehicle exhaust emissions.
Most of these measures will do little to improve the overall situation as the poor air quality in the capital is caused by plantation burn-offs from sugar, corn and rice fields in the central, north and north-east, plus easterly airflows blowing in the same burn-off smoke from Cambodian farms.
Back in the city, district officials and municipal police will patrol open areas to make sure there is no burning outdoors, while city workers will spray water in the air and on roads to wash away dust.
The whole of Bangkok and its vicinity were found to contain excessive amounts of PM2.5 dust and smoke particles yesterday, measuring up to 188, nearly 4 times the upper safe limit imposed by the Pollution Control Department, and nearly 8 times the limit set by the World Health Organisation.
62 air quality measurement stations in Bangkok and neighbouring provinces, including Samut Prakan, Samut Sakhon, Nonthaburi and Pathum Thani, show the health threatening levels of PM2.5, which exceed the 50-micron safety threshold. The highest level was found at Tambon Paknam in Muang district of Samut Prakan.
This morning the highest readings around Bangkok are 160 but out to the west, in the Ratchaburi province, readings are up to 208. Pattaya has readings up to 159. Up in the north, Chiang Mai has a reading this morning of 165, and central Thailand's Kampaeng Phet measured the country's worst today at 218. The windflower map shows the easterly winds blowing the forest and plantation smoke from Cambodia and Laos into Thailand. Chiang Mai is listed as the world's 5th worst air pollution today.
Check out the actives fires, principally responsible for causing the air pollution around Bangkok today, HERE.
Read The Thaiger's editorial about the air pollution 'elephant in the room' HERE.


Air pollution readings from AirVisual.com
Keep in contact with The Thaiger by following our
Facebook page
.