e-learning leaves many students locked out of new school term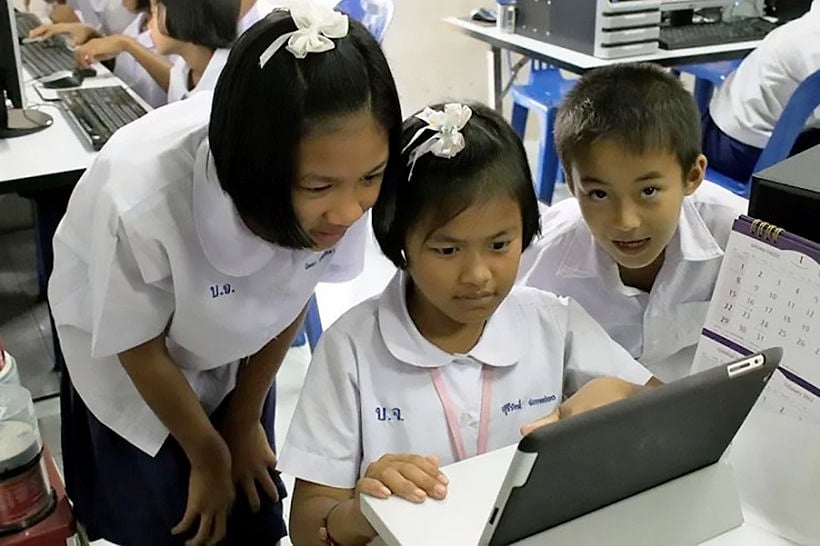 Many Thai children, with no smartphone or internet to access online classes, find themselves unable to begin their new school term and participate in the online learning. The issue has become a hot topic among netizens after cases emerged in the northeastern Nakhon Ratchasima province of children unable to join online classes.
One 54 year old woman there says that her grandsons are studying in grade 2 and grade 6, but their family is so poor they cannot afford the internet. Another 60 year old woman says that her 4 grandchildren have no way of starting their semester and that, since the Covid-19 outbreak and lockdown, her family has barely had enough for daily necessities.
The education gap dividing the "haves" and the "have nots" threatens to worsen as online education gains traction, either as a short-term solution following the coronavirus outbreak or, for some classes, a more permanent solution for remote communities. Many students in far flung parts of the country do not have access to the internet, let alone buy computers for their children.
A survey by Kasetsart University, of 678 public and private school teachers in 67 provinces, found that 66% of students do not have access to a computer, the internet or even electricity. About 36% of students don't even have a smartphone. The teachers say that only about 45% percent of students nationwide have the ability to attend online classes.
Meanwhile, the Education Ministry's online learning program for students nationwide has begun via 6 channels – digital TV, Ku-Band and C-Band satellite TV, the Distance Learning Television website, smartphone applications and YouTube.
The hashtag #เรียนออนไลน์ (studying online) was ranked as the number one trending topic on Twitter, even as netizens voiced their problems, which included lack of learning materials, inappropriate teaching media, technical issues, an inability to note content in time and website crashes. Students are required to register to attend classes running from 8:30am to 2:30pm, under the supervision of their parents (adding another layer of problems with many parents unable to supervise because they need to work).
The Thai PM Prayut Chan-o-cha emphasised yesterday that students must study online until the Covid-19 situation improves and schools can reopen. Reporting his remarks, a spokeswoman said the government is trying to address problems of accessibility and affordability of teaching materials, parental care, and responsibility of learners.
SOURCES: asiaone | Chiang Rai Times |Nation Thailand
Keep in contact with The Thaiger by following our Facebook page.
Never miss out on future posts by following The Thaiger.
Police have yet to investigate illegal hiring of foreign teachers at international school in Phuket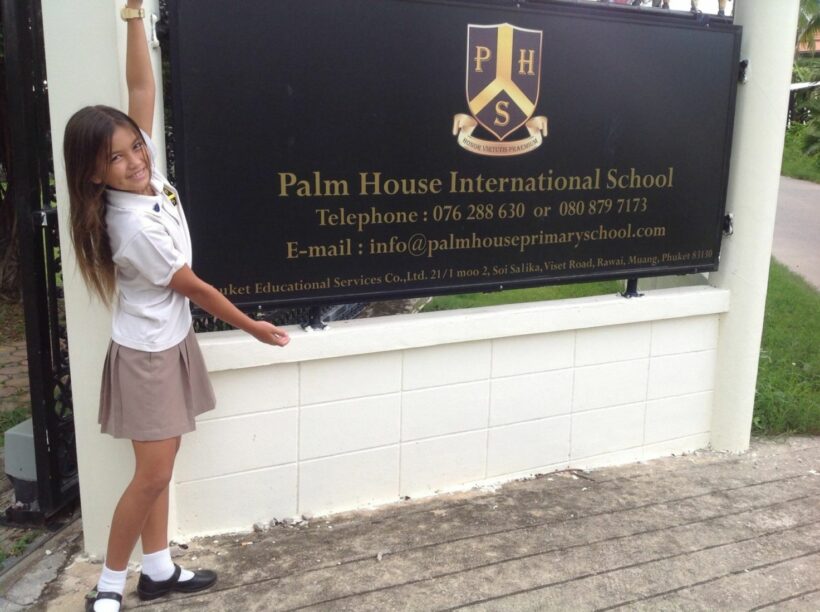 Chalong police in Phuket say they have yet to start investigating the illegal hiring of foreign teachers at an international school in Rawai, south of the island. Palm House International School allegedly hired foreign teachers illegally in which 2 were arrested by Phuket Immigration police on November 4.
Somkiet Sarasin, the leading investigator of the case, says the 2 Brits were informed that police were processing a charge of working illegally in the country against them, in which both denied the charges. Somkiet says the 2 were released on bail, but did not confirm the amount of bail that was set by the police.
"They are still staying in Thailand. I am not worried. I have their passports. I am not available to explain [any details] because the investigation is still ongoing."
"This is normal for an investigation when the suspects deny the charge against them. I have to check more information against their claims. This case will probably be concluded next month."
However, the investigation has yet to begin, with Somkiet saying he has not even questioned the owner of the school, despite his claims the case would be finished next month.
"The investigation into the school will take time. The investigation into the two British people must be finished first."
Such allegations of foreign teachers working illegally have recently been in the news after Sarasas Witaed Sainoi Pitiyakarn School, in the central province of Nonthaburi, saw 7 foreign teachers probed for being hired illegally. That school, along with others in its private network, made nationwide news after CCTV caught a Thai teacher hitting, pushing and dragging a young student in the classroom. Such widespread violence against students has long been a sad component of many Thai schools, in which some of the teachers are unqualified and unlicensed to teach, but are hired anyway.
SOURCE: The Phuket News
Keep in contact with The Thaiger by following our Facebook page.
Never miss out on future posts by following The Thaiger.
"Bad Medical Student" group takes to Twitter to discuss downfalls of medical industry in Thailand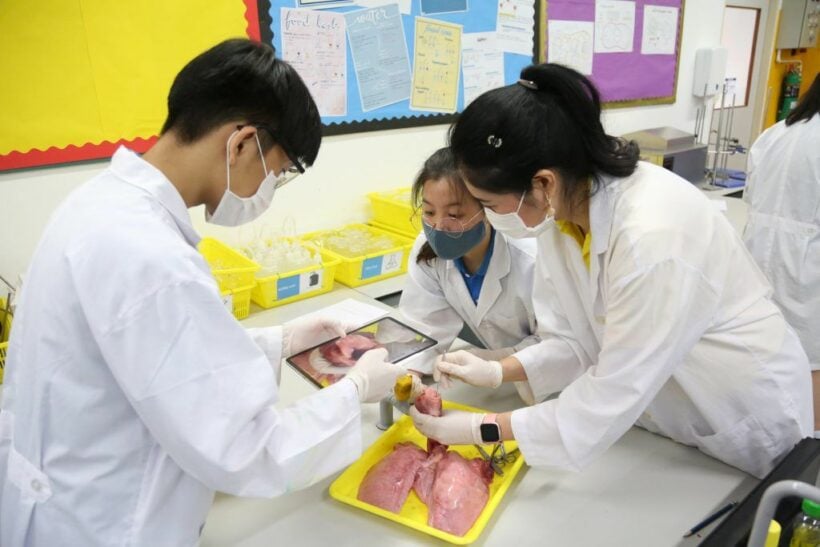 A new group, inspired by the Bad Student protesters, has taken to naming itself Bad Medical Students, as it stormed Twitter to reveal the downfalls of studying medicine in Thailand. The hashtag #นักศึกษาแพทย์เลว (Bad Medical Student), has now gained over 86,000 Tweets after the Assistant Dean of the Faculty of Medicine at Chiang Mai university encouraged the group to voice their take on the industry. Dr. Manoch Chokchamsai, posted on his Facebook page:
"Let's hear some noise from the Bad Medical Students. Talk about the things the [medical] faculty wouldn't want to hear."
The message gained over 670 comments and was shared by 3,400 people on Facebook. Now, it is the top trending topic on Twitter, prompting many medical students, interns and residents to expose what they say is the toxic work culture in the Thai medical industry. Such allegations range from sexual harrassment, abusive workloads, verbal and emotional abuse, gender discrimination and many more. One Twitter user says she was discriminated against because she was a woman.
"Some professors treat med students with double standards. The management was the same, but I was verbally abused and looked down upon because I am not a man… yep."
"I was screamed at by a medical staff right in the middle of the ward and told to go jump off a building and kill myself. I didn't, because I didn't want to die and just didn't want to see their face."
"We should not be romanticizing working beyond human powers as sacrifice, such as being on call for 24 hours and working for another right. This practice is probably held at every hospital, because I have witnessed it everywhere."
Thailand's medical education industry has long been rumoured to be toxic, but the issue has never been publicly addressed apart from news reports that have shone a light into what happens behind closed doors, which has prompted some students, residents, and interns to take their own lives.
SOURCE: Thai Enquirer
Keep in contact with The Thaiger by following our Facebook page.
Never miss out on future posts by following The Thaiger.
The King to give royal land title deeds valued at 10 billion baht to universities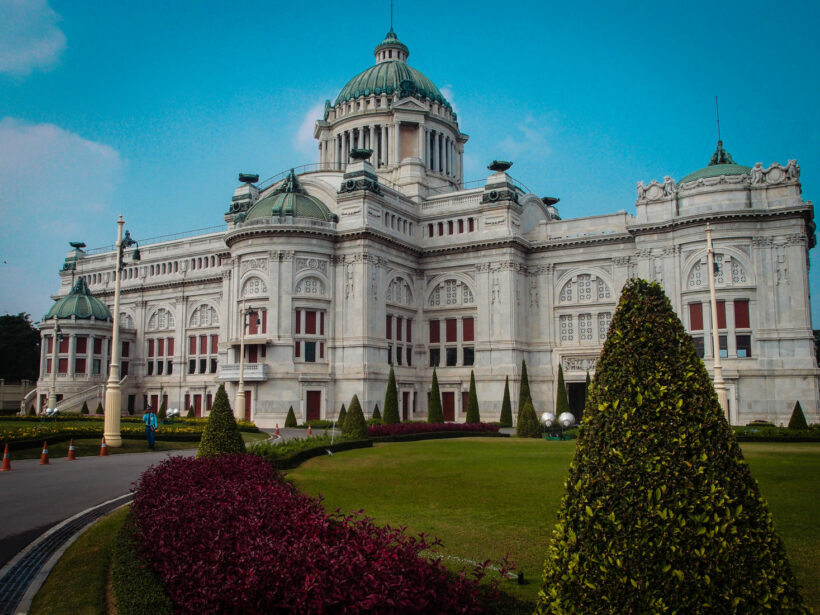 King Vajiralongkorn is set to give royal land title deeds worth 10 billion baht, to 2 universities and 2 schools today in a ceremony at Bangkok's Dusit Palace. The title deeds cover more than 100 rai of land along the Ratchawithi Road in Dusit district. Suan Sunandha Rajabhat University will receive deeds that cover 60 rai, while Suan Dusit University will receive deeds that cover more than 37 rai.
Anek Laothamatas, the Higher Education, Science, Research and Innovation Minister, says he and the university presidents will have an audience at the handover ceremony with the King and Queen at Ambara Villa in Dusit Palace. Rachawinit School, an elementary school, and Rajavinit Mathayom School, a secondary school, will also receive the deeds according to Anek.
The land on which the universities are located has an estimated value around 100 million baht per rai. There is almost 100 rai in the deed.
The lands where the universities are located were originally part of Dusit palace, but after the 1932 revolution that saw the monarchy change from absolute to constitutional, some of the land was used for educational institutions. The land where Dusit Zoo was located, which was closed on September 30, 2018, amidst a relocation venture to Pathum Thani's Thanyaburi district, will now be used to build a public hospital.
Other land that has been repurposed includes the Royal Turf Club of Thailand's racecourse, which will now be transformed into a public park commemorating His Majesty King Bhumibol Adulyadej. The land was returned in 2018 to the Crown Property Burea, after featuring the racecourse for 102 years. Such land under the Crown Property Burea was originally allocated to building the Grand Palace, when King Rama I had it built. It was later that the royal residences expanded to the Dusit Zoo and racecourse, as well as the universities that are now situated on it.
The Suan Dusit University president, Sirote Phonphanthin, says the land where the university sits is owned by the Crown Property Bureau, which was originally owned by King Rama V. He says the university is grateful that the King attached so much importance to education. Sirote also said that he was told by the Royal Household Bureau that the King did not intend on keeping the land title deeds, rather, he wanted to give them to the universities.
The director of Rachawinit School, Supornrat Sattacthanachaiphat, agrees that the handover of the deeds was great news. The school was originally established in 1966 to educate the palace officials' children.
SOURCE: Bangkok Post
Keep in contact with The Thaiger by following our Facebook page.
Never miss out on future posts by following The Thaiger.