Fakes valued at 50 million baht found in raids in Saraburi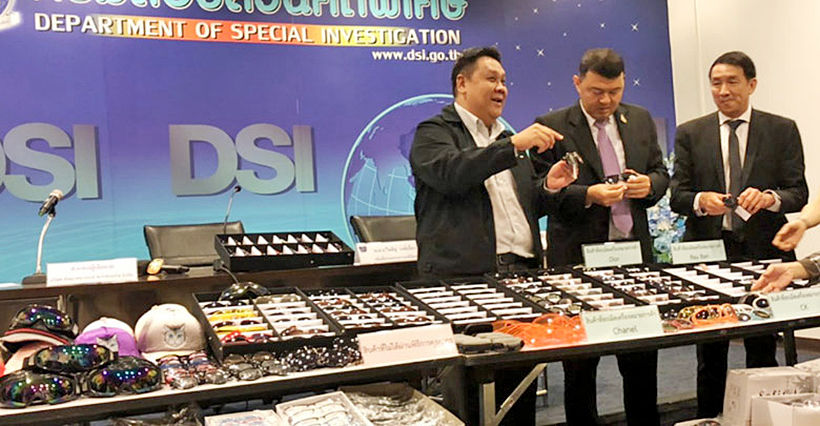 PHOTO: INN News
That's another 50 million baht worth of counterfeits off the streets.
The Department of Special Investigation has seized counterfeit goods in a series of raids, with a street value of around 50 million baht and including some 158,000 items. In this case, the fakes were mostly brand name eyeglasses and clothing accessories. The DSI, Department of Intellectual Property and representatives from Satyapon & Partners IP Law Firm conducted the raid on counterfeit goods including glasses, belts, baseball caps, and other fake goods in Saraburi Province, just north east of the capital.
The DIP uncovered information on a group that was smuggling counterfeit goods into Thailand. They reported that the goods are imported in cargo shipments before they were moved and hidden in 2 warehouses located in Saraburi.
Officials gathered the necessary documents before a search warrant was issued. Counterfeit products are very popular in Thailand. Often the distribution channel is through online shopping such as Facebook , Instagram accounts, LINE and other applications. The products are paid for via bank transfers or credit cards then the product is normally delivered to the customer by post. Fake goods used to be commonly sold in markets across Thailand, including MBK and popular street markets but have moved over to the online domain.
A warrant was issued by the Central Intellectual Property and International Trade Court to conduct the raids in Saraburi. Officials searched two commercial buildings on December 18. The raids also included representatives of the brands to point out the infringed trademarks on their brand name products.
A total of 18,000 counterfeit products were found in the raids including the discovery of 140,000 eyeglasses without the proper importation documents. Together the search led to 158,000 products.
SOURCE: Thai Residents
Keep in contact with The Thaiger by following our
Facebook page
.
Bangkok's vacant land owners growing fruit and vegetables to evade vacant-land tax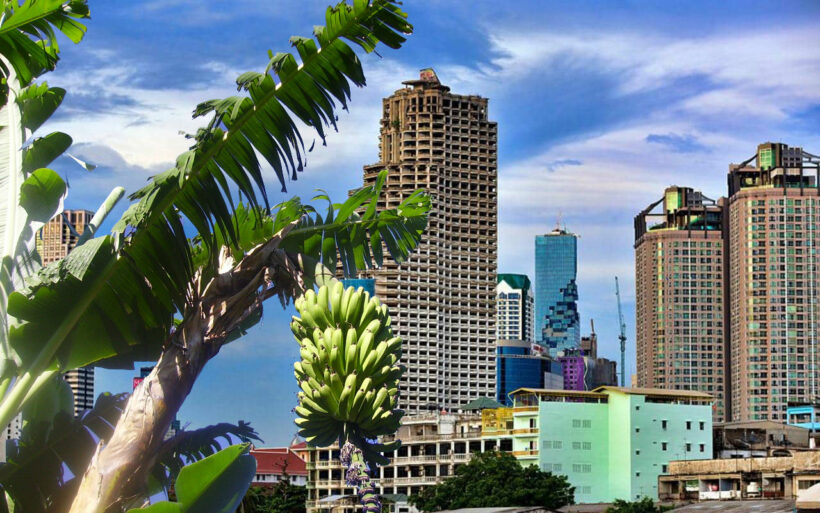 A loophole in land tax around Bangkok (actually everywhere in Thailand) is having an unexpected side effect, mostly good. Many vacant property owners in Bangkok are growing fruit and vegetables to escape the newly launched tax on their undeveloped land.
For example, Banana trees are now growing on an expensive piece of land near Naradhiwat-Rajanagarindra Road. To avoid the new Land and Building Tax Act's tax on vacant land, some landowners had decided to grow banana or lime trees on their land to pay the lower tax rate for agricultural use of the land.
The revised land and building tax act 2019 came into effect on January 1. Owners of vacant land pay a higher tax rate than those who used their land for agricultural, residential or commercial purposes. The act states that the owners of agricultural land with an appraised value up to 75 million baht must pay a tax at 0.01% of the value. From 75-100 million baht valuation, the rate is 0.03%. 100-500 million baht value the rate is 0.05%, etc… 1 billion baht-plus value, the rate it is 0.1%.
In the case of undeveloped land, the owners must pay rates from 3-6 times higher. So owners who are hanging onto their land at expensive locations are now growing grow fruit trees such as lime, banana or papaya to avoid payment of tax on vacant land.
Even along Ratchadaphisek, Rama IX and Ekamai roads in Bangkok, prime land locations, we're now seeing mini plantations of banana, mango, lime and other fruit trees.
SOURCE: The Nation
Keep in contact with The Thaiger by following our
Facebook page
.
Drunken Bangkok tour bus driver fired after 'borrowing' a bus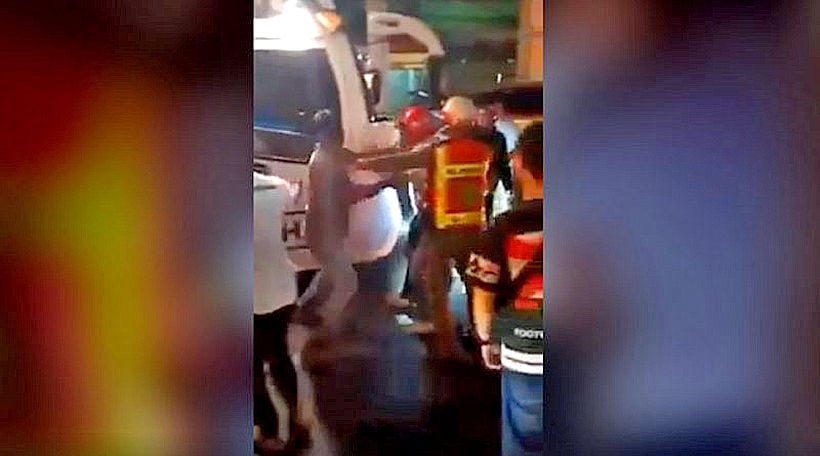 A tour bus driver has now been fired by the tour company that employed him as a driver after he went on a drunk-driving rampage in Bangkapi district of Bangkok around 3am Thursday morning. The incident was reported by khaosod.co.th.
The drunk driver was taken to a police station after being nearly lynched by a mob. He was charged with drink-driving and causing injuries to pedestrians and traffic.
The driver drove the bus out of the company's car park without permission. Khao Sod didn't report on the reasons for 'borrowing' the bus and taking it for a 'spin'.
And angry mob stopped the driver. Police waited for the mob to cool down a bit before intervening and arresting the driver. The license plate of the bus was clearly captured by a bystander that figured it was a good idea to video of the violent mob.
SOURCE: Thai Residents
Keep in contact with The Thaiger by following our
Facebook page
.
"Don't be f**king nosey." Government committee meeting turns sour.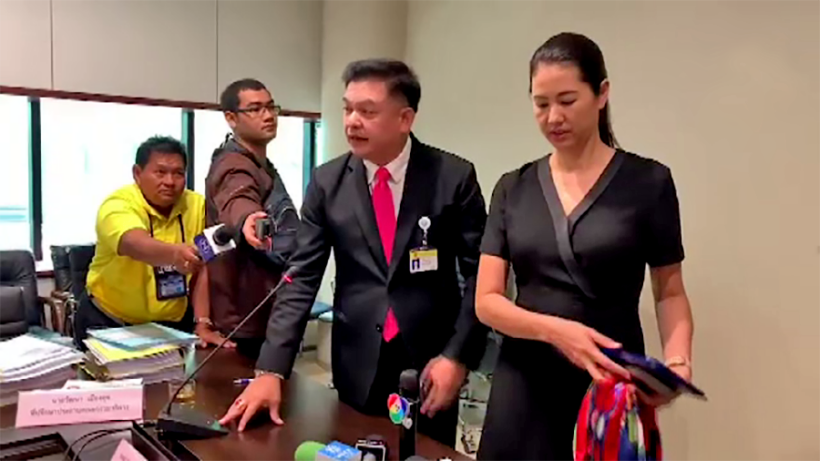 Strong language ahead…
Claws were out at a committee meeting of the House Anti-Corruption and Misconduct Committee. A heated argument started between the committee chairman, Pol Gen Seripisut Temiyavet and two of the committee members, Pareena Kraikupt and Sira Jenjakha. The nasty and noisy spat erupted when Ms. Pareena, a Palang Pracharat MP, asked Seripisut why her petition, demanding an investigation of the committee chairman on seven issues, was not included in the meeting's agenda, after it had been forwarded to the committee by the Office of the Secretary-General of the House, according to Thai PBS World.
The two firstly argued over whether a document had been signed or not. Then the two engaged in a vicious verbal exchange for about 15 minutes before Seripisut, a former national police chief, lost his cool…
"Don't be fucking nosey, talking to me like that!"
That didn't go down well and received the retort…
"Don't use that low-class language with me."
"Because you are low-class!"
Pareena reportedly demanded Seripisut withdraw the words "fucking nosey", which he refused to do.
Then Palang Pracharat MP Sira Jenjakha walked in and jumped into the fray, demanding Seripisut withdraw the swearing and nasty sleights. He questioned how a man could use such rude language speaking to a woman.
The former police chief then abruptly adjourned the meeting and instructed parliament officials to keep an audio record of the incident so he could file defamation charges against the two Palang Pracharat MPs.
Sadly we don't have access to any audio, let alone a video.
SOURCE: Thai PBS World
Keep in contact with The Thaiger by following our
Facebook page
.