Thailand starts human trials of local Covid vaccine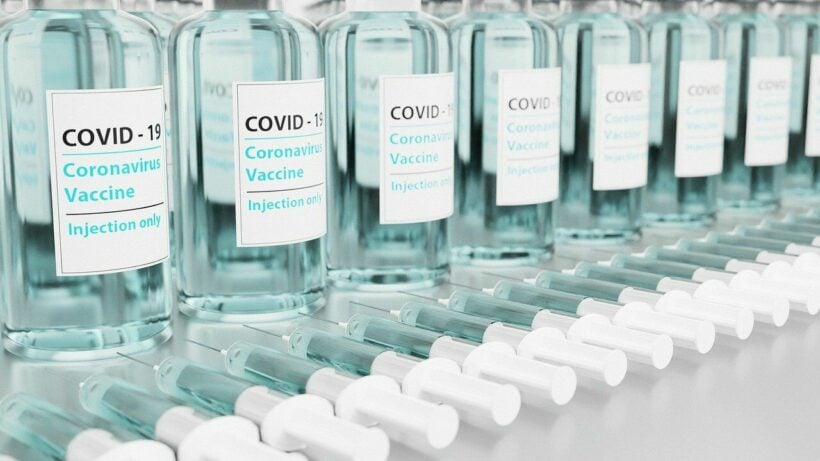 Thailand is beginning human trials on its locally-developed Covid-19 vaccine, while setting its sights for a rollout of the vaccine next year. While the process seems sluggish compared to other vaccines, Public Health Minister Anutin Charnvirakul says the development would enable Thailand to be self-reliant as the country would not have to rely on vaccines from other nations.
"Production is expected to begin next year, with an estimated 25-30 million doses annually."
The Government Pharmaceutical Organisation has developed a pilot NDV-HXP-S vaccine by teaming up with Mahidol University's Tropical Medicine Department, the Programme for Appropriate Technology in Health, an American non-profit organisation, and the Icahn School of Medicine at Mount Sinai, New York. The vaccine consists of a inactivated virus to trigger immunity, using egg-based technology. So far, the GPO says trials have shown promising results.
"Even though we can produce vaccines in the country, it is from technology transfer and under management of the owners of the brands and technology. But today, if we are successful we can be self-reliant and determine our own direction."
A total of 460 volunteers would be recruited for the human trials. They must be in good health and free of Covid-19. Volunteers will be screened and have their backgrounds checked and undergo health and blood checks.
Punnee Pitisuttithum, the head of the Vaccine Trial Centre at Mahidol University's Tropical Medicine Department, said that the first human trial was conducted on 4 volunteers yeterday. Banchong Mahaisavariya, president of Mahidol University, said the first and second phases of human trials will test the safety of the vaccine and its ability to trigger immunity.
The GPO is aware of SARS-CoV-2 virus mutations so the vaccine is also being developed to help with this situation, adding that the pilot vaccine showed it was effective against the South African strain.
Chulalongkorn University is also developing its own vaccine, which uses Messenger RNA technology with human trials expected to begin soon.
SOURCE: Bangkok Post
Keep in contact with Thaiger by following our Facebook page.
Never miss out on future posts by following Thaiger.
UPDATE: Field hospitals being established in Covid hot zones around Thailand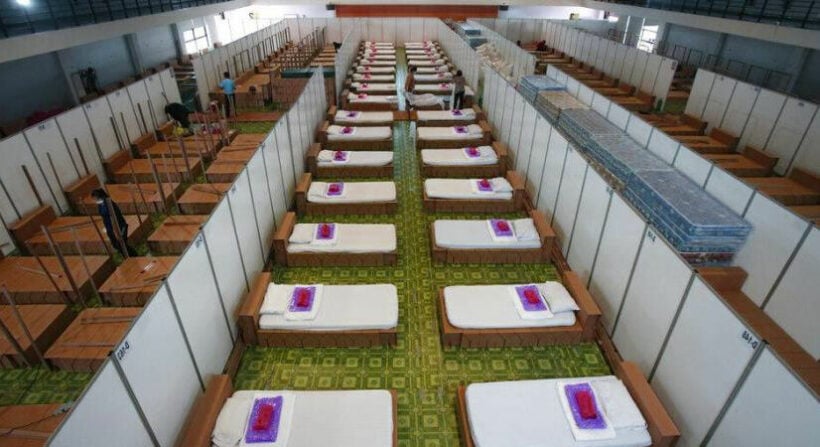 UPDATE: The field hospital in Bangkok's Bang Bon district, west of the Chao Phraya river, had its first 10 Covid patients today. The director of the medical services office of the Bangkok Metropolitan Administration says that the 10 patients into the makeshift hospital, located at the Chalerm Phra Kiat Stadium, will enable assessment of the performance by the medical team, before more patients arrive – Thai PBS World
ORIGINAL STORY: Despite the confident posture and Songkran going ahead, amid restrictions, there is a lot of background activity which suggest the authorities are getting ready for a surge of new infections at the end of the Songkran break, officially this Thursday (but in reality, next Sunday at the end of the weekend when most people who travelled home will return for a resumption of work).
The Thai lunar new year celebrations – Songkran – are the largest mass movement of Thais each year, a source for a huge leap in road deaths and accidents. And, this year, a potential super-spreader event.
Quietly, at least 3,000 extra beds have been prepared in 10 field hospitals around Bangkok. The government has also confirmed that additional field hospitals are being set up in other potential 'hot zones', including Phuket, Chiang Mai, Chonburi and Hua Hin. Some of them were set up last year, and since closed, and now being prepared for new positive infections.
One Thai person who had been in one of the field hospitals put together a check-list of things to take IF you end up as an invited 'guest' HERE.
The CCSA say they are looking for additional beds in hotels and previous state quarantine facilities (where repatriating Thais were housed for their free quarantine) to be used if needed.
This year's Songkran had bad timing, coming just a week after a number of major clusters were identified around some of Bangkok's popular nightlife areas in 3 key inner city districts. Even before Songkran these isolated clusters had already spread into the provinces. In the weekend before Songkran the government had already listed 37 provinces which had instigated some form of paperwork or restrictions for people who had been in any of the 3 Bangkok districts.
The government also leapt on the source of the new outbreaks – bars, clubs and entertainment venues – and promptly shut them down for at least 2 weeks. At this stage it looks likely that that ban will be extended beyond the 2 weeks and, depending on the extent of new infections following the Songkran holiday, additional restrictions will also be added.
Even today the Civil Aviation Authority published a number of new in-flight restrictions for passengers – another blow to the hard-hit domestic aviation sector.
Keep in contact with Thaiger by following our Facebook page.
Never miss out on future posts by following Thaiger.
Covid UPDATE: Daily infection number drops slightly on Tuesday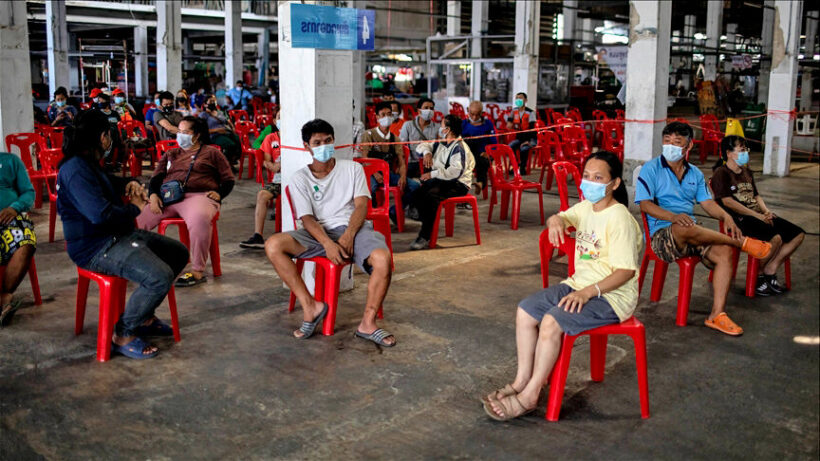 965 people have been detected as infected with Covid-19 in the past 24 hours. The daily total is the first drop in daily numbers for 13 days. 28,288 people have fully recovered. The total deaths remains at 97 people since the start of the pandemic in Thailand. 6,190 people remain under hospital care or are being monitored.
654 of today's cases are local community infections.
Out of today's infections, the CCSA announced that most were in the northern city of Chiang Mai (251) which has been hit particularly hard, followed by Bangkok (194), Chonburi (97), Prachuap Khiri Khan (73), Nakhon Ratchasima (67), Samut Prakan (49), Samut Sakhon (34), Rayong (25) and Pathum Thani (21). 8 new infections were officially reported in Phuket by the CCSA.
Regarding vaccinations, 578,532 people have now been vaccinated. Yesterday, 6,424 people received their first injection, 2,056 received their second Covid vaccine.
There's now a total of 34,575 people who have now been infected with the coronavirus in Thailand.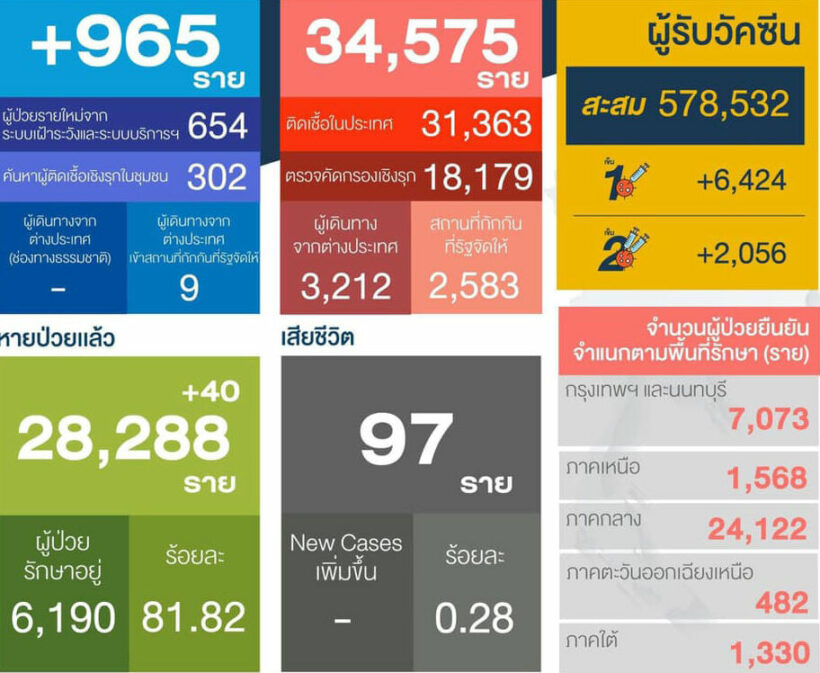 Keep in contact with Thaiger by following our Facebook page.
Never miss out on future posts by following Thaiger.
WHO says pandemic reaching critical levels in South Asia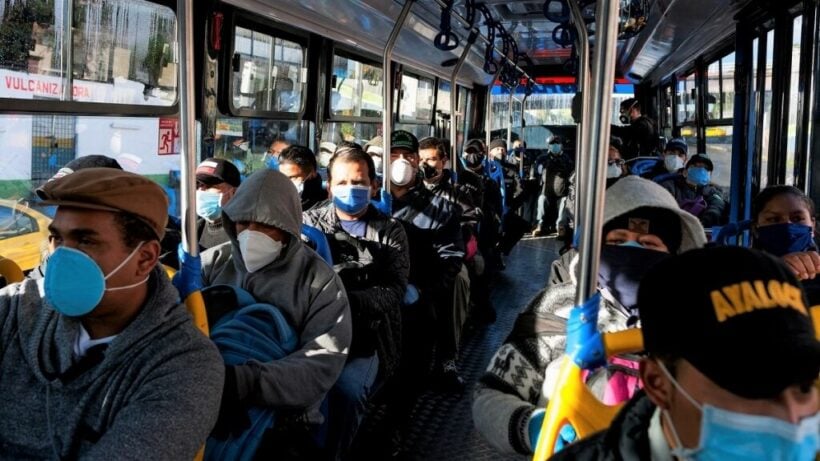 Despite vaccines being rolled out, the WHO is warning that the Covid-19 pandemic has reached a "critical level" in South Asia as infections keep rising. The virus has already taken 2.9 million lives, infecting 136 million worldwide and the WHO's technical lead on Covid-19, Maria Van Kerkhove, says the "trajectory of this pandemic is growing…exponentially."
"This is not the situation we want to be in 16 months into a pandemic when we have proven control measures. We are at a critical point of the pandemic right now."
The US is still the country with the most amount of infections, but India has recently taken the number 2 spot over Brazil, reporting 168,000 new cases in 1 day. India's total amount of infections is now at 13.5 million, edging Brazil's 13.48 million into the number 3 spot.
But a race among nations for Covid infections is not what the WHO – or anyone for that matter – is wanting. 28 year old Rohit, a waiter in Mumbai, seems to say that the race won't end if people continue to not listen to safety protocols.
"The solution is for everyone to stay home for two months and end this (pandemic) once and for all. But the public doesn't listen. Nobody follows the rules in the restaurant… If we tell customers to wear masks, they are rude and disrespectful to us."
Ignoring the social – distancing rules has experts up in arms as they warn that huge, mass gatherings are what we all thought they were: a super spreader event for Covid-19.
But the Indian government appears desperate to avoid a repeat of last year's nationwide March shutdown which saw some of the world's toughest measures causing misery all around. Thus, the balance between managing a country's overall health and financial situation is a tedious one.
Bangladesh has chosen health, for now, as it is shuttering both international and domestic airports from tomorrow. Its population of 160 million people, will be sealed off from the rest of the world.
And, in Thailand, a 3rd wave has hit, making plans for a full reopening by October, seem to be in vain. Social distancing and mass gatherings are, again, to blame, as entertainment venues sparked the recent spread. As normally tourism-heavy destinations, like the Andaman island of Phuket, are rapidly inoculating its residents to prepare for a July reopening, the new wave has dampened hopes of reviving the economy.
For now, the efforts to contain the Covid pandemic have been futile worldwide, but history has a habit of repeating itself, especially when safety protocols fall on deaf ears.
SOURCE: Thai PBS World
Keep in contact with Thaiger by following our Facebook page.
Never miss out on future posts by following Thaiger.