PM hits back at criticism of vaccine rollout, threatens to hold critics responsible for delays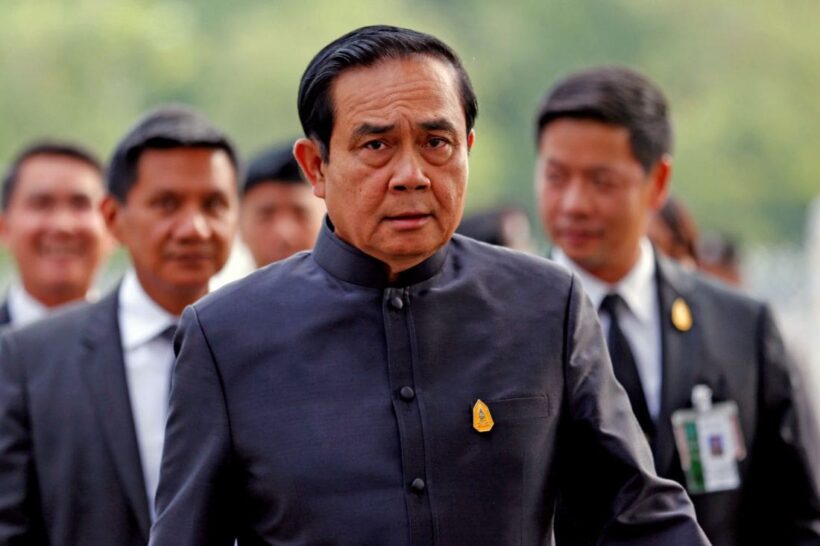 The Thai PM has hit back at opposition politicians who have criticised the national vaccine rollout, warning them that any delays with delivery will be their fault. Responding to Wiroj Lakkhanaadisorn, an MP from the Move Forward Party who questioned delivery timescales, Prayut Chan-o-cha warned critics not to politicise the matter.
"I am concerned that comments on the vaccines will cause problems. I don't want it to be politicised. You have to be careful. If we cannot get what has been agreed upon because of this, you must accept responsibility."
According to a Bangkok Post report, Wiroj says the delays in getting adequate vaccine doses into the country will have a significant impact on economic recovery.
"According to an estimate from the government, if the vaccine rollout is too slow by one month, the economic losses will amount to about 250 billion baht a month. Therefore, each day the government delays its rollout, the country will lose 8.3 billion baht, or 347 million baht per hour. The vaccination is not only about preventing the outbreak – its importance also lies in ensuring a faster economic recovery and easing the plight of Thais nationwide."
The PM says the government is fully aware of the financial hardship being endured by people and is busy trying to solve those problems.
"I have to listen to doctors and make sure vaccines arrive as soon as possible. I don't want any delay. However, I insist Thailand has done a better job of controlling Covid-19 than several other countries, and we're still trying to do even better."
He adds that once Thailand is producing its own Covid-19 vaccine, things will improve. Thailand's vaccine is due to begin first stage human trials next month, with the use of 210 volunteers. The second phase will begin in April and will involve 250 volunteers, followed by phase 3 before the end of the year.
Wiroj's criticism was not only reserved for the delay in vaccine delivery, he has also questioned the government's procurement decisions, asking why vaccines weren't purchased from the Chinese firm, Sinopharm, which used the same technology as the government's chosen supplier, Sinovac. It's understood the Sinopharm jab was approved for general use in December, demonstrating an efficacy of over 79% in phase 3 trials. Meanwhile, there is still no phase 3 trial data for the Sinovac jab.
The MP also slammed the decision not to join the vaccine procurement programme organised by the World Health Organistation. Wiroj says many richer countries, such as Canada, Norway, and Australia, have joined the Covax programme, along with many EU countries.
The government has responded to accusations that Thailand is the only South-East Asian nation to not join Covax, by pointing out that the Kingdom is not eligible for free or low-cost vaccine doses. As a "middle-income" country, Thailand would have to pay full price, without knowing which vaccines might be delivered or when. Spokesman Anucha Buraphachaisri says Thailand opted out of joining Covax in order to sign its own deals with chosen manufacturers as by law, the government can't spend money on vaccines where there is no proof of efficacy.
SOURCE: Bangkok Post
Keep in contact with The Thaiger by following our Facebook page.
Never miss out on future posts by following The Thaiger.
Public Health Minister gets first Covid-19 vaccine shot in Thailand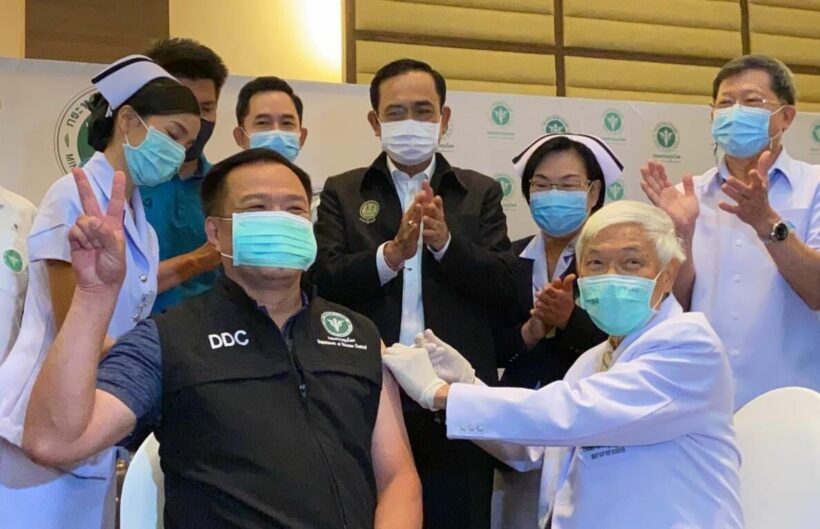 Thailand's Covid-19 vaccine campaign started with Public Health Minister Anutin Charnvirakul who was jabbed with China's Sinovac vaccine. PM Prayut Chan-o-cha was initially planned to be the first to kick off Thailand's immunisation plan with the AstraZeneca vaccine, but due to problems with paperwork, the prime minister's injection was postponed. Doctors advised Prayut to get the AstraZeneca vaccine due to his age. Prayut is 66 and doctors say the Sinovac vaccine has been declared safe for people ages 18 to 59.
Both shipments of the Sinovac and AstraZeneca vaccines arrived last week, the AstraZeneca vaccine still needs to be endorsed by the Medical Science Department. Anutin says the pharmaceutical company has not submitted documents and samples needed for the endorsement.
Along with Anutin, a number of other government officials and health professionals were vaccinated against the coronavirus. Anutin's shot was administered by Thailand's top virologist Yong Poovorawan.
SOURCE: Bangkok Post
Keep in contact with The Thaiger by following our Facebook page.
Never miss out on future posts by following The Thaiger.
International travellers allowed to transit Thailand from Monday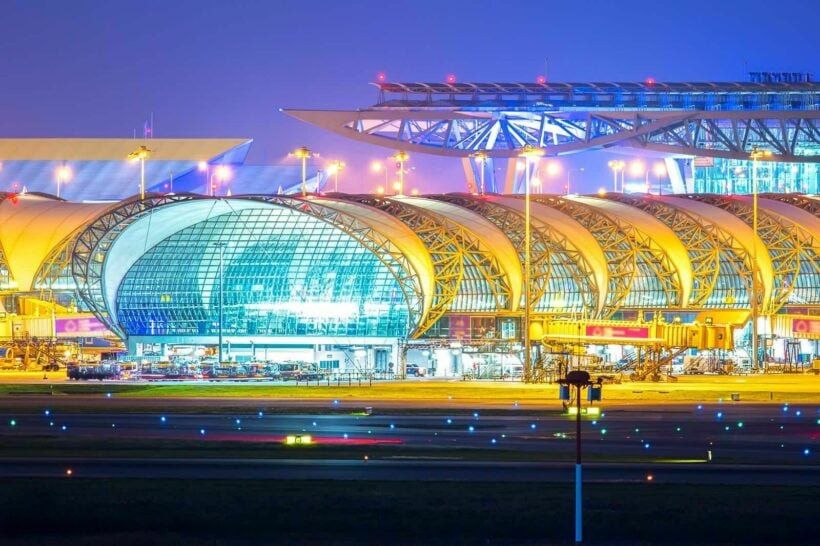 International travellers will now be allowed to transit Thailand from Monday after the Civil Aviation Authority relaxed Covid‐19measures. The lifting of stringent travel regulations comes after Thailand reports a drop in Covid infections to double digits since February 20.
CAAT also says regulations are being relaxed on domestic travel as well. The authority says operators of domestic flights can resume serving in-flight meals and drinks starting from Thursday.
Transport Minister, Sasksayam Chidchob, says the move is part of a resolution by the Centre for Covid‐19 Situation Administration to relax measures. Flight attendants and passengers, however, are still mandated to follow Covid control measures that include wearing face masks during the length of the flight except when eating or drinking.
In-flight meals and drinks were banned on December 30 under the government's 4th announcement, but was cancelled when CAAT director general made a fifth announcement nullifying the regulation.
International passengers have been under strict regulations for a while, including being unable to transit at Thai airports or to transfer to other flights through Thai airports.
Samut Sakhon province, the epicentre of the second wave of Covidin Thailand, has reportedly been successful at disease control in high‐risk areas, including the Central Shrimp Market, which has been closed for over two months.
But that may change as rumour has it that the market may reopen from Monday, but an official announcement has yet to be made by the CCSA. Deputy governor Teerapat Kutchamath visited the market, assuring that it was, indeed, ready to open by Monday, while plans are already being set to make merit, in light of its expected reopening.
Meanwhile, The CCSA reports 72 new confirmed cases of Covid-19 in the Kingdom today. 63 of those cases were domestically‐transmitted while 9 were imported.
SOURCE: Bangkok Post
Keep in contact with The Thaiger by following our Facebook page.
Never miss out on future posts by following The Thaiger.
PM Prayut postponing Covid‐19 vaccination citing paperwork issues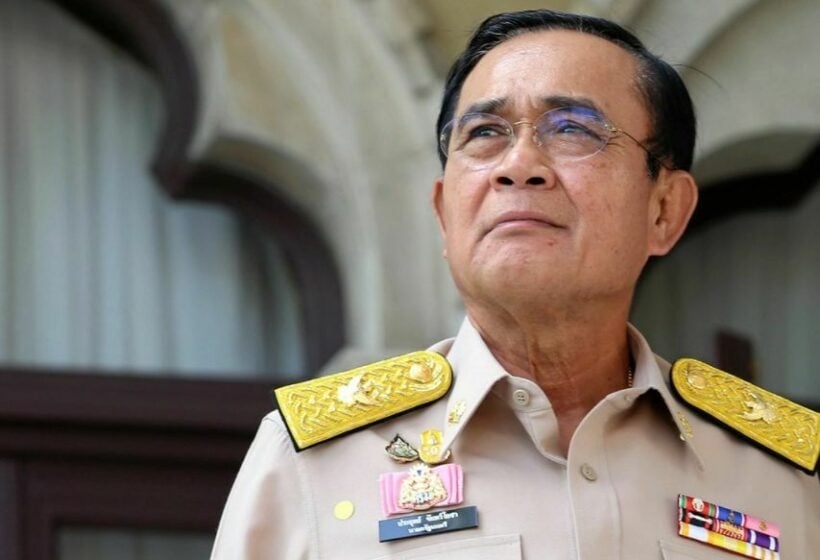 Thailand's PM Prayut Chan-o-cha is postponing his inaugural Covid‐19 vaccination citing paperwork issues with the AstraZeneca vaccine shipment. According to Khaosod English, the vaccine shipment was sent to Thailand last Wednesday from South Korea, but was missing the additional required paperwork.
Prayut was supposed to receive the vaccine tomorrow, but the highly‐publicised event will not be happening. According to Khaosod English, an official at the Secretariat of the Prime Minister has also confirmed the news of the postponement without citing a reason.
Although the Sinovac vaccine is also being administered in Thailand, healthcare officials say Prayut is too old to receive it as its age limit is 60. Prayut is 66 years old, which is well over the oldest age that can receive the vaccine.
The Sinovac vaccine drive is set to commence on Monday, 2 weeks behind schedule. Those frontline health workers, hospitality workers and vulnerable groups will receive the vaccines first.
Meanwhile, Phuket is waiting for the green lightto start administering vaccines and has already held a vaccine administration rehearsal overseen by Phuket Vice Governor Pichet Panapong along with other health officials.
Pichet says the first vaccine round of 4,000 doses should arrive early in March, with the 2nd and 3rd set of doses, 16,000 and 48,000 respectively, to arrive in April and May.
The government pandemic center reported 72 new confirmed infections on Friday, after first only reporting 45 new cases. 37 of those cases were locally-transmitted, and one 6 year old Thai girl returning from the UK was found to have tested positive for the virus. Samut Sakhon, again, reported over half of the new cases yesterday, as it remains the epicentre of Thailand's second wave of the coronavirus outbreak.
The total virus tally in Thailand sits at 25,764, with 83 fatalities. The Centre for Covid-19 Situation Administration has not yet announced the amount of new cases for today.
There is no word yet on when PM Prayut will be rescheduled to receive the AstraZeneca vaccine.
SOURCE: Khaosod English
Keep in contact with The Thaiger by following our Facebook page.
Never miss out on future posts by following The Thaiger.