Phuket declares 'lockdown' of all but essential services
A lockdown of all but essential services has been declared for Phuket, echoing the 'lockdown' in Bangkok and surrounding provinces over the weekend. The Thaiger has just received an English version but awaiting an internet-friendly version which we will publish ASAP. Here are the main things you need to know.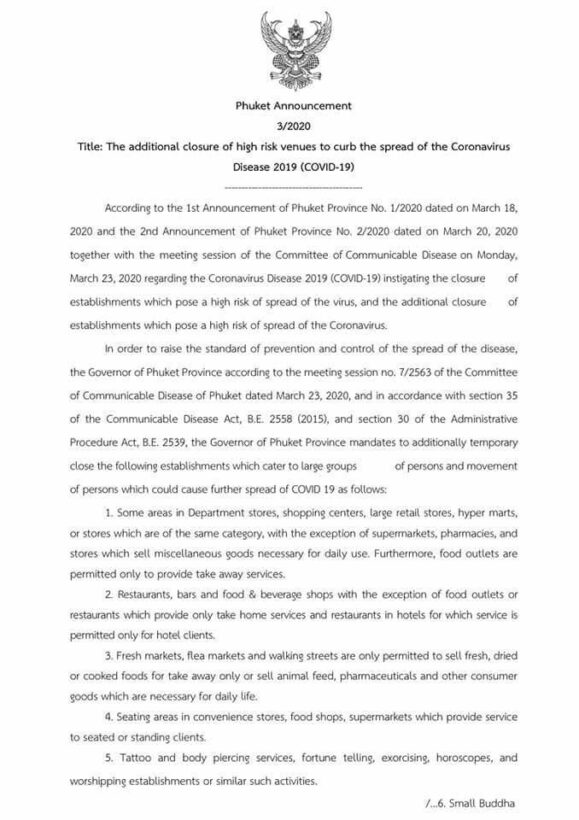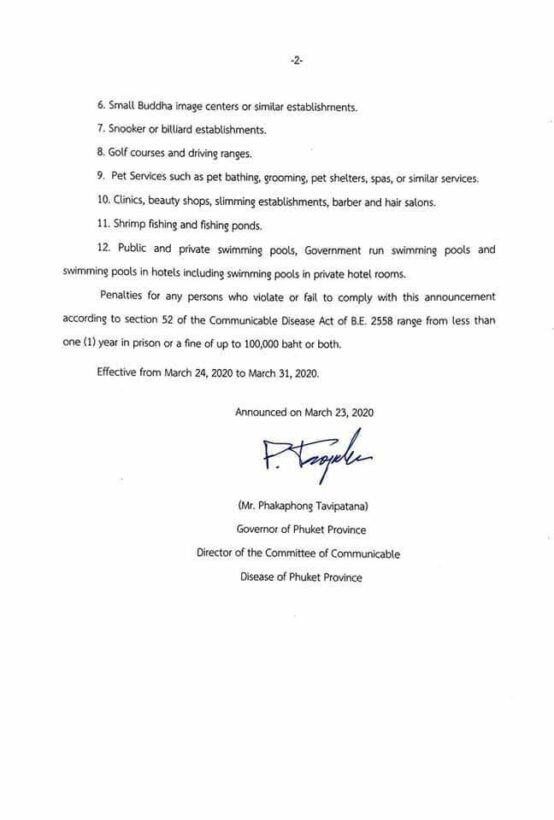 Keep in contact with The Thaiger by following our
Facebook page
.
Thailand's airlines line up for 16 billion baht lifeline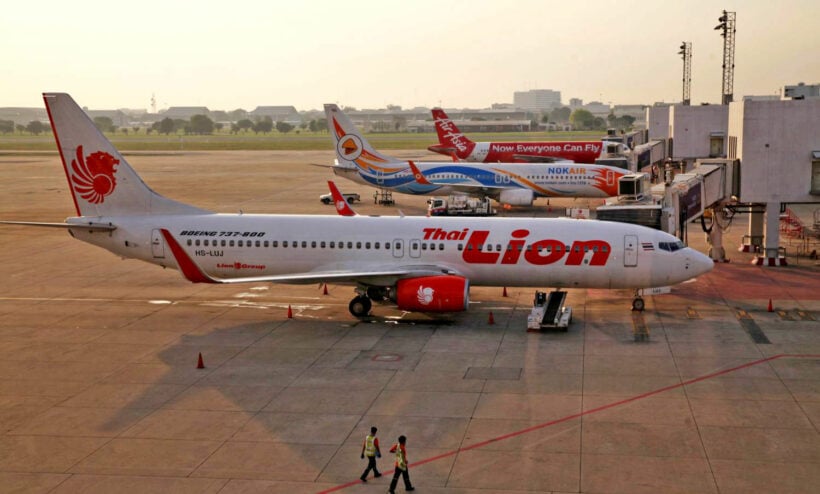 Thai airlines are mostly grounded, basically due to lack of traffic from government restrictions to stop people from travelling. But they still have staff and regulations that require them to be paid.
So 7 Thai airlines are seeking a 16 billion baht lifeline from the Thai Finance Ministry so they can keep employees whist their planes remain on the ground. Thailand's aviation industry has been suspending most of their international and domestic services for a week.
The airlines include Thai Smile (he budget offshoot of Thai Airways), Thai AirAsia, Thai Lion Air, Nok Air, Bangkok Airways, Thai Vietjet Air and Thai AirAsia X (their international carrier from Thai ports).
The executive chairman of Asia Aviation (the largest shareholder of Thai AirAsia), Tassapon Bijleveld, told Bangkok Post that the 7 airlines had reached an agreement to request the financial aid in the wake of the virus outbreak which all but obliterated air traffic in, around and out of Thailand.
The airlines hope to secure the financial package when they meet with the Finance Minister on Monday when they'll discuss long-term loans, an increase in their liquidity, and subsidies on payroll. Last week Airports of Thailand offered a 50% cut in parking charges for the grounded fleets.
Yesterday, Thai AirAsia announced cancellations for all domestic flights starting from April 1 for a month. The decision follows all international flights being suspended a week before.
Only 10 of the 63 Air Asia planes have been in use in recent weeks. In April, the entire fleet will be grounded because of global travel restrictions.
The losses in the airline business will be massive and will likely take years to recover, if ever, and many airlines won't re-appear at all.
Keep in contact with The Thaiger by following our
Facebook page
.
Defence chief: Stay home for the sake of the nation, or curfew is inevitable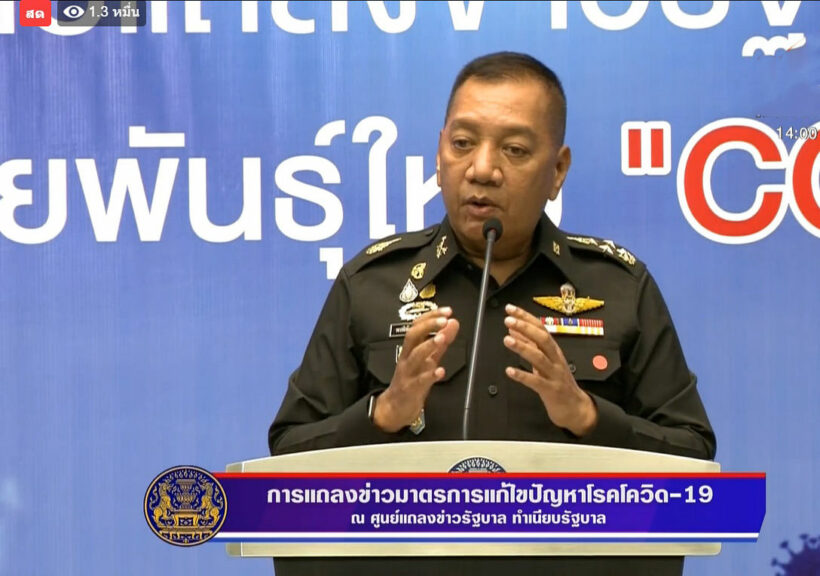 "We should control ourselves instead of being forced to by the state."
Under the state of emergency that went into effect yesterday, the head of Thailand's defence forces Pornpipat Benyasri has urged people to stay in their homes today and the weekend or face an enforced curfew to fight the spread of the Covid-19 coronavirus.
Pornpipat, who under the emergency decree is in charge of security for the newly formed Covid-19 Administration Centre, says a curfew is inevitable if his call falls on deaf ears. Confirmed cases in Thailand passed 1000 yesterday.
He says people must change their behaviours and above all stay home, before case numbers spike and the situation is out of control.
"We need your cooperation this coming Saturday and Sunday not to leave home and cancel all activities. Stay home for the sake of the nation."
"All businesses still open should adjust weekend schedules."
Gen Pornpipat warns if the number of new cases continues to rise, a curfew is inevitable, which would likely also include daytime, "since the virus never rests".
As of yesterday authorities had already established 359 checkpoints in the provinces and 7 in Bangkok to screen travellers to contain the spread.
SOURCES: Chiang Rai Times | Bangkok Post
Keep in contact with The Thaiger by following our
Facebook page
.
No public transport bus tickets until at least April 30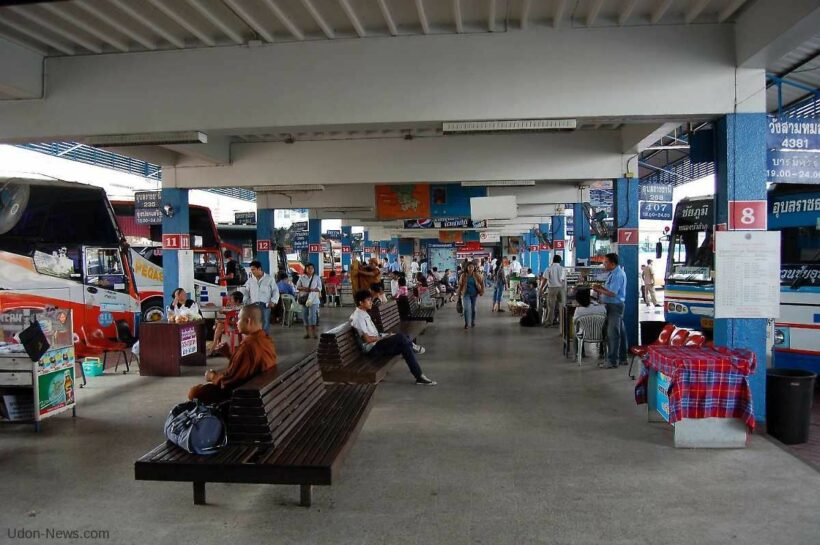 "We cannot provide additional buses and all available buses have been used. Complying with the social distancing policy halves the number of passengers per bus."
Due to the state of emergencydeclared by PM Prayut Chan-o-cha to fight the spread of the Covid-19 coronavirus, the president of state enterprise Transport Company, Jirasak Yaovatsakul, announced today that ticket sales for all public transport buses are suspended until April 30.
He says the company will also enforce social distancing by leaving empty alternate seats on buses and require a distance of at least one metre between persons at all bus terminals. When the state of emergency was announced on Tuesday, people rushed to buy bus tickets, and now all tickets have been sold out well beyond April 30.
"Those who haven't reserved tickets should refrain from coming to bus terminals hoping to get one, since all ticket booths will be closed until April 30. Those who bought tickets earlier can still travel as per schedule."
"You can also postpone or cancel your trip and apply for refund as per the conditions of Transport Company."
Jirasak says that some operators of private buses and vans have submitted appeals to suspend their service during the crisis.
"If you have already bought tickets from these operators, please contact them directly to ask for refund or postponement of your trip."
SOURCE: The Nation
Keep in contact with The Thaiger by following our
Facebook page
.