Coronavirus UPDATE: Chinese keep arriving in Thailand, UK man spreads virus to 11 others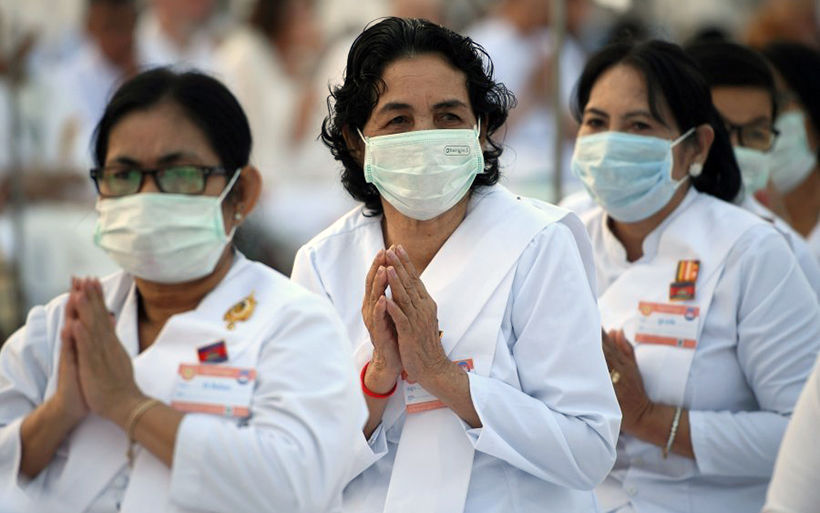 The world death toll from the coronavirus outbreak continues to climb. Official figures put the Chinese figure at 1,016 deaths, up 108 from the day before, 1,018 worldwide. Outside of China there has only been 2 deaths reported – one in The Philippines and another in Hong Kong.
The number of cases of infection has also grown to 43,104. That's up around 3,000 in the past 24 hours. Most of the deaths were in Hubei province, there were 103, though the number of infections reported has actually declined somewhat. Worldwide, 4,043 people have fully recovered from the virus.

Other news from around the world…
• Despite the confirmation of a new case of the 2019nCov coronavirus today, Thailand has neither restricted Chinese tourists from entering the kingdom or dropped its visa-on-arrival fee waiver, implemented last year to attract Chinese.
Thailand hasn't imposed any bans on tourists or travellers since the outbreak of the virus, though officials are screening passengers on arrival on flights from China, and now require a health certificate to enter the country. Read more about that story HERE.
• China has "removed", or side-lined several senior officials over their handling of the coronavirus outbreak. Party secretary for the Hubei Provincial Health Commission, and the chief of the commission, were among those sacked from their jobs. They are the most senior officials to be demoted at this stage.
A deputy director of the local Chinese Red Cross was also removed for "dereliction of duty" over alleged regularities with the handling of donations. According to Chinese state media, there have been hundreds of sackings, investigations and warnings across Hubei and other provinces.
• One of the people evacuated from Wuhan to the US last week has now tested positive to coronavirus. The patient, one of 167 passengers on a chartered State Department flight out of China carrying mostly US citizens, has now been transferred to a hospital in San Diego. It is the 13th confirmed case in the US and the seventh in California.
• Nine members of the same Hong Kong family became infected with coronavirus after allegedly sharing a hot pot meal – hot pot is a large central boiling pot of broth which diners cook their own meat and vegetables. The hot pot meal was shared on January 26.
Health officials confirmed the 10 new cases of the virus on the weekend. All but one were reported as belonging to the same family. The tenth case involved a 70 year old man, unrelated to the family. The new cases bring the number of cases in Hong Kong to 36.
All 10 were admitted for isolation and management at Ruttonjee Hospital and Pamela Youde Nethersole Eastern Hospital respectively.
• A British man, who apparently contracted coronavirus on a business trip to Asia, has spread the virus to 11 other people across 3 countries.
The man, in his 50s, had visited Singapore for a sales conference for two days in January, as reported by The Guardian. Around 100 people attended the conference and one participant was from Wuhan, the Chinese city, described as the epicentre of the 2019-nCoV. Medical officials believe the UK man became infected at the conference.
Unaware that he's contracted the virus, the man travelled from Singapore to a French ski resort, where he stayed with family for 4 days from January 24.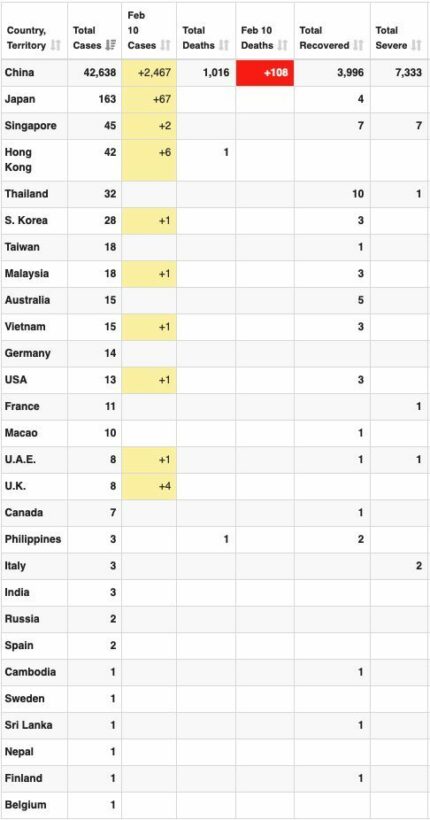 GRAPHIC: Worldometers
📱 Download our app on Android or iOS for instant updates on your mobile
📧 Subscribe to our daily email newsletter
👍 Like/Follow us on Facebook
🔔 Subscribe to or Join our YouTube channel for daily video updates
BREAKING: Covid Provincial restriction update – latest from the CCSA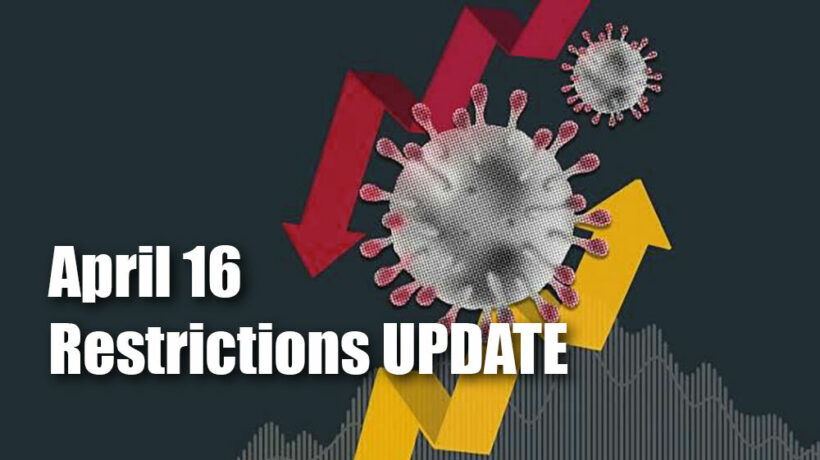 The CCSA has announced its updated restrictions for the 18 'red zone' provinces this afternoon. The new measures start on Sunday and will be in place for at least 2 weeks. The restrictions are basically as we published earlier today. There are no 'lockdowns' or curfews despite a popular blogger jumping the gun and posting that there were curfews announced.
Here are the key points as announced by the CCSA late this afternoon…
Across all provinces…
• Closures of schools, all nightlife venues
• No events can have more than 50 people
Provincial red zones (listed below)…
• Dining-in allowed until 9pm
• Serving of alcohol banned
• Shopping centres and fitness centres to be closed by 9pm
• Convenience stores, markets, supermarkets must be closed by 11pm
Everywhere else…
• Dining-in allowed until 11pm
• Serving of alcohol banned
• Shopping centres to be closed by 9pm
Earlier today it was announced that Red Zones would have to have their restaurants closed at 9pm, and other provinces by 11pm. No alcohol to be served.
The Red Zone provinces are, in no apparent order…
1. Bangkok
2. Chiang Mai
3. Chon Buri
4. Samut Prakan
5. Prachuap Khiri Kan
6. Samut Sakhon
7. Pathum Thani
8. Nakhon Pathom
9. Phuket
10. Nakhon Ratchasima
11. Nonthaburi
12. Songkhla
13. Tak
14. Udon Thani
15. Suphanburi
16. Sa Kaeo
17. Rayong
18. Khon Kaen
Earlier today Public Health Minister Anutin Chanvirakul said that the government is "confident it can overcome the current Covid-19 crisis without needing to impose a nationwide lockdown".
📱 Download our app on Android or iOS for instant updates on your mobile
📧 Subscribe to our daily email newsletter
👍 Like/Follow us on Facebook
🔔 Subscribe to or Join our YouTube channel for daily video updates
Friday's Covid-19 cases, province by province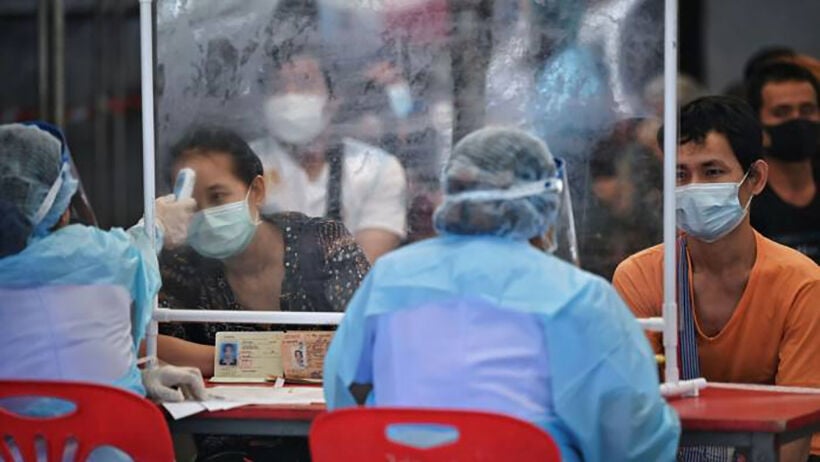 Today's provincial totals, as reported in the past 24 hours. Bangkok, Chiang Mai, Chon Buri (including Pattaya) and Prachuap Khiri Khan and Samut Prakan lead the way. Other prominent locations include Phuket with 30 new cases, Surat Thani, which includes the 3 Gulf islands of Samui, Pha Ngan and Tao, with 11, and Chiang Rai with 77. Infographic from NBT World.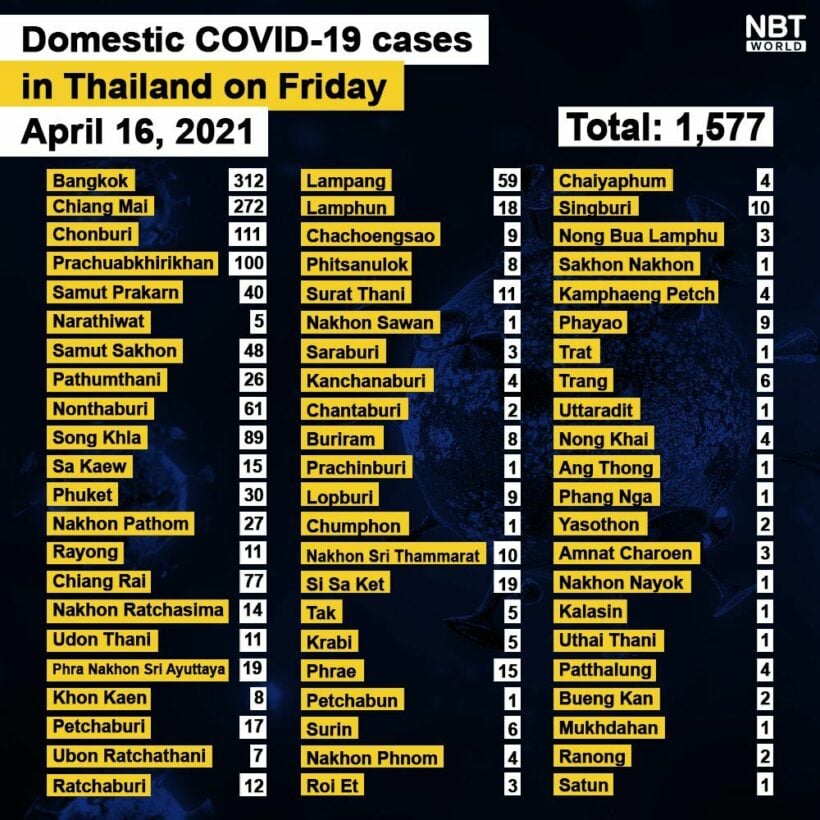 📱 Download our app on Android or iOS for instant updates on your mobile
📧 Subscribe to our daily email newsletter
👍 Like/Follow us on Facebook
🔔 Subscribe to or Join our YouTube channel for daily video updates
At-risk Social Security members can get free Covid tests from tomorrow in Bangkok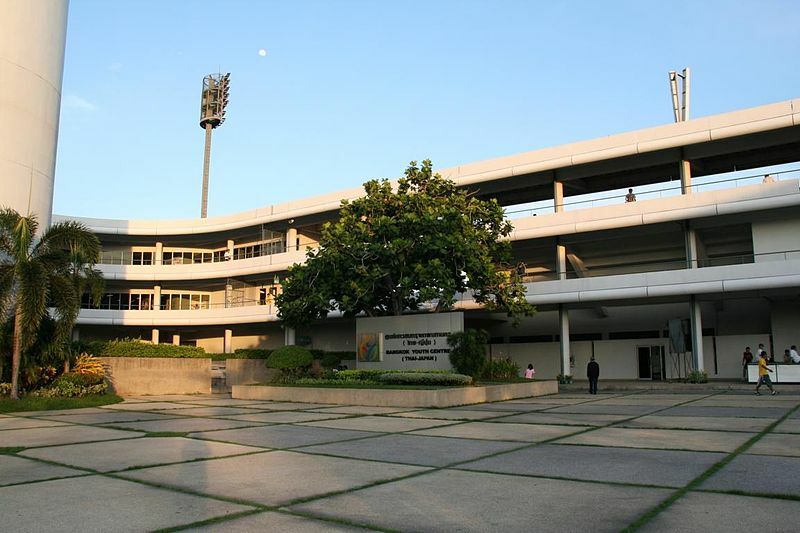 At-risk members of Thailand's Social Security scheme can get free
Covid-19
tests in Bangkok starting tomorrow. The Ministry of Labour will provide the tests, covering members under Sections 33, 39, and 40 of the Social Security Act. The programme will be held at the Bangkok Youth Centre (Thai-Japan) in Bangkok's Din Daeng district.
The ministry expects to test up to 300 people per hour, with results to be received in 1 to 2 days. If anyone is found to be infected, they will be sent to hospitals under the Social Security scheme for free treatment. Currently, 81 hospitals are registered with the ministry, offering a total of over 1,000 beds.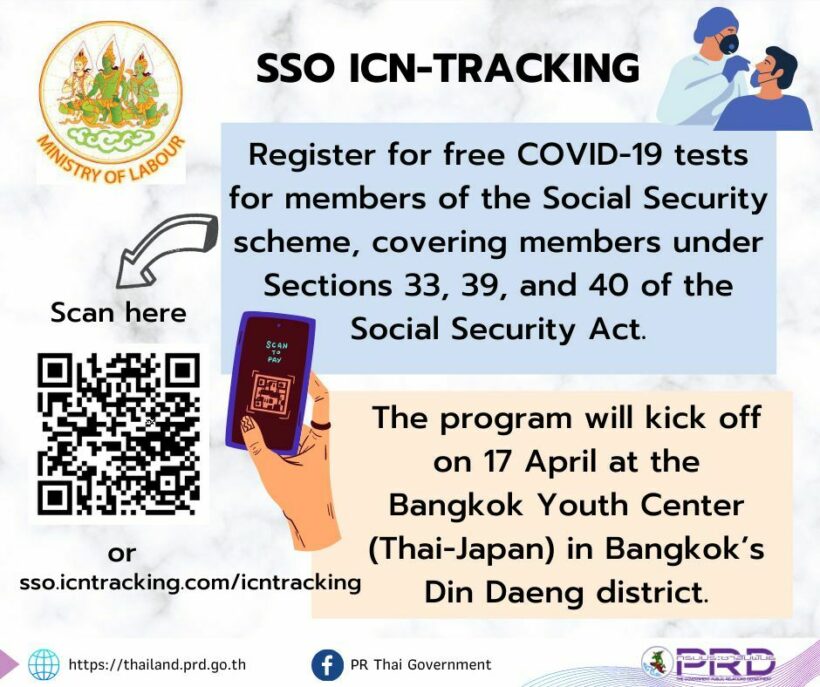 Meanwhile, Thailand's army is getting ready to deal with the influx of Covid-19 infections as its deputy spokeswoman says 2 more field hospitals are now in place. The hospitals are in Bangkok and Prachuap Khiri Khan to help ease the burden of hospitals.
Already, an army field hospital has been set up at the Thanarat military camp, in conjunction with the Fort Thanarat Hospital, to accommodate 69 Covid-19 patients from the Hua Hin Hospital and Rajamangala University of Technology's field hospital in Prachuap Khiri Khan province.
The Army Welfare Department and Phramongkutklao Hospital have also set up a field hospital in Bangkok's Dusit district to help treat 86 additional Covid patients. And, in Songkhla province, the Rattanapol military camp is preparing to set up a 100 bed field hospital. Soldiers in PPE suits were also instructed to disinfect the Hat Yai International Airport.
Today, the CCSA announced 1,582 new Covid infections across Thailand in the past 24 hours. The small increase on yesterdays total will provide the CCSA with the information they need for this afternoon's scheduled meeting, chaired by the Thai PM. It is expected that they will announce new restrictions but are unlikely to go for total lockdowns of provinces or 'at risk' districts. The Thaiger will bring this information to you ASAP after it is announced.
Here is the list of the current 18 red zone provinces which could have their restrictions raised at this afternoon's meeting of the CCSA. Read more HERE.
📱 Download our app on Android or iOS for instant updates on your mobile
📧 Subscribe to our daily email newsletter
👍 Like/Follow us on Facebook
🔔 Subscribe to or Join our YouTube channel for daily video updates