There are hundreds of things to do in Thailand and you'll be spoiled for choice during your visit. But there are a few things that may be worth avoiding, despite being available, during your time in the Kingdom. If you also want a list of basic cultural faux pas, check this list out HERE.
So, in The Thaiger's opinion, don't…
1. Swim at the southern Andaman beaches in the low season
Every year about 50 or so people drown along Phuket's west coast. Mostly in the wet season with the south-western monsoon kicking up the waves washing onto the island's Andaman coast beaches. Sadly, it's mostly Chinese and Russian tourists who end up getting into trouble. Krabi, Khao Lak, Phang Nga, Trang and southern islands also have their share of drownings and near-misses each year.
There's a complicated litany of reasons for this carnage – many Chinese and Russian tourists, for example, can't swim, the lifeguard patrols on many of the beaches are 'patchy', not enough information is provided to tourists about the dangerous rips along the west coast during the monsoon and whatever signage and flags that actually exists do little to deter tourists who seem determined to go swimming.
Most of the beaches have the red flags on display when the surf's up but many of the flags are not new and the colour red, which in some western countries denotes 'danger' isn't as effective in being a deterrent colour for the Chinese. In fact it's the lucky colour for Chinese.
There is a clear and present danger of swimming on Phuket's west coast during the May – November low season (which is also the most popular time for Chinese tourist arrivals).
For the Gulf of Thailand coastal areas in Hua His, Samui and other southern Gulf beaches, the windy weather is usually later in the year from October to December.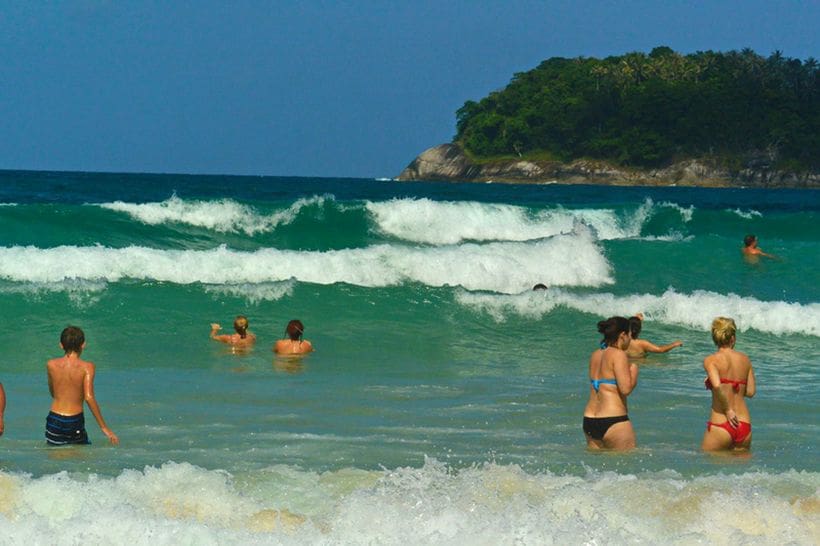 2. Hire a motorbike
You get off the plane, catch your passenger van to your hotel, check the minibar and then head out to find the nearest motorbike hire shop – there are hundreds around the main tourist spots anywhere in Thailand.
In most cases a passport will suffice (NEVER let your passport out of your sight, even when they're taking a photocopy of your passport front page) as ID to allow you to hire a motorbike and take it out onto Thailand's roads.
The roads in Thailand are some of the most dangerous in the world. If you're under 30 years old, male and riding a motorbike your chances of having an accident are astonishingly high.
Have you ever ridden a motorbike before? Probably not. Do you have a motorbike driver's license? Chances are slim. Were you taken for a short test to see if you can ride or handle a motorbike? Doubtful. Does your travel insurance cover you if you have an accident without having a valid motorcycle driver's licence? I bet it doesn't.
Still, it happens hundreds of time a day around the island and tourists, like lambs to the slaughter, head off into the craziness that is Thai traffic – sometimes shirtless, sometimes after drinking and sometimes without even the basic protection of a helmet.
Then we hear that the tourists have had some sort of horrific accident, end up in an international hospital, their insurance won't pay for their medical care and we have another report on our website.
Bottomline, if you don't have a motorbike driving license, have never driven a motorcycle or have been drinking just DON'T hire a motorbike in Phuket. Just don't!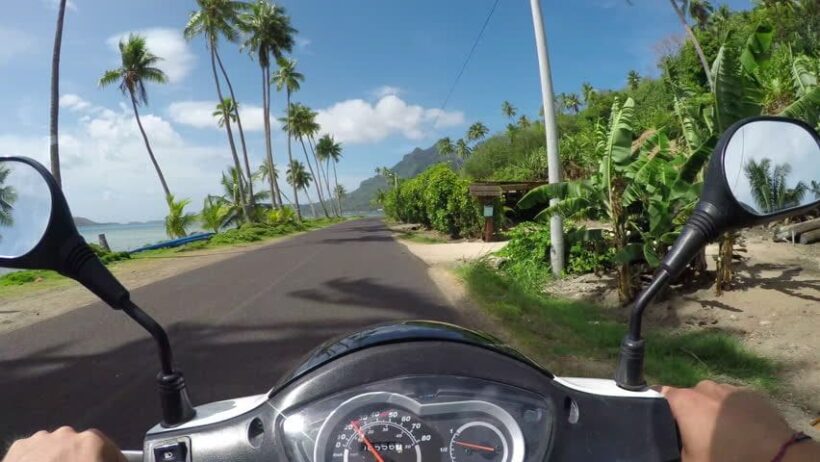 3. Go to tiger or animal shows
Reptiles, birds, crocodiles, tigers, dolphins and plenty of others. There are hundreds of shows where animals are performing for tourists. These aren't zoos and usually cater for one particular type of animal. Is it OK to visit these shows. Well, in Thailand it's absolutely legal to do so and the attractions are all licensed to operate under Thai law.
The question as to whether you SHOULD visit is up to you.
Tigers, of all wild beasties, are not born to sit, half drugged-up in chains, to have tourists patting them for selfies. Tigers are critically endangered everywhere in the world. Specifically, the Indochinese Tiger, the species we see in Thailand and surrounding south east asian countries, is a hunter and can inflict fatal injuries with a single swipe if you happen to be in the wrong place at the wrong time.
An Australian was mauled at the Tiger Kingdom in Kathu, Phuket in 2015. He survived his injuries which opened up the front of his chest. The only upside about these tiger zoos is that they conduct (for all the wrong reasons) breeding programs to keep the species alive but the gene pool is very shallow so, in the long run, is not a sustainable method of breeding tigers.
Here's an interesting blog from a westerner who volunteered at one of the Tiger shows.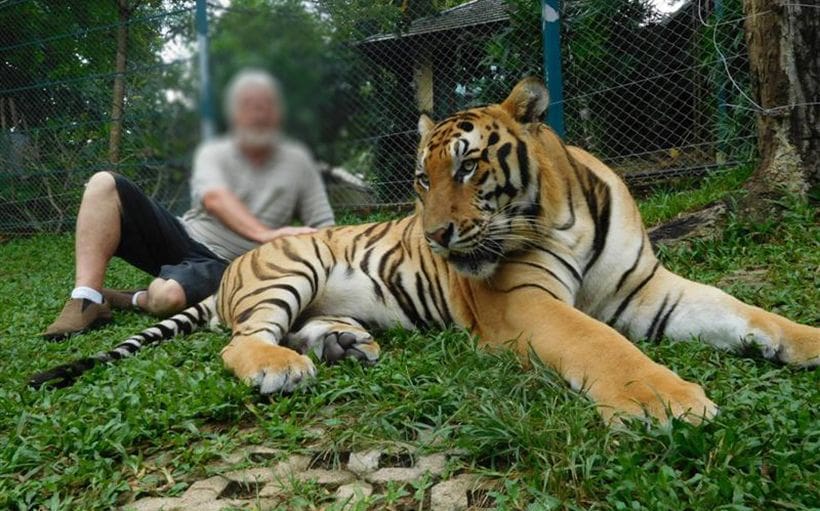 4. Go to zoos
Many of Thailand's zoos are not up to international standard and, like the elephant rides and tiger shows, have gone out of fashion with many western tourists. But 'animals for entertainment' is still a popular concept for many Asian and eastern European tourists – it's a cultural thing.
The Thai zoos come up for constant criticism especially on platforms like Trip Advisor where pictures of poor conditions, lonely and skinny animals keep getting attention.
Voted by many Trip Advisor readers as one of the worst tourist attractions in Phuket – it routinely scores either one or two stars with comments that sound like the visitors have just come from an abattoir rather than a modern zoo.
Visiting a Thai zoo is like visiting one in the West in the 1950s when animals are crammed into unsuitable enclosures or cages with little care taken to keep the facilities clean. Many of the zoos smell, the animals don't appear to be in the best of health and it's simply a relic of a bygone era whereas modern zoos have changed dramatically to provide true educational opportunities and vastly superior, and more natural, enclosures for the animals.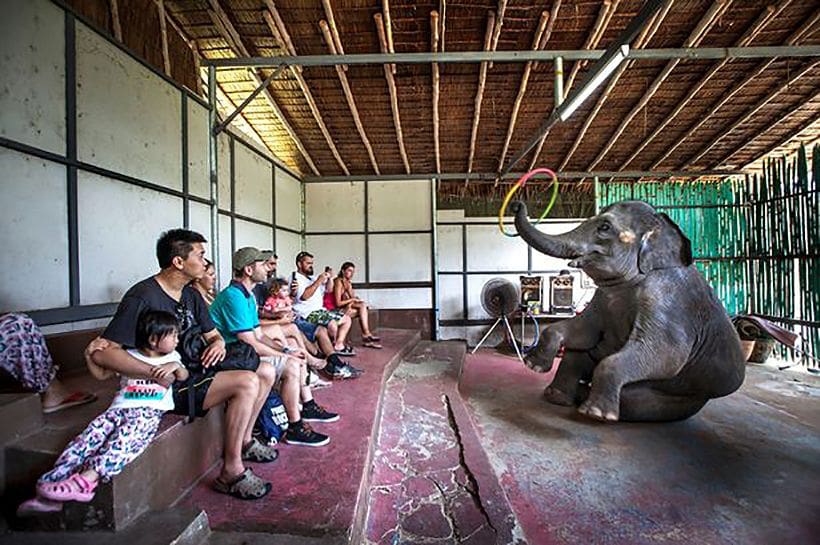 5. Ride an elephant
Riding elephants in Thailand whilst you're on tour here is just one of those things tourists have on their bucket list. In Phuket there are many, many elephant camps where you can see these wondrous mammals and, if you want, ride on their back through the forests. Generally frowned upon by western values, it's still hugely popular in Asia and all the camps do a roaring trade.
The problem with elephants in Thailand is vexed with a well cared-for pachyderm living up to 60 years – the average age is 48 years. They used to work in the rainforests as beasts of burden but that work has now dried up with the banning of logging in most parts of Thailand so the elephants and their mahouts have gravitated towards the cities and tourist industry to make a living – elephants require quite a lot of food.
To say we should simply 'set them free' is an absurd suggestion and unpractical so a longer term solution needs to be found.
There are now new elephant 'sanctuaries' and retirement parks opening up around the country. They provide a more natural environment for humans and elephants to interact. Although these are really just an alternative pay-to-visit 'zoo' (albeit a huge step up from the majority of elephant camps), we applaud their efforts and hope there's more available soon.
There's now also an even stricter code of conduct gaining popularity in wildlife circles whereby any contact between beast and human would be banned, even feeding and washing the elephants. We will see if this becomes a new norm.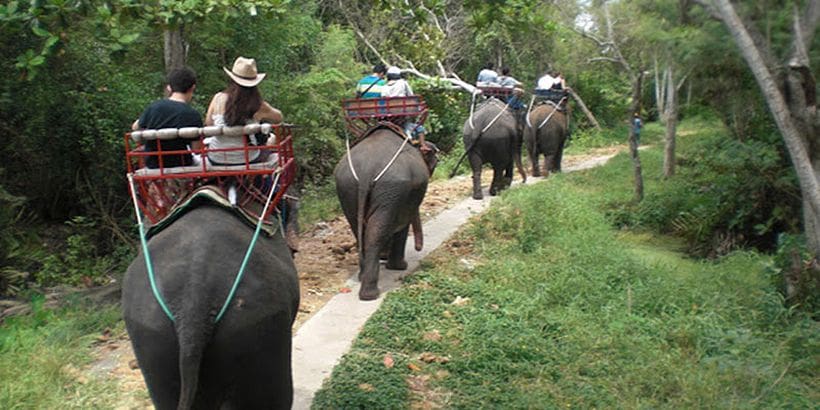 6. Go running during the day
You like keeping fit, you run regularly in your home country and you're on holiday where you can get a few extra kilometres under your belt as you explore. Except that it's hot, really hot, most of the year, especially in the south. And humid.
In northern regions it does get a lot cooler in the 'winter' (around December and January), otherwise most of Thailand is just HOT most of the year.
All the marathons and running events held around Thailand start at 4 or 5am in the morning for good reason. It's the only time of the day where you can run in relative safety. If it isn't abundantly obvious that running in the heat of day is just plain dangerous you are going to learn the hard way.
Keep fit, by all means, but try your hotel's gym or get up really early if you want to pound the pavement.
Same goes for any other types of sport where you're going to exert yourself. You can get sick quite fast if you're not used to the heat, and tourists do regularly.

7. Get in a taxi or tuk tuk before negotiating your fare
This is probably mostly important in tourist hot spots like Bangkok, Pattaya, Chiang Mai, Samui or Phuket. There are variations with taxi and public transport options – some locations do it better than others. Pattaya, for example, has the excellent 'baht bus' where you hop on and off and pay the driver 10 baht.
Bangkok too is generally taxi-friendly except that the traffic can be hideous around tourist traps around the city.
Meanwhile, getting a taxi or tuk tuk to go anywhere around Phuket is expensive, compared to anywhere else in Thailand and even some western cities. There's a long history as to why taxis and tuk tuks are expensive and that's a report for another day. The words 'cabal', 'mafia' and 'extortion' could be used in such an article, but we'll leave all that for another day.
Your best bet if and when you're going to use a taxi is to negotiate the fare before you get in. By all means bargain the stated price down as much as you can but make sure there is a firm understanding with the driver about the price before he turns the key.
By law, all taxis in Thailand are meant to use a meter. In Phuket it never happens. Never. 'Meter not work', blah, blah. In other parts of Thailand the meters appear to work a lot better, must be the humidity.
There has been decades of efforts by Government authorities, the Army and any number of well-meaning officials that has had precisely ZERO effect of the notorious taxis and tuk tuks in Phuket.
All you can do is accept that the prices are high and negotiate a fee, BEFORE YOU GET IN, wherever you are.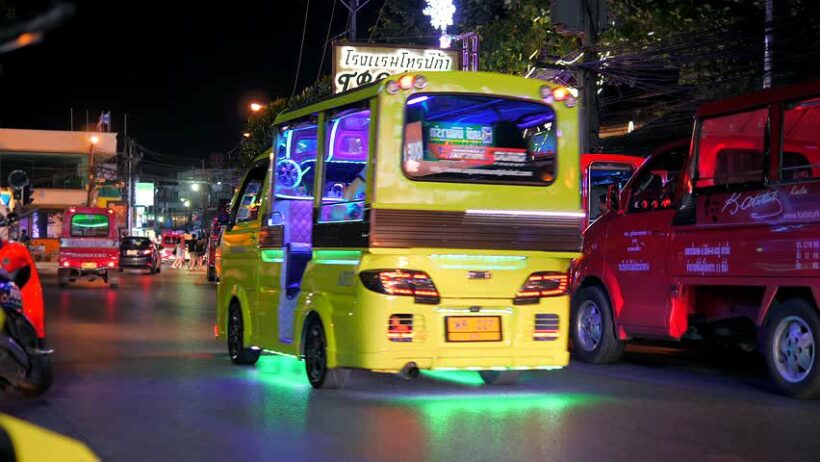 8. Sign contracts without advice from a qualified Thai lawyer
DON'T SIGN ANYTHING in Thailand without getting it checked over by a trusted and qualified Thai lawyer and advice from a western lawyer. You are conducting business in a foreign country, in a foreign language and there are thousands before you who have fallen foul of hastily or poorly prepared legal documents.
The list of stories over the years reporting on foreigners getting burned over contractual problems has filled Thailand's newspapers and websites.
Guy meets girl. Girl and guy move in together. Guy decides he wants to buy a villa. Guy buys property under Thai GFs name (because foreigners can't 'own' land in Thailand). Relationship goes sour. Thai GF vanishes and sells the house without telling ex-BF. And it gets worse from there.
Even if you're signing a basic rental lease, get it checked by people who know the ropes of the Thai legal system. Check, check, check. And then check again.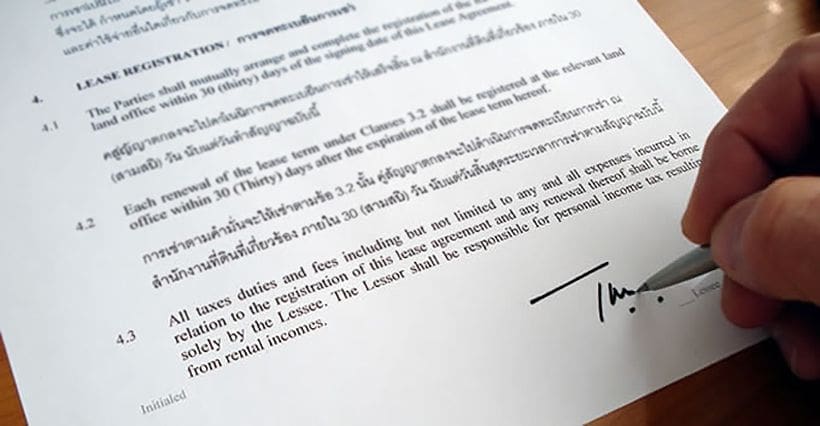 9. Get in an argument with Thai police
You will always come off second best if you decide you're going to challenge the boys-in-brown. Thai police have a job to do and, in most cases, do a sterling job given that a lot of the time (especially in places like Patong) foreign tourists do some REALLY stupid things.
Police in Thailand are, generally, poorly paid and there is a generation of police who still work their way up the system 'buying' higher positions in the police ranks so they can get a larger proportion of the 'tea money' (bribes) that are still rife in the system.
Whilst there are many, many efforts, made with the best intentions, the 'system' has been in place for many generations and corruption will still be around long after you've left the country. With all that said, if you get stopped for a minor indiscretion – not wearing your helmet or not carrying a valid license with you, etc – just pay up and go on your way.
Yes, you are feeding the pyramid of corruption but your other option is not paved with happiness. Ramp up the situation by insisting that you 'speak to the superior' or go to the police station to voice your objection. You will come off second best, every time.
In a more serious situation, like a traffic accident or where someone's been injured, you are best keeping your cool and insisting that a member of the tourist police or a consular official come to the scene before you do anything. At least make sure you call them before agreeing to ANYTHING.
DON'T get angry or get into an argument with the local police. Their English-language skills will probably be limited and they represent a system that can get you into a mountain of trouble, costs or jail if you don't play your cards right.

10. Get your gear off
It's hot and humid and you've come to Thailand for a swim. You've seen photos of bar girls in skimpy hot pants and a size-too-small singlets. You're used to western values where topless bathing is acceptable.
Forget all this – you're in Thailand and, despite the outwards acceptance of showing some flesh, it is still a deeply conservative country when it comes to what you wear and where you wear it.
There are plenty of double standards when it comes to this issue and you only really learn the subtleties after living here for a few years. The Thais will generally tolerate you wandering around shirtless in tourist zones but you don't have to wander too far from the tourist hot-spots before the idea of 'acceptable' clothing changes quite quickly.
This becomes acutely apparent when it comes to visiting temples or anywhere there are images of members of the Thai Royal family or Buddha.
If you're in any doubt about what the dress code is in any particular situation, ask a local.
Don't, for example, wander down to the local Immigration office in your shorts, sandals and singlet and expect to get service – you won't.
Going topless on a Thai beach will draw undue attention from the local constabulary, most likely resulting in a fine.

Checklist
1. Have a quick read about the places you're visiting and Thai customs on the internet. There are hundreds of sites that will spell out much the same mantra about behaviour, dos and don'ts. Here's our LIST.
2. Do some homework about the places you want to visit, chat to other tourists and your hotel concierge about suggestions (although they're usually on commission too)
3. If you are going to get into any business transaction consult a local lawyer plus a lawyer who speaks your language with experience in the transaction. Especially buying property.
4. Think before you act in most situations. You are in a foreign country and they truly do things differently in Thailand. The longer you live here, the more confusing it can seem. Turn your brain on before you hand over your money.
5. If you wouldn't do it at home, don't do it in Thailand, even if you can.
If you are looking to book a hotel in Thailand check out THIS link first.
Keep in contact with The Thaiger by following our
Facebook page
.
Journey back to Tham Luang in 'The Cave' – VIDEO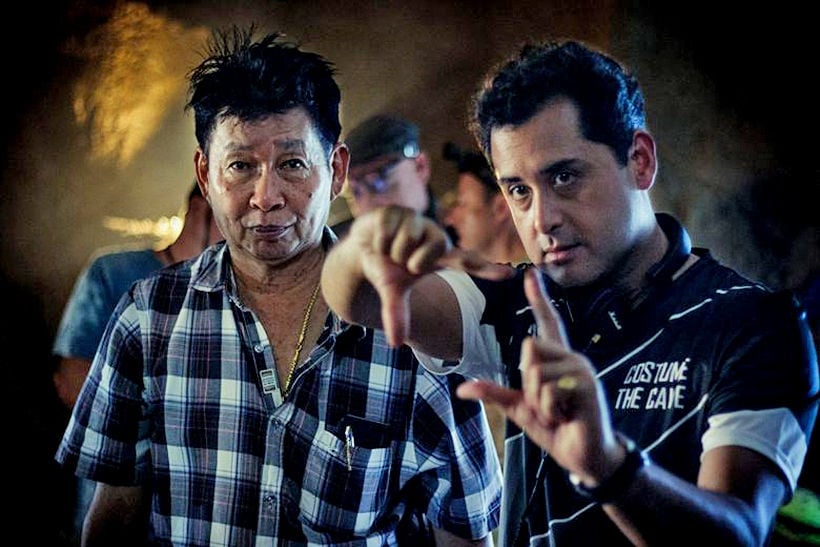 PHOTO: Tom Waller on site during the filming of The Cave – AFP
Determined divers racing against time. Rising waters threatening lives. 12 teenagers and their soccer coach trapped inside for two weeks. A remote cave that most had never heard of.
The stuff of a Hollywood drama, except that it's all true and happened in Chiang Rai last year. Now the first of several re-tellings of the story comes to the big screen in The Cave.
The ordeal in late June and early July last year had barely ended when filmmakers began their own race to get the nail-biting drama onto cinema screens. The first of those projects premiered at the start of October, when director Tom Waller's The Cave showed at the Busan Film Festival in South Korea.
The film was shot over three months earlier this year and has been in post-production since then. The 45 year old Thai-British filmmaker says the epic tale of the Wild Boars (Mu Pa) football team was a story he simply had to tell.
"I took the view that this was going to be a story about the people we didn't know about, about the cave divers who came all the way from across the planet."
The 13 young men entered the Tham Luang cave complex after soccer practice and were quickly trapped inside by rising floodwater. The boys were forced to spend nine nights lost in the cave, whilst Navy Seal and other diver searched frantically, before they were spotted by a British diver.
It would take another eight days before they were all safe, against all odds, in a risky mission.
Waller was visiting his father in Ireland when he saw television news accounts of the drama.
"I thought this would be an amazing story to tell on screen."
But putting the parts together after their dramatic rescue proved to be a challenge. Thailand's government, led by the military NCPO, became very protective of the story, barring unauthorised access to the Mu Pa team or their parents. Waller often feared his production might be shut down.
His good fortune was that the events at the Tham Luang cave in Chiang Rai province had multiple angles and interesting characters. Especially compelling were the stories of the rescuers, particularly the expert divers who rallied from around the world. He decided to make a film "about the volunteer spirit of the rescue."
Other people proposed telling the story from the point of view of the boys, and Netflix nailed down those rights in a deal brokered by the Thai government.
"I took the view that this was going to be a story about the people we didn't know about, about the cave divers who came all the way from across the planet. They literally dropped everything to go and help, and I just felt that that was more of an exciting story to tell, to find out how these boys were brought out and what they did to get them out."
Waller even had more than a dozen key rescue personnel play themselves.
Waller said they were natural actors, blending in almost seamlessly with the professionals around them, and helped by the accuracy of the settings and the production's close attention to detail.
"What you are really doing is asking them to remember what they did and to show us what they were doing and what they were feeling like at the time. That was really very emotional for some of them because it was absolutely real."
Waller says his film is likely to have a visceral effect on some viewers, evoking a measure of claustrophobia.
"It's a sort of immersive experience with the sound of the environment, you know, the fact that is very dark and murky, that the water is not clear."
"In Hollywood films, when they do underwater scenes, everything is crystal clear. But in this film it's murky and I think that's the big difference. This film lends itself to being more of a realistic portrayal of what happened."
Some scenes were filmed on location at the entrance to the actual Tham Luang cave, but most of the action was shot elsewhere.
"We filmed in real water caves that were flooded, all year-round. It is very authentic in terms of real caves, real flooded tunnels, real divers and real creepy-crawlies in there. So it was no mean feat trying to get a crew to go and film in these caves."
The Cave goes on general release in Thailand on November 28.
ORIGINAL ARTICE: Associated Press | Time.com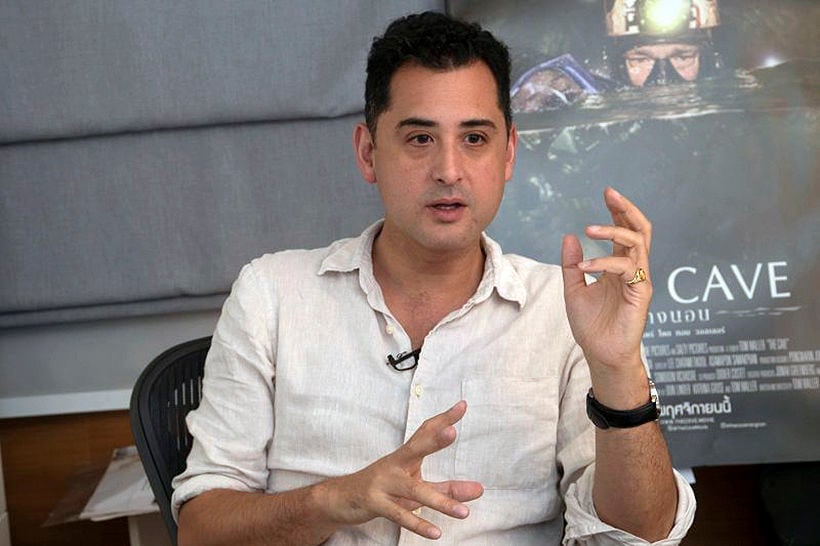 PHOTO: Tom Waller – Associated Press/Sakchai Lalit
Keep in contact with The Thaiger by following our
Facebook page
.
Tale of two cities – Hua Hin vs Pattaya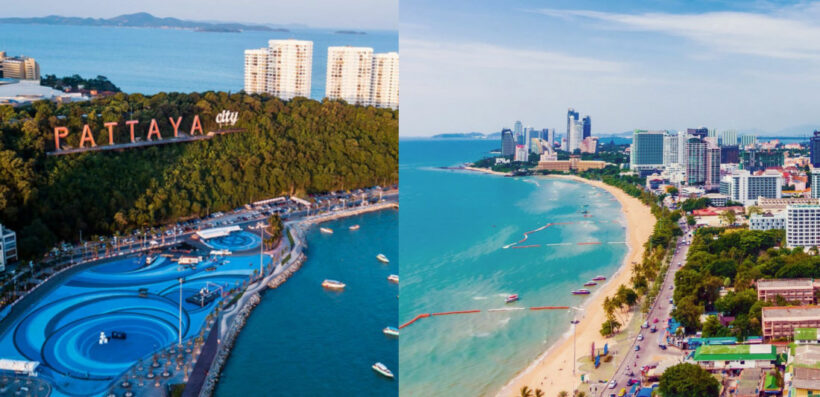 by Kornrawee Panyasuppakun
Property buyers looking to buy a seaside villa or condo in a coastal town in Thailand, relatively close to Bangkok, confront one question – should I buy a property in Hua Hin or Pattaya?
And rightly so, because these two choices have similar aspects. Both have kilometres of coastline, good beaches, and are just a couple of hours away from Bangkok – 3 hours for Hua Hin and 2 hours for Pattaya. They also have good year-round weather, large expat populations, and are some of the best places in Asia for water-sports and playing golf.
Yet, each place suits buyers with different lifestyles and goals.
Town or City?
If you want a laid-back beach town feel, Hua Hin is the right choice. If you like to live in the middle of action, with a greater range of things to do, Pattaya is the winner. It is simply more established and has a longer development history in terms of western-style villas and condominiums.
Hua Hin has a population of around 100,000 plus a growing tourist reputation. The lazy town offers long, sandy beaches that run 5 kilometers along the coast and are not fully obstructed by high-story condos on the beach, due to building regulations.
Hua Hin may not be the best place to swim in Thailand, as the sea-bed is a bit rocky, but it makes up for it with clean beaches, dedicated beach cleanup groups consisting of locals and expats, and regulations which, among others, restrict commercial tourism on the beaches on Wednesdays, and town planning which controls high-rise along the coast.
Hua Hin also suits those in search of a peaceful getaway because the town does not have a seedy reputation and is far from any industrial enterprises. This is thanks to a strong tradition of royal patronage and residence in the district, such as Mrigadayavan Palace and Klai Kangwon Palace, the latter is owned by the late King Bhumibol Adulyadej (Rama IX).
Nevertheless, the town has a growing reputation for restaurants and new attractions for tourists; it is a favourite resort town for Thai upper-class and Bangkokians who like to go to Hua Hin on weekends.
Check out the largest selection of properties in both towns HERE.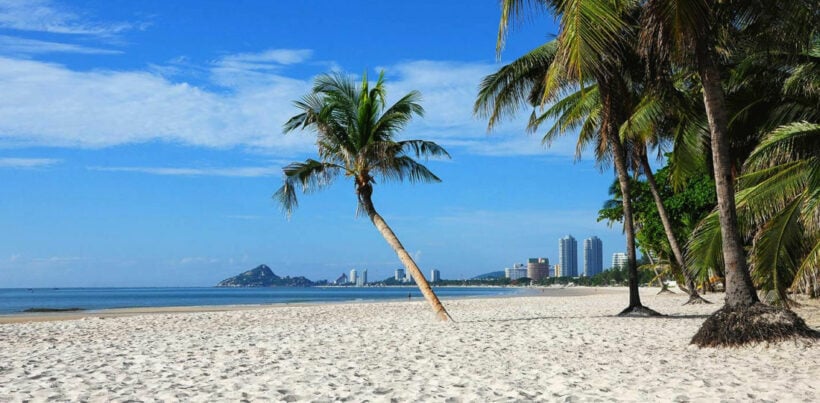 Pristine beaches of Hua Hin, larger and longer than Pattaya
Pattaya, on the other hand, is home to almost 400,000 people, plus plenty of international tourists. The city is highly developed and has a higher density of high-rise buildings along the coastline and many great sea-view villas on the hillside, both of which are harder to find in Hua Hin due to the tighter building regulations.
During the day, the beaches in Pattaya attract sun worshippers and all different types of water sports, from kitesurfing to waterskiing. At night, Pattaya's Walking Street is an international adult entertainment playground. But that doesn't mean you can't find a quiet place in Pattaya. There are less-popular beaches like Jomtien Beach and nearby islands like Koh Larn and Koh Samet.
Pattaya is part of Thailand's eastern seaboard, the Eastern Economic Corridor, meaning the city is situated close to Thailand's main industrial facilities and sea ports, as well as airports like Suvarnabhumi Airport, which is around an hour and a half away by car. It also has its own airport about 40 minutes from town called U-tapao International Airport.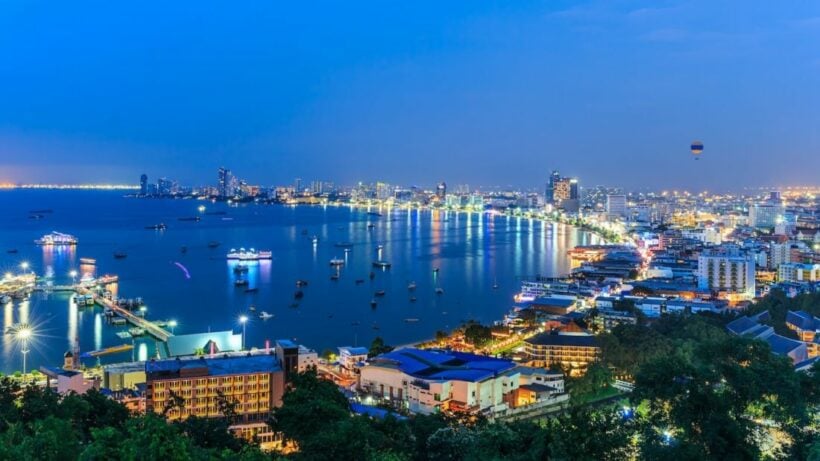 The famous sweeping coastline of Pattaya, a haven for nightlife and entertainment options
Holiday home, Retirement, or Investment?
Hua Hin and Pattaya are both highly qualified for holiday home buyers with an impressive choice of villas and condominiums. But Hua Hin is better known for retirement and Pattaya for investment.
Hua Hin has been named as one of the best retirement locations in Asia by countless surveys. It offers a high standard of living, great golf courses, first-class restaurants, quality medical care, close proximity to Bangkok, as well as "the big foreign community that connects through reading clubs, festivals, cycling clubs, soccer leagues, wine tastings and darts tournaments," wrote the US News and World Report in 2019.
Foreign property buyers are those who buy a holiday home or a retirement residence. Most are from western countries, especially those from Scandinavia, Germany and England. Many buy in Hua Hin to spend the winter with their families, rent out when they are away, and eventually live there when they retire. Also, a hi-speed railway will soon be built to link Hua Hin with Bangkok, which will make travelling to Bangkok airports even more convenient. It already has a multi-lane highway, train and bus services.
Pattaya is a popular choice for investment. It has a large and growing tourism industry, with over 12 million tourists last year, as well as a healthy mix of nationalities, including Israeli, Russian, European, Indian, and Chinese, making its tourism less susceptible to change from a single demographic.
Additionally, Pattaya is part of the Eastern Economic Corridor, the Eastern seaboard that targets high-tech industries and attracts foreign direct investments, especially from Japan. It is also linked to Bangkok airports, sea ports, and main industrial facilities in Chon Buri and Rayong by the upcoming hi-speed rail. Plus, the city itself is positioned as an international medical hub.
Overall, a stream of foreign tourists and business travellers means a steady source of income for investors. Those who buy the property to rent out short-term and long-term can enjoy a realistic Return On Investment of about 7 – 8% year. In Pattaya you can already see investors from Western countries as well as Asian countries, from China to India and the Middle East.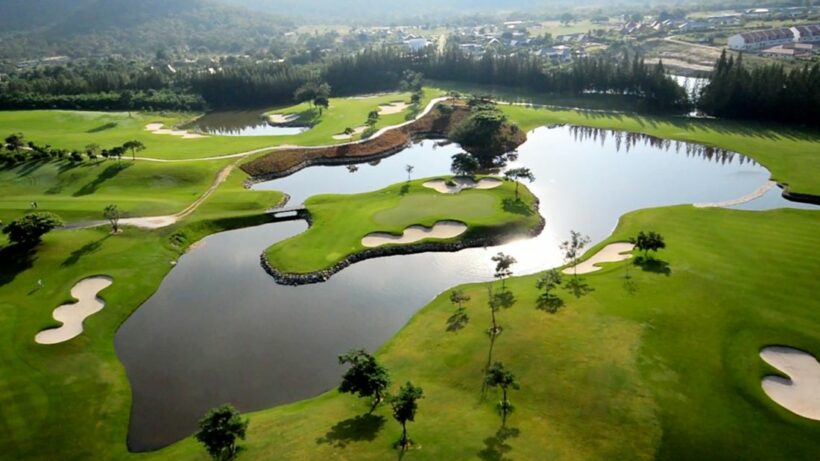 There is an excellent selection of international-standard golf courses in Hua Hin
Lifestyle
Both offer a cool selection of eateries, shopping malls, and activities, but if compared by the variety of choices, Pattaya is the hands down winner.
That isn't to say that Hua Hin doesn't have plenty of options. Most buyers in Hua Hin like to play golf and enjoy the outdoor spaces – town is one of the best golfing destinations in Asia. There are also first-class Thai and international restaurants, a huge eco-friendly water park, and several night markets that sell fresh seafood and local crafts, like Hua Hin Night Market and Cicada Market.
Furthermore, Hua Hin has stylish shopping malls like Blueport and Market Village, the latter of which offers so-called "you hunt, we cook" options. You can also try the new Latitude Wines at a vineyard in Hua Hin or head to a cool bar that offers familiar labels.
Pattaya may be infamous for its red light areas and nightlife – go-go bars, beer bars and nightclubs – but that is not the only side of Pattaya. In Pattaya you can find quality lifestyle with a burgeoning choice of family options and entertainments.
It offers a range of Thai and international cuisines, from award-winning restaurants with amazing views, sky bars, and Italian wine bars, to family-run restaurants, 100% vegan places, and local seafood. It also has a range of options to entertain people with different budgets.
Pattaya also offers lots of chic shopping centees like Terminal 21 Pattaya, Central Festival Pattaya Beach and Central Marina. There are also lots of family-friendly choices like water parks and museums, in addition to a wide range of extreme sports, such as Muay Thai, kitesurfing, waterskiing, and skydiving. You can also go snorkeling or plan a day trip to nearby islands like Koh Larn and Koh Samet.
In both cities, you can expect to find theatres with international blockbusters and supermarkets that sell western products. And there is a daily ferry between Hua Hin and Pattaya (during high season).
International Education
Expat families can find an excellent international school in both cities.
Hua Hin has a couple of options for expat families. With quality education and great sporting activities, Hua Hin International School, for instance, is one of the choices that follows the national British curriculum and the IB program, and recruits teachers from the UK. There are also several bilingual programs available.
Expats in Pattaya have more choice when it comes to international education. There are several internationally-recognised international schools with excellent facilities like hi-tech campus, drama studios, and a big theatre. Some of the best schools are St Andrews International School, Regents International School, and Tara Pattana International School.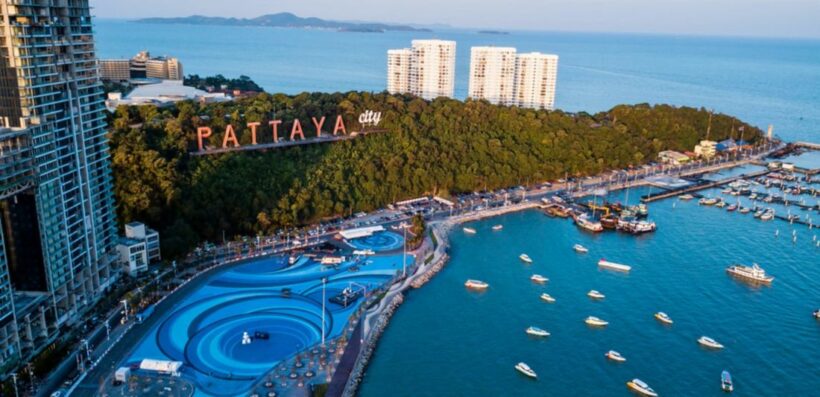 Health Care
Hua Hin and Pattaya offer high-quality hospitals that cover basic and advanced medical care and cater to patients with different budgets.
Top private hospitals in Hua Hin are, for instance, Sao Paulo Hospital which caters to lower budgets, and Bangkok Hospital Hua Hin which is part of the renowned BDMS group. These hospitals both offer quality specialist care including cardiology, urology, and orthopaedics, to name a few, and English is widely spoken.
For Pattaya, top hospitals are Bangkok Hospital Pattaya, Pattaya International Hospital, and Pattaya Memorial Hospital, with Bangkok Hospital Pattaya charging the highest fees. Also, as Pattaya is recognised as one of the best medical tourism centres in Thailand, and the region, there are tons of tourists flying to the city for medical care, and hospitals employ staff who are fluent in various languages.
Bangkok Hospital Pattaya, for instance, has interpreters in more than 20 languages, including Arabic, Chinese, French, German, Russian, Spanish, and Swedish.
The bottom line … It depends on your goals and lifestyle. If you want a peaceful hideaway with grand royal history, or are a golf enthusiast, you may choose a property in Hua Hin. If you want to a city that is always switched on, close to investment areas and airports, and has lots of leading international schools and shopping malls, you may like Pattaya more.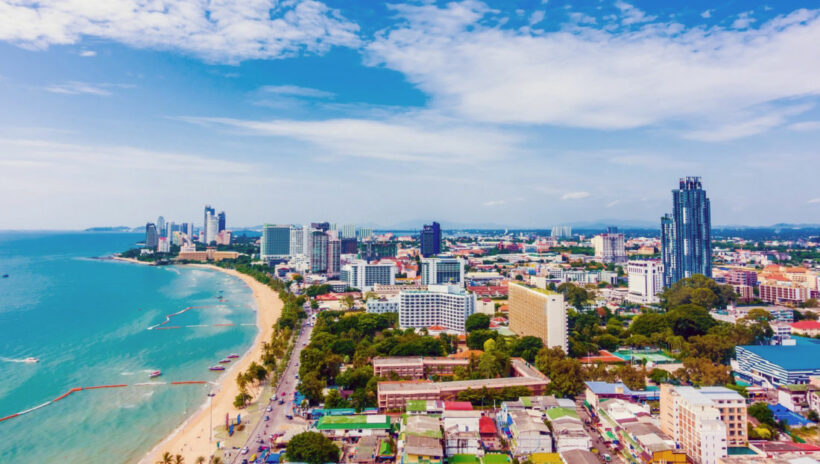 Keep in contact with The Thaiger by following our
Facebook page
.
Top 10 spas and massages in Phuket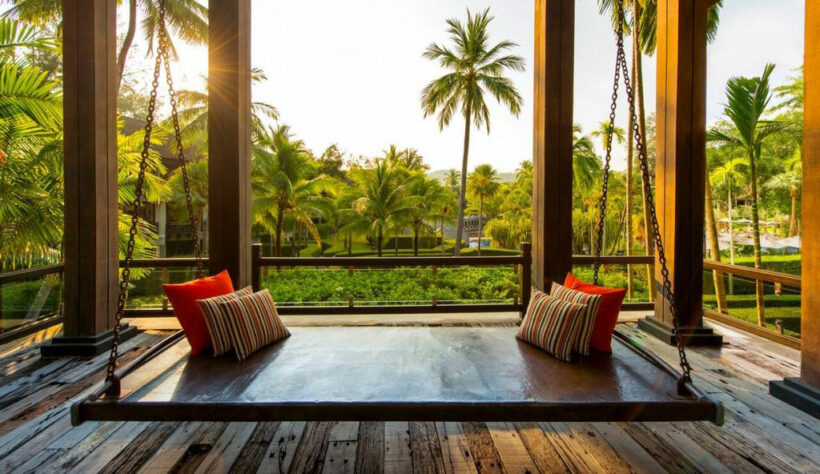 One of the best things about living in Asia, and in particular Thailand, is the abundance of fabulous places to have spa treatments. From the true local experience on the beach, to the ultra chic five star luxury treatments here is, in no particular order, our Top Ten Phuket Spa Experiences.
1. Let's Relax (Boat Lagoon)

Let's Relax's latest addition to their Thailand spa portfolio is located in the residential area of Boat Lagoon in Koh Kaew and by accounts a winner in our books! It is a beautiful space with the natural light also bringing a sense of calm as you walk down the long entrance. With multiple treatment rooms as well as a well appointed foot massage space that can accommodate a large gaggle of girls it is has become popular very quickly with the local ladies.
Being brand new it also is a treat to sit in lush white comfy chairs while having your foot massage and a chat to your girlfriend or boyfriend. Priced on the lower end of the market, but higher than the local spas on the side of the street and well worth the extra baht, Let's Relax is fabulous new addition to the flooded spa market.

2. Oasis Spa (Kamala)

Oasis Spa Group has a few little gems around the island including one in Laguna and also another great one on the beach road in Kamala, however this hidden sanctuary located on the back roads in Kamala is our pick of the bunch. From the main street you would never know there is a tranquil ten treatment room spa and delightful pool setting behind the single wooden door. With an impressive and consistent list of treatments, positioned above the street-side prices but below the five star offerings, Oasis Spa is wonderful place to pamper away your day.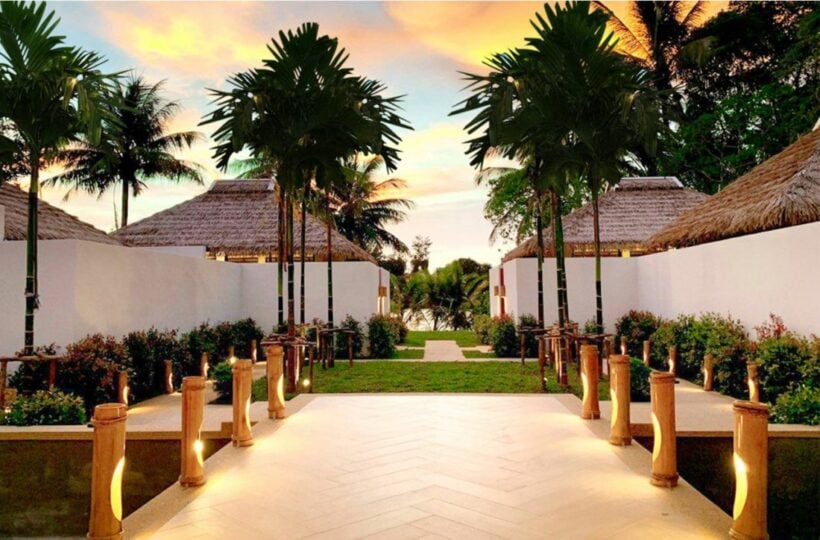 3. Kata Rocks Infinite Luxury Spa
Winning the World's Luxury Spa Awards for 2015, 2016 and 2017 we couldn't put together a top ten spa list without including the very modern and chic Infinite Luxury Spa at Kata Rocks.
The spa blends the beyond organic philosophy of ILA spa products with its own "Me Time" philosophy, the latest spa massage technology in its eight luxury treatment rooms and suites, each designed around specific treatments. This includes two rooms for couples complete with luxurious his and her bathtubs, a chromotherapy room for coloured light therapy, a waterbed room equipped with Italian-made Iso-Benessere, a water massage bed for aiding spinal integration, a sleeping pod room with Metronap rest pod, traditional Thai spa massage treatment room, consultation and treatment room, pedicure and manicure treatment room and a contemporary tropical relaxation patio for after treatment chill down.
Positioned in the very high end of the spa market, Infinite Luxury Spa is an impressive and fabulous space to spend your day, worth every baht!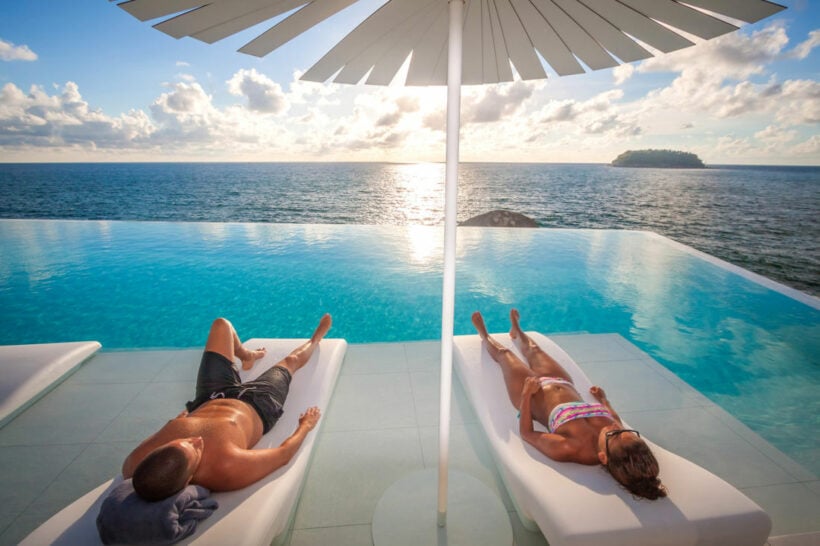 4. 4th Floor Central Festival Phuket

'It's not a very accurate location' I hear you say, but I love this spa, and whenever I am at Central I always try and allow at least 60 minutes extra to escape the crowds and enjoy a foot massage while reading my book. Located on the top floor of Central on the left hand side as you head towards Central Department Store (sort of above McDonalds), it's hard to miss it but the staff are always outside greeting you and encouraging you to come in and take a load off. Priced perfectly at 300 baht for a 60 minute foot massage (plus tip of course), the experience is consistent and friendly. Full body treatments are also available behind the traditional curtain.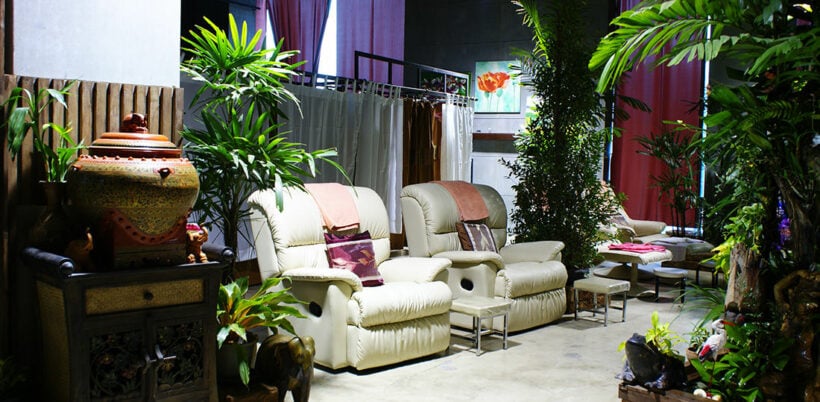 5. Amatara Wellness Resort

Located at the very South of Phuket at Cape Panwa, Amatara Wellness Resort as the names suggests has an incredible spa perched high on the cliffs overlooking the Andaman Sea. One of the largest spas in Asia with over 2000 square metres of dedicated spa bliss, paralleled by the extensive menu and holistic and wellness packages, it really is an experience not to be missed.
Amatara has also just opened a new spa wellness experience, the exquisitely designed Thai Hammam brings together traditional Turkish and Moroccan bathing practices with the wisdom and gentleness of Thai spa therapies. Soak your worries away.
Make a whole day of it, indulge in their fabulous Sunday Brunch and then move through to the spa! Perfection!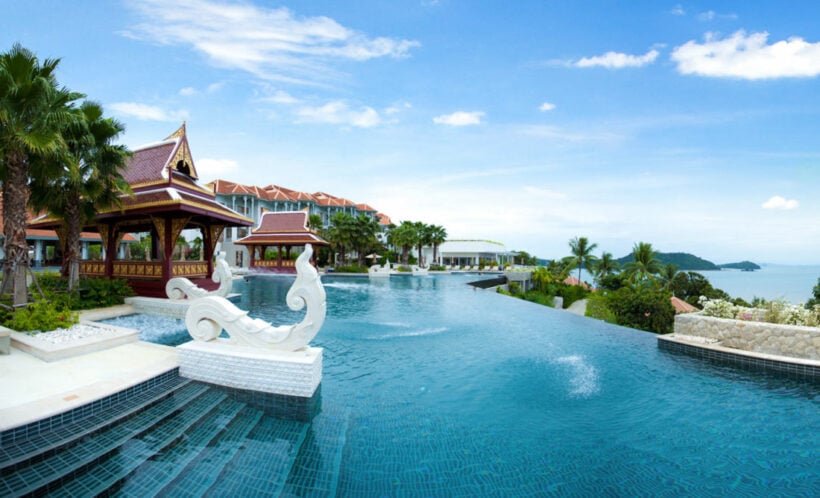 6. Banyan Tree Spa

A market leader for many years not only in Phuket but around the world, Banyan Tree is has provided us with professional and impressive spas for decades. Banyan Tree Phuket Spa with it's impressive 24 treatment rooms hidden in lush surroundings within the gardens of the resort has well trained and dedicated therapist giving you the ultimate in spa experiences. The attention to detail which is synonymous with the spa philosophy of the group together with the consistency and surroundings makes it one of the best spa experiences certainly in Thailand. I can highly recommend the three hour Royal Banyan package, which included a cucumber and coriander scrub, Banyan Tree herbal pouch massage, jade chilled facial and flower bath. My girlfriends and I indulged just last week, and it was such a treat.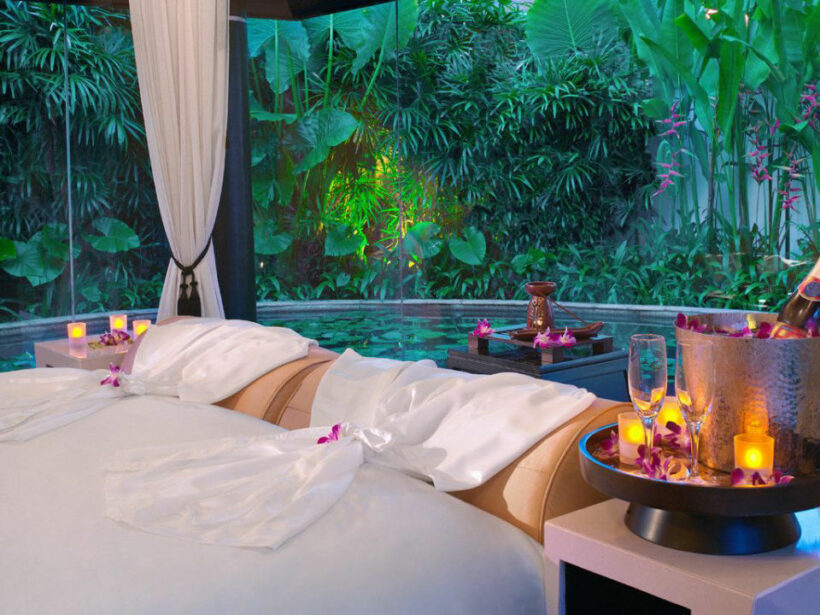 7. Beach Shack next to Dream Beach Club on Layan Beach

We are creatures of habit in our house, we have been in Phuket for ten years now and when we like something we tend to go back regularly. Sunday's are for chilling and we tend to either head to brunch or down to the local beach at Layan, away from the larger more commercial eateries and clubs we like eating and massaging with the locals.
Purely bang for your buck, the full body oil massages on the beach for 300 – 400 baht are an absolute must. I would love to say head to "Phung's Massage Shack" next to Dream Beach Club but to be honest it doesn't have a name but that doesn't mean it shouldn't get a mention and make our list. Head to the top end of Layan and facing the beach next to Dream go left, it's worth the trip!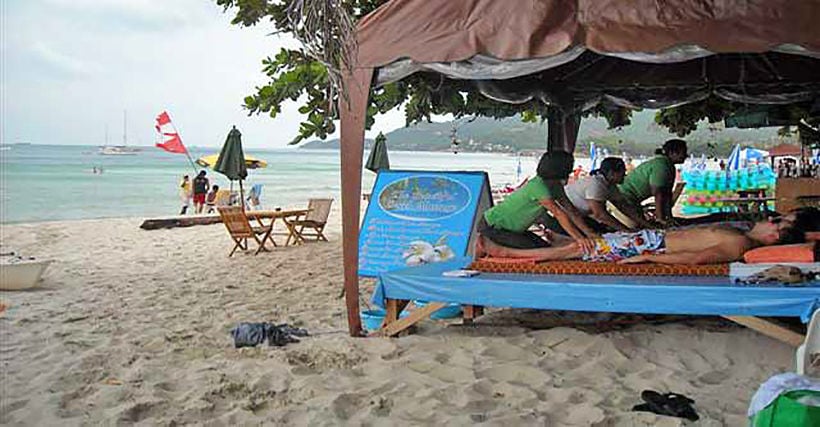 8. JW Marriott Mai Khao Spa

Mandara Spa at JW Marriott Phuket Resort & Spa is an oasis within an oasis, the resort itself sits on 27 acres of lush gardens and beach side bliss just North of the airport in Mai Khao. Within it's tropical gardens is the king pin for many years on the island Mandara Spa, its an icon in the local spa industry.
Tranquil, exotic and extremely relaxing, the Mandara Spa at JW Marriott Phuket Resort & Spa features a full service beauty salon, separate steam rooms for male and female guests, five double luxurious spa suites and eleven double deluxe rooms. The spa suites are well fitted out, with some enjoying outdoor bathrooms, but the most impressive aspect of the spa itself is the staff. They are incredibly well trained, and efficient in their craft, professional yet approachable and deliver every time.
The JW Marriott Wellness Retreat (bi yearly) is a highlight every year in my calendar, hosted and facilitated by Linda and her team, as well as the best wellness experts on the island, including Hayden Rhodes, Kim White and Andrew Stanndard. The four day program has informative workshops, wellness consultations, spa treatments, healthy meals, hands on activities, yoga, cooking classes and so much more.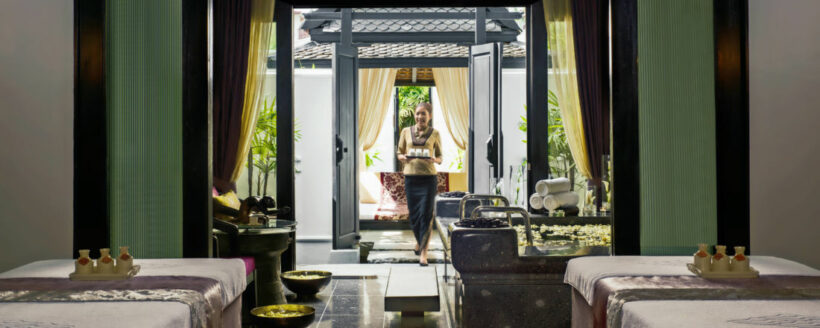 9. Atmanjai Wellness Retreat

Located on the South of the island just past Chalong circle Atmanjai Wellness Retreat at Friendship Beach offers a friendly and relaxed haven where guests can participate in detox, yoga or wellness programs that help restore your vitality, happiness and health. The cute bungalows located around the pool and on the beach side are a perfect excuse to indulge just a little further and stay on location while doing your retreats.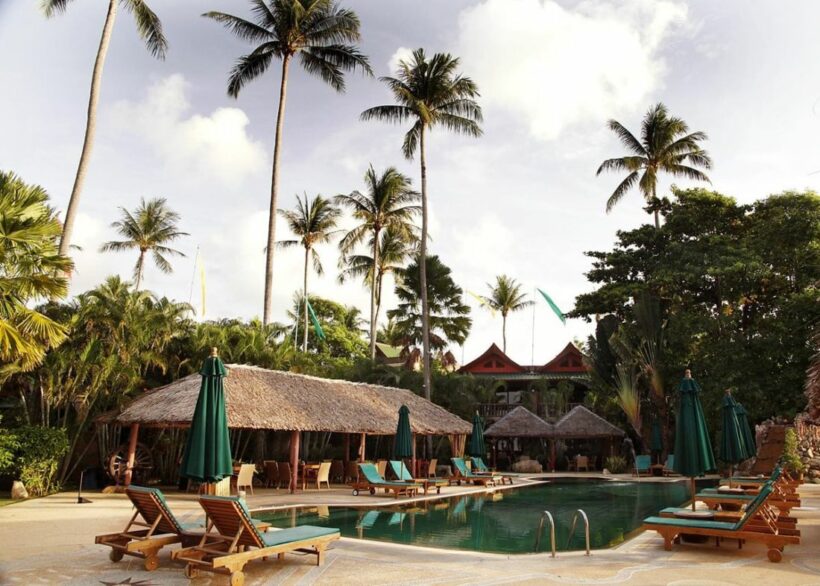 10. Coqoon Spa at The Slate

Unlike anything else in Phuket, Coqoon Spa at The Slate is tranquil and idyllic space nestled in the lush green trees of the resort. It has a "cocoon" tree house made from bamboo and other natural products located high off the ground in true robinson crusoe style. Being in the trees is a unique experience matched perfectly with the highly trained and efficient practitioners. Subtle touches throughout the spa together with the extensive well thought out menu make Coqoon a special occasion treat.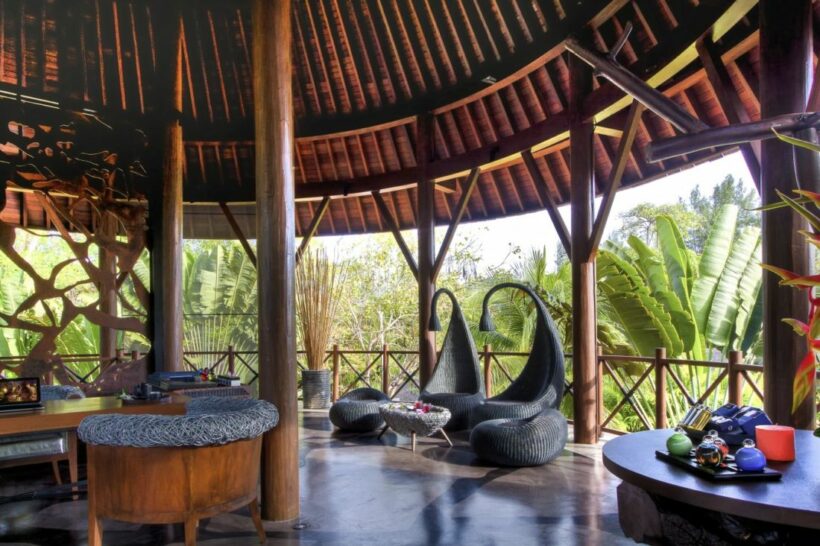 Keep in contact with The Thaiger by following our
Facebook page
.