Service-minded sailors to shore up
PHUKET: As the end of May draws near, the crews of the USS Nimitz, a prominent American Navy supercarrier, along with the USS Princeton, a Ticonderoga-class guided missile cruiser, are set to moor off Phuket for three days of shore leave – but it's not just leisurely R&R that the crews have their sights on.
Faithful crew, male and female, will once again be making a positive impact on Phuket and the surrounding region through a handful of community service projects (COMSERV) organized by the Navy League of Phuket (NLP).
To ensure that such projects break ground smoothly, the NLP – officially known as the Thailand Southern Seaboard Council, and a division of the Navy League of the United States – has joined forces with the Rotary Club of Patong Beach, the Lions Club of Patong Beach and the Glenn Defense Marine Group, the husbanding contractor for the US Navy in Thailand.
Adding to the 109 COMSERVE projects that have previously been completed on, off, and around the island, the upcoming supercarrier visit will see 13 more projects carried out at various locations.
Highlighting the nature of the COMSERVE efforts, the following are details about two ongoing model projects.

River erosion control and land recovery @ orphanage
Just across the Sarasin bridge, north of Phuket island in Phang Nga province's Tai Muang district, is the Home & Life Orphanage, the humble abode of a wonderful family unit comprising 26 children, orphaned as a result of the devastating 2004 tsunami, and four gracious caretakers.
On the premises of the orphanage are several buildings, including dorms, an office, bakery, and coffee shop. The property is beside a river that had eroded the land, making it unfit for use, while the integrity of the bakery and several other buildings has also been threatened.
Over the past year, the river bank has been shored-up a bit thanks to generous donations from the Rotary Club of Patong Beach, in addition to the dedicated service of US Navy and Marine volunteers partaking in a series of COMSERV initiatives. This ongoing effort has been fueled by the hard work of members of the USS Comstock (LSD-45), USS Green Bay (LPD-20), USS Kidd (DDG 100), and the USS Ford (FFG 54), as well as volunteers from the Royal Thai Navy from the nearby Thai Navy Region 3's Phang Nga Naval Base.
The next and current phase is to recover and backfill some of the degraded land so that a playground can be built in the near future. This job will utilize about 40 volunteers, 15 to 25 of whom will be dispatched from the US Navy, along with another 15-20 volunteers from the Royal Thai Navy.
In preparation, top soil has been delivered to the site using a small tractor. The first day will commence with hard labor to backfill the area behind the latest row of gabion cages already in place. On the second day, the volunteers will install another row of gabion cages, which will be filled with heavy rocks. Then, on the final day, the area behind the new row of gabion cages will be backfilled with soil to recover the land, which will be the site of a playground to be built at a future date.
Maintence jobs @ migrant workers' children's school
The Bang Jo Learning Center is a school for migrant workers' children in Cherng Talay, Phuket, that was set up in 2010 by the Rghmonya Labour Union's
Operation Learning Projects Center, which is based in nearby Ranong province.
Legal Burmese migrant worker families living in construction worker camps in Bang Jo and other Thalang areas requested that a Burmese Learning Center be built so their children could receive education equivalent to what they would receive in their home country, Myanmar.
The children are taught Math, Social Studies, Dance, History, Science, English, Burmese and Thai – reading and writing. The school began with thirty students and two teachers, but is now growing to accommodate sixty children and three teachers.
The school is currently run and supported by the Good Shepard Phuket, which is part of the Good Shepard Sisters Thailand. A major part of this foundation's objective is to empower the students to be productive members of society when they return to their home country.
There are many small projects at the Bang Jo Learning Center which will be accomplished over three days. These include:
• Repairs to the school's basic electrical system. Thai electricians will do some wiring for safety, while volunteers will install four wall fans.
• Installation of new playground equipment. This needs to be assembled and installed after the playground is cleaned of rubble. The equipment includes a small trampoline.
• Fitting of locks and latches to classroom doors for better security.
• Tiling of two playrooms, which will be completed in collaboration with local Thai masons.
• Painting of the outside of the building's walls with another coat of paint.
• Playing and interfacing with the 60 children, possibly teaching them some basic English.
• Numerous other clean-up and small painting jobs if time permits.
For more information and inquires on how to contribute, volunteer or become a sponsor of COMSERVE initiatives, contact Brad Kenny, Charter Member and COMSERV Coordinator, US Navy League, Thailand Southern Seaboard Council, on 081-633 4279 in Thailand, or, from outside of Thailand, on +|66 81-633 4279; email: [email protected].
Third runway for BKK Suvarnabhumi Airport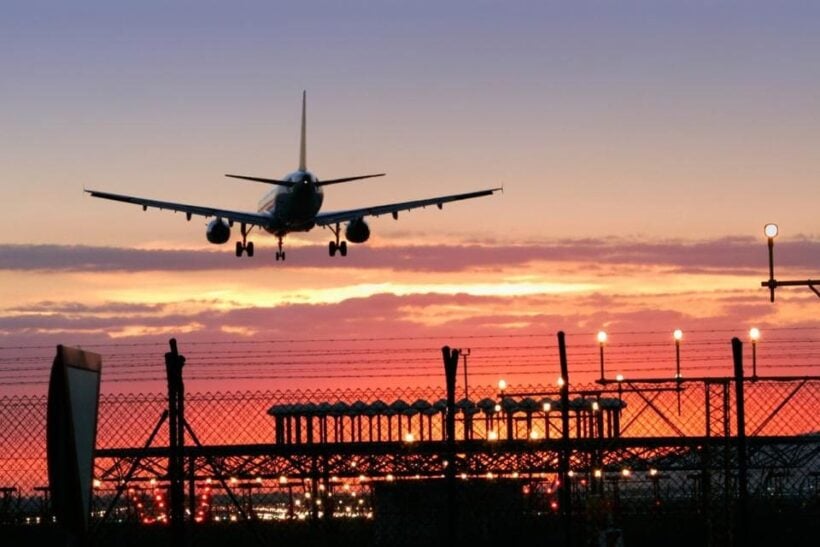 The Thai cabinet yesterday approved the construction of a third runway at Suvarnabhumi International Airport as part of the country's ambition to become the aviation hub of ASEAN.
The 21.7 billion baht project will increase the combined capacity of Suvarnabhumi international airport's runways to 94 arrivals and departures per hour from the current 64, said Lt-Gen Weerachon Sukonthapatipak, deputy government spokesman.
Suvarnabhumi Airport (aka. BKK) was opened in 2006 as Bangkok's second airport. Initially it replaced the tired Don Mueang Airport but Don Mueang was later revamped as a low-coast airport to service the growing traffic demands.
Meanwhile Suvarnabhumi Airport was, and still is, operating above its designed capacity. An earlier bid to build a third terminal has been mired in controversy and is currently shelved pending a new brief from Airports of Thailand with a new round of design bids called for in the future.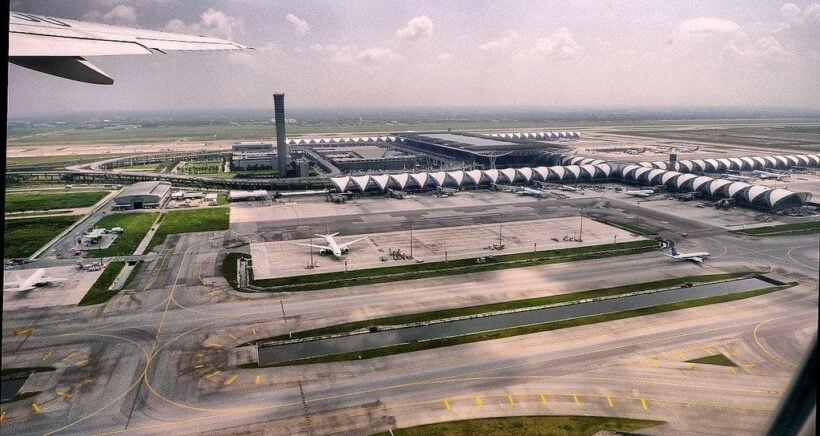 Patong's trash hero rewarded for collecting garbage in filthy canal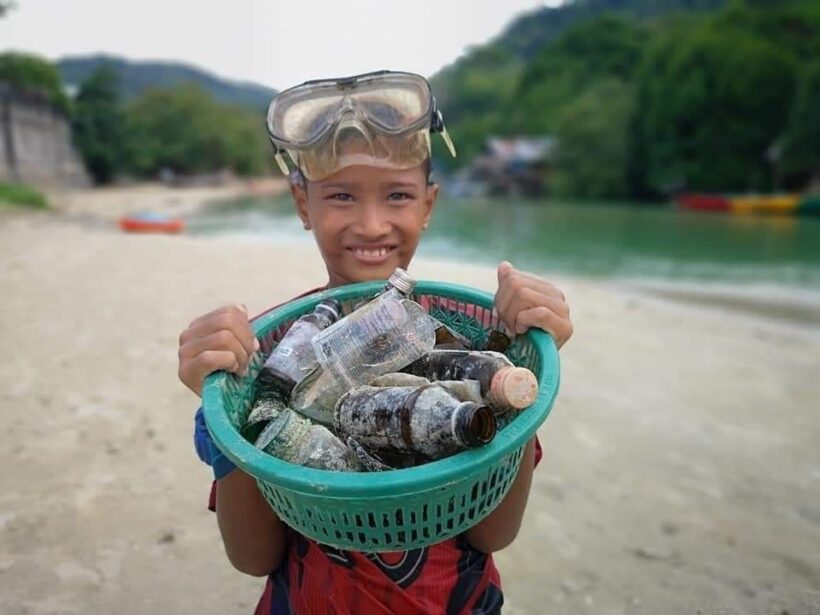 PHOTOS: Patong Police / Theeraphong Penmit / Newshawk Phuket
A Phuket boy has been rewarded after setting an excellent example for the rest of the Patong community.
8 year old Kosin Ta-ngam, who is studying at Sai Nam Yen School in Patong in Pratom Suksa Three, has been collecting garbage in the filthy Pak Bang Canal and along Patong Beach since the beginning of this year.
He lives with his grandmother and other relatives. His grandmother has been looking after Kosin since he was 10 months old.
A certificate, scholarship and life vest have been awarded to Kosin by the Patong Police Chief Col Anothai Jindamanee for displaying excellent citizen for the community as a youth volunteer and being an active part of keeping the city clean.
The Pak Bang Canal, running through the back of Patong into Patong Bay, has been a dark, dirty mess for decades. Many promises have been made to clean it up but it remains a disgraceful waterway flowing through Phuket's main tourist town.
The tiny eight year old seems to be able to achieve a lot more than the local municipality with all their money and machinery.
Kosin, you are the Thaiger hero for today and we salute you!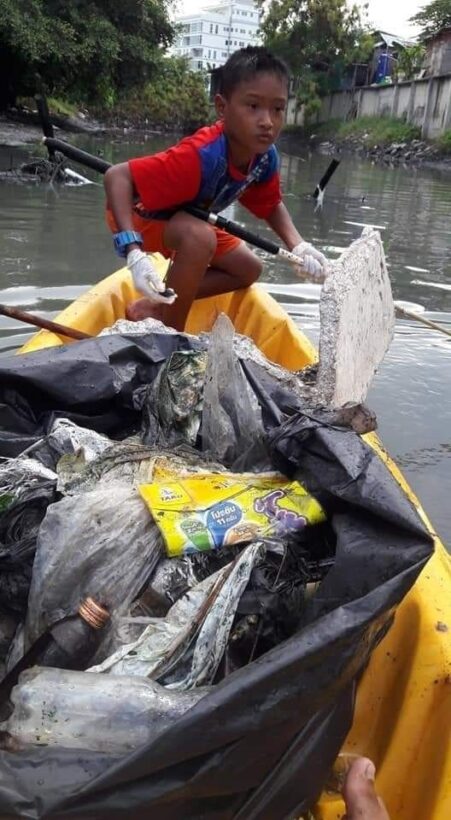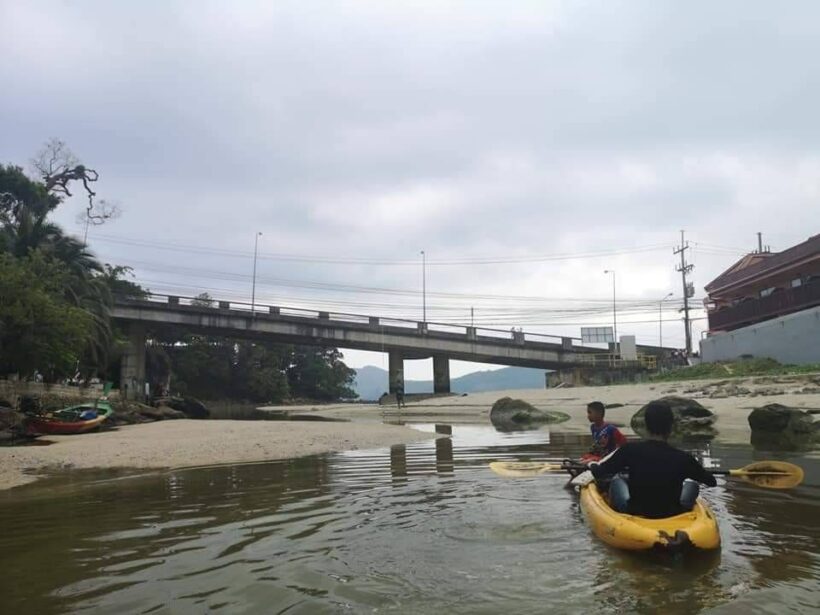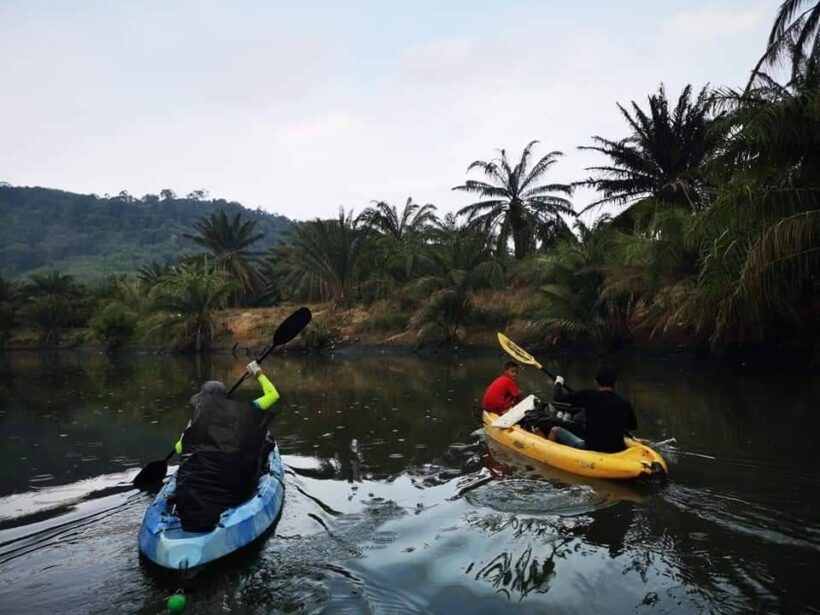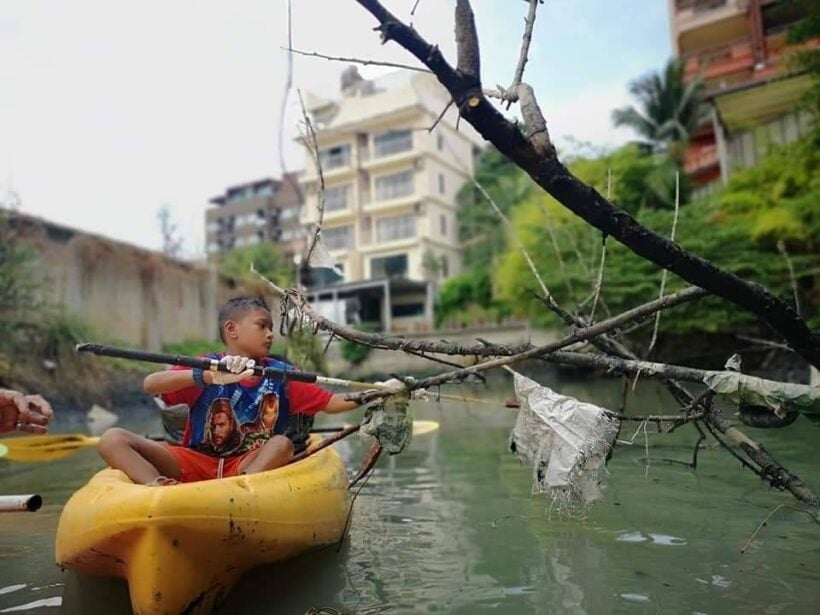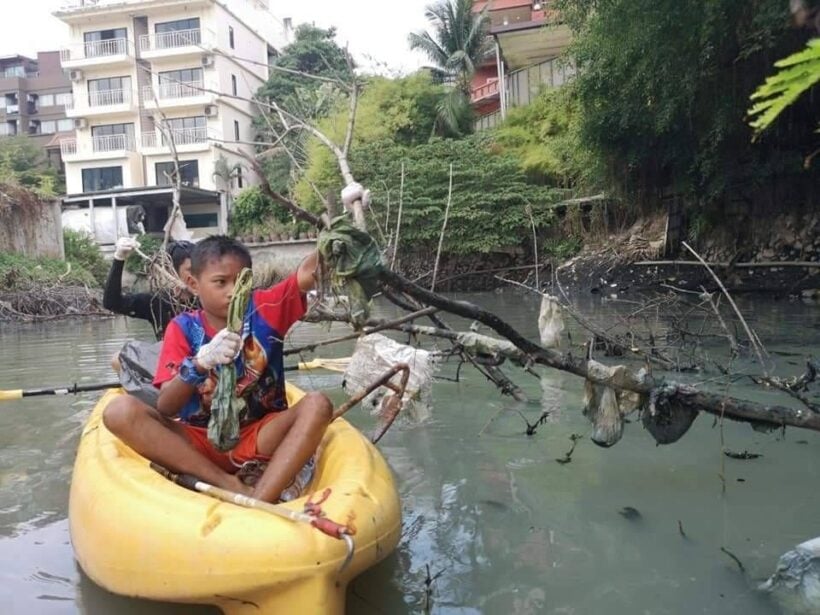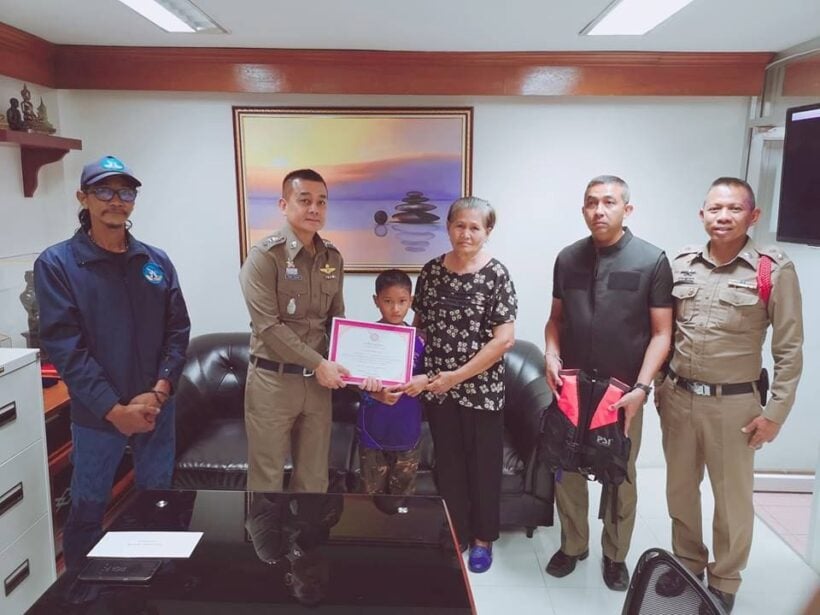 Mitsubishi testing their new regional jet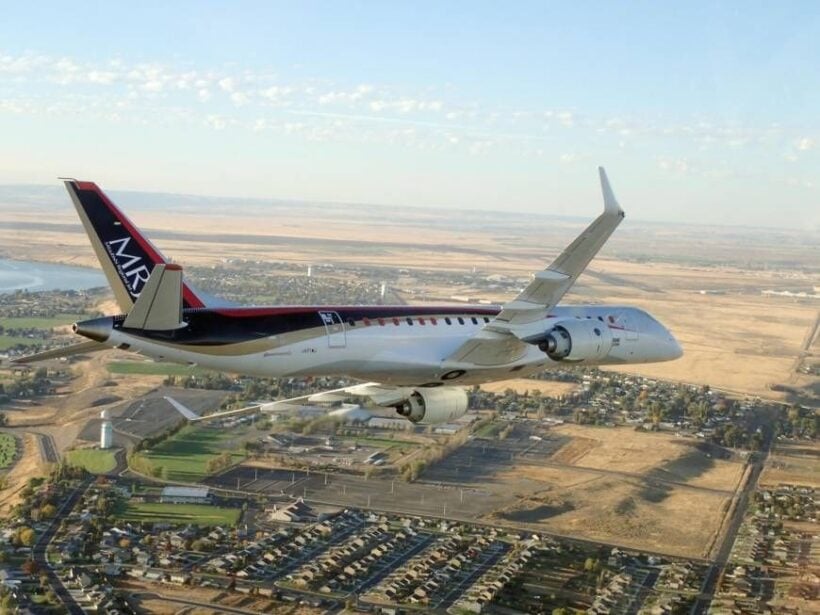 PHOTO: The Japan Times
Mitsubishi Heavy Industries' new 88-passenger Mitsubishi Regional Jet is testing the skies just as rivals Embraer and Bombardier are moving to sell off their manufacturing operations for jets with up to 160 seats to Boeing and Airbus.
At stake, particularly in the market for jets with fewer seats, is US$135 billion in sales in the two decades through 2037, according to industry group Japan Aircraft Development.
More cities in Asia and Europe are seeking to link up with each other and the Mitsubishi Regional Jet, the first airliner built in Japan since the 1960s, began certification flights last month in Moses Lake, Washington.
With fewer seats and smaller fuselages, regional jets are a different class of aircraft from larger narrow-body planes such as Boeing's 737 or Airbus's A320. The MRJ has a range of about 3,220 kilometres. The seating is 2+2 instead of 3+3 in a small Airbus or Boeing single-aisle jet.
After spending at least US$2 billion over more than a decade, the manufacturer is looking to get its jet certified and start deliveries to launch partner ANA Holdings.
Mitsubishi initially planned test flights in 2012 but blew past that deadline because of production difficulties. Now, the company, which makes ships, nuclear power plants and aerospace components, expects to have the plane ready for customers next year, a timetable that will test the company, said Mitsubishi Aircraft president Hisakazu Mizutani.
Mitsubishi Heavy is not the only Asian manufacturer betting that it can build aircraft cheaper and more efficiently. Commercial Aircraft of China (Comac) has a new regional jet in service, while Korea Aerospace Industries is studying whether to develop a 100-passenger aircraft.
"The aviation market in Asia is expected to grow further in the coming years and there will be demand for these aircraft," said analyst Lee Dong-heon at Daishin Securities in Seoul.
"The shift in the regional aviation segment we have seen over the last year or so has opened opportunities."
"The MRJ is fully capable of competing in the market."