Phuket Lifestyle: Raise up your glasses (and your expectations)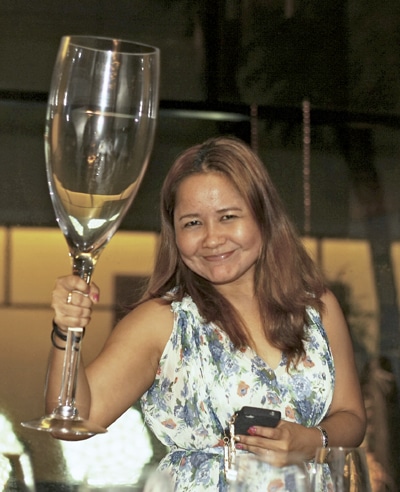 PHUKET: Recently, the owner of the Wine Lovers wine shop in Chalong asked me to assist at a wine tasting with a different twist. Instead of comparing the merits of the wines, we were to compare the various merits of the wine glasses themselves – a "glass" tasting.

Now, I am aware of the almost mystical properties that some glassware is purported to have and how it is designed to bring out the best in certain grape varietals, but I must admit to being a little skeptical.

To prove the theory at this event we performed what could be best described as a scientific experiment, complete with wine glasses in place of beakers and fine wines instead of chemical solutions. Remember, kids, don't try this at home.

On the table in front of us were a clear plastic cup and five numbered wine glasses, each a different shape and size. Four of the glasses contained wine – two reds, two whites.

We were first instructed to taste a rather good Riesling from glass number two – no problems there and happy to oblige. We were then to pour the same contents into the empty "joker" glass (number one) and repeat the tasting. The difference was outstanding. The wine's bouquet had disappeared and the taste had completely changed – yet the wine itself was the same one. Eureka! We had just discovered the secret of grape varietal glasses made by the Riedel company in Austria.

The Riedel family business has been making glasses for over 250 years, with 11 generations keeping it going from strength to strength.

More than 50 years ago Professor Claus Riedel first recognized that the bouquet, taste, balance and finish of wines were somehow affected by the shape of the glass from which they were consumed, and thus began his pioneering work to create glasses that match and complement specific wines and spirits.

In the late 1950s, Riedel started to produce glasses which, at that time, were a design revolution, made according to the Bauhaus principle of form following function.

As our experiment continued, we discovered that the Riedel glasses gave each wine variety more depth and a better balance than when served in the standard 'joker' glass or the dreaded plastic cup.

Riedel's VP of sales and marketing (Asia), Frantz Dumey, then told us to pour the different wines into different Riedel glasses that were not specific to the wine we were tasting – in this case the Pinot Noir into the Chardonnay glass.

Again the wine's taste was completely altered, thus proving again that Riedel glasses did indeed improve the wine's taste. The wine displayed completely different characteristics when served in mismatched glasses.

Frantz Dumey explained why the glasses were different from each other: "Each varietal has a different DNA, so if the wine is acidic, like a Pinot Noir from Burgundy, then you would not want the wine to flow to the acidic sensors of your palate – you'd want it on the sweet part to get more balance. Likewise, if you had a Cabernet Sauvignon, which is more tannic, you would not want the wine to flow over the tongue in the same way. A wine's bouquet, taste, balance and finish are all affected by the shape of the glass it is consumed from. Also, 'size matters', and the volume of air present affects the taste as well."

When asked how one could recognize a Riedel glass from another brand, he pointed to the small engraving at the base of each glass. A distinctive Riedel signature is now featured on the base of all hand-made products in Austria. The machine-blown version has the Riedel name engraved with modern typography.

No longer a skeptic, I now own a set of these glasses which are only available at selected department stores and shops (Central Festival and Wine Lovers in Phuket).

With the price of a good bottle of wine being what it is here, it made sense to me to invest in the equipment that will do it justice. Oh, and by the way, forget what I wrote earlier. This is an experiment you really should try at home.

More information on Riedel glasses can be found at riedel.com.
— Marc Mulloy
Keep in contact with The Thaiger by following our
Facebook page
.
Grieving husband on a mission to take his wife's ashes to all the places she longed to see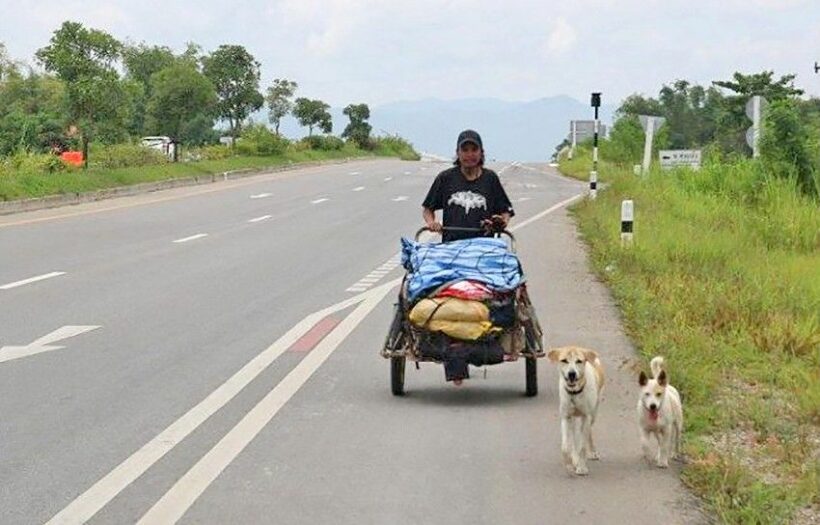 Every day, Sakchai Suphanthamat can be seen pushing his cart along the highway, in the company of three dogs, two of whom he has picked up along the way.
Sakchai carries his wife's ashes, on a pilgrimage to take her to all the places she longed to see while she was alive.
The Bangkok Post reports that the bereaved man started his journey three years ago. He left from Trang, the province where he married his wife, who died of tetanus in 2016.
She had always wanted to see Doi Inthanon in Chiang Mai, Thailand's tallest mountain, and so Sakchai decided to head there first. The journey of more than 1,500 kilometres took him over a year.
Sakchai, 40 years old and from Udon Thani, says his wife had also wanted to see the sea in Trat, south-east Thailand, and he decided to take her ashes there too.
The Bangkok Post reports that Sakchai has been left heartbroken. He says being left with nothing to look forward to after his wife's passing led to the decision to embark on this epic journey with her ashes.
"I am determined to take her bones around the country. She liked the sea and wanted to stay close to it. She used to tell me that she wanted to visit the sea in Trat province in the East. During my journey I stop every three kilometres or so, so the dogs can have a rest."
Sakchai and the dogs sleep under mosquito nets at night and local people who've heard about his journey bring food for him and the dogs. As Sakchai sleeps, his wife's ashes are always by his side.
"I still love her and have vivid memories of our time together, even though she left me three years and four days ago.''
See previous story HERE
SOURCE: bangkokpost.com
Keep in contact with The Thaiger by following our
Facebook page
.
Out of 37 countries, Thailand has the worst pension system, says Bloomberg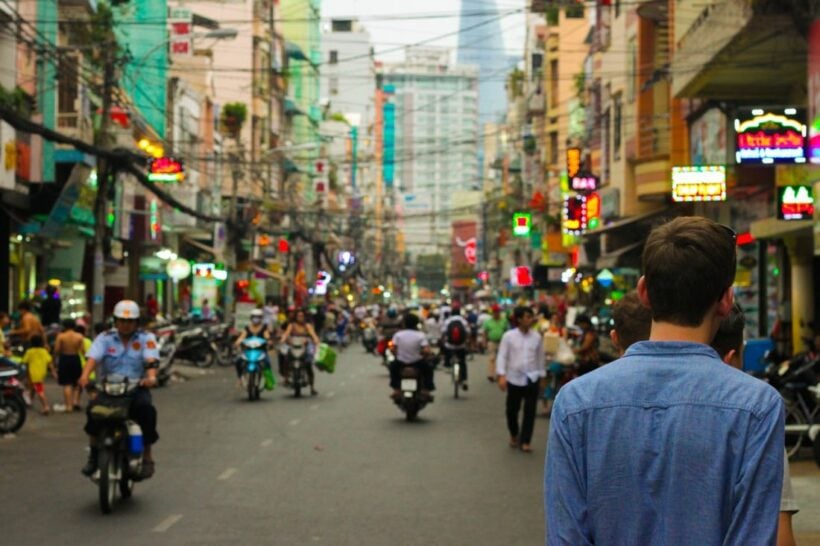 Thai Residents reports that on Sunday, Bloomberg published an article on the world's best pension systems, using information gathered from the 2019 Melbourne Mercer Global Pensions Index.
The survey looked at the pension systems of 37 countries with metrics including employee rights, savings, the number of homeowners, growth of assets, and growth of the economy. The purpose of the analysis was to determine what was needed to improve state pension systems and to gauge the level of confidence citizens had in their state pension system.
The Netherlands and Denmark were found to have the world's best state pensions, with Australia, Finland, Sweden, Norway, Singapore, New Zealand, Canada, and Chile next. Out of all 37 countries, Thailand finished last, with what the report described as an extremely ineffective and ambiguous system.
"Thailand was in the bottom slot and should introduce a minimum level of mandatory retirement savings and increase support for the poorest."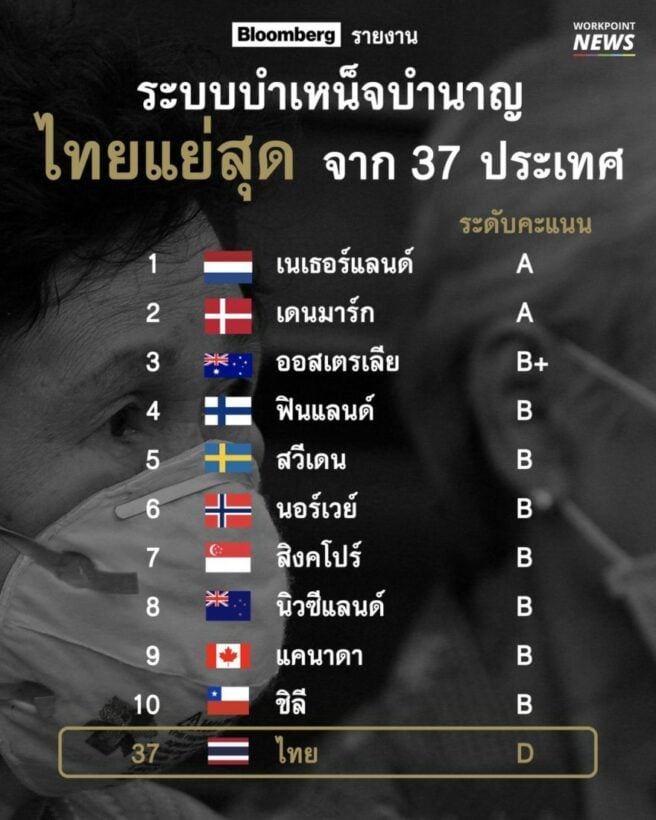 Photo: WorkpointNews
Thai Residents states that only those employed within the government system in Thailand are eligible for a pension based on salary. For most Thai citizens, pension amounts vary from 600 baht to 1,000 baht a month, depending on the recipient's age.
A report carried out by The Securities and Exchange Commission (SEC) advises Thai citizens to have at least 4 million baht saved by the time they retire, but Thai Residents reports that 60% of Thai retirees have less than 1 million baht in savings, with one in three citizens who have reached retirement age are forced to continue working in order to survive.
SOURCE: thairesidents.com
Keep in contact with The Thaiger by following our
Facebook page
.
Tax on salt content being considered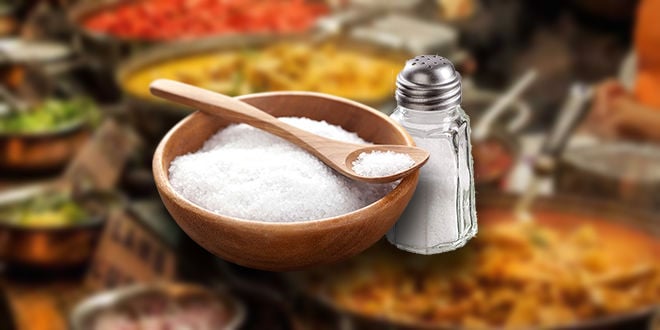 The Excise Department is considering imposing a tax on the salt content of food to encourage food producers to reduce the sodium content of snacks, instant noodles and seasoning cubes.
The director of the Office of Tax Planning said that the department is discussing a limit on the amount of sodium food can contain, in line with the standard set by the World Health Organization (WHO), which is 2,000 milligrams of salt per day.
In reality, Thai people consume an average of 1,000 milligrams per meal, making their daily intake well above WHO guidelines, according to the director.
He said any tax imposed would be at a level which would encourage food producers to reduce the sodium in their processed food without being punitive, adding that the proposal isn't intended to generate more tax revenue, but to help protect the health of consumers. Excessive sodium in the diet can lead to high blood pressure and kidney disease.
Fish sauce, soy sauce and salt would not be taxed.
SOURCE: thaipbsworld.com
Keep in contact with The Thaiger by following our
Facebook page
.