Phuket Health: The truth about dengue fever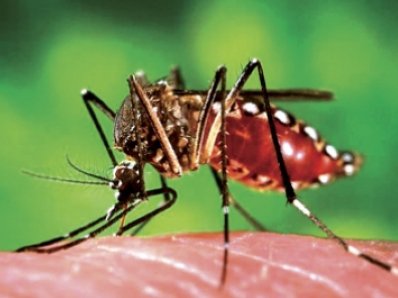 PHUKET: A prominent Phuket doctor has warned residents to protect themselves from dengue fever, also known as "break-bone fever", by removing all sources of stagnant water from around their homes and minimizing exposure to mosquito bites.
According to the US Center for Disease Control (CDC), dengue (pronounced den' gee) is caused by any one of four closely related dengue viruses. All are transmitted to humans via the bite of an infected mosquito. In Phuket, this mosquito is most commonly the Aedes aegypti.
Dr Wiwat Seetamanotch, Deputy Chief Medical Officer at the Phuket Provincial Health Office (PPHO), told the Gazette that dengue fever cases have increased dramatically since the beginning of this year.
Nationwide, the number of patients now totals 11,202. Although Phuket remains a safe zone, Dr Wiwat said, people here should not forget to protect themselves.
"We haven't recorded any dengue outbreak zones in Phuket, but I want people in every area to be aware of how dangerous this fever can be. Since the fever is caused by a virus transmitted by the Aedes mosquito, it is best to protect yourself from being bitten in the first place," Dr Wiwat suggested.
The onset of the rainy season coincides with an increase in the prevalence of mosquitoes, which vector the dengue virus. Infection rates are typically higher during this time.
"Mosquitoes lay their eggs above the waterline in a container, then, a rainfall or irrigation event adds water above the existing level and the eggs hatch. Development to adulthood takes approximately 7-20 days, depending on food and temperature conditions," Florida-based entomologist, Michael Hudon, explained.
According to the CDC, dengue is endemic in many parts of the tropics and subtropics; it occurs annually during the season when Aedes mosquito populations are high. These areas are also at periodic risk of epidemic dengue, when large numbers of people become infected during a short period.
"I would suggest that people avoid being bitten by mosquitoes, cover open water containers with lids, change the water in containers frequently and flush out stagnant water collected in drains," Dr Wiwat added.
There is no specific medication for treatment of a dengue infection, according to the CDC's publication on the Epidemiology of Dengue. Persons who think they have dengue should rest, drink plenty of fluids, and consult a physician.
If they feel worse (vomiting and severe abdominal pain) in the first 24 hours after the fever declines, they should go immediately to the hospital for evaluation.
"Symptoms of dengue, which usually present within five or six days of exposure, typically starting with fever. Symptoms can include severe headache, joint and muscle pain, diarrhea, vomiting, skin rash (may appear over the body 3-4 days after the onset of fever) and bleeding from the nose, mouth, gums and under the skin," Dr Wiwat said.
He advised those who suspect they may be infected to consult a doctor rather than try to self-prescribe medicine available at local pharmacies.
"Otherwise you won't know how much the virus has spread inside your body. It is best to check properly," he concluded.
"This year from January to May 2012 there were 180 recorded cases of dengue in Phuket, with only one death. Throughout the whole nation there were 11,202 recorded cases and 8 deaths over the same period," said Ms Arunee Suphanam, Chief of the Department of Disease Prevention and Control at the PPHO.
"For comparison, for all of last year in Phuket there were 225 recorded cases, with no deaths. During the same period, nationally, there were 29,759 patients with no resultant deaths."
Installing mosquito screens, wearing long-sleeved clothing and spraying exposed areas of the skin with a repellent are the best ways of avoiding dengue.
Typically, the more active the ingredient a repellent contains, the longer it will provide
protection from mosquito bites.
"Avoid dengue at all costs," advised one Phuket Gazette reader, aged 48. "I had it about 10 years ago and it almost killed me. I have been through a lot of medical problems during my years, but for a complete package of misery, dengue fever is very hard to beat."

Thai Life

Join the conversation and have your say on Thailand news published on The Thaiger.
Thaiger Talk is our new Thaiger Community where you can join the discussion on everything happening in Thailand right now.
Please note that articles are not posted to the forum instantly and can take up to 20 min before being visible. Click for more information and the Thaiger Talk Guidelines.