Phuket Gardening: Totally tropical Phuket pineapple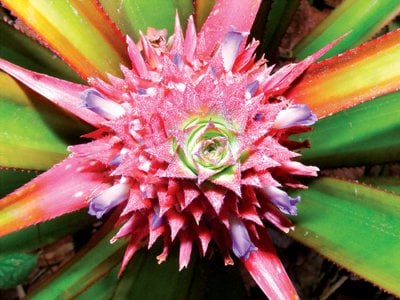 PHUKET: My local plant nursery has hundreds of colorful bromeliads hanging in small pots, the profusion of which is unusual since they are not that common in Phuket gardens.
One bromeliad that is exceedingly plentiful on the island is the pineapple. Normally grown solely for eating, its broad, spiky rosette of waxy, strap-like leaves set atop the characteristic oval fruit, are often visible beneath the shade provided by rubber tree plantations. And if you haven't seen them in situ, you will have noted the trucks stacked with pineapples that speed down the island's roads on a daily basis or the lorry-loads of fibrous leaves and stalks destined for elephant camps around Phuket.
The fruits are known as coalesced berries or berries that have fused into one fruit and are produced above a stout stem, three or four feet tall. Supposedly discovered by Christopher Columbus in Guadeloupe, the explorer pronounced it "delicious and freshing" to the taste. Named after its resemblance to a pine cone, the pineapple was the first bromeliad to leave the New World and nowadays is considered one of the world's favorite fruits. From its Carribean origins it has spread to every region of the tropics while Thailand has become the world's second largest producer of pineapples.
Ananas comosus, to give it its botanical moniker, is terrestrial rather than epiphytic.While most bromeliads grow precariously on trees, fallen branches or even rocks, and without the need for soil, the pineapple is normally planted in earth, and derives its nutrients from that medium.
However, it is shallow-rooting, so if you decide to cultivate it, try not to disturb the roots once the plant has taken. And remember that the mature plant is broad (two to three feet wide) as well as tall, so it needs plenty of space.
The normal method of propagation is from crown cuttings (the inedible top), or from side shoots in the leaf axils or suckers. Pineapples left longer in the ground will produce side shoots and eventually form new fruits.
Commercially, the pineapple is grown in a three-year cycle. A herbaceous perennial, it flowers after about twenty months, and bears fruit the following year. Farmers often use a black plastic sheet as a mulch, with holes cut for the young plants, in order to retard weeds, and retain heat and moisture.
As befits such a popular plant, there are now a host of cultivars, mainly aimed at the creation of sweeter and less acidic varieties. Hilo and Natal Queen are especially common, the latter adapting well to Phuket's climate. While the fruit is deservedly popular on account of its sumptuous flavor, it is a rich source of both manganese and vitamin C. It also is a rich source of fiber, and also contains an enzyme, bromelian, which can be used to tenderize meat.
Pineapples make an attractive, as well as useful addition, to your patch. But if you do not want to grow the common or garden edible variety, there are also ornamental ones which can be obtained. Of these, the best known is variegata, which has handsome-striped leaves with deep pink or red spines along the margins. It can usually be found in good garden centers, often in a plastic pot. Like most bromeliads, it will grow quite happily in such conditions, and can be suspended from a structure such as a trellis or tree if you so desire. However, it will not grow as vigorously as the edible variety.
Phuket gardening tip of the week: Wildlife
Making your garden attractive to wildlife – including small birds such as sunbirds and bulbuls as well as butterflies, toads, lizards, frogs and skinks is primarily a matter – as for humans – of providing shelter, water and food.
It's also important to avoid using chemical pesticides. Emphasize native plants in your garden, as they are familiar to the wildlife and adapted to your climate.
Specifically, you might consider planting dense foliage trees for nesting, installing a birdbath, a pond, nesting boxes, a bird table or feeders, growing hedges and of course flower borders.
Butterflies and bees love buddleias, abutilons, lantanas, hibiscus, caesalpinias and yellow bells (tecoma stans) to mention but a few. All these have nectar producing flowers, and are thus equally attractive to nectar feeding birds.
All the more important to provide such an environment as green spaces continue to disappear.
Phuket Gardening is Phuket Gazette columnist Patrick Campbell's feature of all things flora.
If you have a question or a garden that you would like featured, you can email Patrick Campbell here.
Keep checking our online Phuket Lifestyle pages for regular gardening features and tips.

— Patrick Campbell
Thai Life

Join the conversation and have your say on Thailand news published on The Thaiger.
Thaiger Talk is our new Thaiger Community where you can join the discussion on everything happening in Thailand right now.
Please note that articles are not posted to the forum instantly and can take up to 20 min before being visible. Click for more information and the Thaiger Talk Guidelines.