Phuket Books: 'State of Wonder' by Ann Patchett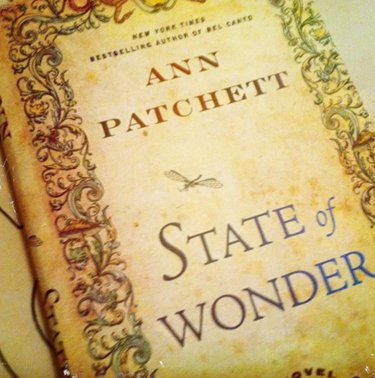 PHUKET: Ann Patchett's seventh novel State of Wonder (Harper Collins, New York, 2011, 353pp) made a big splash upon publication, with many critics comparing it to Joseph Conrad's Heart of Darkness.
This is nonsense. Comparing Kurtz, the cruel conqueror of an African tribe in the heart of the Congo, to Dr Annick Swenson, an elderly, eccentric and cleverly mendacious medical researcher in the Brazilian Amazon, is a stretch. And she's not that far from civilization – only a short boat ride from the capital of Manaus.
Still, this is a gripping read. Ann Patchett is a master of the novelist's craft and she lays out an intricate and convincing plot. She holds off introducing Dr Annick Swenson, surrounded by mystery and controversy, until the novel is one third underway.
The focus of the book – the Charles Marlow character – is Dr Marina Singh, a research biologist at a Minnesota pharmaceutical firm. Dr Swenson has been in the jungle for decades, searching for an Indian natural remedy that prolongs fertility into the fifties and sixties.
Dr Swenson's colleague, Anders Eckman, had been sent to bring Dr Swenson and her research notes back home, but Dr Swenson has written a cold and concise letter reporting that Eckman has died of a jungle fever. Dr Singh is selected and sent to replace him.
In Manaus, Singh is artfully put in her place by an array of characters dedicated to protecting Swenson's isolation.
Then, accompanied by a deaf-mute Indian boy named Easter, Swenson makes a dramatic appearance at the opening of Glock's Orfeo ed Surdice at the Teatro Amazonas, the legendary opera house that rose upon the Amazon's rubber boom at the turn of the 20th century.
"The building itself was the performance, the two long marble staircases curving in front, the high blue walls piped with crisp white embellishments, the great tiled dome that must have been torn from a Russian palace by a monstrous storm and blown all the way to South America – Marina thought of it as the line of civilization that held the jungle back. Surely without the opera house the vines would have crept up over the city and swallowed it whole."
Swenson's arrival is worth the wait. She is curt, imperious, majestic, eloquent – and a prodigious liar. As a surgical professor at Johns Hopkins, she had terrified Marina Singh. She does so again, over the course of weeks at her camp in the riverside village of the Lakashi tribe, as she deftly manipulates Singh and drops veil upon veil of deceptions.
Naturally, I won't reveal these. But Swenson's aim is to convince Singh to stay and take over her mission which she, in turn, had inherited from her own mentor and lover, the swashbuckling Martin Rapp.
There are plots within plots within plots, the momentum quickened by a looming presence of the cannibalistic Hummocca tribe: "Tribes are like countries. They each have their own national characteristics. Tribes like the Jinta are essentially Canadian. Other tribes, like the Hummocca, are more North Korean."
Singh yearns to be released from this dark world and return to the old, placid life in Minnesota.
"Trust me, you won't fit in there anymore," Swenson tells her. "You've changed. You've betrayed your employer, and you'll keep on betraying him, and that won't sit well with someone like you. I changed myself once; it was a long time ago but I changed. I followed my teacher down here too. I thought I was coming for the summer. I know about this… I wasn't like Dr Rapp, and still I took his place. You're not like me but you wait; you'll go back there and nothing will make sense to you anymore."
The final lurch of the plot is startling as we are transported in the space of two pages from the depths of the jungle to normal, sunny, suburban Minnesota. But the many moral questions raised in this deeply serious novel remain unanswered.
I suppose the most sincere form of flattery is to read more of Ann Patchett's novels, and I plan to do so.
— James Eckardt
Keep in contact with The Thaiger by following our
Facebook page
.
Out of 37 countries, Thailand has the worst pension system, says Bloomberg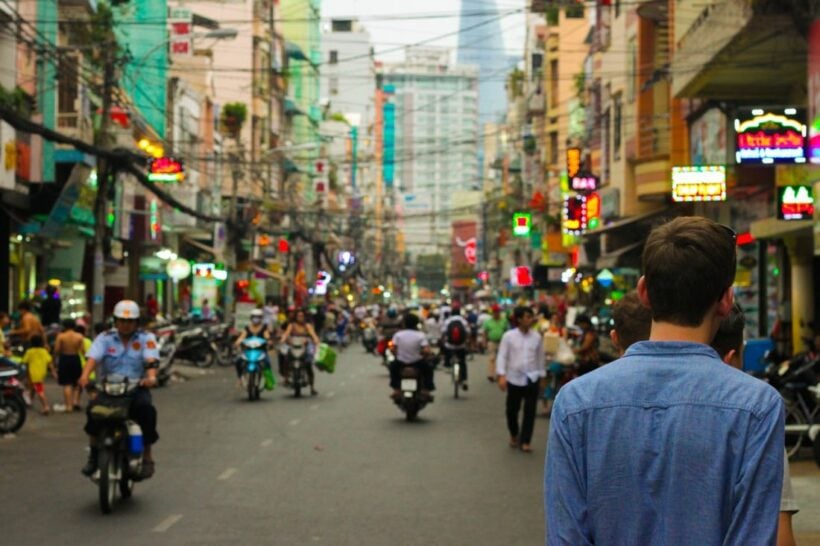 Thai Residents reports that on Sunday, Bloomberg published an article on the world's best pension systems, using information gathered from the 2019 Melbourne Mercer Global Pensions Index.
The survey looked at the pension systems of 37 countries with metrics including employee rights, savings, the number of homeowners, growth of assets, and growth of the economy. The purpose of the analysis was to determine what was needed to improve state pension systems and to gauge the level of confidence citizens had in their state pension system.
The Netherlands and Denmark were found to have the world's best state pensions, with Australia, Finland, Sweden, Norway, Singapore, New Zealand, Canada, and Chile next. Out of all 37 countries, Thailand finished last, with what the report described as an extremely ineffective and ambiguous system.
"Thailand was in the bottom slot and should introduce a minimum level of mandatory retirement savings and increase support for the poorest."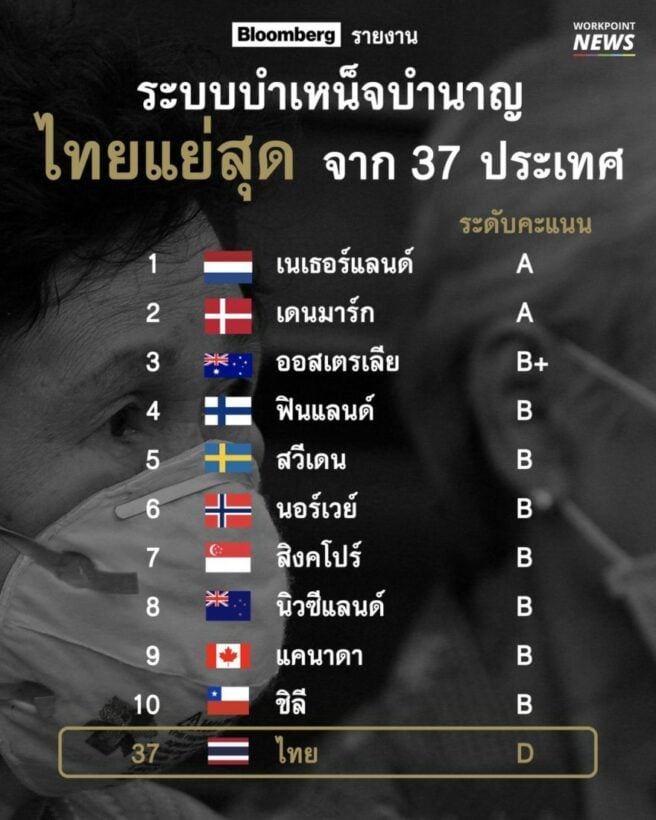 Photo: WorkpointNews
Thai Residents states that only those employed within the government system in Thailand are eligible for a pension based on salary. For most Thai citizens, pension amounts vary from 600 baht to 1,000 baht a month, depending on the recipient's age.
A report carried out by The Securities and Exchange Commission (SEC) advises Thai citizens to have at least 4 million baht saved by the time they retire, but Thai Residents reports that 60% of Thai retirees have less than 1 million baht in savings, with one in three citizens who have reached retirement age are forced to continue working in order to survive.
SOURCE: thairesidents.com
Keep in contact with The Thaiger by following our
Facebook page
.
Tax on salt content being considered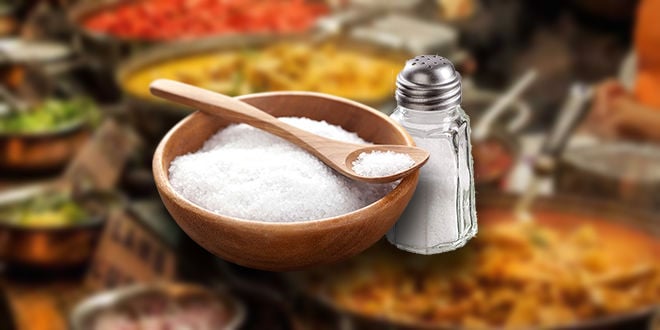 The Excise Department is considering imposing a tax on the salt content of food to encourage food producers to reduce the sodium content of snacks, instant noodles and seasoning cubes.
The director of the Office of Tax Planning said that the department is discussing a limit on the amount of sodium food can contain, in line with the standard set by the World Health Organization (WHO), which is 2,000 milligrams of salt per day.
In reality, Thai people consume an average of 1,000 milligrams per meal, making their daily intake well above WHO guidelines, according to the director.
He said any tax imposed would be at a level which would encourage food producers to reduce the sodium in their processed food without being punitive, adding that the proposal isn't intended to generate more tax revenue, but to help protect the health of consumers. Excessive sodium in the diet can lead to high blood pressure and kidney disease.
Fish sauce, soy sauce and salt would not be taxed.
SOURCE: thaipbsworld.com
Keep in contact with The Thaiger by following our
Facebook page
.
Water shortage warnings in 22 provinces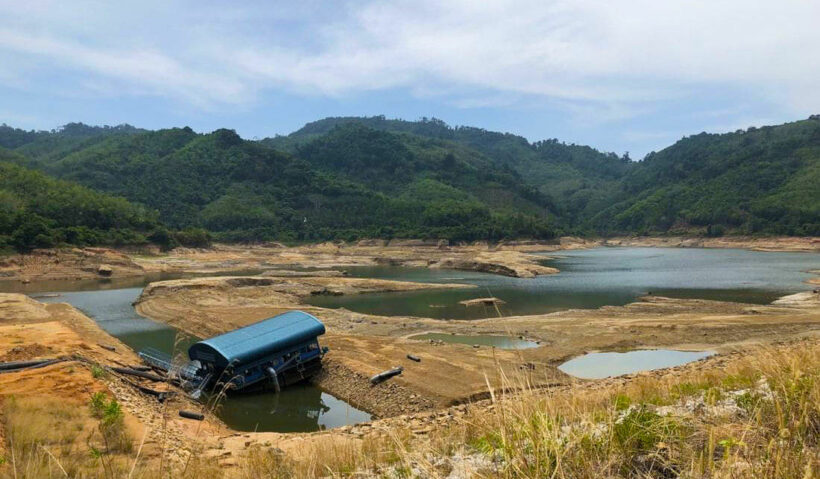 People living in 22 Thai provinces are being warned to prepare for shortages of drinking water during the upcoming dry season, due to start on November 1st.
The warning was issued by the National Water Resources Office, citing low levels in reservoirs, which are the main sources for tap water production waterworks in 22 provinces.
Areas at risk identified by the office are in northern, north-eastern, eastern and southern provinces.
Measures have been adopted by agencies charged with dealing with water shortages. including dredging water channels to allow greater volumes of water to flow into reservoirs, drilling underground wells, enlarging storage ponds and the purchase of water to supply to those in urgent need.
The Royal Irrigation Department has announced that people should use water sparingly.
There are currently about 6 billion cubic metres of usable water in reservoirs in the affected provinces, with 5 billion cubic metres reserved for consumption and ecological preservation, leaving only 1 billion cubic metres for use in agriculture.
This means farmers in the Chao Phraya river basin may not be able to grow a second crop of rice this year.
SOURCE: thaipbsworld.com
Keep in contact with The Thaiger by following our
Facebook page
.