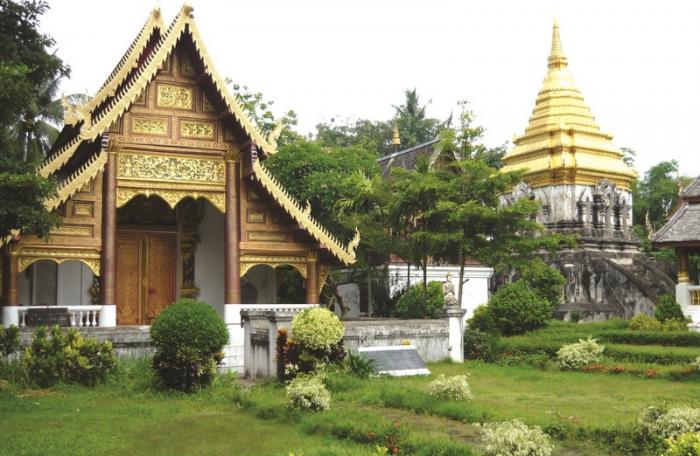 PHUKET: Chiang Mai has existed as a city for over 700 years. It is older than Bangkok and probably as old as Sukhothai. In the past, Chiang Mai was the capital of the Kingdom of Lanna, an independent kingdom rich in resources and unique in its culture and traditions.
The city was founded by King Mengrai, who came to the throne of a unified Tai state in the north. Mengrai was a good king and shrewd general. He managed to carve out a kingdom of his own by conquering Muang Lai, Chiang Kham and Chiang Khong. In 1262, he founded the city of Chiang Rai as his new capital.
In 1287, King Mengrai entered into a peace agreement with King Ngam Muang of Phayao and King Ram-khamhaeng of Sukhothai. It was a historically significant peace agreement that bonded the three in a strong pact of friendship.
In 1291, King Mengrai waged war on the Kingdom of Haripunchai. Yi Ba, the last Mon King of Haripunchai, was forced to flee to Lampang. With his victory, King Mengrai added the rich lands of Haripunchai to his territory. In 1294, the king decided to relocate his capital from Chiang Rai. He chose a site, which is today known as Wiang Kum Kam, a historic settlement and archaeological site situated along the Ping River. However, even back then, the city was prone to flooding.
King Mengrai looked to move his capital once again. This time, he invited King Ngam Muang of Phayao and King Ramkhamhaeng of Sukhothai to help design and build a suitable city, which would serve as the seat of power for his kingdom.
The three kings helped build the city and named it Nopburi Sri Nakhon Ping Chiang Mai, the 'Chiang Mai' meaning 'new city'. Over the years Chiang Mai grew to become the most powerful city in the Lanna region. According to an ancient stone inscription found at Chiang Man temple, one of the oldest temples in Chiang Mai, Chiang Mai city was built on April 12, 1296.
By the end of the 15th century, a new power had emerged in the region. The Kingdom of Ayutthaya was expanding and had conquered the city-states of Sukhothai, Kamphaeng Phet and Phitsanulok. Before long, Ayutthaya was waging war with the ancient Kingdom of Angkor. Once a great empire, it was now in decline. Ayutthaya grew to fill the power vacuum in the central plains of Siam.
In 1441, political instability in the north gave Ayutthaya an opportunity to invade the Lanna Kingdom. However the new king, Tilokkarat, would prove to be one of the most capable rulers in Chiang Mai's history. Under his rule, the northern kingdom fought back. The war continued for many years, with neither kingdom really gaining the upper hand.
King Tilokkarat was a strong patron of Theravada Buddhism. He renovated many Buddhist temples in his kingdom. During his reign, the northern kingdom expanded vastly. A city wall and moat was built around the city of Chiang Mai to protect it from attacks. Lanna would always have a bitter relationship with its southern neighbor Ayutthaya.
After the death of King Tilokkarat, Chiang Mai's Royal families feuded among themselves and vied for power. It was the start of a decline that would reduce the northern kingdom from an independent state to a tributary of Ayutthaya and, later on, Burma.
— Craig Burton


Join the conversation and have your say on Thailand news published on The Thaiger.
Thaiger Talk is our new Thaiger Community where you can join the discussion on everything happening in Thailand right now.
Please note that articles are not posted to the forum instantly and can take up to 20 min before being visible. Click for more information and the Thaiger Talk Guidelines.