Law and Order: Tangled Thai defamation laws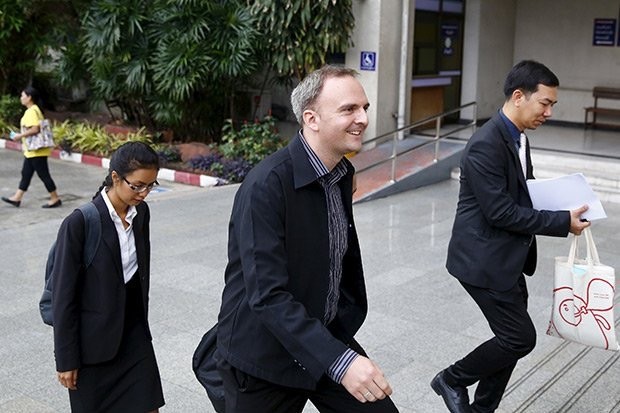 PHOTO: Rights defender Andy Hall goes on trial for criminal defamation & computer crimes
Living in the Land of Smiles you need to mind your Ps & Qs, as an expat, tourist, company or just about anyone actually. Thai defamation laws can be used to silence people, even in the most innocuous situations. It's different from the West and, living here, you need to have a basic understanding of the differences in the way deflation and slander works in Thai law. As a media publication it can be especially onerous preventing us from publishing any number of stories that we would like to, button't dare . Editor
Court cases over the past three years – the most notable the case against British national Andy Hall, Academic Dr Wyn Ellis, and local blogger Alan Morrison with his PhuketWan, reflect a peculiar aspect of the Thai criminal system. Unlike criminal court systems in most Western countries, a private person in Thailand can initiate criminal prosecution if they believe they are a victim of a crime.
In Thailand, people are able to access the criminal justice system through two channels. The most common way is for a private citizen to file a complaint with the police. The police gather evidence and submit the case to the public prosecutor. The public prosecutor determines whether to file formal charges after reviewing the evidence.
The second method is a private criminal prosecution. Under this method, crime victims have the right to file a case against the accused perpetrator. In cases where the victim is seriously injured or dead, the spouse or heirs can file the lawsuit. Generally, a private prosecution is faster, more focused and more efficient than a public prosecution because an attorney will assist in the investigation of the case to strengthen the victim's charge.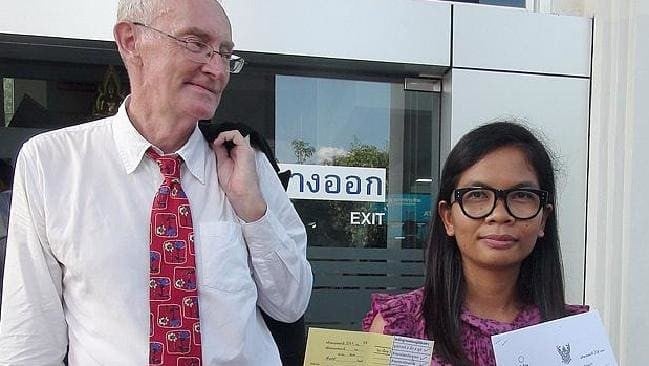 Phuket Wan journalist Alan Morison and his Thai colleague Chutima Sidasathian outside Phuket Court
(Read about their case, in their own words, HERE.)
Private prosecution of criminal cases helps to overcome several problems with the current criminal justice system. Firstly, there are limits to the number of cases that a public prosecutor can handle. Private prosecutions alleviate the shortage of prosecutors within the public system.
Secondly, there are problems with undue influence which may make public prosecution of certain crimes or charges against certain individuals unlikely. Private prosecution of crimes allows those types of cases to move forward even if they become an embarrassment to high ranking officials or other powerful individuals.
And thirdly, some crimes are just not a priority for public prosecutors. Once a public prosecutor has charged someone with a crime, he cannot allow a perpetrator to plea bargain to lesser charges to settle the case. So the prosecutor may be reluctant to file certain charges because he/she is not willing to see the case through to the end. In these situations, an injured party can still move forward to seek punishment against their perpetrator.
However, the system of private prosecution also brings a host of problems. Allowing private criminal prosecution can alleviate the manpower shortage in the public prosecutor's office, but it increases the burden on the court system. The processing of cases in Thai criminal courts can already take over a year.
There is also the problem with duplicate charges against the accused.
Andy Hall was acquitted of criminal defamation in a case filed by the attorney general's office last year. However, he is now being tried on the same charges through the computer crimes act by a private company. The fact that a public prosecution has been initiated or completed does not prejudice a victim's right to bring a criminal action on the basis of the same offence.
In addition, initiating a private prosecutorial action is generally limited to those who have the ability to fund private attorneys to file and prosecute their cases. Criminal legal prosecution can be very costly. There have been complaints that corporations and the wealthy have used private prosecution to silence critics. Criticising the wealthy and powerful can open up individuals to a costly legal action and possible imprisonment.
The private prosecution system is a tool. It can be used to bring about justice when government officials refuse to prosecute. However, it can also be used to intimidate to prevent disclosure of information or critical opinions. It is generally up to the courts to distinguish between justice and intimidation.
Additional reporting by Yutthachai Sangsirisap.
'One Night In Bangkok'. The song, 35 years later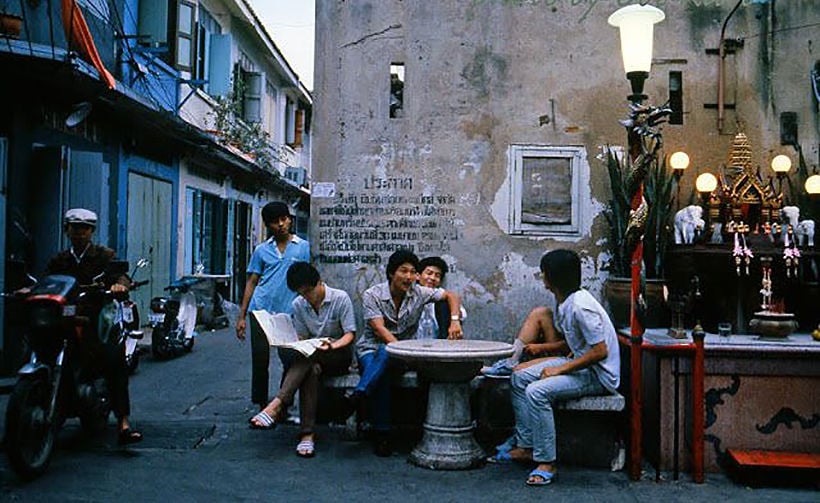 PHOTO: Doi Kuro, Bangkok 1980
When 'One Night In Bangkok' was released in 1984 it was an unlikely hit- the opening song from a (at the time) little-known stage pop-opera called 'Chess'. The song made Number 1 in South Africa, West Germany, Switzerland and Australia, and Number 3 in Canada and the United States. It has remained a staple of Classic Hit radio ever since. Have a listen below…
The musical was the first outing for the two 'Bs' in ABBA – Benny Andersson and Bjoern Ulvaeus. Their pop grooves had made ABBA one of the most famous music groups in the world between 1973 and 1982 with a string of hits including 20 singles in the Billboard Top 100 from eight albums, etc, etc. The lyrics of the song were penned by Tim Rice (Jesus Christ Superstar, Evita, Joseph and his amazing technicolour dreamcoat, Aladdin, The Lion King, Beauty and the Beast).
In the opening song of 'Chess', the American chess champion Freddie Trumper gets ready for a chess game with his Russian counterpart. He ridicules Bangkok's 'pleasures' and tourist attractions – the Chao Phraya River ("muddy old river"), Wat Pho ("reclining Buddha"), and the red-light distractions. The choruses are more complimentary.
At the time the sarcasm of the song didn't go down well with the Thai Mass Communications Organisation (now the NBTC) issuing a ban on the song in 1985, saying its lyrics "cause misunderstanding about Thai society and show disrespect towards Buddhism", a line still trotted out about inappropriate Instagrammers and their selfies in front of Thai temples.
Thirty-five years later the song still paints a picture of a contrasting 'oriental' city alive with lights (including red lights), colour, pungent smells, culture and history.
We're not sure if the ban was ever lifted but I hear the song played on Thai stations from time to time. At the time, when Bangkok was less on the tourist map than now, the song was a lone reference point for westerners.
How does it stand up thirty-five years after becoming a world-wide hit? Comment on our Facebook Page.
One Night In Bangkok
Bangkok, Oriental setting
And the city don't know that the city is getting
The creme de la creme of the chess world
In a show with everything but Yul Brynner (referring to the actor's starring role as the King of Siam in 'The King and I')
Time flies, doesn't seem a minute
Since the Tirolean spa had the chess boys in it
All change don't you know that when you
Play at this level there's no ordinary venue
It's Iceland or the Philippines or Hastings or,
Or this place!
One night in Bangkok and the world's your oyster
The bars are temples but the pearls ain't free
You'll find a god in every golden cloister
And if you're lucky then the god's a she
I can feel an angel sliding up to me
One town's very like another
When your head's down over your pieces, brother
It's a drag, it's a bore, it's really such a pity
To be looking at the board, not looking at the city
Whaddya mean?
Ya seen one crowded, polluted, stinking town
Tea, girls, warm, sweet
Some are set up in the Somerset Maugham suite
Get thai'd, you're talking to a tourist
Whose every move's among the purest
I get my kicks above the waistline, sunshine
One night in Bangkok makes a hard man humble
Not much between despair and ecstasy
One night in Bangkok and the tough guys tumble
Can't be too careful with your company
I can feel the devil walking next to me
Siam's gonna be the witness
To the ultimate test of cerebral fitness
This grips me more than would a
Muddy old river or reclining Buddha
And thank God I'm only watching the game… controlling it
I don't see you guys rating
The kind of mate I'm contemplating
I'd let you watch, I would invite you
But the queens we use would not excite you
So you better go back to your bars, your temples
Your massage parlours
One night in Bangkok and the world's your oyster
The bars are temples but the pearls ain't free
You'll find a god in every golden cloister
A little flesh, a little history
I can feel an angel sliding up to me
One night in Bangkok makes a hard man humble
Not much between despair and ecstasy
One night in Bangkok and the tough guys tumble
Can't be too careful with your company
I can feel the devil walking next to me
Songwriters: Tim Rice / Benny Goran Bror Andersson / Bjoern K. Ulvaeus
Palang Pracharath MP chastises Karon Police for not offering protection during condo visit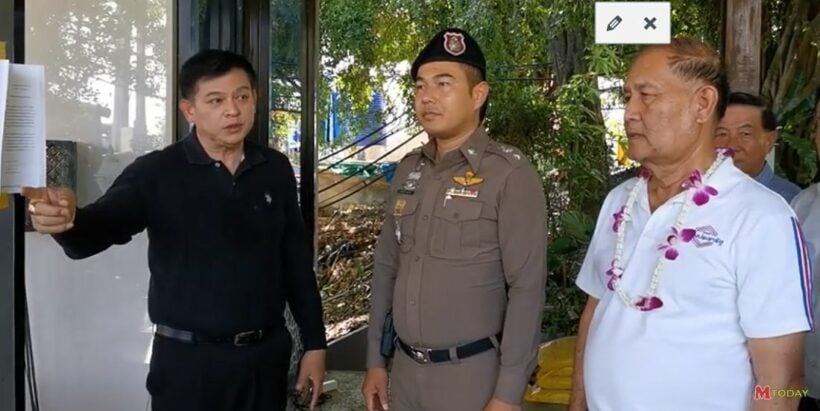 VIDEO & SCREENGRAB: M Today
The Palang Pracharath member of parliament from Bangkok, Sira Jenjaka, had an argument with Lt Col Pratuang Polmana, Deputy Superintendent of Karon Police during his inspection to the controversial Peak Condominium in the Karon area of Phuket.
MP Sira was surveying the construction site of the project and the sales office, which also serves as a coffee shop, where he saw Lt Col Pratuang inside.
He stopped there and asked why the Deputy Superintendent didn't send any officer from Karon Police Station to provide security for him, a standard protocol when parliament members visit a specific area.
The MP had publicly stated he had received death threats for revealing 'problems' with the 'paperwork' for the Phuket condo project that he claims has been built on land without the proper documentation.
Lt Col Pratuang said that he already prepared a team of officers to provide security for the MP but they were waiting for a confirmation. Then the MP asked his team to record a video of the conversation and said that, while he was not threatening anyone, he believed the police must respect and offer protection for a government MP who comes to work in the area, which was then followed by an argument.
There was a "middleman" who eventually separated the Deputy Superintendent and pulled him aside to calm him down. The 'police whisperer' then came back to apologise to the MP before they went inside the coffee shop for further private talks.
Read the original article about the allegations against Peak Condominiums in Karon HERE.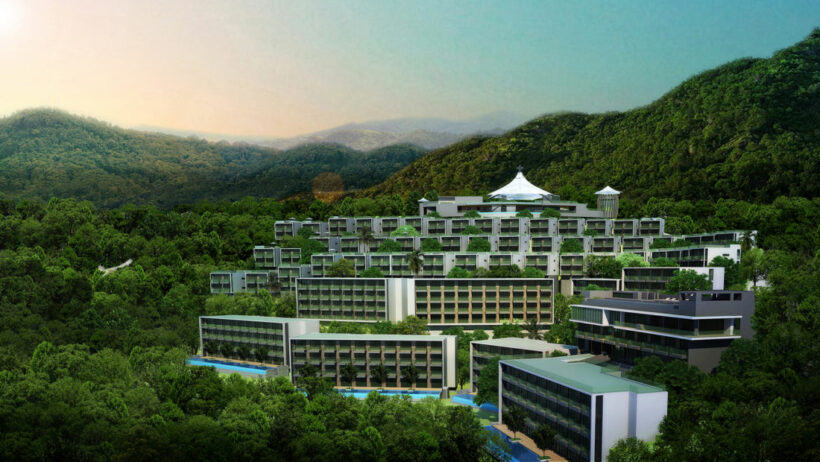 The Peak Condominiums in Karon, currently under investigation after allegations made by Government MP Sira Jenjaka, who claims death threats have been made against him over the matter.
Thai foreign minister criticises visa waiver proposal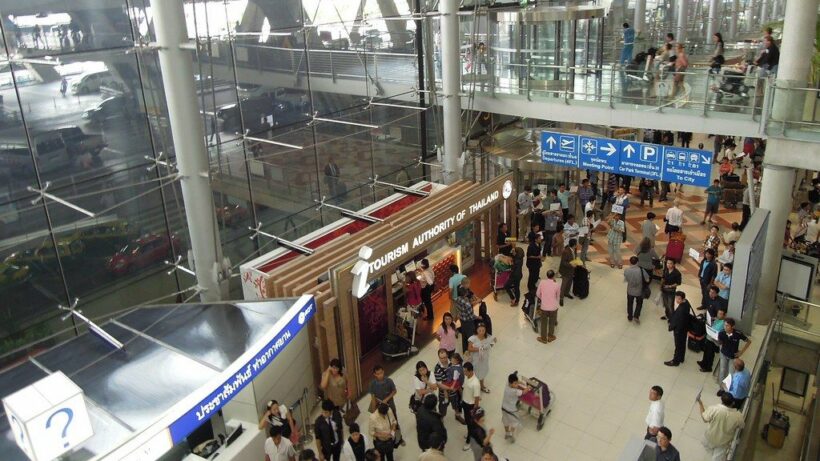 The Foreign Ministry opposes the Tourism and Sports Ministry's proposal to waive visas for Indian and Chinese tourists, calling it a "risk to national security". The proposal was put forward at a meeting last Friday, as part of a series of measures to boost the economy through an injection of over 300 billion baht in tourism.
It would permit Chinese and Indian nationals to remain in Thailand for up to 30 days, 15 days without a visa, with hopes of boosting numbers from those countries. However, it could cost about 12-13 billion baht a year in lost visa fee revenue.
Approximately 11 million Chinese tourists will have visited by the end of this year, along with 2 million Indian visitors, and Indian numbers are expected to grow to 3 million next year.
However, Foreign Affairs Minister Don Praramudwinai has written to the PM to oppose the plans, arguing that the visa stamp helps with visitor screening and national security.
With a population of more than 1 billion each, there is also concern about how Thailand would cope with a huge surge in Chinese and Indian visitors. The ministry argued that many may see it as a chance to escape hardships in their own countries.
Minister Don added that visa requirements are not solely to blame for an economy hampered by a strong Thai baht and the US-China trade war. He suggests that waiving visas for Indian and Chinese visitors could make managing tourist arrivals chaotic.
He voices concern that the Thai embassy in India has detected false documents provided by some visa applicants. However, an immigration officer at one of the country's international airports was unconcerned about the proposal, saying Chinese and Indian tourists rarely overstay their visas.
SOURCE: The Bangkok Post