Cleaning the concrete and paving in Thailand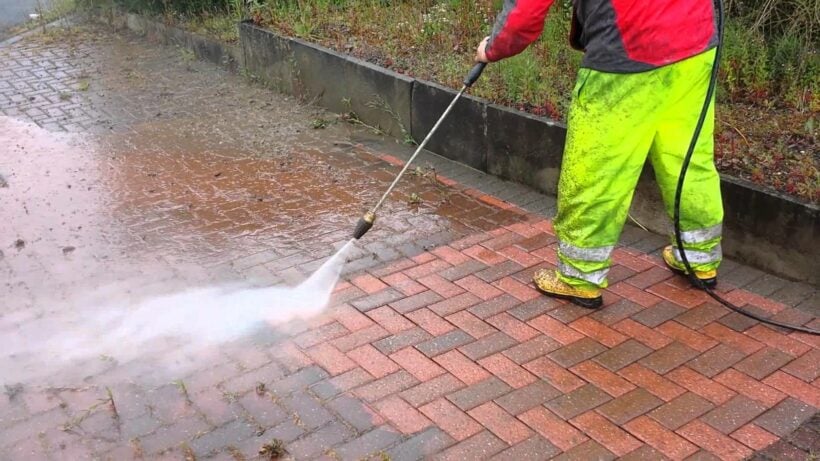 With the wet season comes the rain. And with the rain, plus the ongoing hot weather, mould and algae growing on all our outdoor walls and paving.
Rain + algae + mould looks awful and can be very slippery. Stains can also make your investment look old and unwanted. Black mould can cause allergies for some people
You have two choices. Maintain them yourself or get someone in to do it for you. If you would like to save a few baht and do it yourself here are a few proven methods.
Before you even start a few warnings. Don't use any of these cleaning methods on a large area before you're completely sure it's going to work. Try out your chosen method on a small area first to check that it won't harm the surface and that it actually does the cleaning you expect.
Also, ask around. Many houses in Thailand have concrete, aggregate, paving and tiling outside so we all have the same problems. See what's worked with others around your area. Also be aware some of the chemicals can be dangerous for you and for the environment. There's plenty of alternatives these days that are safe and effective.
Whilst there is no magic solution, keeping up regular maintenance is your best answer. Doing a quick, regular clean is going to be a lot easier than, say, an annual clean where it just becomes a lot of hard work, or expense. And messy.
Before you do anything else move all the furniture away, clear the area and make sure any weeds are removed before starting.
Bleach
Beach will remove stains from practically anything. Since pavers and aggregate surfaces are mostly made of concrete, bleach can be a good way to remove stains, black mould and algae from them, if used correctly.
Diluting the bleach is extremely important if you want to protect the color of your patio or driveway. Mix half a cup of bleach with around 5 cups of water, and add a spoonful of dish-washing liquid to it. Bleach is quite dangerous and shouldn't get in contact with your skin. Wear gloves. It's also generally toxic for plants so don't use it around lawns or garden beds.
Spray this using a spray bottle on the surface and let it soak in for 15-20 minutes depending upon how dirty the surface is. A little bit longer for stubborn stains and really long-term build ups of mould.
Scrub the pavers with a brush that has nylon or natural bristles. Rinse off the solution with water – high-pressure water cleaner will add some muscle to the chemical reaction. Let your pavers dry in the heat.
Chlorine
Yeah, the stuff they put into your swimming pool to keep it free of nasty bacteria and the water clean. Chlorine can also be used to clean your patio or driveway, especially the black mould, moss and algae.
Mix chlorine and water (10% chlorine, 90% water) in a spray bottle. Spray the mixture on the paving thoroughly and evenly, and let it soak in for 10-30 minutes minutes. Follow up with scrubbing the pavers to remove any excess dirt or particularly stubborn stained areas. like with the bleach, use gloves and protect your skin from coming into contact with the chlorine. Also make sure that you've got good ventilation around the area (your very probably outside anyway).
Chlorine is toxic for you and your plants. If it splashes on your clothes you'll most likely get bleached splotches so don't wear your latest Armani purchase whilst using chlorine (same with the full-strength bleach).
Vinegar (acetic acid)
It stinks but vinegar is one of the best choices you could make to clean your concrete pavers and paving. It's non-toxic and a better alternative around pets and kids.
Spray full-strength vinegar using a spray bottle on the affected parts of the patio or driveway. Let the vinegar soak in completely – say a good 60 minutes or so. Then spray the paving with a mixture of soap and water and scrub with a brush to remove any dirt that may have been overlooked by the vinegar.
Better to use white vinegar as it doesn't stain.
Soap and Water
This simple combination of soap and water is a safe, reliable combination but needs a little 'elbow grease' or mechanical assistance to get the same results.
Start off with a high-pressure washer. Use this first to remove the worst of the stains, mould and algae. Then apply the detergent and water and scrub the rest by hand. Doing this removes the rest of the grunge and goo. These magic machines will blast off just about any mould, mildew or moss. WARNING: Don't put your hands or anybody else close to the high-pressure stream of water and air!
With high pressure cleaners, at this stage, we haven't found any places where you can rent these units for an afternoon. But, if you're going to be doing regular cleaning yourself the investment is quite reasonable – you can pick up a fairly good one for 5,000 baht. They're always on display near the front of most Home Pro or Thai Watsadu stores. Better still, ask the neighbour if you can borrow theres and buy them a nice bottle of wine as a thank you 🙂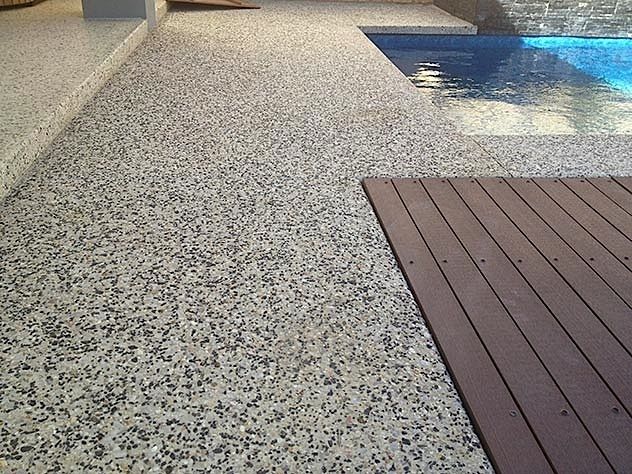 A few other things
For fresh oil or grease stains use baking soda and apply it to the stains. Leave it for a good hour. Remove the baking soda then apply again of the oil or grease stains are bad.
There's nothing better than regular cleaning. Even if you just regularly sweep the pavers, or spray them with water, it will help prevent the spores settling and starting to grow.
Once all bright and shiny consider using a paving sealer. They are readily available, easy to apply and make the cleaning a lot easier as the spores, grunge and dirt won't sink into the porous paving surface.
Try one, try all methods. Tell us which works best or any other methods you've tried with success or the ones that have been a complete failure.

The rise of the mixed use retail development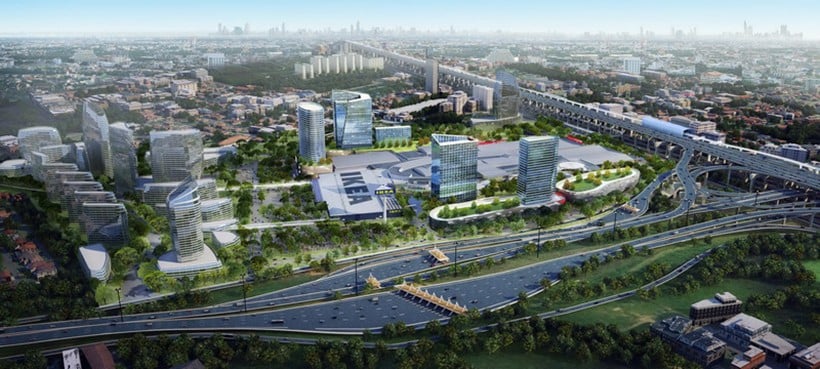 As our lifeststyles continue to change and morph along with technological and social evolution, so too our living spaces and the locations we choose to live. Behavioural changes among urbanites have led to the rise of mixed-use projects in Southeast Asian countries, according to property experts.
Christian Olofsson, shopping centre & mixed-use director of IKEA/Southeast Asia, told The Nation that the competitive environment in the retail industry precipitated the new format of incorporating non-traditional elements into a retail complex. Development of mixed-use retail properties is growing with the inclusion of residential units, entertainment revenues and healthcare facilities in a single site.
Catering to the needs of today's consumers and staying relevant is the goal of the re-think among major players, Olofsson said. The new strategy could bring higher return on investment if the developer optimises the opportunity and is able to better meet the needs of modern consumers than are single-use developers.
The concept is less risky as it comes with a greater variety of revenue sources. It can also help average out the land costs by integrating a mix of components with different types of incomes.
Given the positives, IKEA decided to develop a mixed-use project – Mega City – next to Mega Bangna, Olofsson said.
According to a report by the Council of Tall Buildings and Urban Habitat, 451 tall building are listed as under construction globally until 2025, of which a third are mixed-use projects combining hotels, residential units, offices, service apartments and retail outlets. In Southeast Asia, excluding Thailand, 16 mixed-use projects are currently under construction – eight in Malaysia, five locate in Indonesia, and one each in Singapore, Vietnam and the Philippines.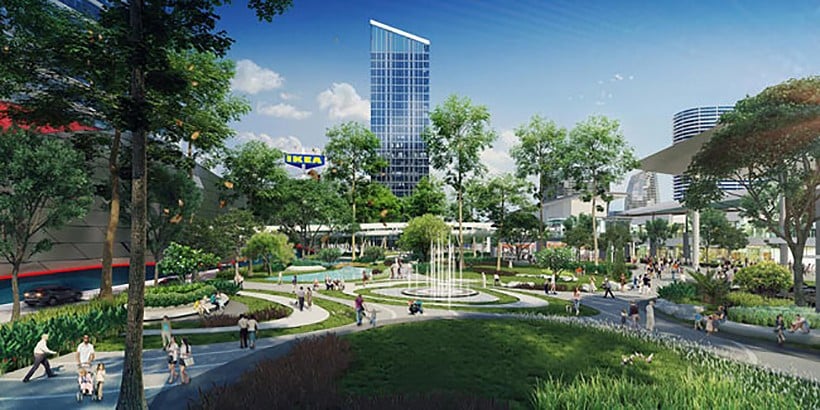 The Council on Tall Buildings and Urban Habitat is the world's leading institute on the inception, design, construction and operation of tall buildings and future cities around the globe. Founded in 1969 and headquartered at Chicago's historic Monroe Building, the council is a non-profit organisation with its Asia headquarters at Tongji University in Shanghai, a research office at Iuav University in Venice and an academic office at the Illinois Institute of Technology in Chicago. It facilitates exchanges of the latest technologies for tall buildings through publications, research, events, working groups, web platforms, and an extensive network of international representatives.
James Pitchon, head of Research and Consulting at CBRE Thailand, said it is not possible to develop a single-use project on a large site, citing the likelihood of oversupply in the local market, be it an office or residential project. Developers of large sites need a range of diversified incomes, he added.
Consumers like the convenience of having a range of facilities in one place that are easily accessible in a climate control environment. Having easy-to-reach retail outlets and a hotel in the same complex appeal to office tenants, especially for the convenience of foreign clients and visitors.
Thais are also open to the idea of staying in a condo next to where they work and play, provided it comes with privacy and exclusivity along with the convenience, Pitchon said.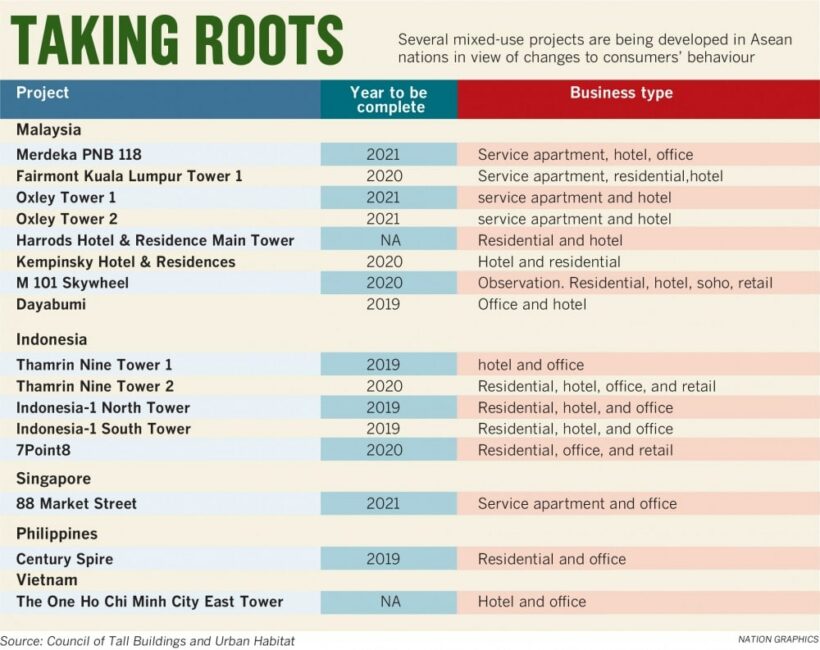 A JLL research said that the growth of mixed-use projects in ASEAN (the Association of Southeast Asian Nations) began to take off amid infrastructure development and changes to consumer behaviours in the region. The association marked its 50th anniversary last year and the region is gearing up for greater growth and investment.
Already powerhouses in the wider region, Southeast Asia's economies are projected to grow at an annual average of 5 per cent until 2020. The real estate industry stands to benefit as demographics and market size draw further investments, given the manufacturing and logistics advantages. The upgrade in ASEAN infrastructure, especially the advancement of high-speed rail networks, will attract development of mixed-use projects connected to the train stations, as is the case in Japan and Hong Kong, the research said.
Find more than 30,000 properties for sale in Thailand at property.thethaiger.com

SOURCE: The Nation
Buying off plan? A few things to consider.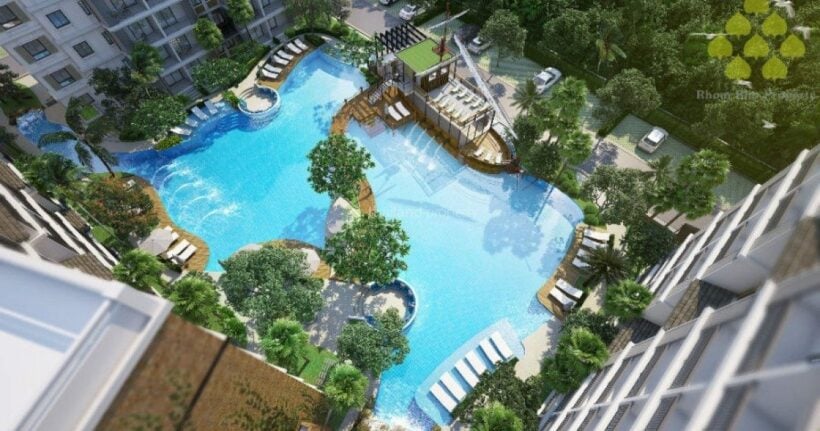 Many developers offer units and condo "off-plan" for sale at an early stage of the project development, even before the first brick has been laid. The lure is usually a lower price and getting the pick of the best location in the development.
Some of us may not be familiar with the term "off-plan". Generally speaking, buying off-plan means buying units which exist only on the drawing table, construction of the project may not even have started. Off-plan sales are offered by developers as they often need to sell their product fast by pricing units extremely low in order to achieve fast and valuable finance to proceed with constructing their development.
Purchasing an off-plan unit may have considerable advantages compared to an investment in a completed project. Early birds may benefit from a significantly reduced price, which makes such off-plan purchases extremely interesting from an investment perspective as such units may rise in value during construction, even prior to completion.
Smart payment plans, typically a minor deposit payment, followed by a 30% first installment and a high final payment upon title transfer, allow buyers to effectively secure a high-value asset for a relatively low initial capital outlay. Furthermore, purchase at an early stage of a project ensures that a buyer can choose the best located units in order to satisfy his individual requirements as well as a future buyer in regard to a resale.
Buying off-plan also offers the chance to "flip" a unit prior to title transfer by way of assignment of the buyer's rights under his/her sale and purchase agreement, which allows investors to save on transfer fees and taxes that occur from title transfer.
Summarised, such off-plan investment may create a "win-win" situation for both buyer and seller: buyers obtain a low price for a quality product with high resale value and sellers are able to receive fast project finance.
However, in order to secure your investment, due diligence should be ALWAYS be carried out to minimise risks and to prevent you from a worst-case scenario – a total loss of your invested funds. Basically, such due diligence should be conducted by a reliable and reputable law firm, whereby appointment of additional experts, such as a surveyor, might be recommended depending on individual requirements.
The importance of such due diligence, particularly when buying off-plan, in part arises from the fact that extremely important points – such as secured access, lawful title to the project's land, as well as an
accurate application for the required construction permit or licenses – may not have been accomplished, completed or sufficiently verified by a developer.
Additionally, the financial stability of a developer offering such off-plan sales should always be of concern. In this context, the fullest attention should be paid to the reliability and track record of the developer. A professional real estate agent, representing only well reputed developers and ideally having the financial backing of big investors, can be the first credentials to look for to separate the wheat from the chaff.
Simply put, off-plan buying can be an interesting and promising investment, but extensive market research, awareness for potential risks, comprehensive due diligence as well as consideration of generally accepted risk management is mandatory to find the right product, which seems not only to be a bargain, but also fits with your personal requirements on a safe investment.
Select from over 7,000 properties in Phuket at property.thethaiger.com
This article was written by International Law Office Patong Beach. For any questions you can contact ([email protected]) or call ILO's office 07 6222 1915.
Buying property in Thailand – the basics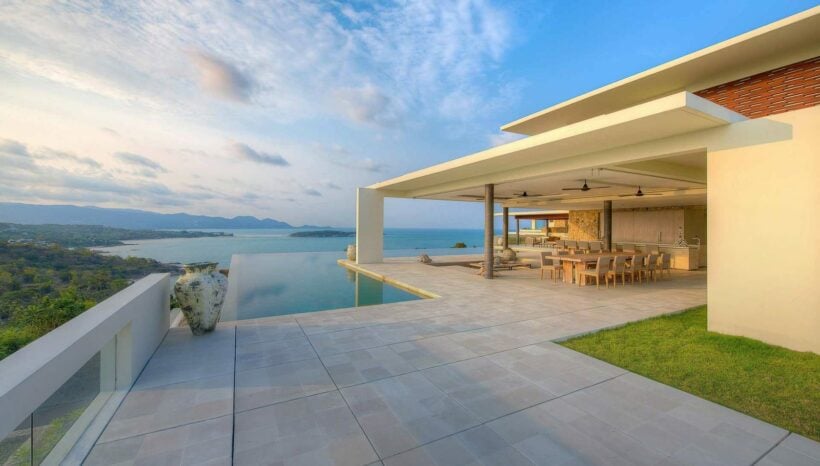 by Kevin Hodges
There are many, MANY properties for sale in Phuket and around Thailand. In a market that has peaks and troughs it's best to buy in partnership with respected sales agents who know the current market and can help you avoid some of the common pitfalls.
Buying property in Thailand is not straight forward, so you will need sound, professional advice which acts in your best interest. It can be a confusing experience due to laws, regulations, the language barrier and the many choices.
Real estate brokers in Phuket have the largest selection of property, land and long-term rentals – they have sales teams that are both foreign and Thai and can speak a variety of languages. property.thethaiger.com has over 30,000 properties listed in Thailand, over 7,000 in Phuket alone.
With a vast array of properties available, it is important to short list to maximise the use of your time and avoid viewing unsuitable properties by narrowing down choices.
Brokers act as a liaison between the buyer and seller, and the good news is that the buyer pays no broker fee – it is paid by the seller in Thailand. Here's how it works.
Research
Brokers will work closely with buyers to compile a focused and realistic brief, which takes into account a buyer's requirements and preferences relating to the budget, style, condition, size and location of the property. They can advise on the different locations and options available.
Short List
A broker will preview and shortlist suitable properties – this saves a buyer valuable time as the broker will only show properties that he or she has first previewed and that meet the buyer's requirements.
Property Tour
Brokers accompany buyers on viewings to show the shortlisted properties. Once a suitable property has been identified, they provide an objective overview so that you are equipped with the knowledge to make an informed decision.
Negotiation
When the right property is found, the broker will assist both buyer and seller in negotiating a favorable price and terms.
Payment
A reservation agreement and nonrefundable reservation deposit of usually 2 per cent to 5 per cent is placed with the broker in the client's account. This removes the property from the market, so no one else can buy it prior to the signing of the Sale & Purchase Agreement (SPA). Upon signing the SPA, 30-50 per cent of the price is usually required with the outstanding amount to be paid upon transfer of ownership.
The buyer should, at this time, ask how the seller wishes to receive payment – inside or outside of Thailand – to avoid bringing in funds when payment is required elsewhere. If funds are required in Thailand, a TT3 form must be completed for the amount required.
Conveyancing
Once the price is agreed and the reservation deposit is put down, the broker will introduce you to a reputable lawyer who has experience in property conveyance. The lawyer will use that expertise to ensure that the process runs as smoothly and quickly as possible.
Kevin Hodges – originally printed in Phuket Gazette.