Taste of East and West in the North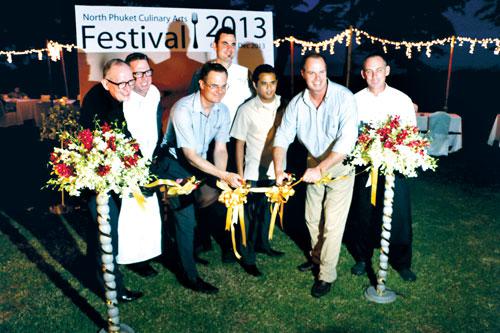 PHUKET: We are prisoners of convenience. Why explore distant locations if our island offers all we need and just around the corner? In Phuket you're never too far from amazing beaches, stunning sunsets and delicious food.
Sometimes though, it's worth making a little effort to find an excuse to explore a bit, get off the beaten track and try something new. Recently an excellent excuse was provided in the form of the North Phuket Culinary Arts Festival.
The combined efforts of four top resorts, all located next to Phuket's longest beach, Mai Khao – Sala, Renaissance, Anantara and JW Marriott – resulted in three nights of culinary delight and a chance to explore the lesser known, but no less amazing, parts of our beautiful island.

Night one – The Longest Table
It's not only what you eat – it's where you eat. And the setting for the "Phuket's longest table" event was simply stunning. The 300 meter long table, stretching between Renaissance and Sala resorts, amidst the flickering light of bonfires, a fully operational bar masterfully carved out of ice and the sound of waves gently caressing the nine kilometer long beach, presented a view to remember.
But once the table filled with food, that was where our focus went. Many of the dishes' names sounded quite familiar and are available on street corners of Phuket Town or Bangkok. But it took just a bite to realize that the chefs took the everyday Thai food to a completely new level.
"This is street food but with a twist. We have really highly educated executive chefs, who have played with local food and made their individual adjustments. That's how they're upgrading local food to gourmet food," said Goetz Bauer, General Manager of Renaissance Resort and Spa.
"If you look at the product quality, that's where you will really find, in the detail, the difference. Where is the meat really coming from? How is it presented? What kind of oils do they use and what salt are they adding on?" added Jon Ashenden, the regional general manager for SALA resorts Phuket and Samui.
So you might say it's just another beach – but it's not, it's nine kilometers of unspoiled beauty. You might say it's just Thai food – but it's not, it's Thai cuisine at it's best. And you might say it's just Phuket… well, it is, and this is what makes it special.

Night two – Thai Seafood Feast.
The culinary tour de force continued on Saturday night at Anantara Resort and Spa, with a bewildering array of local seafood on offer to guests – all bursting with the spicy, fresh flavors characteristic of Thai cuisine. The abundant Thai-style seafood dishes were complemented with colorful performances by Thai dancers accompanied by a traditional phipat musical ensemble.
The weather was kind and the hundred or more guests seated at the tables on the expansive beachfront lawn at Anantara were free to peruse the dozen or so salas to sample some of the delicious dishes on offer. The queue for the freshly shucked oysters was quick to fill up, with the chefs racing to serve the delectable shellfish to diners.
Crabs were also a popular selection, for my money the soft shell tempura crab salad with watermelon and watercress was a must have, but the crab curry was equally tasty and popular. Whole beds of fresh black and green mussels served with fragrant spices quickly filled plates and stomachs, along with the always popular pad thai goong which fairly teemed with juicy prawns – in a delightful stroke of presentation, the latter was served in cute paper take-away boxes.
There were too many fabulous dishes to mention here – stuffed squid, fish curry, salads and many more – all wonderfully displaying the rich heritage and complex flavors of Thai cuisine. To top it all off were khanom – traditional deserts made from flavored coconut and rice – and crispy crepes served piping hot, with your choice of fillings. Every dish of the night was a testament to the skill and talent of Anantara's hard-working chefs and kitchen staff and demonstrated their depth of knowledge of Thailand's culinary heritage.
Night three – The Best of the West and the Feast of the East
The momentum for fine dining and culinary excitement peaked on night three when the JW Marriott Resort and Spa showcased their fine cuisine from all six of their restaurants.
Food and Beverage Director Joerg Delin, himself a five star chef, explained:
"For the past three years, we presented a Sunday brunch during the festival but this year we decided to deliver a top dining experience with food stations set around our lotus pond."
On display were succulent meats normally found at the upscale Andaman Grill and handmade pastas from the recently renovated Cucina fine Italian restaurant. Ginger restaurant provided many selections of traditional Phuket cuisine and Indian chicken and fish kabobs enhanced with South Asian spices were on offer.
Executive Chef Dietmas Spitzer presented a table of exotic seafood that had all 380 diners lined up for hard to find, bright red Boston lobsters.
"For this special festival, we imported 240 kilos of Boston lobsters, which costs 1000 Baht per kilo, in addition to a small mountain of fresh oysters, crab and smoked salmon."
There was almost too much fine cuisine on offer, leaving many guests spoilt by choice.
A special attraction was the resort's Kabuki Japanese restaurant, where guests could find Chef Suwat Impradab's array of incredibly fresh sushi and sashimi. He was trained in Japan and also directed the cuisine produced at the teppanyaki tables, which for this festival also offered tastes from Mongolia. Of particular delight at Kabuki was a fresh, enormous yellow fin tuna that was expertly sliced for the waiting guests.
Cocktails and wines and bubbly delights were freely poured. Guests were also delighted by the Marriott's signature Water and Fire show with dancers moving through the resort's lotus pond set to rhythmic drumming.
Extravagant is the best word to describe the evening produced by the JW Marriott for the North Phuket Culinary Arts Festival.
With the success of this year's Culinary Arts Festival, North Phuket's top resorts have once again proved they are a force to be reckoned with on the island's competitive dining scene. So if you want to sample some of Phuket's best food, prepared by ultra-talented international chefs – North is the direction to go! You'll be glad you did.
The Phuket Gazette and PGTV are proud sponsors of the annual North Phuket Culinary Arts Festivals.
Keep checking our Lifestyle pages for the latest happenings across Phuket. Alternatively, join our Facebook fan page or follow us on Twitter.

Join the conversation and have your say on Thailand news published on The Thaiger.
Thaiger Talk is our new Thaiger Community where you can join the discussion on everything happening in Thailand right now.
Please note that articles are not posted to the forum instantly and can take up to 20 min before being visible. Click for more information and the Thaiger Talk Guidelines.