Thailand, the land of festivals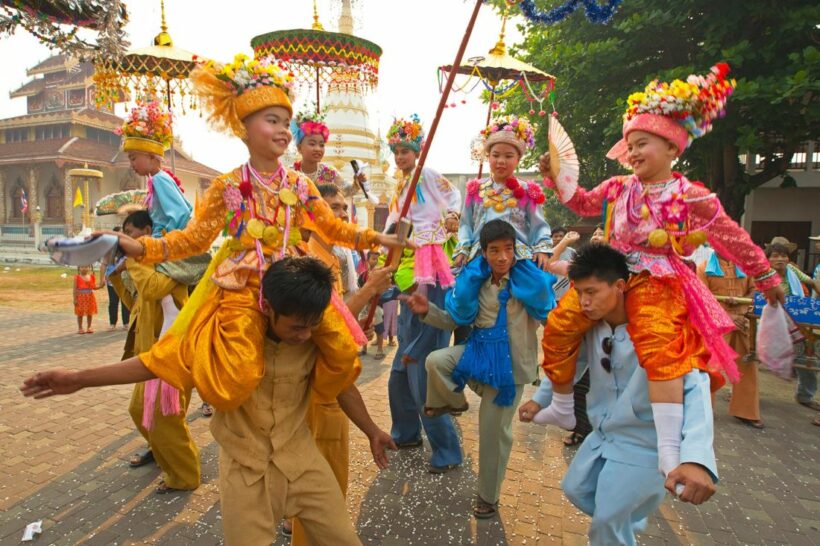 Fireworks, colour, smoke, noise, costumes, absence of occupational health and safety. That could describe any of the many, many festivals held around Thailand each year. Different regions, different festivals. Some reflect an ancient culture and a rich history, other make absolutely no sense but we enjoy them anyway. We'll go through some of the main ones and a few you'll NEVER see anywhere else in the world.
We'll start with Songkran because that's the start of the Thai new year. It's held on April 13. Having already blown most of the budget on fireworks for the western new year on January 1 and the Chinese New Year festivities, this time they use water as a means of 'purification', saying goodbye to the country's hot season and welcoming the monsoonal rains. It involves a lot of water. In the past it was a gentle festival held at temples washing Buddha images.
It's meant to be like this…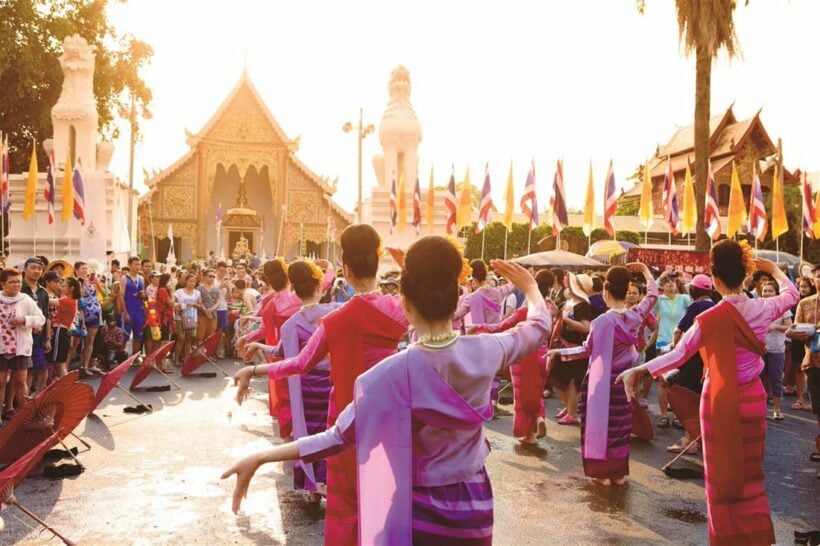 But it's actually like this!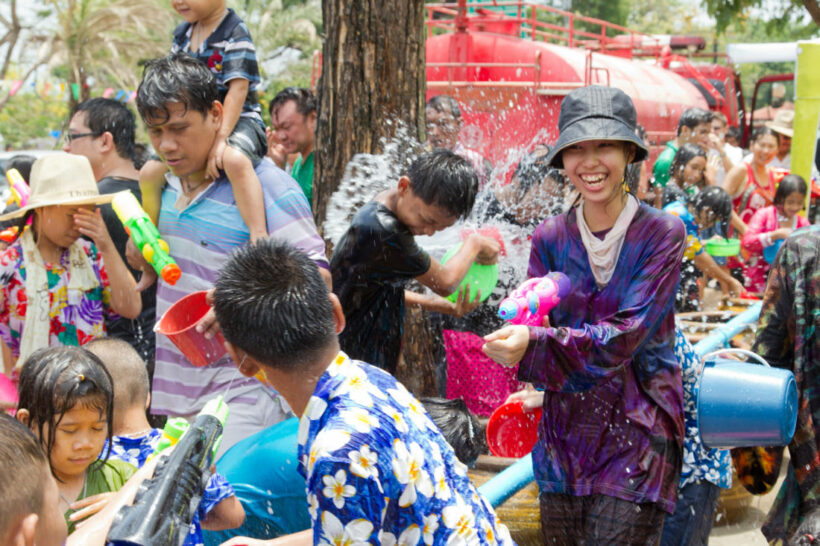 Somehow it's morphed into a huge water fight, in some places, running over many days up to week (in Chiang Mai and parts of Pattaya). Ladeling water gently onto Buddha statues has been replaced by all-out water fights, loud music, foam and a party that has no rules.
If you're outside during Songkran, especially in the main tourist zones, you WILL get splashed, probably drenched. The more the authorities try and play down the fun in Songkran the more tourists arrive each year determined to party in an event that's somewhere between a video-game and the last half of 'Titanic'.
And that's just ONE festival!
The Vegetarian Festival, principally held in Phuket with it's Chinese heritage, is an assault on all your senses. Parades are held around the island by various community groups with participants wearing white and followed up by either one or many mah-song. These mah-song have been 'possessed' by a spirit and display tourettes-like ticks, grunts and choreography that suggests their claims may indeed be true. If it's all an act, it's a very convincing one because, apart from all the cavorting down the street, they also have their cheeks and other parts of their body pierced – not by an earring or something tame like that – we're talking spears, swords, petrol pumps, guns. It's insane! These days there's an ambulance following behind and probably more mah-song succumb to blood loss than is ever reported.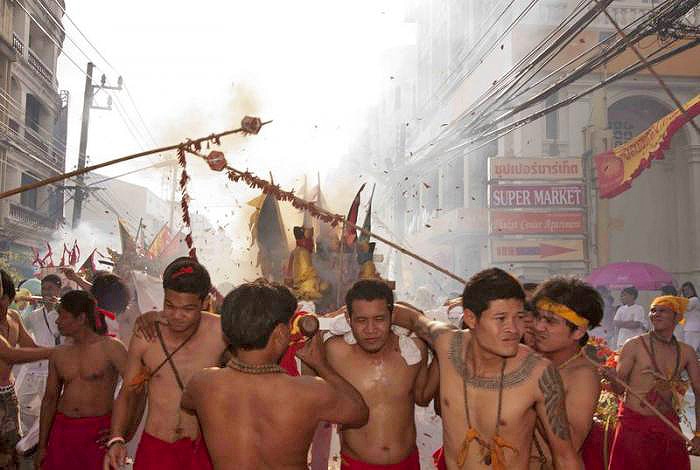 Phi ta khon (or Ghost Festival) is held in the Dan Sai district of north-eastern Thailand (near the Lao border) each year and usually follows a parade of people dressed up in rags with ghost masks.
Phi Ta Khon is the name given to a group of celebrations held over three days in the province of Loei. The most striking is the first day, the Ghost Festival itself, when the town residents invite the protection of the river spirit Phra U-Pakut, and then parade wearing the ghosts masks made of husks and coconut leaves.
But they also carry with them large phallic axes which are meant to reflect… oh, Google it.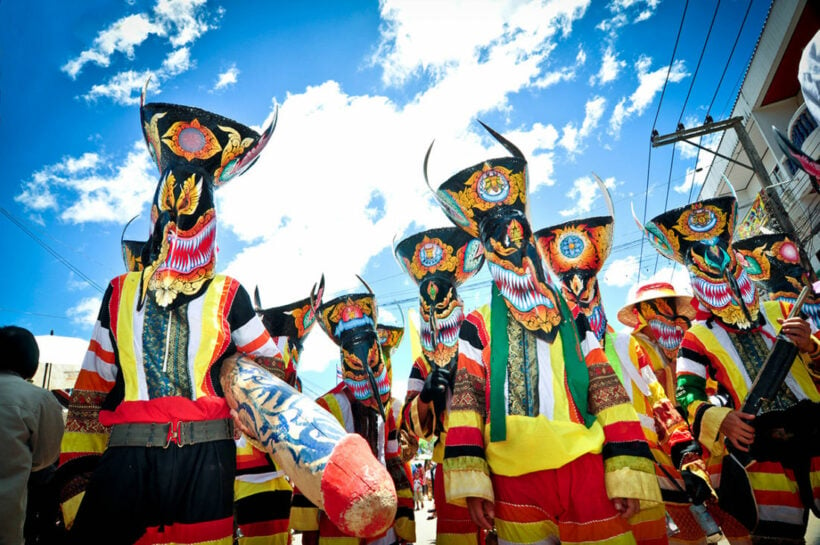 In Esan and around the Laos border areas there are many rocket festivals each year around May to June. Probably the biggest is the Yasothon Bun Bang Fai Rocket Festival. Imagine groups building their own rocket with the winner able to fire their rocket to the highest altitude. Like Songkran, the idea is to welcome in the forthcoming wet season (by piercing the sky to encourage rain).
The rockets used to be made out of bamboo but are more likely to be constructed out of PVC pipes these days and powered by 'black powder' which is regulated by certain rules (we doubt this claim!!). So there's gun powder, loud music, alcohol and men in competition to fire home-made rockets high into the Esan sky – what could possible go wrong?! Some of the rockets reach heights of several kilometres and can travel a lot further down range.
Read more about the rocket festivals HERE.
Chinese New Year is big in China and it's also huge in Thailand. Partly because there are many ethnic Thai-Chinese born in Thailand but also because there are so many Chinese visiting the Kingdom these days. The Chinese New Year festivities stretch from shopping centre sales to regional street parades to ceremonies for families and businesses.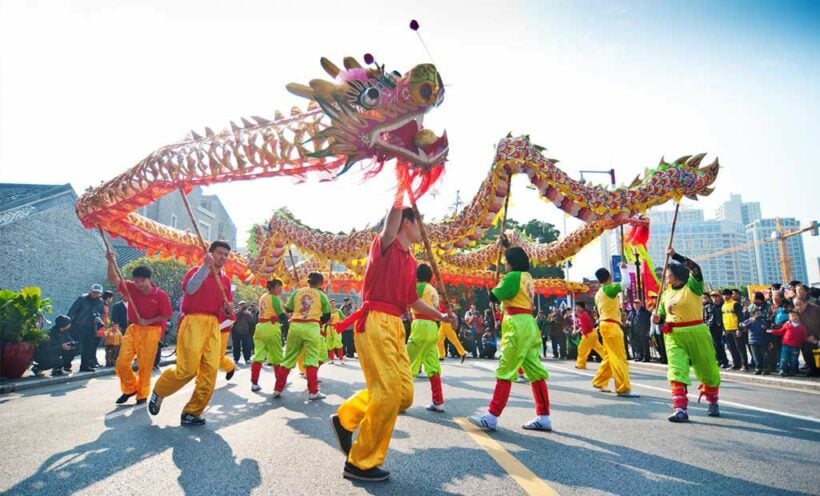 For a Buddhist country, Christmas is ironically enthusiastically celebrated. It involves presents, eating, celebrations, coloured lights and people spending money so it was always going to fly in Thailand. Thais remain completely bemused by Santa Claus, 'baby Jesus' and Christmas carols but, commercially, they've certainly embraced it now.
I have never seen better decorations or a celebration of Christmas than I have in Bangkok. My best Christmas moment was when I found a statue of Santa Claus nailed to a cross – a slight cultural faux pas where they'd confused Easter and Christmas and come up with a perfectly 'Thai' Christmas decoration.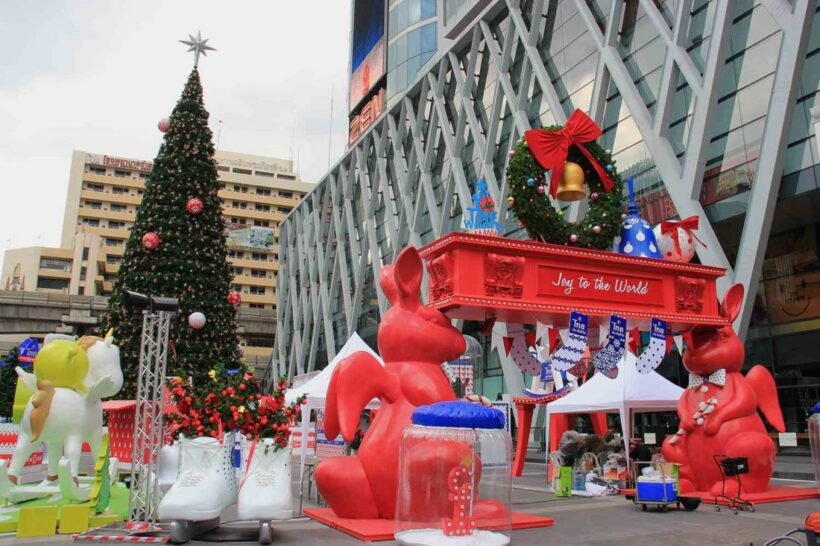 Keep in contact with Thaiger by following our Facebook page.
Never miss out on future posts by following Thaiger.
Is this the next big change in pop music? The winners of the IFPI Global Recording Artist of the Year Award, BTS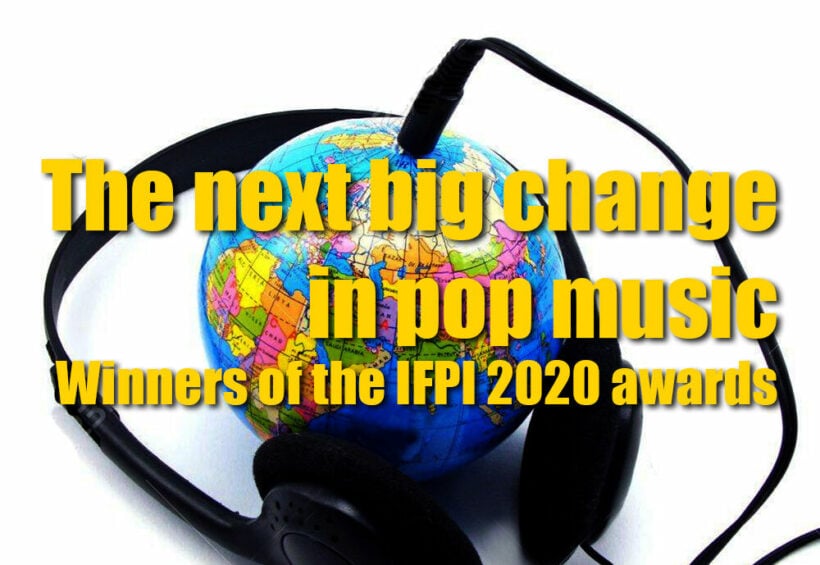 2020 IFPI Global Recording Artist of the Year Award. In the past 8 years the IFPI Global Recording Artist of the Year Award has been given to Ed Sheeran, Adele, One Direction, and Taylor Swift and Drake. BTS are backed up by ARMY, their huge fanbase.
The power of ARMY. The IFPI represents the recorded music industry worldwide. It's not a Grammy or a popularity vote. The award is calculated according to an artist's or group's worldwide performance across digital and physical music formats during the past year. Everything from streams to vinyl, CDs and downloads…. and covers their entire body of work. The award was announced last week at the culmination of the IFPI Global Artist Chart, which counted down the top 10 best-selling artists of the past year.
And it's certainly been a great year for music… not so much for going to live concerts but we've certainly had a lot more time to listen to our favourite artists and stream their clips on YouTube.
The group that won this year, based on their pure sales, actually came second in 2018 and 7th in 2019, so it isn't some statistical blip on the music radar.
The win also represents somewhat of a quantum shift in world music… the sort of thing that only happens once in a generation. Rather than the popular cross-over style shift represented by the George Gershwin's Rhapsody in Blue in 1924, the brith of rock with Bill Haley in 1955 or the rise of British pop in the 1960s, personified by The Beatles, this year's IFPI signals another generational milestone in tastes, method, world reach and engagement with fans.
In all the right-hand turns of the popular music genre, there has usually been a technological breakthrough that has accompanied them, or at least been a key aspect of their success.
In the case of the the Great American Songbook, the foundations of the pop music genre, it was the recorded record and the start of radio-as-entertainment in the 1920s that provided a method to reach a huge audience with the new sounds and tunes for the first time.
Then it was the 7" single that made music cheaper and easier to play, that revolutionised the radio music formats of the 1960s and provided the perfect vehicle of the British pop revolution to spread around the world.
Keep in contact with Thaiger by following our Facebook page.
Never miss out on future posts by following Thaiger.
Phuket's nightlife. Yes, bars and clubs are still open | VIDEO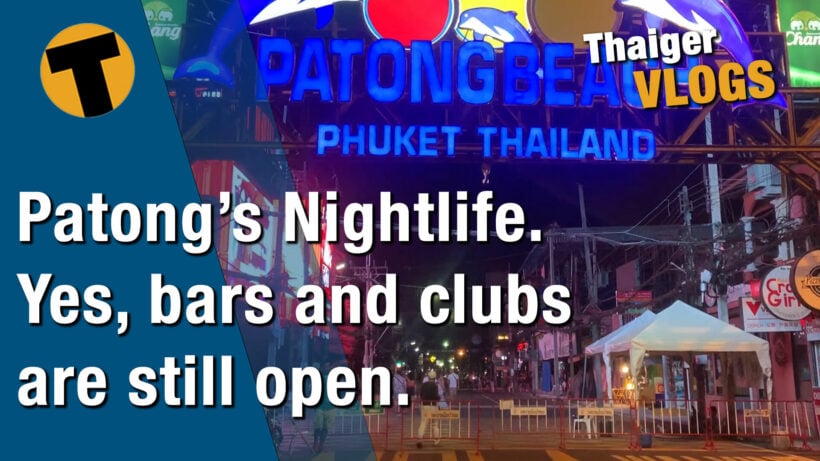 There was the original Covid-19 outbreak and lockdowns back in April and May in 2020, then again just before Christmas and New Year when the new clusters emerged in Samut Sakhon and the eastern coastal provinces, Patong's nightlife was quiet enough, almost non-existent.
Now when the restrictions are lifted, Nimz will take you through Phuket's famous nightlife spot Bangla Road, Patong Beach and Phuket Town. It's quiet, but there are still clubs open and operating and ready to welcome you.
Keep in contact with Thaiger by following our Facebook page.
Never miss out on future posts by following Thaiger.
DUMBO the rooftop bar in Bangkok, a hidden gem | VIDEO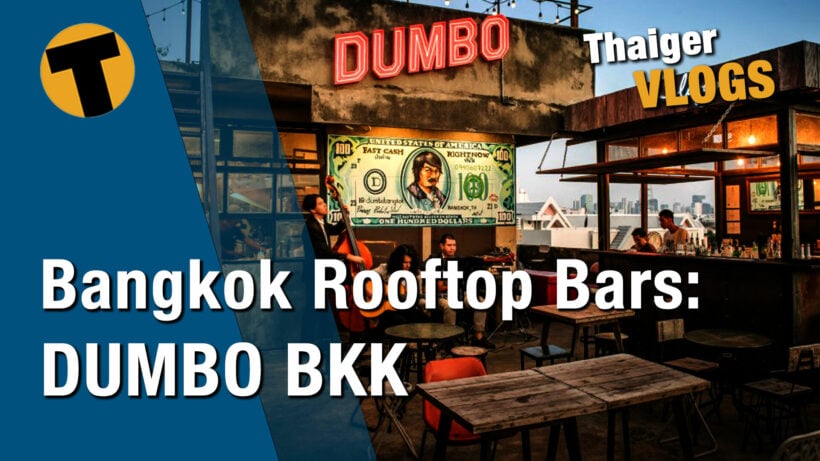 Located in the heart of Bangkok City, Thailand. Just a few metres away from the Saphan Khwai BTS station, 'DUMBO BKK' offers a fine mixture of jazz, great food and original cocktails. Bringing you back to the urban tenors of the late 1940s – early 1950s, New York. Som, one of our new Thaiger Vloggers sneaks in, and brings us her impressions of the place. Let's check it out!
Keep in contact with Thaiger by following our Facebook page.
Never miss out on future posts by following Thaiger.