Thai Life
Beasties and beauties – Phuket Gardening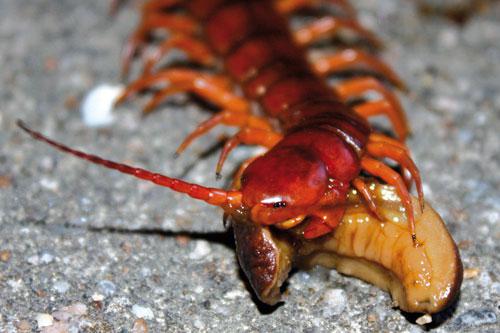 PHUKET: In a recent email, a colleague enclosed some photographs with the observation: "At home I came across this group of [tiny] mantids – about 100 minimum" which appeared to be mimicking ants.
He added: "Have you ever seen so many?"
My response was "No", but I said I suspected they had just emerged from the safety of their protective casing, a foamy construction in which the female may lay several hundred eggs. Mimicry is an effective strategy for vulnerable insects. In this case the young mantids were not only imitating the posture of ants but staying together. Safety in numbers.
Normally adult mantids don't need protection. They are solitary hunters, lying in wait for prey before grabbing the victim with barbed forelegs. The larger female will tackle sizable insects including male mantids, even geckos and, in America, hummingbirds, though their main diet consists of grasshoppers. Fascinating creatures and certainly the gardener's friend. But like spiders, they are often feared, perhaps because of their capacity when threatened, to stand upright on their hind legs and assume a "praying" posture. Tiny green religious robots.
Other garden inhabitants which get a mixed press include centipedes. Like most predatory insects they are very rapid movers and their venomous claws can deliver a painful bite. The Thailand version is large: an orange creature with a segmented, flattened body. Centipedes need moist conditions, so avoid putting your hand in damp leaf axils of palms. Unlike detritivore millipedes which hide under stones and are cylindrical and coppery-brown to black, centipedes prey on small insects and possibly earthworms. Indeed, the combined efforts of millipedes and centipedes may be one reason for the disastrous lack of earthworms in Phuket's soil.
Last week I mentioned mosquitoes, midges and ants as particular nuisances to people. Other creepy crawlies do more damage, usually undetected to your precious plants. Snails and slugs come into this category, though they are less of a menace here than in Europe. Maybe more toads and frogs to eat them, maybe the long spells of dry weather make life difficult for them. You can make it more difficult still by ensuring there are no dank, shaded, man-made hidey-holes where they can lurk during the day, such as the gaps between stacked flower pots or piles of wood. But believe me, they do get out during the dark hours to munch on shoots and foliage. One recent piece of research found that they may travel as much as 20 meters from base during the night. So don't expect to find them on your plants: they are best apprehended back in their dark, damp lairs.
I have no compunction about squashing slugs and snails, but my feelings about caterpillars, the larvae of butterflies and moths, are more equivocal. Frankly, if you want beautiful butterflies, you will have to allow some caterpillars to survive. My potted tabernaemontanas and adeniums are always being invaded by oleander hawk moth caterpillars. I just wish they would live up to their name and tackle the much more vigorous oleander bushes.
They are, incidentally, a wonderful example of camouflage. The huge emerald green caterpillars exactly match the foliage which they are silently devouring, usually from underneath the leaves. But the adults are worth waiting for – olive and lavender beauties which pollinate at dusk, whizzing around like humming birds.
One eco-friendly solution is to grow plants especially for butterflies. The best varieties include buddleia paniculata, asclepias (Indian milkweed), Rangoon creepers (quisqualis), passion flowers (passiflora), much favored by lacewings, any of the citrus family, on which the larvae of yellow Helen butterflies feed, hibiscus schizopetalus and the humble lantana camara. Standing supreme is the Indian milkweed, a focal point for varieties of monarch and related butterflies, both for their caterpillars and for the nectar feeding adults. Unlike temperamental buddleias and honeysuckles, powerful magnets for swallowtails, milkweeds are very easy to grow, vigorous, and with attractive, fragrant clusters of flowers.
Tip of the week – Pottering around again
There are so many of you who are apartment dwellers that I make no apologies for re-visiting the topic of container gardening. Though potted plants beautify any balcony or patio, it is worth remembering that they will, in time, need re-potting. This is because they become root-bound – they take up so much space with their roots that little of the original soil is left. Roots sprouting through the base are a sign of this condition. Affected plants will dry out more quickly and need additional feeding. Better to transplant them to a larger container with fresh soil, to tease out roots which will have become densely compacted.
In open ground, many plants and especially trees, possess not only a widespread system of surface roots, but also a tap root which goes straight down, often to several feet, and enables the plant to find water in conditions of drought. Pot plants do not have this natural advantage. Hence more watering is needed.
If you have a question, or a garden that you would like featured, you can email Patrick Campbell here.
Keep checking our online Phuket Lifestyle pages, follow us on Twitter @phuketgazette or join our Facebook fan page for regular gardening features and tips.
— Patrick Campbell