Airborne Virus spreads science across the globe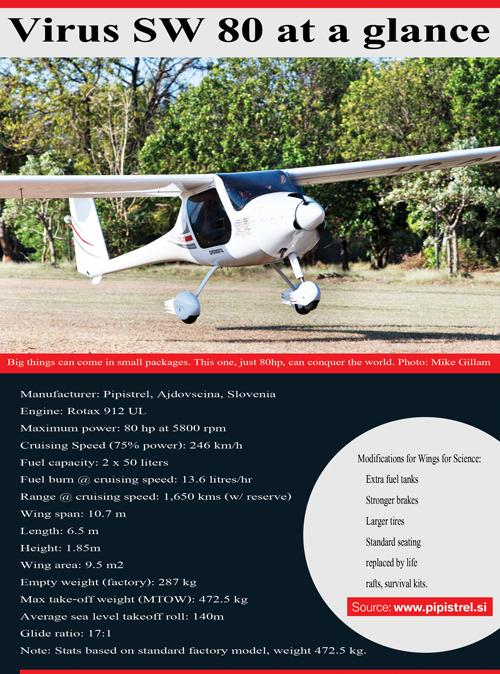 While many visitors arrived at Phuket International Airport in the run-up to last month's Songkran Festival, a French couple, whose microlight aircraft landed there on April 11 for safety reasons, raised more than a few eyebrows at the busy facility. Stephen Fein reports:

PHUKET: The couple, 31-year-old Adrien Normier and his fiancée Clementine Bacri, 28, are on an around-the-world journey of scientific exploration quite unlike any other that has come before it. They were en route from Penang, Malaysia to U-Tapao airport, in Thailand's Chonburi province, when cloudy conditions atop a hill range east of Phuket made it impossible for their tiny aircraft to continue onward.

The plane, a 6.2 meter long Pipistrel Virus Short Wing [details below], can only be flown "line of sight", which in aviator parlance means VFR (visual flight rules). With almost zero visibility, the pair had no option other than to divert to the nearest suitable airport they were aware of at the time.

During their short and completely unplanned stay on the island, the Parisian couple sat down with the Phuket Gazette to explain how their dream project, which they call 'Wings For Science', came to be.

"We began designing this project five years ago, when we decided to do something different and useful for at least a year. Some friends of mine in France had already asked me to do science using small aircraft," said Adrien. Shortly thereafter, the young AirFrance pilot had a burst of inspiration.

"We're going to do this in different places all around the world! It's going to be interesting'," he recounted.

Their goal established, Clem and Adrien then sent an offer via France's National Center for Scientific Research (CNRS) to get the message out that the couple would be more than happy to use a light sports aircraft to conduct free research in remote locations around the globe. In return, all they asked for was the right to interview the researchers and discover what they were doing, then shooting short films about the work.

"We wanted to be useful and to discover the world in a way different from what we were used to. We thought that taking part in interesting projects would be a great way to discover new places and the people who live there," explained Clem, a lawyer by trade who practices in both France and Luxembourg.

After lining up an impressive array of collaborators and sponsors, the couple's first project involved researching atmospheric pollutants in the city of Luxembourg in December 2012. Taking aerial photographs, they helped create three dimensional images of the inner city using specially-developed software that is the key to much of their work.

From there, taking turns flying a maximum of five and a half hours a day, they headed north to take part in creating three-dimensional models of two islands off Iceland.

Then they headed even further north to take part in two projects in Greenland.

The three dimensional models their software helps create allow researchers to gain valuable, possibly lifesaving, geophysical data about the landforms they study. For example, the images they produce of a volcano dome enables researchers to predict points of collapse during an eruption, and the likelihood, or otherwise, that lava flows will run into inhabited areas nearby.

The Virus, with its low stall speed and hi-tech photographic equipment, is an ideal platform from which to create detailed 3D images that would be impossible from either a land-based perspective or by satellite imagery, explained Adrien.

"This gets you a very high-resolution 3D model, with a clarity of the ground that is not possible with Google Earth," he says.

"Also, in Google Earth you have pictures without any notion of the volume [of landforms]," notes Clem.

Not all of their work has involved mountainous landforms, however. They also marked the movement of mudflats in mangrove forests in French Guyana, taking tens of thousands of images and "creating a sort of private Google Earth database for the research institute conducting the study there," Adrien said.

Apart from 3D mapping, the pair have also done some "observation flights" in search of specific features, such as spotting whales for an oceanographic campaign in Canada that collects biodata on individual migrating cetaceans.

"With the airplane we can extend the range of prospection of the whales," said Adrien.

The intrepid couple have also successfully taken part in several "aerial archeology" research projects.

Asked how microlight aircraft could be involved in a pursuit more often associated with excavation pits, dirt and pickaxes, Adrien explained.

"In some very specific environments, you can actually look for archeological remains from the air. In Europe, we looked for and found Roman archeological artifacts, such as villas, using this method," he said.

He went on to note that in the dry European summer, crops can be very sensitive to amounts of water that get collected or trapped by stone formations beneath the earth's surface. Common crops, such as oats and wheat that tend to grow at the same rate under uniform conditions, can tap into these precious water sources.

The plants that do it tend to grow taller than those that do not, and the differences can form a sort of contour indicating the position of subsurface structures, including those left behind by ancient civilizations. Such patterns may be discernable from the air, but go unnoticed by people on the ground – including those who planted the crops.

"When it's desert, you can really see stuff. You can see hilltops shaped like squares and you can see that there was a pyramid there. In Peru it is very obvious. There are thousands and thousands of remains," Adrien said.

During their work in Peru, home to the world famous Nazca Lines geoglyphs, they detected a previously unknown formation of stones that are now thought to be the remains of an ancient cemetery that could be up to 5,000 years old, according to initial estimates.

A photo of a shaman performing a religious rite at the site is among the many interesting images available on their Facebook page, and on the many other social media the technically savvy pair use to keep the public up to date on their journey of discovery.

The only break in the couple's circumnavigation of the planet came when they had to ship the aircraft in a container from South America all the way to Australia.

SAFETY CONCERNS

As is now becoming standard on many small aircraft, the Virus comes equipped with a "rocket-propelled parachute ballistic recovery system", which means that if worse comes to worst they can simply pull a lever and a parachute will deploy, allowing the entire plane to come safely to the ground. Fortunately, the pair had yet to deploy this technology at the time they left Phuket.

Safety is always of paramount importance to the researchers, however.

"It is actually dangerous, but we take every precaution possible because we want to come back to do other adventures," said Clem. "We wait when the weather is not good or we divert, as we have done here. We also have a Luxembourg-based meteorologist who communicates with us through satellite phone to update all of the meteorological aspects of the flight," said Clem.

Asked how a single weatherman could remain on call 24 hours a day, the couple laughed.

Their eye in the sky, as it were, is a "very cool and nice" retired meteorologist named Ernest who "has trouble sleeping and is always there on the line when we need him. We couldn't do it without him," Clementine said.

Asked what their worst experiences have been, Adrien was quick to say they had all been on the "administrative side".

As just one example, after they chose to divert
— Stephen Fein
Third runway for BKK Suvarnabhumi Airport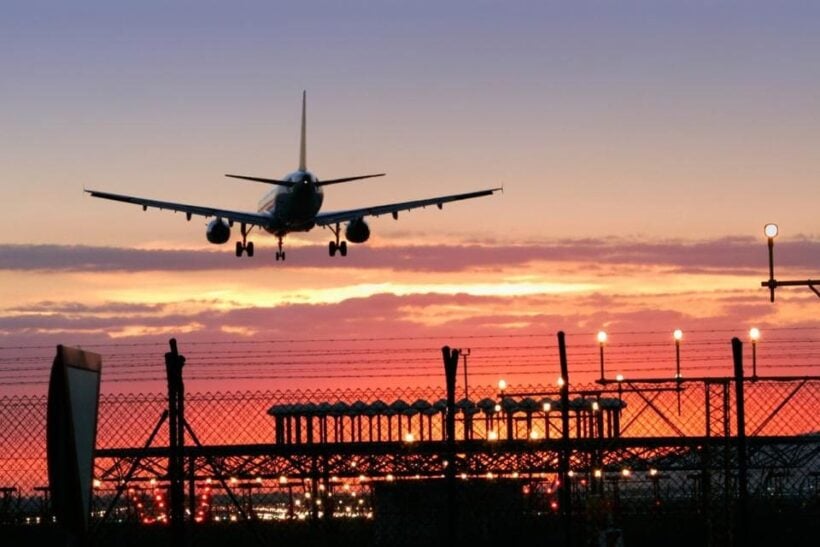 The Thai cabinet yesterday approved the construction of a third runway at Suvarnabhumi International Airport as part of the country's ambition to become the aviation hub of ASEAN.
The 21.7 billion baht project will increase the combined capacity of Suvarnabhumi international airport's runways to 94 arrivals and departures per hour from the current 64, said Lt-Gen Weerachon Sukonthapatipak, deputy government spokesman.
Suvarnabhumi Airport (aka. BKK) was opened in 2006 as Bangkok's second airport. Initially it replaced the tired Don Mueang Airport but Don Mueang was later revamped as a low-coast airport to service the growing traffic demands.
Meanwhile Suvarnabhumi Airport was, and still is, operating above its designed capacity. An earlier bid to build a third terminal has been mired in controversy and is currently shelved pending a new brief from Airports of Thailand with a new round of design bids called for in the future.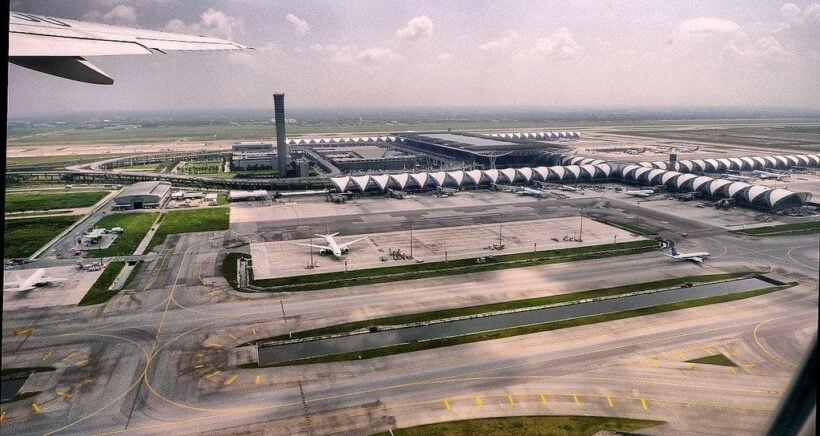 Patong's trash hero rewarded for collecting garbage in filthy canal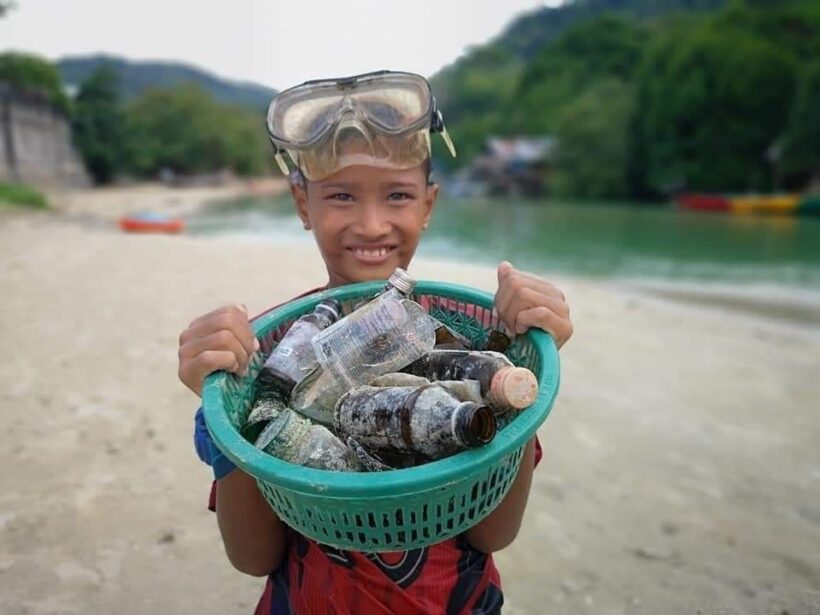 PHOTOS: Patong Police / Theeraphong Penmit / Newshawk Phuket
A Phuket boy has been rewarded after setting an excellent example for the rest of the Patong community.
8 year old Kosin Ta-ngam, who is studying at Sai Nam Yen School in Patong in Pratom Suksa Three, has been collecting garbage in the filthy Pak Bang Canal and along Patong Beach since the beginning of this year.
He lives with his grandmother and other relatives. His grandmother has been looking after Kosin since he was 10 months old.
A certificate, scholarship and life vest have been awarded to Kosin by the Patong Police Chief Col Anothai Jindamanee for displaying excellent citizen for the community as a youth volunteer and being an active part of keeping the city clean.
The Pak Bang Canal, running through the back of Patong into Patong Bay, has been a dark, dirty mess for decades. Many promises have been made to clean it up but it remains a disgraceful waterway flowing through Phuket's main tourist town.
The tiny eight year old seems to be able to achieve a lot more than the local municipality with all their money and machinery.
Kosin, you are the Thaiger hero for today and we salute you!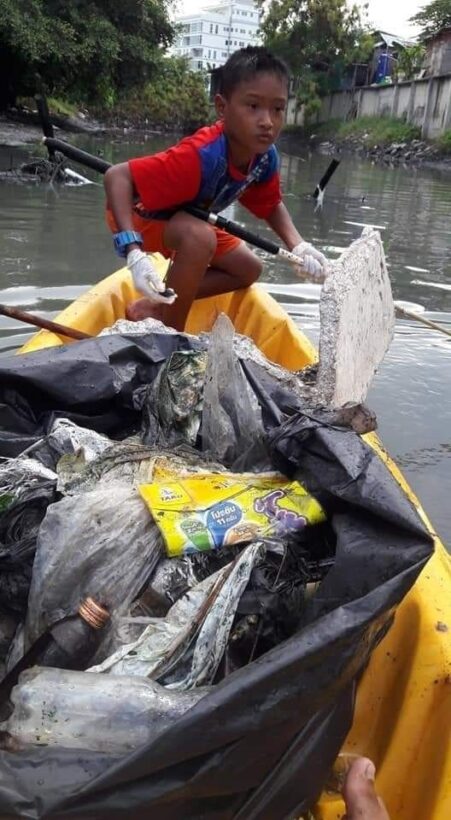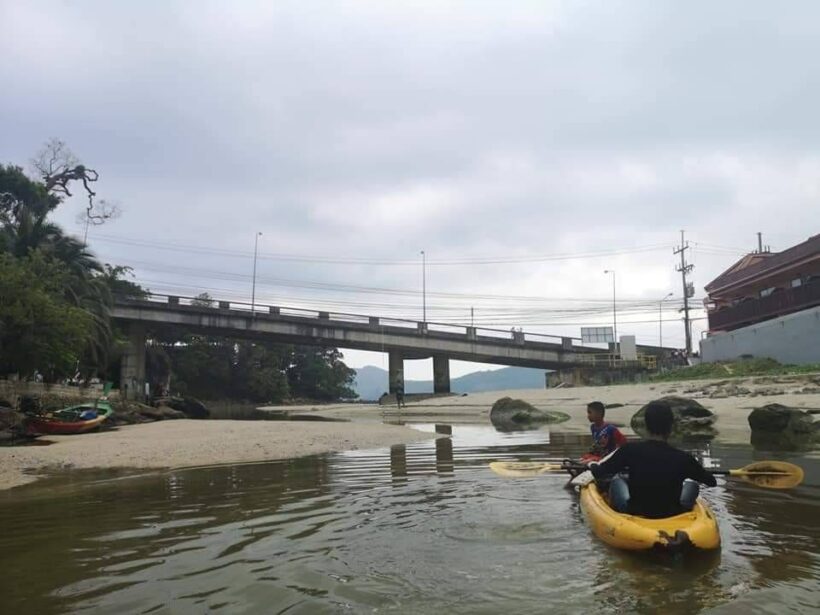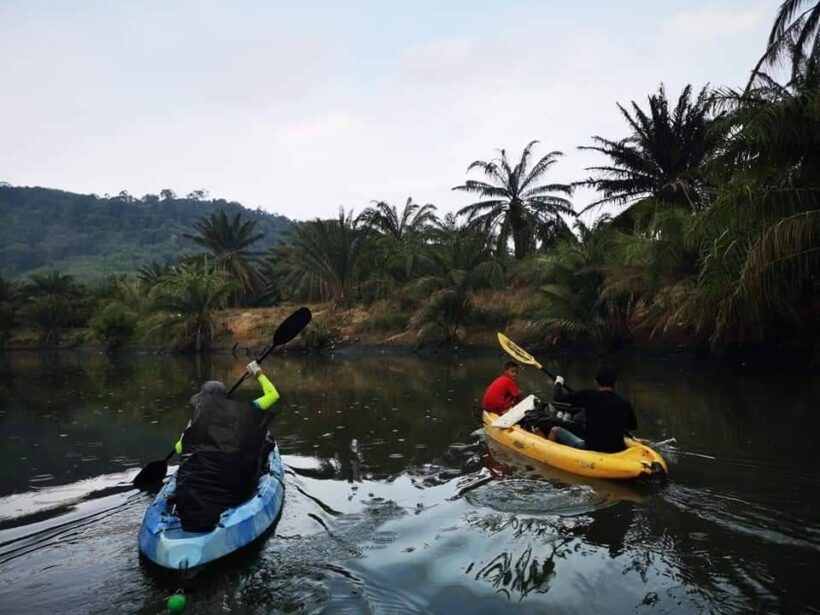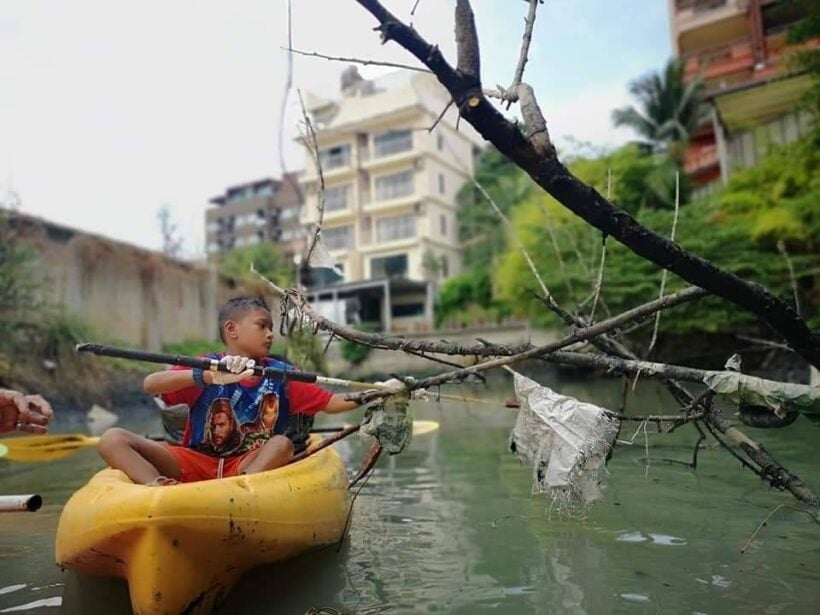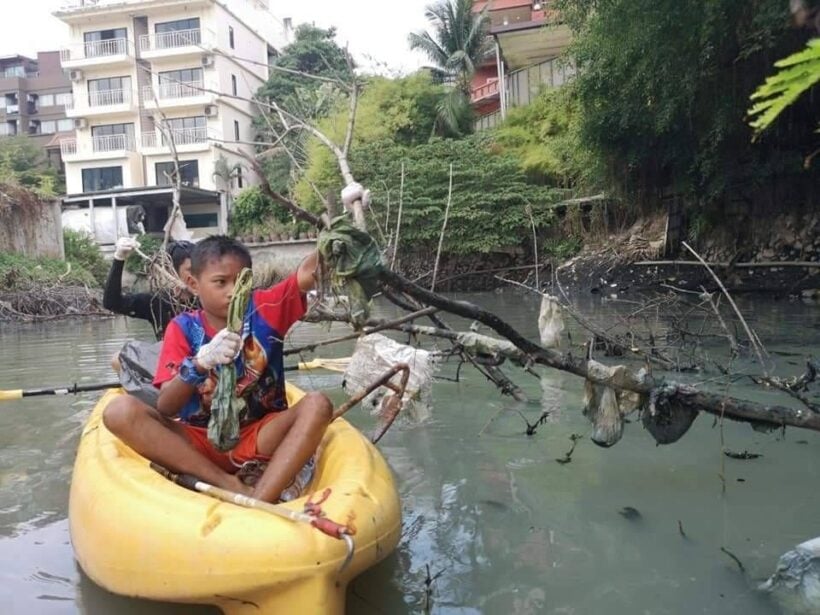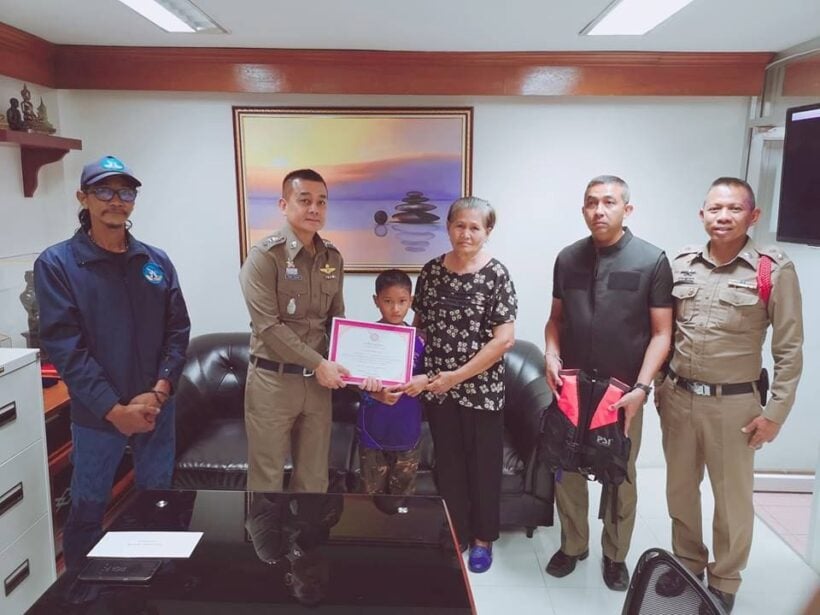 Mitsubishi testing their new regional jet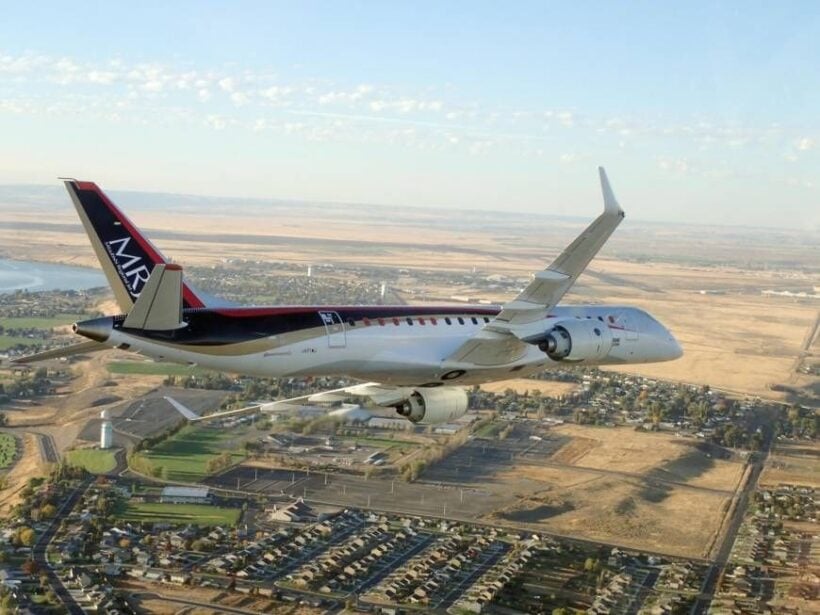 PHOTO: The Japan Times
Mitsubishi Heavy Industries' new 88-passenger Mitsubishi Regional Jet is testing the skies just as rivals Embraer and Bombardier are moving to sell off their manufacturing operations for jets with up to 160 seats to Boeing and Airbus.
At stake, particularly in the market for jets with fewer seats, is US$135 billion in sales in the two decades through 2037, according to industry group Japan Aircraft Development.
More cities in Asia and Europe are seeking to link up with each other and the Mitsubishi Regional Jet, the first airliner built in Japan since the 1960s, began certification flights last month in Moses Lake, Washington.
With fewer seats and smaller fuselages, regional jets are a different class of aircraft from larger narrow-body planes such as Boeing's 737 or Airbus's A320. The MRJ has a range of about 3,220 kilometres. The seating is 2+2 instead of 3+3 in a small Airbus or Boeing single-aisle jet.
After spending at least US$2 billion over more than a decade, the manufacturer is looking to get its jet certified and start deliveries to launch partner ANA Holdings.
Mitsubishi initially planned test flights in 2012 but blew past that deadline because of production difficulties. Now, the company, which makes ships, nuclear power plants and aerospace components, expects to have the plane ready for customers next year, a timetable that will test the company, said Mitsubishi Aircraft president Hisakazu Mizutani.
Mitsubishi Heavy is not the only Asian manufacturer betting that it can build aircraft cheaper and more efficiently. Commercial Aircraft of China (Comac) has a new regional jet in service, while Korea Aerospace Industries is studying whether to develop a 100-passenger aircraft.
"The aviation market in Asia is expected to grow further in the coming years and there will be demand for these aircraft," said analyst Lee Dong-heon at Daishin Securities in Seoul.
"The shift in the regional aviation segment we have seen over the last year or so has opened opportunities."
"The MRJ is fully capable of competing in the market."