9 years of providing Phuket's lifeguards comes to an end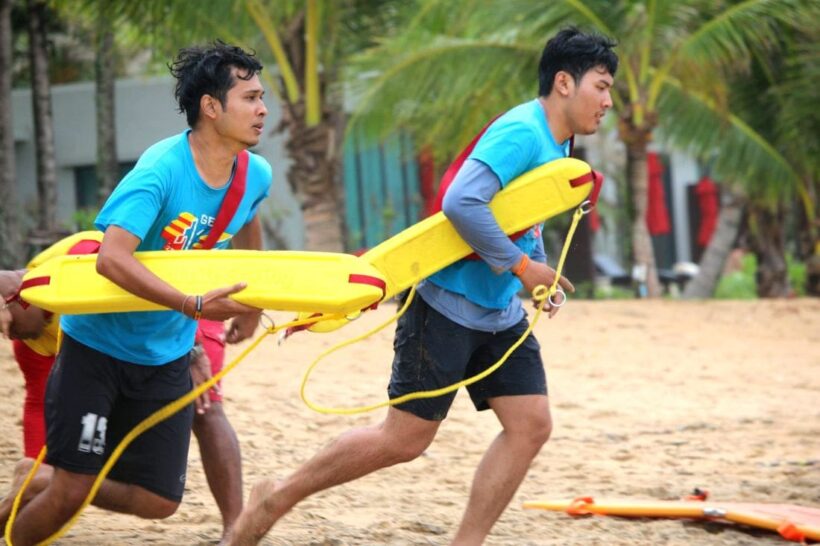 PHOTO: Constant training and up-skilling was at the core of the Phuket Lifeguard Service
The nine year relationship between the Phuket Lifeguard Service and the Phuket provincial and Thesaban
administrators is over.
The contract for providing professional lifesavers at Patong beach, the final beach under their watchful eye,  finished yesterday.

Speaking to the MD of the Phuket Lifeguard Service Company, Vitanya Chuayuan, today The Thaiger noted a tone of resignation in her voice after the long battle the company had to provide skilled and professional lifeguards along Phuket's beaches.
Phuket's outgoing governor, who finished his tenure on the island on September 30, Norraphat Plodthong passed the baton of issuing contracts to lifeguards services from the island's central Provincial government down to the local Thesabans. Each local municipality would handle their own contracting for patrolling their local beaches.
The new tenders have resulted in two years of turmoil along the west coast beaches with a hotch-potch of volunteers, paid life-savers, trained, untrained and 'locals' putting on the traditional red and yellow outfits to patrol Phuket's beaches.
The results, as logged in story after story about drownings on The Thaiger and other local news sites, are evidence of the failure of the new system to provide an adequate or professional level of international-standard lifeguarding in Phuket.
All this whilst the numbers of tourist arrivals, especially during the traditional wet-season, keeps increasing, year on year.
Vitanya says that it was a sad day indeed as the company, which had worked so hard to improve the standards of lifesaving on the island for so long, had to now watch from the sidelines as the quality of lifeguards, and the entire system of island-wide beach patrols, descends into bureaucratic turmoil.
"I have not spoken to Phuket's new Governor at length about the matter, but the old governor believed that giving the money to the Thesabans, and letting them control the provision of services, would be a better solution."
"The budgets just kept dropping each year and, although we tried to improve our efficiencies whilst improving the quality of our lifeguards, we just couldn't match the lower tenders for the contracts anymore."
"We also believe that a single company, providing lifeguarding across all beaches in Phuket, was a much better system amortising costs of equipment, training and sharing of local knowledge across the island."
Phuket Lifeguard Service was instrumental in asking the provincial officials to assist with coming up with information pamphlets and signage to present to tourists, especially Chinese tourists, to alert them of the dangers of swimming along Phuket's west coast beaches, particularly during the south-west monsoon season.
"There were many brochures printed. We handed many out to tourists on the beach (they were multi-lingual) but we really needed them to be distributed at the airport and hotels as a priority. We're not sure if that happened or how many were distributed."
After 9 years of years of reducing the number of drownings on Phuket's beaches, despite the number of tourists rising every year, Vitanya says it has been sad to see the number of preventable drownings increase since the Provincial government started the new system.
"We believe it should all be controlled by the one professional company or organisation to provide lifeguard services. This way we could make savings across the board with training, equipment and co-ordination with all emergency services.
Daren Jenner, the Marine Safety Officer for the International Surf Lifesaving Association (ISLA), says that ISLA has been constantly monitoring the situation with the Patong lifeguard team.
"During ISLA's beach audits earlier this year, the Patong team was the only one on the island to meet ISLA's international standards. ISLA was urging the Thai government at all levels to support a unified, professional lifeguard force for all of Phuket and the surrounding islands."
"Phuket is a world-famous beach and water-sport destination but surrounded by potentially dangerous waters, yet the lifeguard service has repeatedly failed to receive adequate support."
Speaking specifically about the problem with the Chinese tourists and the many drownings in recent years Vitanya said, "We provided flags with warnings in Chinese, English, Russian and Thai. The Thesaban are still using our old flags which haven't been updated for a few years – they are very tatty now and hard to read. The flags should be changed every six months."
"Many Chinese people are not well educated in water safety. It's not really their fault and more needed to be down to provide information before they arrived at the beach. Once on the beach it was just a huge communication problem that sometimes ended up in disaster."
For now Vitanya says her company will keep providing professional lifeguards to the hotels and water parks.
"At our biggest we had around 100 active lifeguards, all men. Asian women don't really like swimming and are not really interested in lifeguard work. Now we have only five instructors and a few freelance staff.
"We are sending two of our lifeguards to the Life Saving World Championships in Adelaide from November 19-26 at Glenelg Beach. Our team has developed such skills and talent here on the island. It's sad to see it all go to waste."

Phuket Lifeguard Service were training the new generation of Phuket lifeguards


Read more headlines, reports & breaking news in Phuket. Or catch up on your Thailand news.
Immigration police interview Phuket's 'seasteader'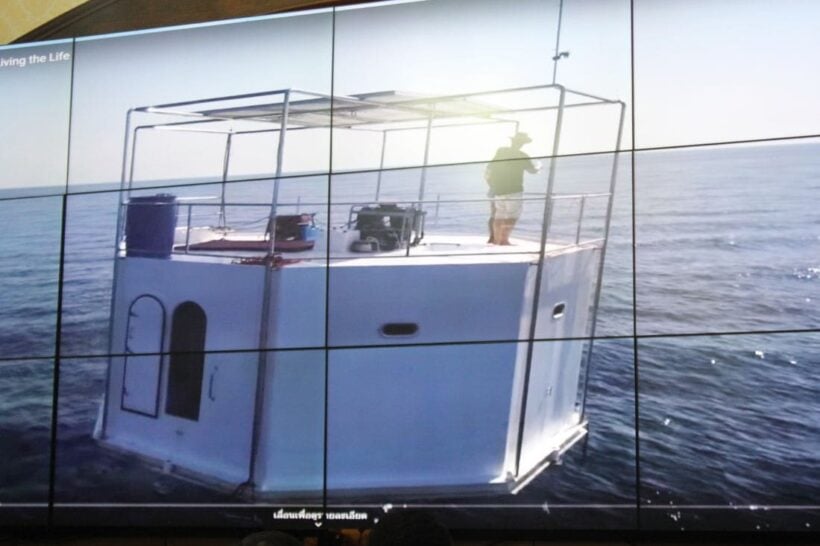 Immigration police says they've have questioned the American bitcoin investor who was involved in the setting up of the "seasteading" structure off the coast of Phuket and is facing criminal charges related to the waterborne homestead.
Chad Andrew Elwartowski and his Thai girlfriend, Suprenee Thepdet (aka Nadia Summergirl), launched their seastead project on February 2 off the coast of Phuket along with the company 'Ocean Builders'.
The structure is located to the south east of Koh Racha Yai, approximately 22 kilometres from the mainland. The Royal Thai Navy and Phuket Maritime personnel boarded the structure last Sunday insisting it violates the law and poses a navigational hazard.
Elwartowski posted on his Facebook on Tuesday that he and his partner were in hiding and feared for their lives, as they were being hunted down by the authorities. He later deleted the post.
On Wednesday, Immigration police revoked his visa and put him on a blacklist following the legal suit.
Meanwhile the The US Embassy in Bangkok says they're providing consular assistance to Mr Elwartowski who is  accused of violating Thailand's sovereignty by building the structure off the coast of Phuket.
"The Embassy is providing all appropriate assistance and understands Elwartowski has engaged an attorney," according to Robert Post, the US Embassy Public Affairs Officer.
Meanwhile, Phuket deputy governor Supoj Rotreuang Na Nongkhai was preparing information to present to the embassy if it required a further explanation.
While Elwartowski has claimed that his waterborne homestead (seastead) is outside Thailand's maritime boundaries, Thai authorities have insisted that its existence violated Article 119 of the Criminal Code because Thailand's territorial rights were disturbed.
"The harm was done because they had sent an invitation seeking people to set up [additional] structures and so far 14 people [have shown an] interest to join," he explained.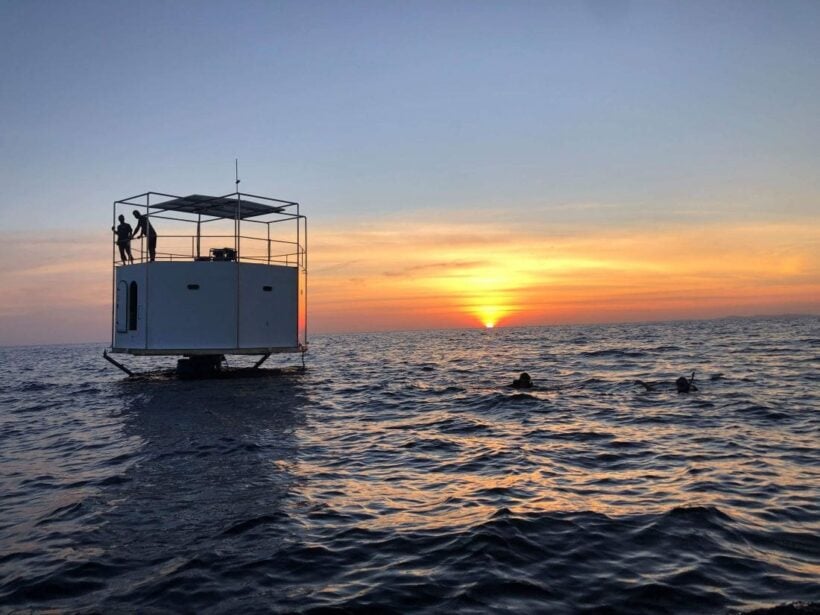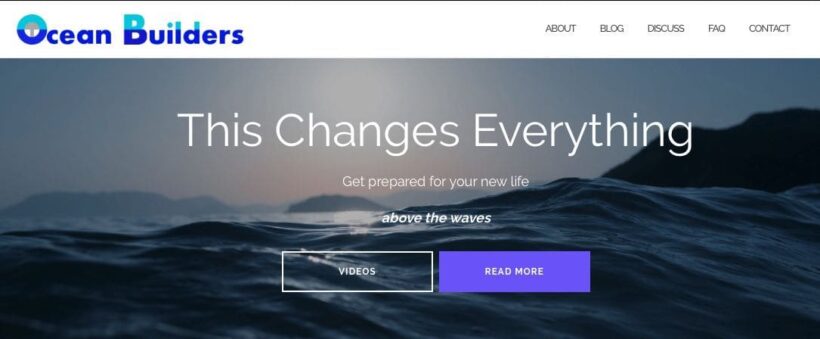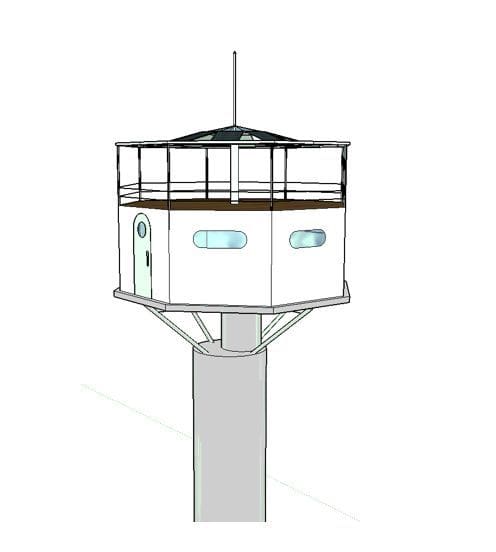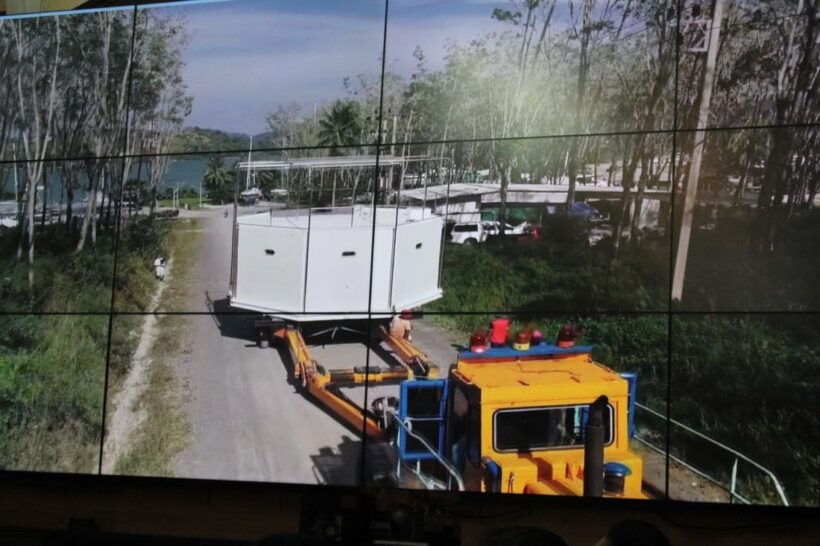 Prawit instructs the Royal Thai Navy to take action against the Seastead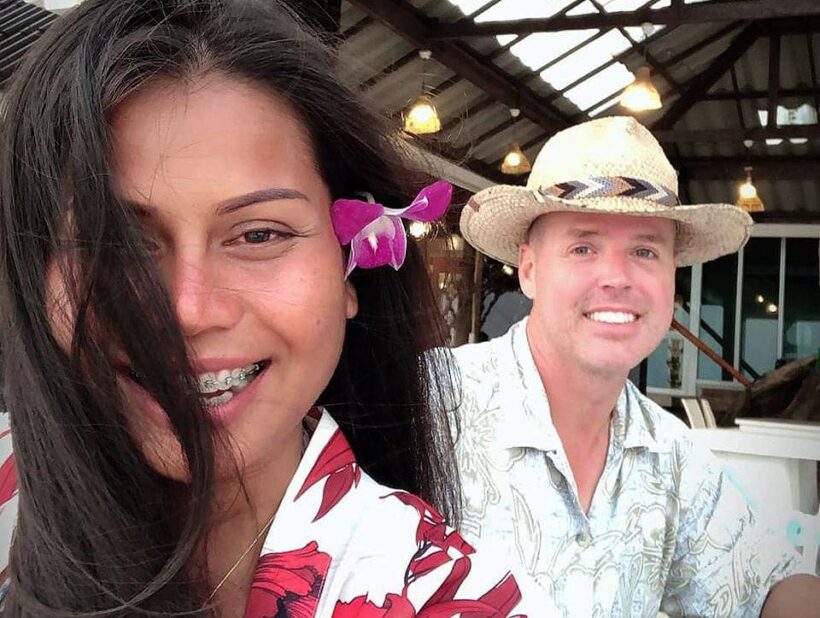 PHOTO: Chad Elwartowski and Nadia 'Summergirl' – in the centre of a Seastead storm
Deputy PM, and Defence Minister, Prawit Wongsuwan has ordered the Royal Thai Navy and security agencies to take action against the planned seasteading settlement on the Andaman Sea off Phuket "in accordance with international standards of practice and to ensure the protection of Thai natural resources."
American Chad Andrew Elwartowski and his Thai wife, Nadia 'Summergirl', had, along with 'Ocean Builders' erected a 'seastead' as part of his ambitious plan to build a sovereign seasteading settlement on the high seas about 22.2 km south- east from Phuket's Racha Island.
Thai authorities, however, say the structure will block a shipping lane and deemed the project a "threat to national security", prompting the Thai Immigration Bureau to revoke the non-immigrant visa of the Detroit resident and add his name to a blacklist as police search for the couple.
Defence Ministry spokesman Lt-Gen Kongcheep Tantravanich says that General Prawit, in his capacity as Defence Minister, will consult the law to determine whether the sovereign seasteading community, planned by the Ocean Builders Company, constitutes a violation of Thai law regarding natural resources protection because the project is located in Thailand's exclusive economic zone.
Thai PBS has incorrectly named the man's nationality as French. Mr Elwartowski is American.
More information about the Seastead project and 'Ocean Builders' HERE.

Give your stretch marks a makeover – the tattoo solution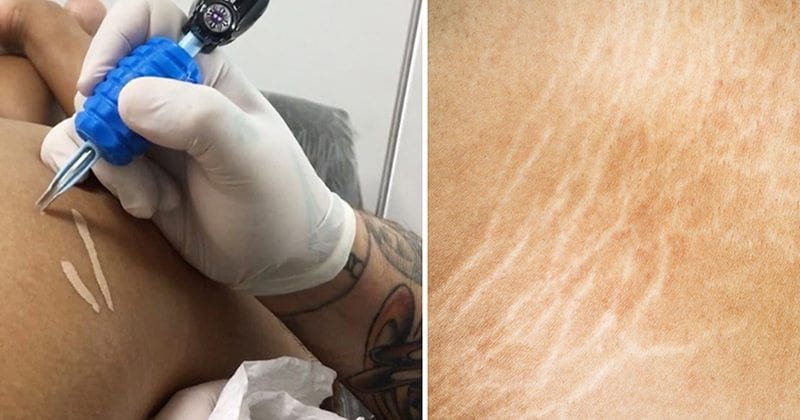 Stretch marks, we've all seen them and many of us have a few. Both men and women can be affected. But Inked In Asia has a possible solution.
Stretch marks are a natural indication that your body is growing and changing. It can be said that it's your body's way of 'celebrating' your growth – many would disagree.
They are part of many people's lives so why not turn them into works of art with a stretch mark tattoo. Stretch marks are nothing to be ashamed of so let's give them a tattoo make-over.
When elastin fibers and collagen tear during weight gain, pregnancy or even puberty, the skin's color and texture is damaged forever. Stretch marks can fade from when they first appear, but they might leave behind mildly indented streaks that won't return to the original smooth skin.
Some treatments and creams can help by improving the colour of the stretch marks or promoting collagen growth, but there is no true way to get rid of these unsightly blemishes. Trying to get damaged skin to fill out and return to its original colour is very difficult, even for the best dermatologist.
A new trend is the covering up stretch marks with tattoos. Now a normal 'cover up tattoo' consists of going over an existing tattoo with new ink, adding or completely changing the original tattoo.
But there's another solution to those that want a more subtle approach which can be used to disguise some stretch marks.
The technique of matching the skins natural tone by mixing tattoo ink, is more of an art than a scientific process. People's skin has a dynamic range of colours from reds, yellows, browns and greys and getting the exact tone needs expert evaluation and technique. The tattooing then begins, hiding and disguising stretch marks and giving confidence back to clients.
Click HERE to contact Inked In Asia's Tattoo Studio to arrange a FREE consultation appointment and discuss your stretch mark tattoo make-over.