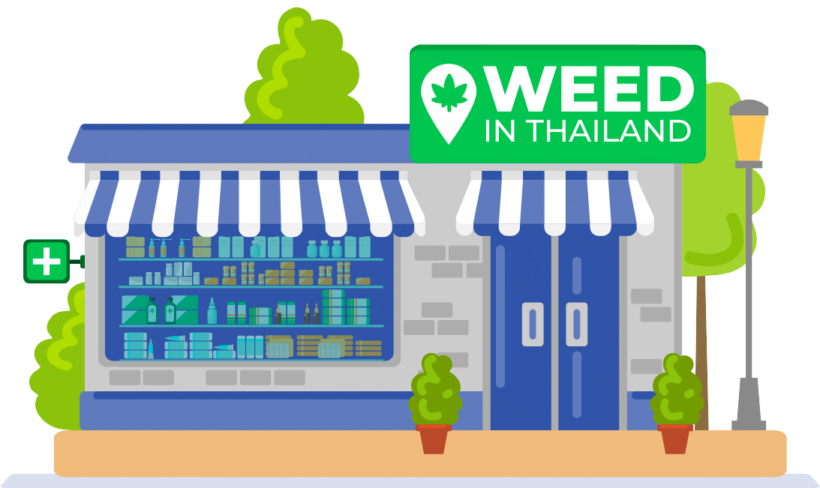 Since the decriminalization of cannabis in Thailand on June 9th, over 2,540 cannabis-related storefront businesses have emerged, and more than 50,000 reviews have been submitted for these businesses. In addition to the proliferation of storefronts, over 1,125,000 residents have registered for permission to cultivate cannabis in record-breaking time.
In response to the growing demand for cannabis in Thailand, the team behind WEED.in.th has developed a free platform to make business promotion and search easier throughout the kingdom. The platform is designed to serve a wide range of audiences, providing services to help businesses promote themselves, connect with customers, and streamline their operations. Whether you're a business owner looking for a way to reach new customers or a consumer searching for the best products and shops in your area, WEED.in.th has something to offer.
For Cannabis Consumers
Searching for local cannabis shops and products can sometimes be difficult, especially if the shops are newly established or do not appear in relevant search results. This is where the extensive cannabis shop list on WEED.in.th can be helpful. With thousands of shops listed, it is easier to find your favourite strains or specific cannabis products.
To make it even easier to discover the shops and products you're interested in, WEED.in.th has developed a search feature called Thailand WeedMaps Search. This feature allows you to search for shops and products in your area, making it easier to find what you're looking for and discover new and interesting options. Whether you're a seasoned cannabis enthusiast or new to the scene, this search feature can help you find the products and shops that suit your needs and preferences.
It can be hard to search for shops around you as many are newly added, or simply do not appear in relevant searches.
Don't worry as WEED.in.th has made it as easy to explore the most extensive cannabis shop list that exists. They are also making it easier to find your favourite strain, or specific cannabis product by searching through thousands of shops.
For Cannabis Businesses
Every shop listed on the platform has its own unique management URL, which allows the shop to easily update its listings that are featured on various websites and news outlets. The management URL allows the shop to update its general business details, contact information, and product selection, all of which are easily searchable by consumers.
Obtaining a management link is a free service provided by the platform. If a business cannot yet be found on the platform or if the business wishes to obtain its own management link, it can contact weed@weed.in.th for assistance. By obtaining a management link, a business will be able to quickly and easily update its listings on the platform and make its products more easily discoverable by consumers.
For Wholesalers/Farms
The wholesale platform connects farms and wholesalers directly with shops and offers assistance with product verification and fulfilment. As an intermediary, the platform facilitates the process of verifying and fulfilling orders between the farms and wholesalers and shops.
To ensure the quality of the products being sold on the platform, the wholesale platform has implemented systems for verifying that the products meet certain standards. This helps to give both the farms and wholesalers and the shops confidence in the products they are buying and selling.
In addition to assisting with product verification, the platform also offers support with the fulfilment process. This includes tasks such as packaging and shipping the products to the shops, making it more efficient and cost-effective for all parties involved.
If you are a farm, wholesaler, or shop and you are interested in participating on the platform, please don't hesitate to contact wholesale@weed.in.th for more information. The platform would be happy to provide more details and answer any questions you may have.