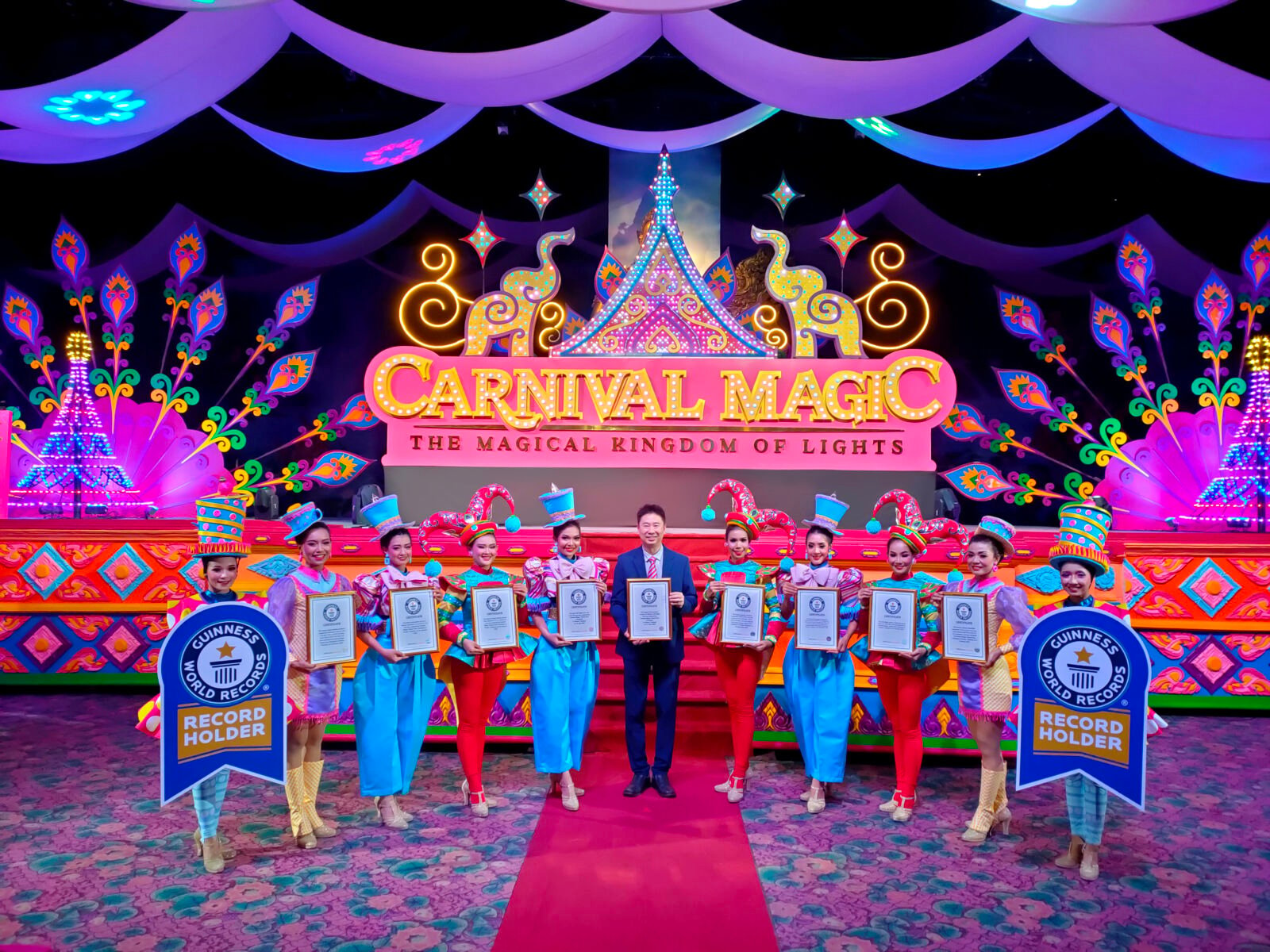 Sponsored
If you're looking for a place to make some memories, then the Carnival Magic theme park in Phuket is the perfect destination! This unique amusement park has made waves in the world of record-breaking, holding no less than 9 Guinness World Records. Whether you seek fun or simply something that will leave you speechless, this one-of-a-kind experience will not disappoint. But what exactly are these records, and how did Carnival Magic manage to break them? Here's everything you need to know about this incredible feat.
What is and how is the process of applying the record titles?
For individuals or organisations looking to break a world record, the first step is to check with the Guinness World Records (GWR) entity to see if the record they're interested in attempting has already been attempted and to understand the criteria for breaking it. If the record they're interested in doesn't exist, they can propose a new one, but approval from GWR is necessary.
Once the criteria are met, GWR adjudicates the record attempt. The process varies based on the type of record being attempted, but it generally involves manual counting or measurement by field professionals, verified by two or more witnesses. Before the adjudication process begins, all credentials of those involved and specifications of the equipment used must be submitted to GWR for pre-approval, along with unedited photographic and video evidence.
The adjudication process typically takes at least 12 weeks to complete, after which the results are announced.
As we can see, this process is tedious. And Carnival Magic has managed to break 9 Guinness World Records. We can only imagine the time, effort, and dedication that went into achieving such an impressive feat. The park offers a fun and exciting experience for visitors of all ages and has now cemented its place in history as a record-breaker.
What are the 9 Guinness World Record titles?
So, what exactly are these nine records that Carnival Magic holds? Let's take a closer look at each one of them.
1. Longest single-chassis parade float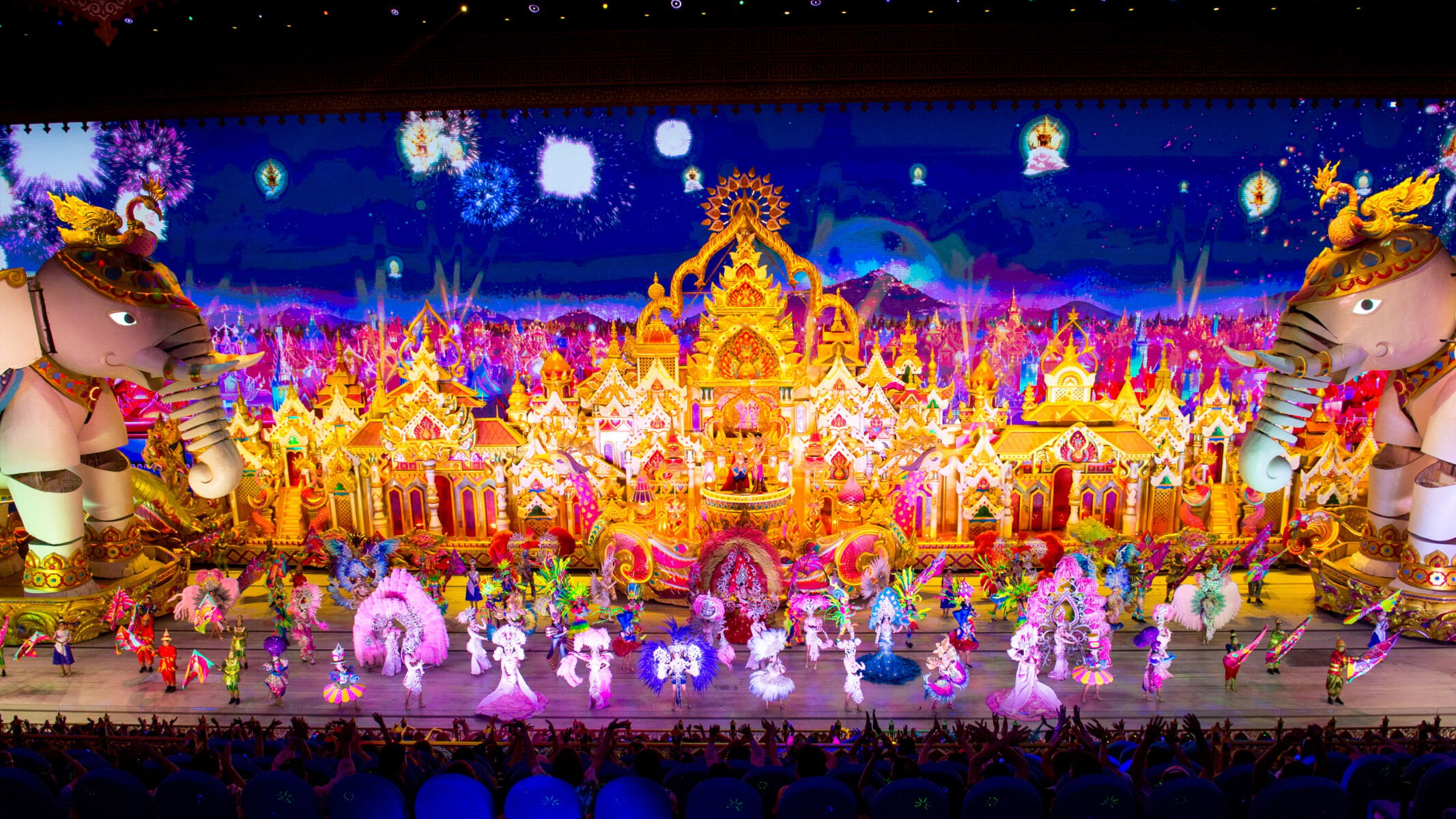 This incredible float will leave you in awe when you see it in person. With an impressive 72.1 metres (236.54 ft) in length – roughly the size of an Airbus A380 airline, which is 73 metres long – it's no surprise that this feat earned itself a place in history. Imagine a float that is almost as long as a jumbo jet parading in the River Carnival Parade Show. That's the longest single-chassis parade float!
2. Tallest proscenium arch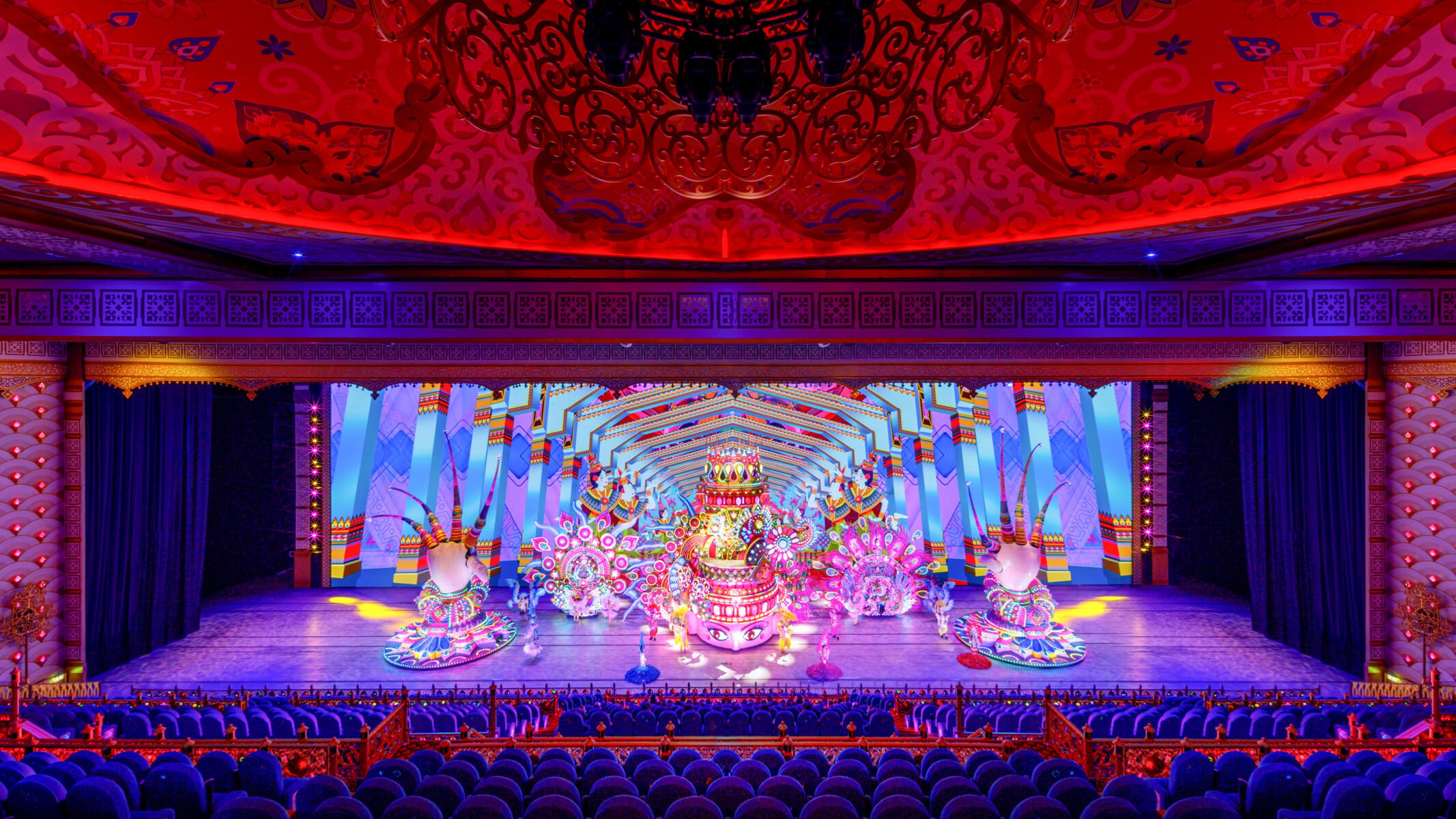 If you thought theatre arches were just for show, think again! With an amazing size of 17.6 metres in height and 72 metres in length, Carnival Magic boasts one of the tallest proscenium arches in the world. Standing inside the theatre, you can't help but be amazed by this grand architectural feat. The sheer size of it has you wondering just how it even fits inside the theatre at all! Regardless of how it all works, one thing is sure – this impressive structure has rightfully earned its place among global records.
3. Largest LED structure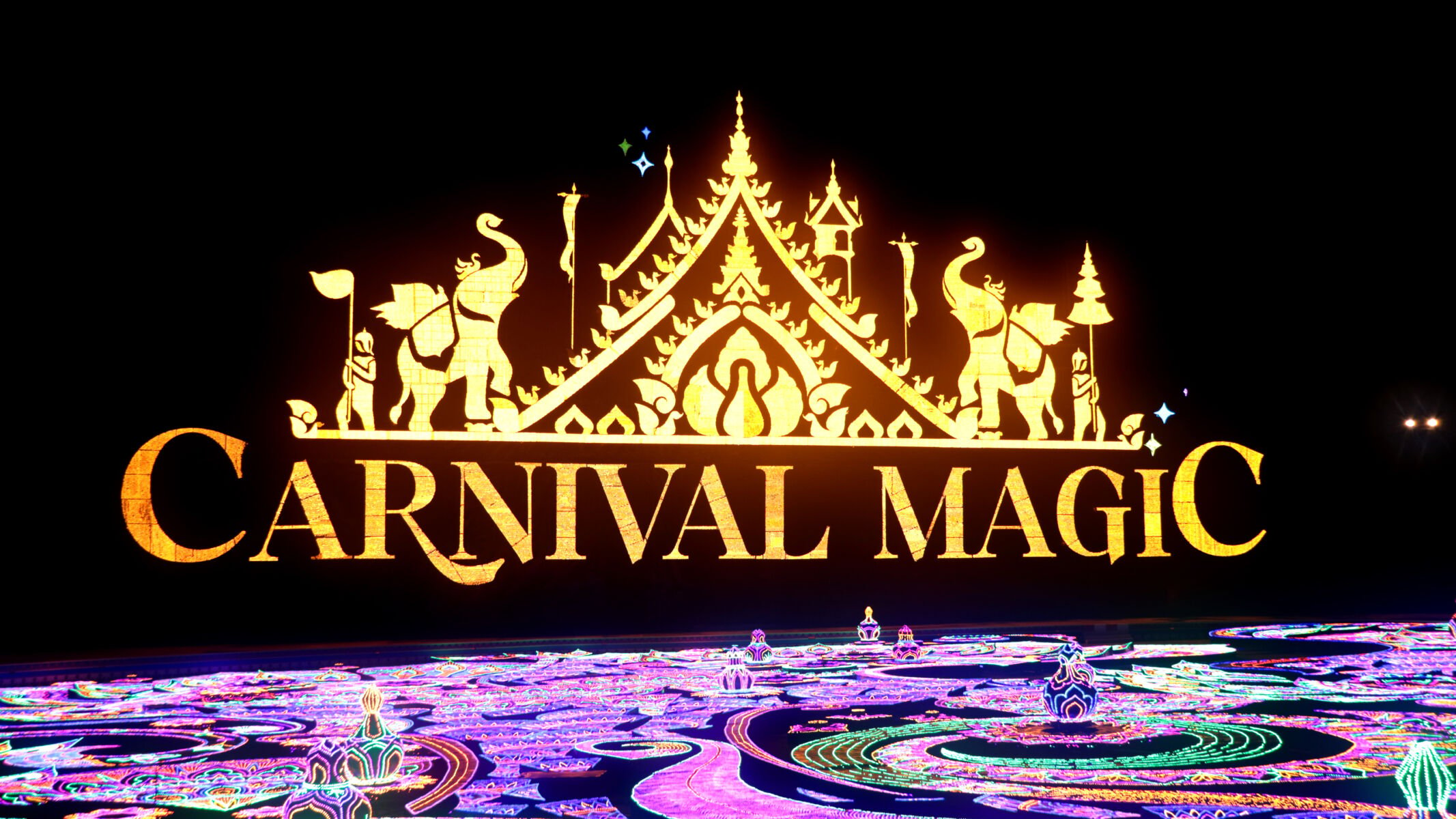 The next Guinness World Record you can see in Carnival Magic Phuket is the largest LED structure in the world. It consists of more than 41,805 individual LED lights to create the structure in the form of the Carnival Magic. It truly makes an awe-inspiring spectacle when illuminated. You can see the shimmering lights even when you're far away from it – making it a real eye-catcher! With such a beautiful display of light, you'll never want to miss out on this amazing experience.
4. Largest paper-mache sculpture (supported)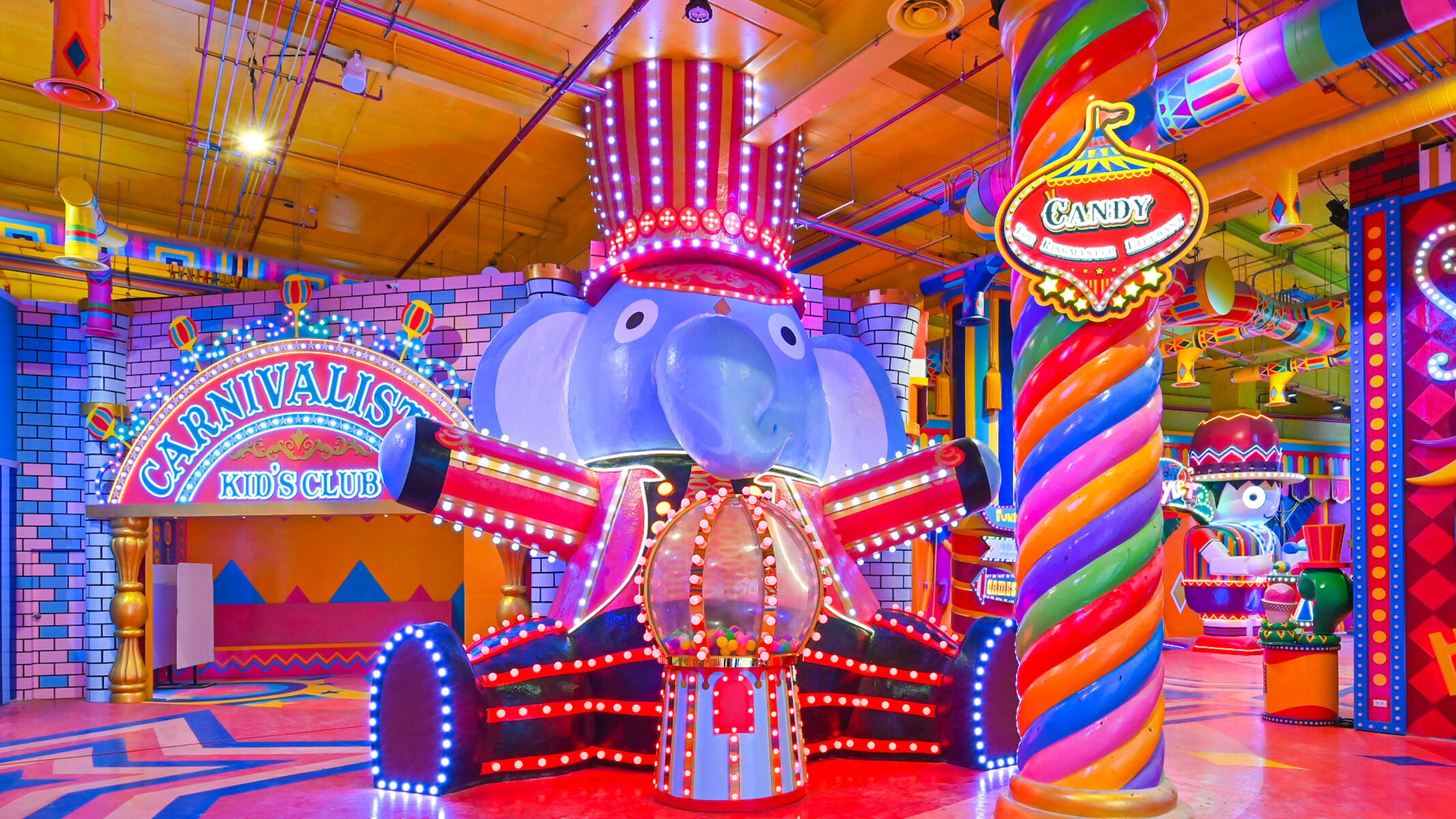 Standing at 5.95 metres tall, 5.91 metres long and 4.30 metres wide, this sculpture in the shape of the Carnival Magic mascot, Candy the Ringmaster Elephant, was a true labour of love. It took three months to create and was entirely made of paper. The sculpture was even featured on the cover of the Guinness World Records Book 2022.
5. Largest popcorn machine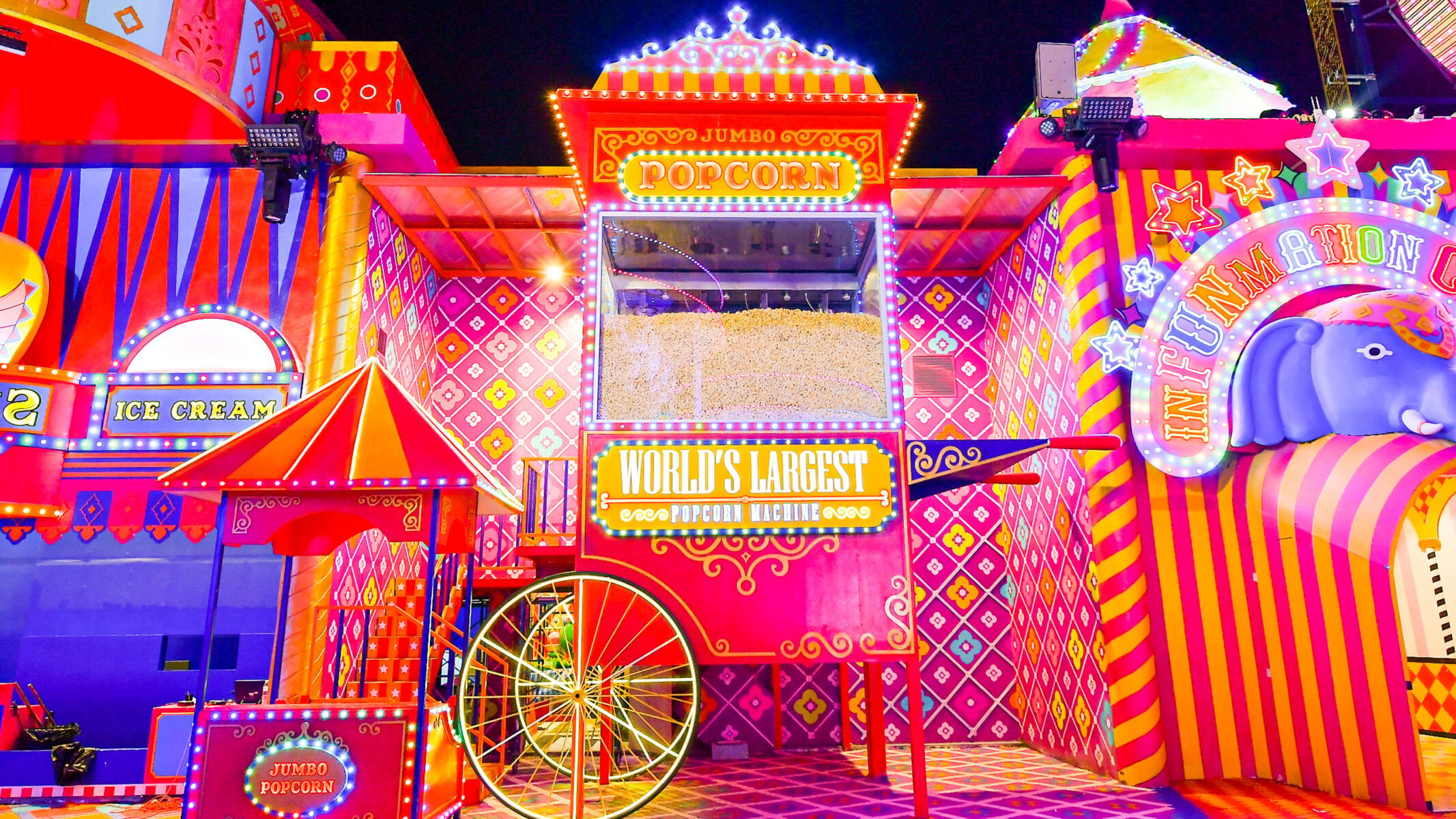 This massive machine stands at 7.89 metres tall, 3.53 metres wide and 2.83 metres deep and can make four E.P.I.C. flavours of popcorn at once (Extreme Cheese, Praline Chocolate, Island Salt and Creme Caramel). Just imagine a three-story-tall popcorn machine that actually works – what a sight to see!
6. Largest LED sculpture (supported)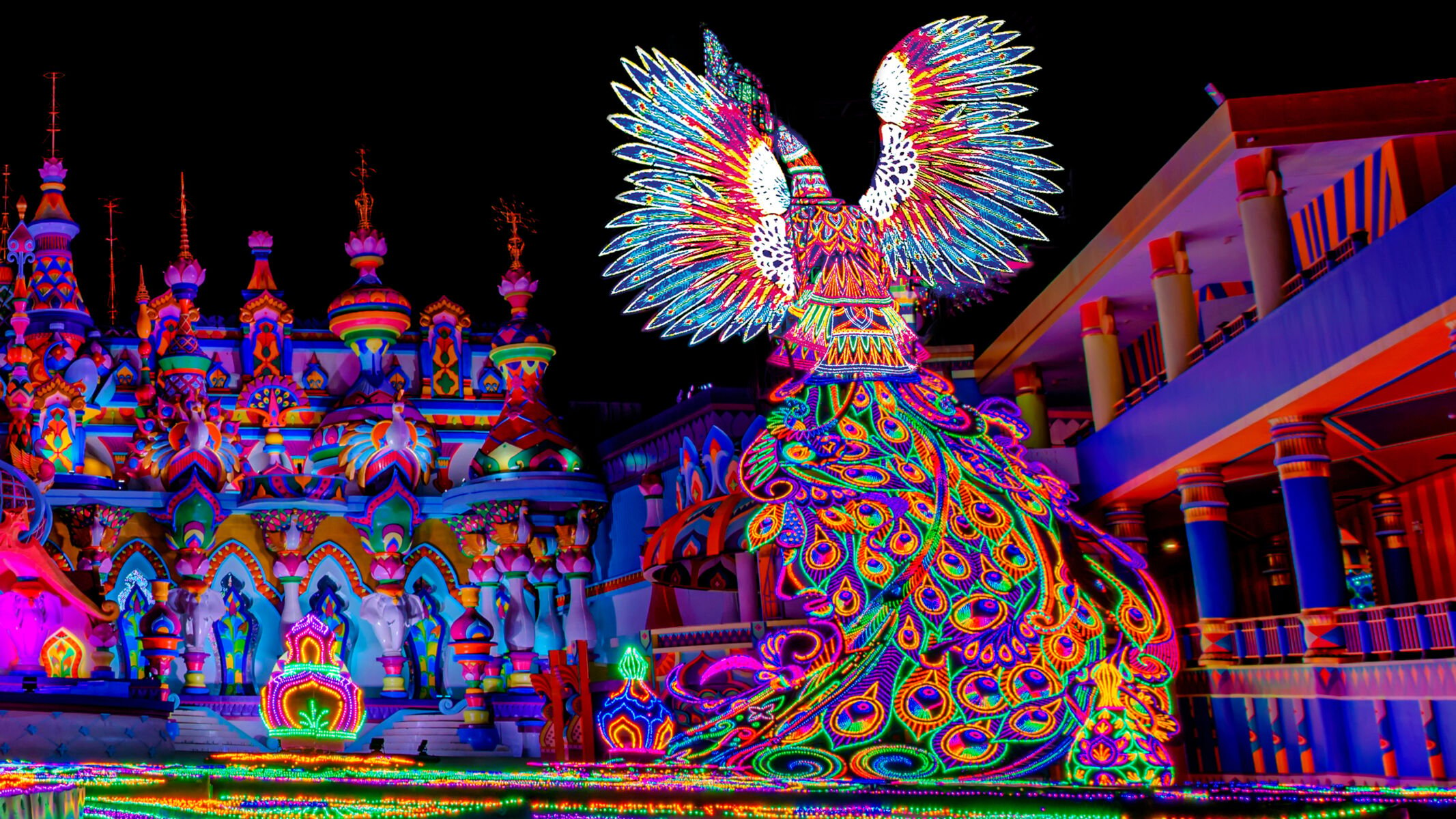 This magnificent peacock LED sculpture measures 18.01 metres in height, 10.47 metres in length, and 7.54 metres in width. The intricate details of the colossal artwork are illuminated by hundreds of lights in different colours, creating an almost ethereal scene for visitors to admire and marvel at. The bright colours of its feathers draw attention from far away, allowing everyone to take part in this glorious light show that celebrates nature's beauty. Not only is it a sight to behold, but it also serves as a source of inspiration with its larger-than-life message.
7. Most lights used in a permanent light and sound show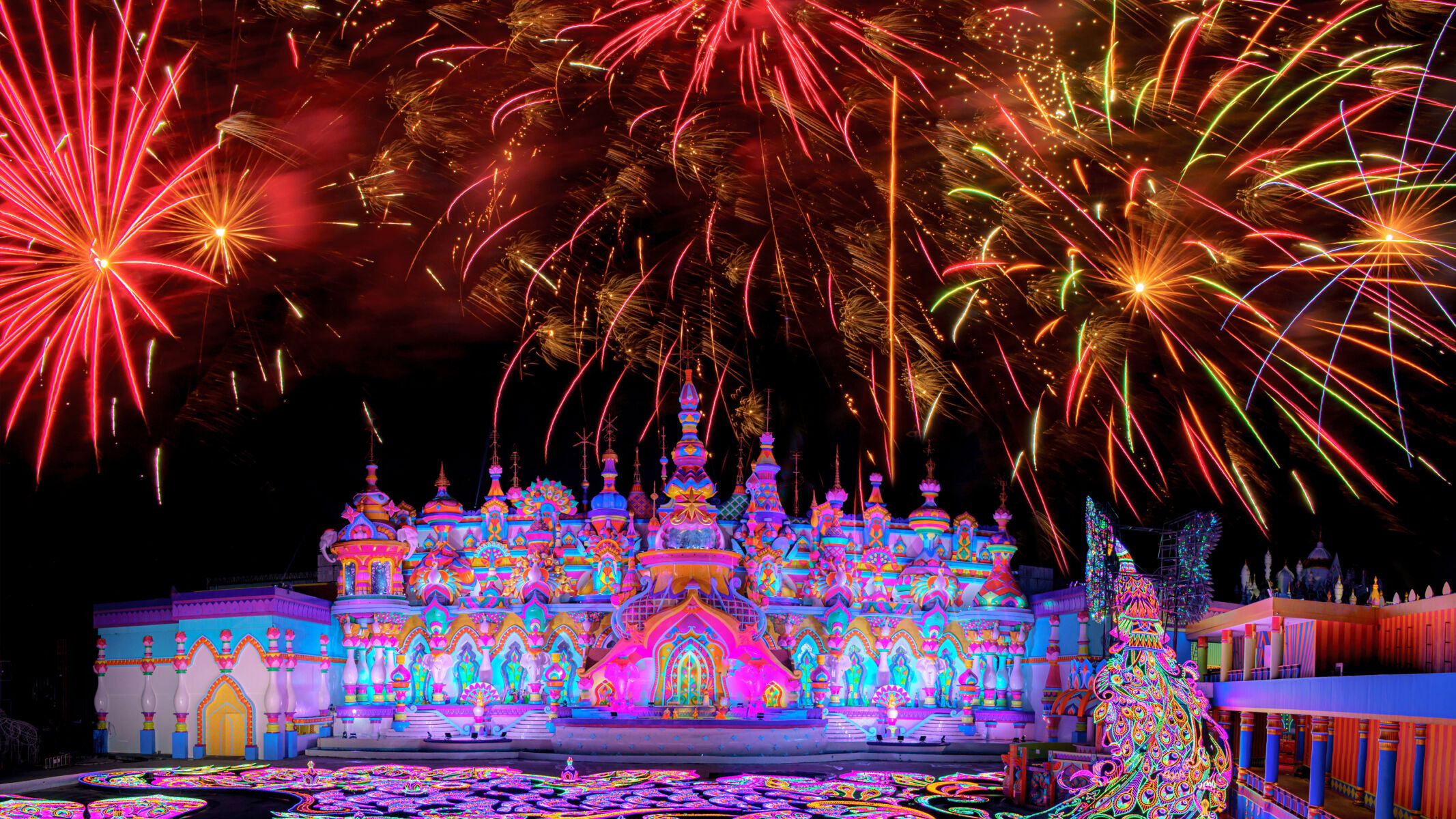 This seasonal light and sound show at Carnival Magic breaks the Guinness World Record as it features 1,683,169 lights. That's right – this incredible spectacle promises to be a sight that you won't forget.
The light show includes dancing fountains and spectacular fireworks displays. You can expect to find colourful illumination of all shapes and sizes. The sheer scale of this display will leave you mesmerised!
8. Largest outdoor chandelier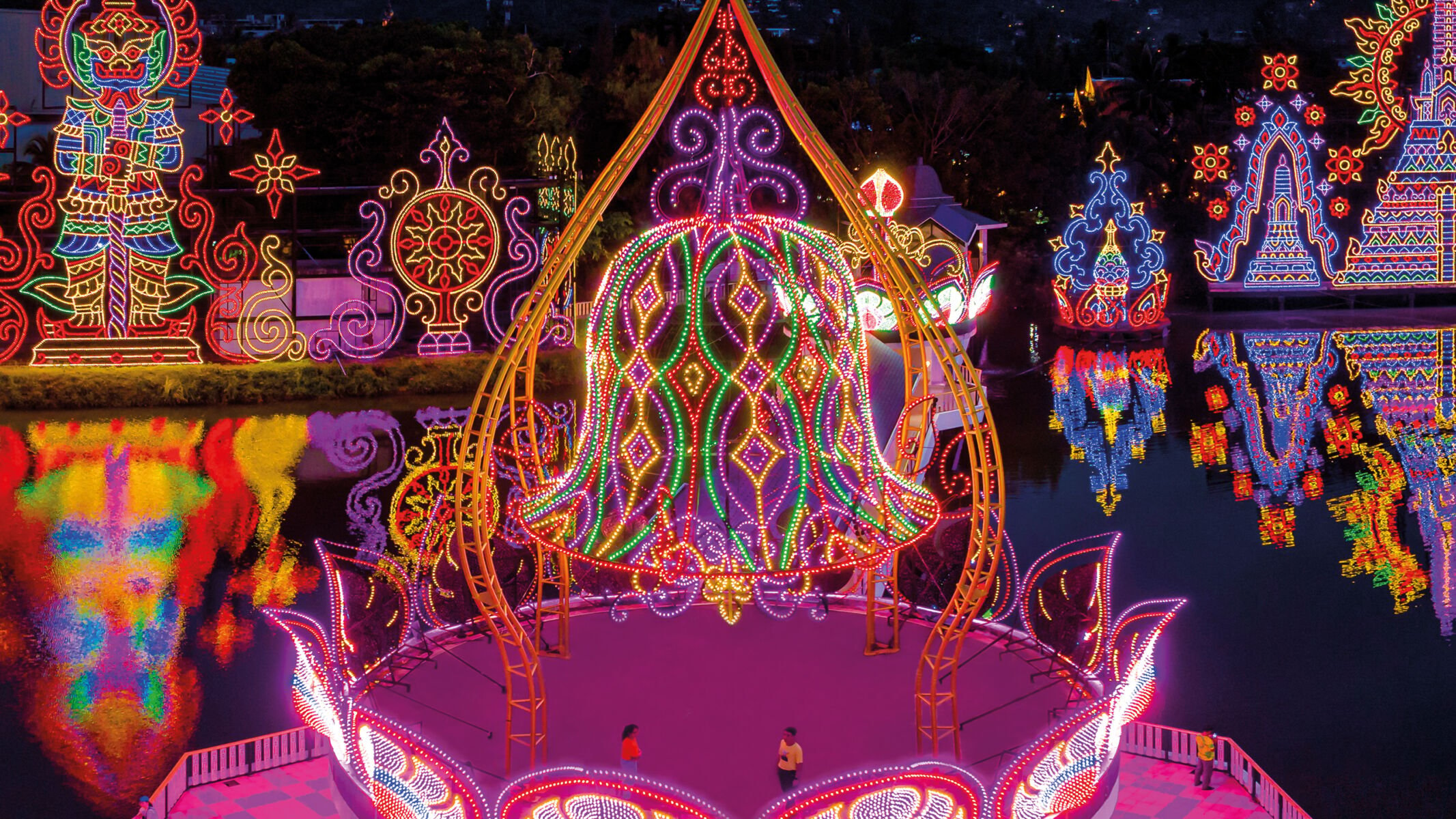 Measuring 11.69 metres from top to bottom and 9.47 metres in diameter, this impressive piece of craftsmanship is sure to take your breath away. The chandelier is in the shape of a Thai bell, which gives it an unmistakable air of elegance and grandeur. Not only does it make a bold statement in the middle of the complex, but its intricate "carvings" are also a sight to behold – perfect for both photography enthusiasts and art connoisseurs alike!
9. Most LED lights on a van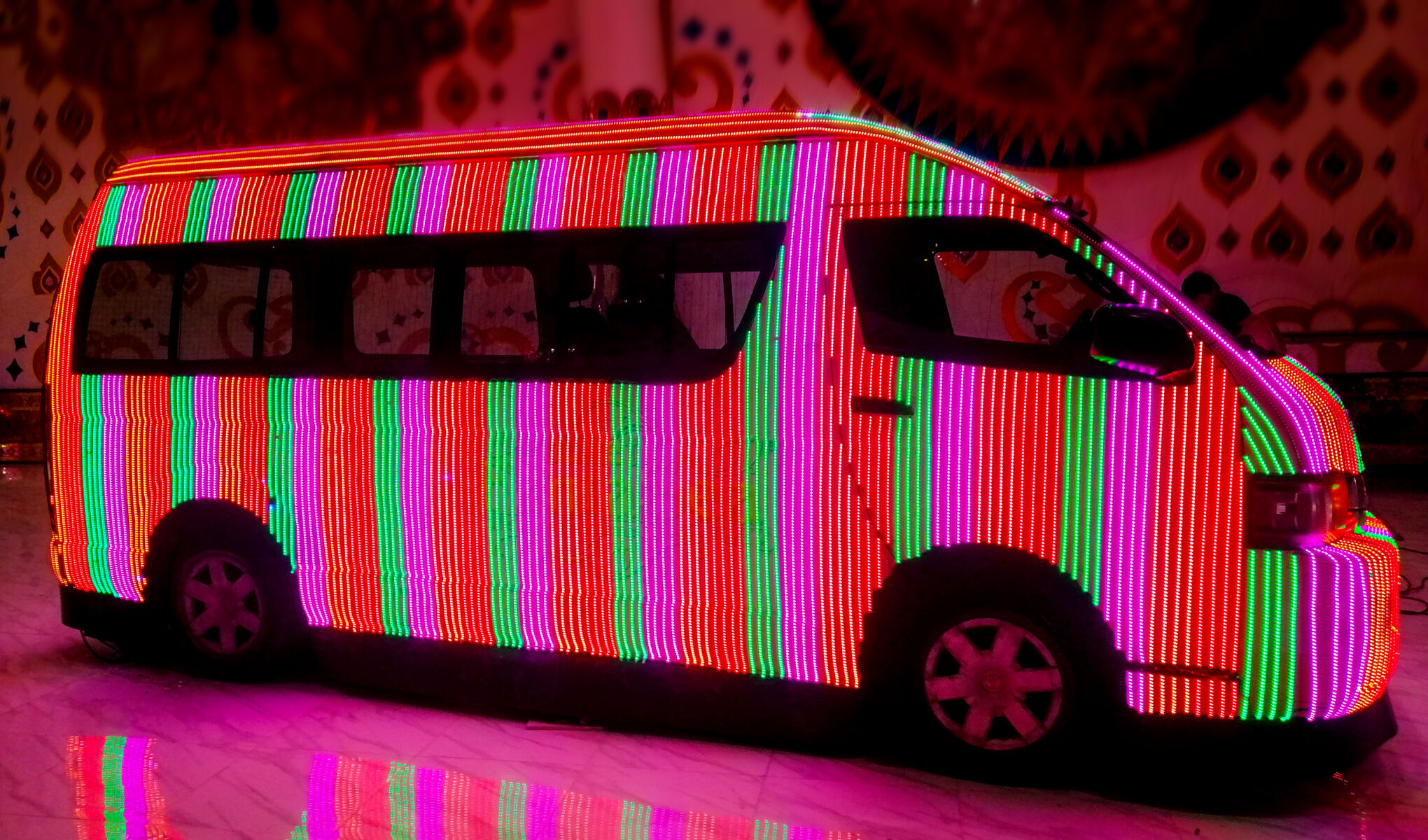 Most LED Lights on a Van – This record was set with the use of 65,759 LEDs on a 12-seater passenger van. That's enough lights to create an eye-catching display of festive colours and designs that transform this normal vehicle into something out of this world.
With its record-breaking success, the Carnival Magic Phuket is certainly living up to its name and providing a unique experience for everyone who visits. Besides its 9 Guinness World Records, Carnival Magic also celebrates all things Thai. So, the next time you're in Phuket, be sure to check out Carnival Magic and see for yourself why this theme park totally deserves all of its world-breaking records!
Learn more about this amazing theme park or book your ticket HERE.

Join the conversation and have your say on Thailand news published on The Thaiger.
Thaiger Talk is our new Thaiger Community where you can join the discussion on everything happening in Thailand right now.
Please note that articles are not posted to the forum instantly and can take up to 20 min before being visible. Click for more information and the Thaiger Talk Guidelines.