Phuket Gazette World News: Possible 300 dead in Brazil hospital murders; N Korea readies rockets after US bomber flight; US$155mn Picasso sold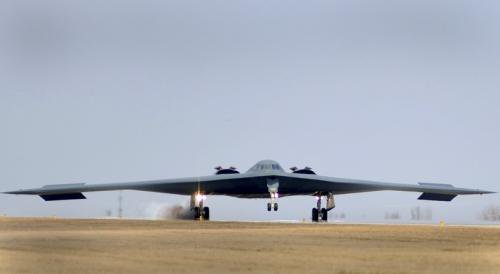 PHUKET MEDIA WATCH
– World news compiled by Gazette editors for Phuket's international community
Brazilian doctor charged with 7 murders, may have killed 300
Reuters / Phuket Gazette
PHUKET: A Brazilian doctor who was charged with killing seven patients to free up beds at a hospital intensive care unit may have been responsible for as many as 300 deaths, according to a Health Ministry investigator.
Prosecutors said Dr. Virginia Soares de Souza and her medical team administered muscle relaxing drugs to patients, then reduced their oxygen supply, causing them to die of asphyxia at the Evangelical Hospital in the southern city of Curitiba.
De Souza, a 56-year-old widow, was arrested last month and charged with seven counts of aggravated first degree murder. Three other doctors, three nurses and a physiotherapist who worked under De Souza have also been charged with murder.
Prosecutors for the state of Parana said wiretaps of De Souza's phone conversations revealed that her motive was to free up hospital beds for other patients.
"I want to clear the intensive care unit. It's making me itch," she said in one recording released to Brazilian media. "Unfortunately, our mission is to be go-betweens on the springboard to the next life," she added in the same phone call.
De Souza's lawyer, Elias Mattar Assad, said investigators had misunderstood how an intensive care unit works and she would prove her innocence.
More cases are expected to emerge as investigators comb through 1,700 medical records of patients who died in the last seven years at the hospital, where De Souza headed the intensive care unit.
"We already have more than 20 cases established, and there are nearly 300 more that we are looking into," the chief investigator assigned by Brazil's Health Ministry, Dr. Mario Lobato, said on Globo TV's
Fantastico
program on Sunday.
If prosecutors prove that De Souza killed 300 patients, this could be one of the world's worst serial killings, rivaling the notorious case of Harold Shipman, the English doctor who was found to have killed at least 215 patients.
Lobato said the deaths he reviewed occurred under similar circumstances: a muscle relaxant such as Pancuronium (trademark Pavulon) was administered, increasing the patients' dependence on artificial respiration; then the oxygen supply was reduced, causing death by asphyxia.
Some of the patients were conscious moments before they died, he said.
Prosecutors said De Souza felt "all powerful" running the intensive care unit homicide, to the point where she "had the power to decree the moment when a victim would die."
In some cases, De Souza was absent from the hospital and gave instructions to end the life of a patient by telephone to members of her medical team, according to documents detailing the charges.
Last week, a Curitiba judge ordered the release of De Souza and her medical team. Prosecutors sought on Monday to have her returned to custody because she was the leader of the team and witnesses had reported being intimidated.
Parana state prosecutors asked police on Wednesday to investigate whether more hospital employees, including former managers, were involved in the case.
President Dilma Rousseff's government will announce steps on Thursday to reorganize the hospital, a spokesman for the Health Ministry said.
North Korea readies rockets after U.S. flies stealth bombers over South Korea
Reuters / Phuket Gazette
PHUKET: North Korea put its rocket units on standby today to attack U.S. military bases in South Korea and the Pacific after the United States flew two nuclear-capable stealth bombers over the Korean peninsula in a rare show of force.
North Korean leader Kim Jong-un signed off on the order at a midnight meeting of top generals and "judged the time has come to settle accounts with the U.S. imperialists in view of the prevailing situation", official KCNA news agency said.
The United States yesterday flew two radar-evading B-2 Spirit bombers on practice runs over South Korea, responding to a series of North Korean threats. They flew from the United States and back in what appeared to be the first exercise of its kind, designed to show America's ability to conduct long-range, precision strikes "quickly and at will", the U.S. military said.
The news of Kim's response was unusually swift.
"He finally signed the plan on technical preparations of strategic rockets of the KPA, ordering them to be standby for fire so that they may strike any time the U.S. mainland, its military bases in the operational theatres in the Pacific, including Hawaii and Guam, and those in south Korea," KCNA said.
The North has an arsenal of Soviet-era Scud missiles that can hit South Korea, but its longer-range missiles are untested. Independent assessments of its missile capability suggest it may have theoretical capacity to hit U.S. bases in Japan and Guam.
The North has launched a daily barrage of threats since early this month when the United States and the South, allies in the 1950-53 Korean War, began routine military drills.
The South and the United States have said the drills are purely defensive in nature and that no incident has taken place in the decades they have been conducted in various forms.
The United States also flew B-52 bombers over South Korea earlier this week.
The North has put its military on highest readiness to fight what it says are hostile forces conducting war drills. Its young leader has previously given "final orders" for its military to wage revolutionary war with the South.
Despite the tide of hostile rhetoric from Pyongyang, it has kept open a joint economic zone with the South which generates $2 billion a year in trade, money the impoverished state can ill-afford to lose.
Pyongyang has also cancelled an armistice agreement with the United States that ended the Korean War and cut all communications hotlines with U.S. forces, the United Nations and South Korea.
Dangerous path
"The North Koreans have to understand that what they're doing is very dangerous," U.S. Defence Secretary Chuck Hagel told reporters at the Pentagon.
"We must make clear that these provocations by the North are taken by us very seriously and we'll respond to that."
The U.S. military said that its B-2 bombers had flown more than 10,461km to stage a trial bombing raid from their bases in Missouri as part of the Foal Eagle war drills being held with South Korea.
The bombers dropped inert munitions on the Jik Do Range, in South Korea, and then returned to the continental United States in a single, continuous mission, the military said.
Yesterday' drill was the first time B-2s flew round-trip from the mainland United States over South Korea and dropped inert munitions, a Pentagon spokeswoman said.
Victor Cha, a North Korea expert at the Center for Strategic and International Studies, said the drill fit within the context of ramped efforts by the Pentagon to deter the North from acting upon any of its threats.
Asked whether he thought the latest moves could further aggravate tensions on the peninsula, Cha, a former White House official, said: "I don't think the situation can get any more aggravated than it already is."
Despite the shrill rhetoric from Pyongyang, few believe North Korea, formally known as the Democratic People's Republic of Korea, will risk starting a fu
— Phuket Gazette Editors

Join the conversation and have your say on Thailand news published on The Thaiger.
Thaiger Talk is our new Thaiger Community where you can join the discussion on everything happening in Thailand right now.
Please note that articles are not posted to the forum instantly and can take up to 20 min before being visible. Click for more information and the Thaiger Talk Guidelines.