Phuket Gazette World News: Possible 300 dead in Brazil hospital murders; N Korea readies rockets after US bomber flight; US$155mn Picasso sold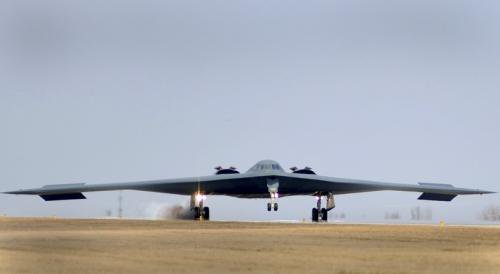 PHUKET MEDIA WATCH
– World news compiled by Gazette editors for Phuket's international community
Brazilian doctor charged with 7 murders, may have killed 300
Reuters / Phuket Gazette
PHUKET: A Brazilian doctor who was charged with killing seven patients to free up beds at a hospital intensive care unit may have been responsible for as many as 300 deaths, according to a Health Ministry investigator.
Prosecutors said Dr. Virginia Soares de Souza and her medical team administered muscle relaxing drugs to patients, then reduced their oxygen supply, causing them to die of asphyxia at the Evangelical Hospital in the southern city of Curitiba.
De Souza, a 56-year-old widow, was arrested last month and charged with seven counts of aggravated first degree murder. Three other doctors, three nurses and a physiotherapist who worked under De Souza have also been charged with murder.
Prosecutors for the state of Parana said wiretaps of De Souza's phone conversations revealed that her motive was to free up hospital beds for other patients.
"I want to clear the intensive care unit. It's making me itch," she said in one recording released to Brazilian media. "Unfortunately, our mission is to be go-betweens on the springboard to the next life," she added in the same phone call.
De Souza's lawyer, Elias Mattar Assad, said investigators had misunderstood how an intensive care unit works and she would prove her innocence.
More cases are expected to emerge as investigators comb through 1,700 medical records of patients who died in the last seven years at the hospital, where De Souza headed the intensive care unit.
"We already have more than 20 cases established, and there are nearly 300 more that we are looking into," the chief investigator assigned by Brazil's Health Ministry, Dr. Mario Lobato, said on Globo TV's
Fantastico
program on Sunday.
If prosecutors prove that De Souza killed 300 patients, this could be one of the world's worst serial killings, rivaling the notorious case of Harold Shipman, the English doctor who was found to have killed at least 215 patients.
Lobato said the deaths he reviewed occurred under similar circumstances: a muscle relaxant such as Pancuronium (trademark Pavulon) was administered, increasing the patients' dependence on artificial respiration; then the oxygen supply was reduced, causing death by asphyxia.
Some of the patients were conscious moments before they died, he said.
Prosecutors said De Souza felt "all powerful" running the intensive care unit homicide, to the point where she "had the power to decree the moment when a victim would die."
In some cases, De Souza was absent from the hospital and gave instructions to end the life of a patient by telephone to members of her medical team, according to documents detailing the charges.
Last week, a Curitiba judge ordered the release of De Souza and her medical team. Prosecutors sought on Monday to have her returned to custody because she was the leader of the team and witnesses had reported being intimidated.
Parana state prosecutors asked police on Wednesday to investigate whether more hospital employees, including former managers, were involved in the case.
President Dilma Rousseff's government will announce steps on Thursday to reorganize the hospital, a spokesman for the Health Ministry said.
North Korea readies rockets after U.S. flies stealth bombers over South Korea
Reuters / Phuket Gazette
PHUKET: North Korea put its rocket units on standby today to attack U.S. military bases in South Korea and the Pacific after the United States flew two nuclear-capable stealth bombers over the Korean peninsula in a rare show of force.
North Korean leader Kim Jong-un signed off on the order at a midnight meeting of top generals and "judged the time has come to settle accounts with the U.S. imperialists in view of the prevailing situation", official KCNA news agency said.
The United States yesterday flew two radar-evading B-2 Spirit bombers on practice runs over South Korea, responding to a series of North Korean threats. They flew from the United States and back in what appeared to be the first exercise of its kind, designed to show America's ability to conduct long-range, precision strikes "quickly and at will", the U.S. military said.
The news of Kim's response was unusually swift.
"He finally signed the plan on technical preparations of strategic rockets of the KPA, ordering them to be standby for fire so that they may strike any time the U.S. mainland, its military bases in the operational theatres in the Pacific, including Hawaii and Guam, and those in south Korea," KCNA said.
The North has an arsenal of Soviet-era Scud missiles that can hit South Korea, but its longer-range missiles are untested. Independent assessments of its missile capability suggest it may have theoretical capacity to hit U.S. bases in Japan and Guam.
The North has launched a daily barrage of threats since early this month when the United States and the South, allies in the 1950-53 Korean War, began routine military drills.
The South and the United States have said the drills are purely defensive in nature and that no incident has taken place in the decades they have been conducted in various forms.
The United States also flew B-52 bombers over South Korea earlier this week.
The North has put its military on highest readiness to fight what it says are hostile forces conducting war drills. Its young leader has previously given "final orders" for its military to wage revolutionary war with the South.
Despite the tide of hostile rhetoric from Pyongyang, it has kept open a joint economic zone with the South which generates $2 billion a year in trade, money the impoverished state can ill-afford to lose.
Pyongyang has also cancelled an armistice agreement with the United States that ended the Korean War and cut all communications hotlines with U.S. forces, the United Nations and South Korea.
Dangerous path
"The North Koreans have to understand that what they're doing is very dangerous," U.S. Defence Secretary Chuck Hagel told reporters at the Pentagon.
"We must make clear that these provocations by the North are taken by us very seriously and we'll respond to that."
The U.S. military said that its B-2 bombers had flown more than 10,461km to stage a trial bombing raid from their bases in Missouri as part of the Foal Eagle war drills being held with South Korea.
The bombers dropped inert munitions on the Jik Do Range, in South Korea, and then returned to the continental United States in a single, continuous mission, the military said.
Yesterday' drill was the first time B-2s flew round-trip from the mainland United States over South Korea and dropped inert munitions, a Pentagon spokeswoman said.
Victor Cha, a North Korea expert at the Center for Strategic and International Studies, said the drill fit within the context of ramped efforts by the Pentagon to deter the North from acting upon any of its threats.
Asked whether he thought the latest moves could further aggravate tensions on the peninsula, Cha, a former White House official, said: "I don't think the situation can get any more aggravated than it already is."
Despite the shrill rhetoric from Pyongyang, few believe North Korea, formally known as the Democratic People's Republic of Korea, will risk starting a fu
— Phuket Gazette Editors
Keep in contact with The Thaiger by following our Facebook page.
Never miss out on future posts by following The Thaiger.


Find more SE Asian News courtesy of The Thaiger.

Broke? Find employment in Southeast Asia with JobCute Thailand. Rich? Invest in real estate across Asia with FazWaz Property Group. Even book medical procedures worldwide with MyMediTravel, all powered by DB Ventures.

Covid-19 projected to reduce Americans' life expectancy – USC/Princeton study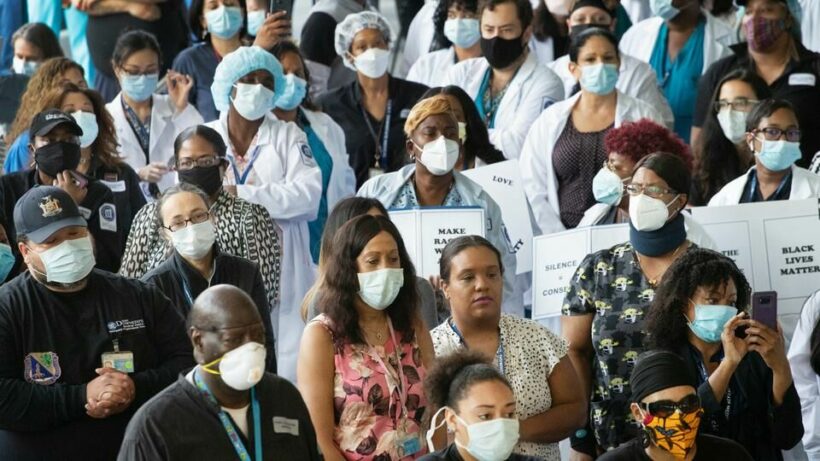 With Covid-19 linked to more than 336,000 deaths in the United States, American's life expectancy will decline, especially among black and latino people, according to researchers from the University of Southern California and Princeton University.
The study published in Proceedings of the National Academy of Sciences shows that life expectancy at birth for Americans will shorten by 1.13 years to 77.48 years, while blacks and latinos life expectancy is expected to shorten by more.
For blacks, their life expectancy would shorten by 2.10 years to 72.78 years, and for Latinos, by 3.05 years to 78.77 years. This is said to be the lowest life expectancy estimated since 2003. The disproportionate impact on the 3 groups of populations is believed to relate to social and economic advantages.
The study author Theresa Andrasfay, a postdoctoral fellow at the USC Leonard Davis School of Gerontology, says that why the study analyses the number of deaths and how it affects the life expectancy at birth, it also shows the consequences for marginalized groups.
"The Covid-19 pandemic's disproportionate effect on the life expectancy of Black and Latino Americans likely has to do with their greater exposure through their workplace or extended family contacts, in addition to receiving poorer health care, leading to more infections and worse outcomes."
The researchers say life expectancy is an important indicator of a population's health and a tool for examining the impact of COVID-19 on survival.
SOURCE: USA Today | University of South California
Keep in contact with The Thaiger by following our Facebook page.
Never miss out on future posts by following The Thaiger.
UPDATE: At least 34 dead and 600 injured after Indonesia earthquake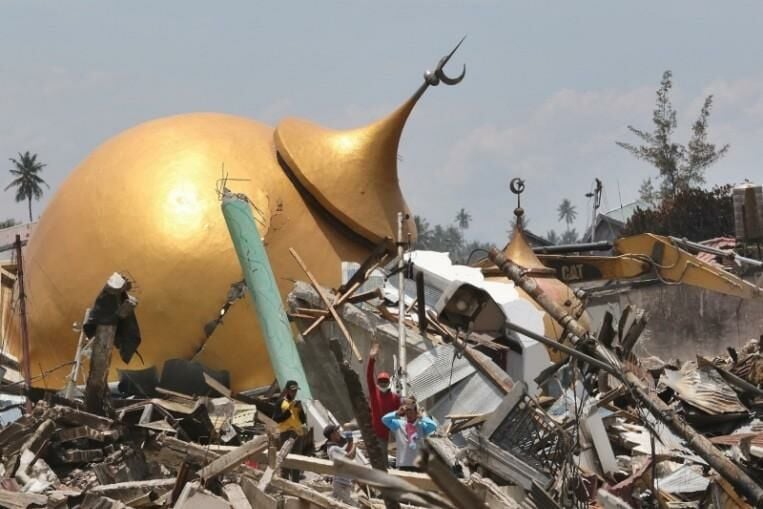 UPDATE: At least 34 people were killed after a 6.2 magnitude earthquake shook Indonesia's Sulawesi island just after midnight today. As of this evening, reports say more than 600 people were injured during the earthquake which caused buildings to collapse and residents to flee their homes in the dark.
Original story below…
Indonesian island Sulawesi was shook by a 6.2 magnitude earthquake shortly after midnight today, toppling over buildings and injuring hundreds. Reports are continuously being updated as rescuers search through rubble. As of early this afternoon, at least 10 people were killed.
Thousands evacuated their homes in West Sulawesi. The earthquake impacted the coastal city Majene where at least 3 people died and neighbouring Mamuju where at least 7 people died. Several buildings, including hotels, were severely damaged and many homes were flattened. A hospital was partially damaged and reports say more than a dozen patients and staff were trapped under the rubble. Others are trapped in rubble after their homes collapsed. A rescuer says "We are racing against time to rescue them."
Videos have been released of those crying for help. A father crying, calling out for help to save his children under their home's wreckage. In another, a girl's voice cried out from a collapsed home, saying "please help me, it hurts." The video was released by the National Disaster Mitigation Agency. Rescuers say they need an excavator to say the girl and other people who are trapped under the collapsed buildings.
The area was first hit by a 5.9 magnitude undersea quake on Thursday. It damaged several buildings, but no deaths were reported.
Since the most recent earthquake is inland, the district's disaster agency chief says it does not have the potential to cause a tsunami, but people in coastal areas ran to higher ground just to be safe.
The vast archipelago is located on the "Ring of Fire" of volcanoes and fault lines, prone to earthquakes, volcanic eruptions and tsunamis.
SOURCE: Associated Press
Catch up with the latest daily "Thailand News Today" here on The Thaiger.
Keep in contact with The Thaiger by following our Facebook page.
Never miss out on future posts by following The Thaiger.
US President Trump impeached for a second time, releases video | VIDEO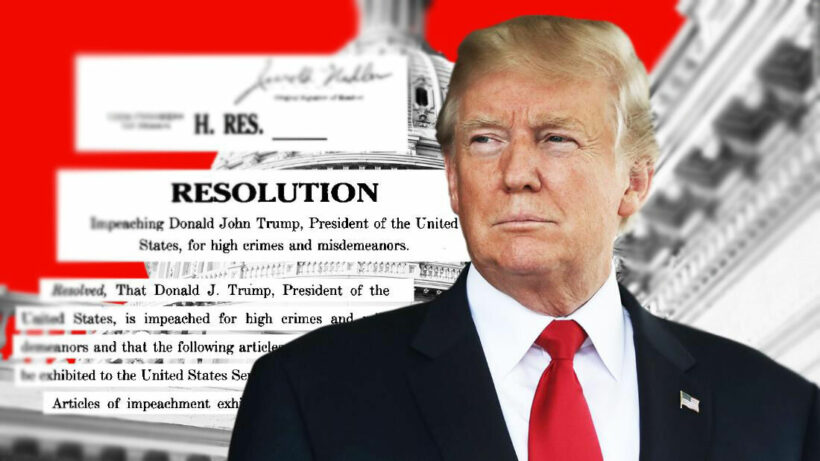 US President Donald Trump has been impeached for "incitement of insurrection" relating to last week's Capitol Hill insurgency. Armed National Guard troops guarded both the inside and outside the Capitol building following the riotous mob that invaded the hallowed halls of America's democracy, almost precisely one week before the impeachment vote.
Wednesday afternoon, Washington DC time, the US House of Representatives voted to impeach the President by 232 votes -197 votes. Donald Trump is the first president in the US to be impeached twice. Notably, 10 Republicans crossed the floor to vote with the Democrats to support the impeachment vote.
House Speaker Nancy Pelosi said ahead of the vote… "We know that the president of the United State incited this insurrection, this armed rebellion, against our common country. He must go. He is a clear and present danger to the nation that we all love."
President Trump will now face a formal trial in the US Senate. If convicted he will face being barred from holding executive office ever again. With less than a week to go before President-elect Joe Biden takes over as the next president, the Senate won't have time to reconvene. So the trial will be undertaken by a Senate controlled by the Democrats.
President Trump was defeated in the election on November 4, 2020, losing to to Democrat Joe Biden.
Shortly after the vote to impeach him President Trump released a video (below) calling on his followers to "remain peaceful". He also broadly mentioned his banning from Twitter, Facebook and YouTube, among other social media platforms, but didn't refer to the impeachment proceedings or show any contrition to his alleged role in inciting the rioters over the past 2 months since the presidential election.
"Violence and vandalism have no place in our country. No true supporter of mine would ever endorse political violence."
The President read the prepared speech in a calm tone and avoided his usual rancorous rhetoric.
The president was accused by the US Congress of inciting the storming of the Capitol with his January 6 speech to a huge rally of Trump supporters outside the White House. He urged his supporters to "fight like hell" against an election that he repeatedly told them had been "stolen", a similar message he had been falsely claiming since the election. His supporters then marched to the Capitol, broke into the building, forced lawmakers to suspend the certification of the Presidential election results and seek shelter. Five people died in the melee and many more were injured in the violent insurgency.
The impeachment charge is political, not criminal. The articles read that Mr Trump "repeatedly issued false statements asserting that the presidential election results were fraudulent and should not be accepted". It says the President then repeated these claims and "wilfully made statements to the crowd that encouraged and foreseeably resulted in lawless action at the Capitol", leading to the violence and loss of life.
Donald Trump now makes history as the first US president to be impeached twice. A year ago, the move was opposed by the Republican Party in the Senate. This time, a handful of conservatives backed the move. The falling out with some members of his own party and senior staff, and Senate majority leader Mitch McConnell's private support for the impeachment, is indicative of the President's declining influence in the fading light of his administration.
Mr McConnell said in a note to colleagues that he had not made a final decision on how he would vote in the forthcoming Senate debate. No US president has ever been removed from office through impeachment. Mr Trump was impeached by the House in 2019 but acquitted by the Senate. Same with Bill Clinton in 1998 and Andrew Johnson in 1868.
Keep in contact with The Thaiger by following our Facebook page.
Never miss out on future posts by following The Thaiger.