Phuket Gazette World News: Microsoft implicated in NSA Prism scandal; Ireland passes limited abortion law; Russia alleges Syrian rebels used chemical weapons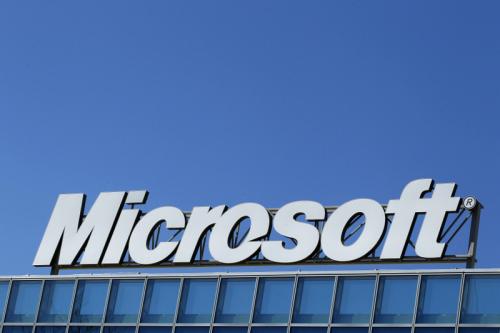 PHUKET MEDIA WATCH
– World news compiled by Gazette editors for Phuket's international community
Microsoft helped NSA, FBI access user info – Guardian
Reuters / Phuket Gazette
PHUKET: Microsoft Corp worked closely with U.S. intelligence services to help them intercept users' communications, including letting the National Security Agency circumvent email encryption, the
Guardian
reported on Thursday.
Citing top-secret documents provided by former U.S. spy contractor Edward Snowden, the UK newspaper said Microsoft worked with the Federal Bureau of Investigations and the NSA to ease access via Prism – an intelligence-gathering program uncovered by the
Guardian
last month – to cloud storage service SkyDrive.
Microsoft also helped the Prism program collect video and audio of conversations conducted via Skype, Microsoft's online chat service, the newspaper added.
Microsoft had previously said it did not provide the NSA direct access to users' information. On Thursday, it repeated that it provides customer data only in response to lawful government requests.
"To be clear, Microsoft does not provide any government with blanket or direct access to SkyDrive, Outlook.com, Skype or any Microsoft product," the company said in a statement on its website.
Facebook Inc, Google Inc and Microsoft had all publicly urged U.S. authorities to allow them to reveal the number and scope of the surveillance requests after documents leaked to the Washington Post and the
Guardian
suggested they had given the government "direct access" to their computers as part of the NSA's Prism program.
The disclosures have triggered widespread concern and congressional hearings about the scope and extent of the information-gathering.
Ireland votes to allow limited abortion rights for first time
Reuters / Phuket Gazette
PHUKET: Ireland's parliament voted on Friday to allow abortion under certain conditions for the first time, following months of polarising debate in the Catholic country including letters to the premier written in blood.
Prime Minister Enda Kenny has provoked protest from both sides of the debate by pushing through a compromise that will allow abortion, but only when a woman's life is in danger. His governing party has faced down more rebels over the issue than it did over its harsh austerity measures.
After a marathon debate that ran past midnight for the second night in a row, lawmakers passed the bill by 127-31. The vote was greeted with applause.
"It is the very, very bare minimum of a bill, but at the same time it feels like the end of an era," said Eleanor White, 21, one of a handful of pro-abortion rights activists gathered outside parliament, who were outnumbered by opponents of the bill.
"We are getting to the end of the role the Catholic Church has had in Ireland," she said.
Anti-abortion activists nearby prayed and cheered deputies who opposed the bill as they left the parliament building.
"This is a terrible crime on the heart and soul of this nation," said Rita Daly, a 56-year-old civil servant, holding a picture of an aborted foetus. "This is the intentional killing of our children, our flesh and blood."
Abortion rights opponents were particularly upset by the bill's inclusion of the risk of suicide as a possible threat to the mother's life.
The two-decade debate over how Ireland should deal with a Supreme Court ruling that abortion be permitted when a woman's life is in danger was reopened last year after the death of a woman who was denied an abortion of her dying foetus.
The Supreme Court ruling in 1992 resulted from a challenge by a 14-year-old rape victim to a constitutional amendment nine years earlier that aimed to ban abortion in all instances.
Divisions in ruling party
In a sign of how contentious the abortion issue is, five of 76 members of parliament from Kenny's conservative Fine Gael party voted against the bill. The five have been expelled from its parliamentary grouping.
Midway through his five-year term, Kenny has lost more Fine Gael deputies to the abortion debate than to economic austerity measures, even as his coalition made deep cuts under an 85 billion euro ($109 billion) EU/IMF bailout. He lost one party deputy over austerity.
The refusal to vote for the bill by longtime Kenny ally Lucinda Creighton, once tipped as a possible leader of the party, ends her role as Europe minister.
"When it comes to something that is essentially a matter of life and death, I think it is not really possible to compromise," Creighton said in televised comments.
In the weeks before the vote, Kenny said he had been sent plastic foetuses and letters written in blood, and his private residence was picketed by protesters wearing skeleton masks.
He has also faced a concerted campaign by Ireland's once- powerful Roman Catholic Church, which urged parishioners to pressure their local members of parliament to vote against the bill. Some church leaders said that lawmakers' support of abortion could be grounds for excommunication.
Rocked by a series of child abuse scandals, the Church has seen its public influence wane since the 1980s, and a younger, secular generation wants to end the practice of Irish women travelling to nearby Britain to terminate their pregnancies.
Supporters of more liberal abortion laws in Ireland had mixed feelings about the bill's passage.
"Under the current law, I face life in prison. Under the new law, I face 14 years," said Suzanne Lee, a 23-year-old student who said she took an abortion pill last year.
Russia slams West's propaganda on Syria chemical arms
Reuters / Phuket Gazette
PHUKET: Russia's U.N. envoy on Thursday sharply criticized what he described as Western nations' "small propaganda storm in a glass of water" regarding allegations that the Syrian government has used chemical weapons against its own people.
Ambassador Vitaly Churkin on Tuesday presented U.N. Secretary-General Ban Ki-moon a Russian analysis that Churkin said showed how a projectile containing sarin that hit Khan al-Assal in the northern Aleppo province on March 19, killing 26 civilians and military personnel, was fired by rebels.
That report came after Syria allowed Russian experts to visit the site and take environmental samples for analysis. Russia, along with Iran, is Syrian President Bashar al-Assad's closest ally and chief arms supplier.
The United States, France and Britain, which have informed Ban about at least nine more alleged chemical weapons attacks by the government, cast doubt on the Russian analysis and repeated their previous calls for a U.N. chemical investigation team to have unfettered access in Syria, not just Khan al-Assal.
Churkin suggested that the three Western nations were making accusations that are not worth taking seriously.
"We need to be looking to credible allegations," he told reporters, adding that the insistence on looking into other incidents besides Khan al-Assal was a "small propaganda storm in a glass of water."
"Unfortunately I think what our Western colleagues have been doing is trying to produce the maximum number of allegations with the minimum of credibility in an effort … to create maximum problems for arrangin
— Phuket Gazette Editors
Keep in contact with The Thaiger by following our Facebook page.
Never miss out on future posts by following The Thaiger.


Find more SE Asian News courtesy of The Thaiger.

Broke? Find employment in Southeast Asia with JobCute Thailand. Rich? Invest in real estate across Asia with FazWaz Property Group. Even book medical procedures worldwide with MyMediTravel, all powered by DB Ventures.

Anti-lockdown protests in the Netherlands turn violent, Covid-19 testing centre burnt down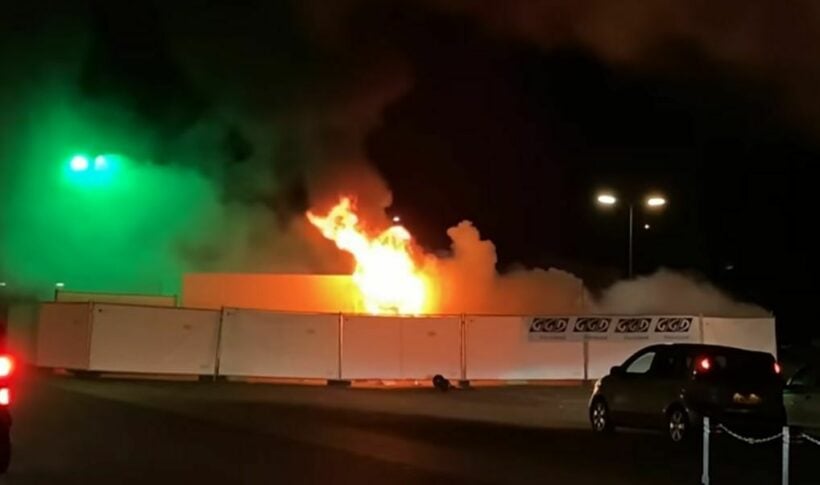 Violence broke out in the Netherlands and a Covid-19 testing centre was burnt down after a nationwide curfew was imposed over the weekend to help slow the spread of the coronavirus. In Eindhoven and Amsterdam, riot police deployed water cannons to disperse the crowds of anti-lockdown protesters.
The Netherlands has been under a tough lockdown since mid-December, leading to clashes between anti-lockdown protesters and police. Just last week, police in Amsterdam used the water cannon on hundreds of protesters. Local officials say the riot police had been called to break up the crowd because people weren't abiding by social distancing measures.
On Saturday, a new 9pm to 4:30am curfew was imposed, tightening the already tough restrictions. As the curfew went into effect that night, rioters set fire to a portable coronavirus testing facility by a harbour in Urk, a fishing town around 80 kilometres northeast of Amsterdam. That night and early the next morning, 3,600 people in the Netherlands were fined for breaching the new curfew. Police say 25 people were arrested for breaching the curfew and violence.
Local officials say the riots in Urk were a "slap in the face, especially for the local health authority staff who do all they can at the test centre to help people from Urk."
The next day, in the southern city Eindhoven, rioters threw rocks at police and set fires in the centre of the city. Riot police used water cannons and tear gas to break up the crowds. Rocks and shattered glass littered a central square in the city. At least 55 people were arrested, according to the Associated Press.
In the capital of Amsterdam, police used a water cannon to break up a group of anti-lockdown protesters. The Associated Press says more than 100 people were arrested.
SOURCE: Associated Press
Keep in contact with The Thaiger by following our Facebook page.
Never miss out on future posts by following The Thaiger.
Asia's biggest drug kingpin arrested in Netherlands
Asia's biggest drug kingpin is under arrest in the Netherlands after years of authorities chasing him worldwide. 57 year old Tse Chi Lop, a Chinese-born Canadian citizen, was arrested by Dutch police acting on a request by Australia's federal police.
The UN Office on Drugs and Crime named him as the suspected leader of the Asian mega-cartel known as "Sam Gor", a major producer and supplier of methamphetamines worldwide. Tse is commonly compared to the Mexican drug lord Joaquin "El Chapo" Guzman.
Sam Gor is suspected of laundering billions in drug money through businesses such as casinos, real estate and hotels in Southeast Asia's Mekong region. Australia's federal police said Friday's arrest came after a 2012 operation that arrested 27 people linked to a crime syndicate spanning five countries. The groups was accused of importing large amounts of heroin and methamphetamine into Australia, according to police.
"The syndicate targeted Australia over a number of years, importing and distributing large amounts of illicit narcotics, laundering the profits overseas and living off the wealth obtained from crime."
The arrest of Tse Chi Lop almost 10 years after that operation's launch is a major break for Australian authorities. The country's attorney-general will now begin preparing a formal extradition request for the alleged drug lord to face trial.
Most of Asia's meth comes from "Golden Triangle" border areas between Laos, Myanmar, Thailand and southwest China. The production of methamphetamine, either in tablet form or the highly potent crystalised "ice" version, take place in Myanmar's eastern north Shan state. Ketamine and fentanyl are also produced there as well, mostly in 'portable' labs that hide underneath the thick rainforest canopy.
In 2018 alone, Thailand netted more than 515 million methamphetamine tablets, a number 17 times the amount for the entire Mekong region 10 years ago. Traffickers are constantly finding more creative ways to ship their products as drug busts are featured daily on the news in those regions.
SOURCE: The Bangkok Post
Keep in contact with The Thaiger by following our Facebook page.
Never miss out on future posts by following The Thaiger.
Czech 'Covid' sniffer dogs can detect Covid-19 with a 95% success rate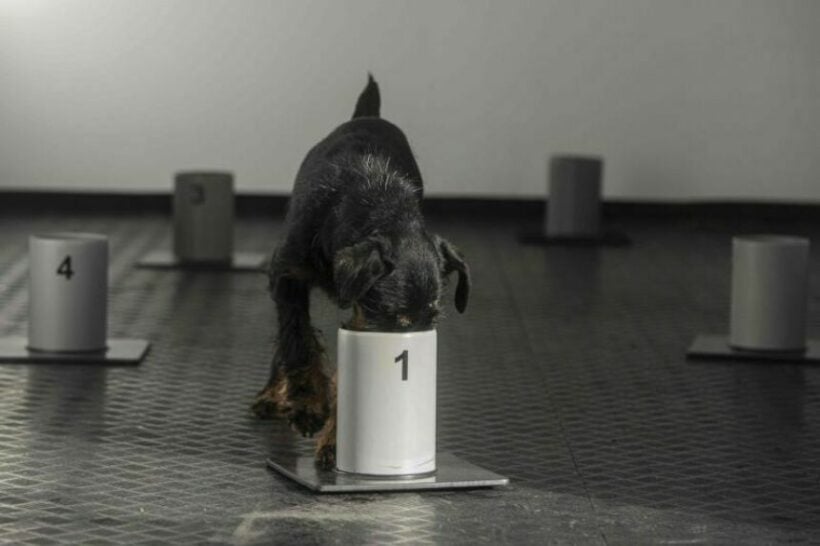 Czech dog trainers say canines can sniff out Covid-19 with an astonishing 95% success rate. The team of trainers in Renda, a Czech mountain village, are working in their own time to teach the dogs to tell the difference between fake samples of Covid and real ones by sniffing pieces of cloth. Lenka Vlachova, a trainer who works at Prague's fire brigade, says the cloths either feature a scent from patients with Covid-19 or from those that tested negative for the virus. They also say they there are cloths with fake samples of the virus that are part of the testing group.
The project head, Gustav Hotovy, says the study is designed to verify dogs' ability to detect the virus and generate a method enabling the use of training dogs in combatting the pandemic.
"The method should also work with other diseases, even more lethal than Covid-19. In the end, we should be able to detect a huge number of people in a very short time with a trained dog."
Hotovy, who is a retired cynologist, whose team started training the dogs last August, says the first study confirming that dogs are able to detect tissue attacked by a virus was conducted in the United States about 10 years ago.
"The virus changes the human tissue, affecting the scent signature of the person."
He says that the signature changes so much that it is immediately picked up on by the dogs. The samples are gathered by rubbing a piece of cotton against the patient's skin and then the team has to make sure the sample is virus-free to keep the dogs from catching the virus.
A Finnish team has also been using dogs to detect the virus at Helsinki airport, reporting its dogs can detect the virus with close to 100% accuracy.
SOURCE: Reuters
Keep in contact with The Thaiger by following our Facebook page.
Never miss out on future posts by following The Thaiger.