Phuket Gazette World News: Damascus rebels, CIA 'Zero Dark Dirty', Bangladesh war crimes, Russian jets, Pussy Riot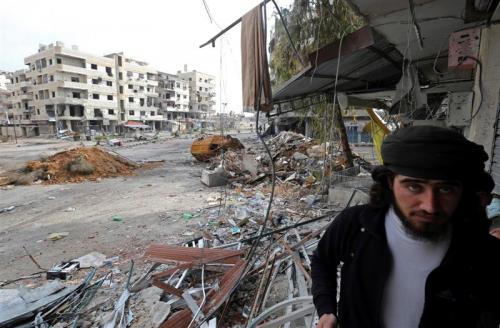 PHUKET MEDIA WATCH
– World news compiled by Gazette editors for Phuket's international community
Syrian jets bomb Damascus ring road to halt rebel push
Reuters / Phuket Gazette
PHUKET: Syrian government jets bombarded the Damascus ring road on Thursday in a bid to halt a rebel advance which threatens President Bashar al-Assad's hold on the capital, insurgent commanders and opposition activists said.
Warplanes fired rockets at southern parts of the route where rebels have spent the past 36 hours overrunning army positions and road blocks encircling the heart of the city, the site of key state security and intelligence installations.
Assad, battling to crush a 22-month-old revolt in which 60,000 people have died, has lost control of large parts of the country but his forces, backed by air power, have so far kept rebels away from the centre of Damascus.
World powers fear the conflict – the longest and deadliest of the uprisings that started spreading through the Arab world two years ago – could envelop Syria's neighbours, further destabilising an already explosive region.
"The regime really wants its positions on the ring road back. It is a major defence line for the capital," Aby Ghazi, a rebel commander based in the eastern suburb of Irbreen told Reuters.
Ghazi said the rebels have reached the edges of the city's main Abbaside Square where the Syrian military had turned a football stadium into barracks.
Authorities have banned most independent media from the country, making it difficult to verify events on the ground.
Units of Assad's elite Republican Guard based on the imposing Qasioun Mountain overlooking the capital fired artillery rounds and rockets at Jobar, an eastern neighbourhood bordering the square, and at the ring road, rebel and activist sources said.
Damascus residents, long accustomed to the sounds of war, said Thursday's shelling was some of the heaviest they had heard.
"They've gone insane. All of them. They're insane," one central Damascus resident said by telephone.

Neither side has gained a clear military advantage in the civil war pitting mostly Sunni Muslim rebels against security forces dominated by Assad's minority Alawite sect, an offshoot of Shi'ite Islam.
Assad has framed the revolt as a foreign-backed conspiracy and blames the West and Sunni Gulf states.
State media said on Thursday the army had pushed back rebels from Jobar and other eastern districts.
It added six people, including a woman and three children, were killed by rebel mortar fire on a bus station in the north-eastern district of al-Qaboun on Thursday, with several other people seriously wounded.
But Fidaa Mohammad, an activist in the district, said those killed were members of the 'popular committees', a militia set up by the ruling Baath Party's intelligence apparatus to help Assad maintain his grip on the capital.
Activists said 46 people had died on Thursday, mostly from heavy army bombardment on the contested neighbourhoods of Jobar and Zamalka which are near compounds housing Alawite forces.
A retired military officer in Damascus said the shelling of rebel areas was hitting civilians and fighters indiscriminately.
The army "stand hundreds of metres away and fire shells. And the shells fall on anyone. Women and families and anybody. Where is the courage in that," he added.
One rebel commander told Reuters the insurgents were not trying to take the capital with the current push.
"The objective is to take out the sniper positions and fortifications that form part of the regime's defence line on Damascus, not to advance too quickly without having the proper support," said Captain Islam Alloush of the Liwa al-Islam rebel unit.
Another opposition activist in Damascus said the offensive was being led by Sunni officers who had defected from the army and wanted to cut Assad's command and control lines from the centre of the city to its outskirts.
The rebels are using anti-aircraft guns, mortar rounds and armoured vehicles captured from Assad's forces over the past few months, according to opposition sources.
Many parents took their children out of Damascus schools early on Thursday and the acrid, stinging smell of explosives hung in the air, forcing some people to keep their windows closed.
Video footage, that could not be verified independently showed rebels inspecting several bodies identified as government soldiers and pro-Assad militiamen killed in fighting on Thalatheen street, a main Damascus thoroughfare straddling the southern rebel-held district of Hajar al-Aswad.
The rundown area, home to tens of thousands of refugees from the Israeli-occupied Golan Heights, is close to the southern entrance of the capital and the main highway to the city of Deraa and the Jordanian border.
CIA nominee pressed on U.S. drone policy, waterboarding
Reuters / Phuket Gazette
PHUKET: John Brennan, President Barack Obama's nominee for CIA director, said on Thursday he did not try to stop waterboarding, an interrogation technique that some consider torture, as he faced tough congressional questioning on that issue, security leaks and the use of drones to kill U.S. terrorism suspects.
Lawmakers pressed Brennan on controversial counterterrorism tactics employed while he was a CIA official under former President George W. Bush, and others whose use he helps oversee in his current role as chief counterterrorism adviser to Obama.
The issue of the now-banned harsh interrogation techniques derailed Brennan's consideration for CIA director four years ago, and he met it head-on at his confirmation hearing before the Senate Intelligence Committee.
"I did not take steps to stop the CIA's use of those techniques. I was not in the chain of command of that program," Brennan said. "I had expressed my personal objections and views to some agency colleagues" about waterboarding, a form of simulated drowning, nudity and other techniques, he said.
"But I did not try to stop it, because it was something that was being done in a different part of the agency under the authority of others, and it was something that was directed by the administration at the time," he said.
U.S. drone kills 5 suspected militants in Pakistan's tribal region
Reuters / Phuket Gazette
PHUKET: At least five suspected militants were killed Wednesday when a U.S. drone targeted a suspected militant compound in Pakistan's volatile tribal region, Pakistani intelligence officials said. There were no immediate reports of civilian casualties.
The unmanned U.S. drone fired at least six missiles at a residential building in the Spinwam area of Pakistan's volatile North Waziristan tribal area, which is also near the Afghan border. The targeted house, which was completely destroyed, was allegedly being used by militants.
Pakistani intelligence officials, speaking on the condition of anonymity, said five bodies were retrieved at the scene. "We don't know their identities," one official said. Another official said all those killed were believed to be militants, and their were no immediate claims of civilian casualties.
The strike comes after Pakistan's Ambassador to the U.S., Sherry Rehman, criticized the America's use of drones, describing them as a "direct violation of [Pakistan's] sovereignty," as there is no policy or appr
— Phuket Gazette Editors

Join the conversation and have your say on Thailand news published on The Thaiger.
Thaiger Talk is our new Thaiger Community where you can join the discussion on everything happening in Thailand right now.
Please note that articles are not posted to the forum instantly and can take up to 20 min before being visible. Click for more information and the Thaiger Talk Guidelines.