100s of pages of damaging documents about the 737 Max released by Boeing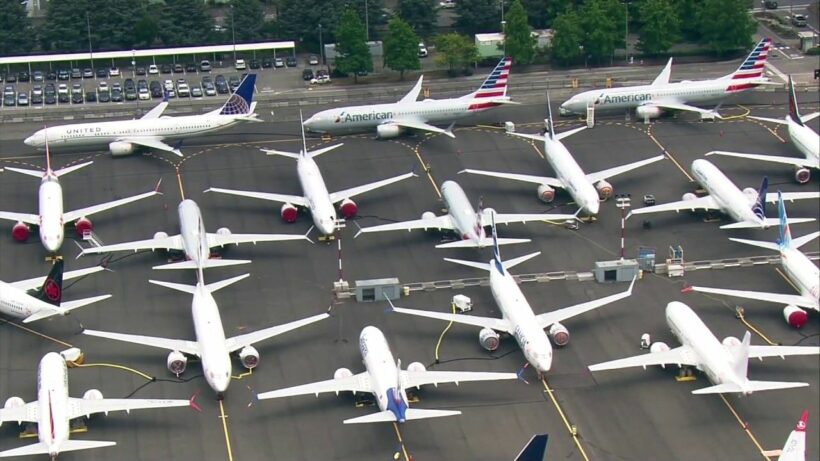 Boeing has released more than 100 pages of internal company documents to the House and Senate committee, and media, further casting doubt about the company's goodwill around the troubled 737 Max jet. The latest incarnation of the Boeing 737 was grounded last year after two fatal crashes which exposed weaknesses in the design development process and software systems.
400 of the planes, recently manufactured, remain gathering dust, unable to be delivered to their worldwide customers. Another 500, flying for airlines before the grounding, also remain on the ground. The documents were sent yesterday to the House and Senate committees that are probing Boeing's design of the plane. Boeing's release of the damaging documents also includes an apology, pertaining to the content of the documents.
"These communications do not reflect the company we are and need to be, and they are completely unacceptable,"
"We regret the content of these communications, and apologise to the Federal Aviation Administration (FAA), Congress, our airline customers, and to the flying public for them."
Many pages of the documents relate to the development and qualification of 737 Max jet simulators during 2017 and 2018.
"These communications contain provocative language, and, in certain instances, raise questions about Boeing's interactions with the FAA in connection with the simulator qualification process."
Problems with the Boeing 737 Max resulted in two fatal crashes and the loss of 346 lives. One crash was in Jakarta, Indonesia and the other in Ethiopia. The model has been grounded since March 2019 and has cost the company billions of dollars, a loss of consumer trust, lost the Boeing CEO his job and cast doubt about the future of the 737 Max model.
The 'mea culpa' that was released by the company with the 100 or so pages of documents seems to reflect a more open stance with regulators, investigators and the FAA. A new CEO takes over the reigns of the beleaguered company today.
"We welcome, and will fully support, any additional review the FAA believes is appropriate in connection with any of these matters, as well as the continued involvement of the relevant congressional committees with these issues."
Delays for any re-regulation of the 737 Max model, allowing it into commercial operation again, will now likely extend into at least the middle of this year, maybe longer. And there is even open speculation by aviation analysts if the model may be fatally flawed and may never fly again.
The latest version of the Boeing 737, the 'Max' is the fourth re-jig of a 1960's single-aisle passenger jet that has been the workhouse for short to medium travel around the world for half a century. Boeing was forced into swift re-development its ageing 737 model after the success of the new Airbus 320neo model which was launched in 2014.
The re-jig allowed for the use of newer, lighter and more powerful turbo fan-jets (which would provide better performance and lower fuel costs). But the larger engines required mounting the jets further forward on the wings, upsetting the planes' balance, and necessitating a software fix to control a possible nose-up tendency of the new model. It's the over-reaction of the MCAS (Maneuvering Characteristics Augmentation System) software, developed to help control the plane's pitch, that is thought to have been behind the two crashes.
The 737 Max model can be identified with its larger engines and twin winglets at the end of the wings.
SOURCE: CNN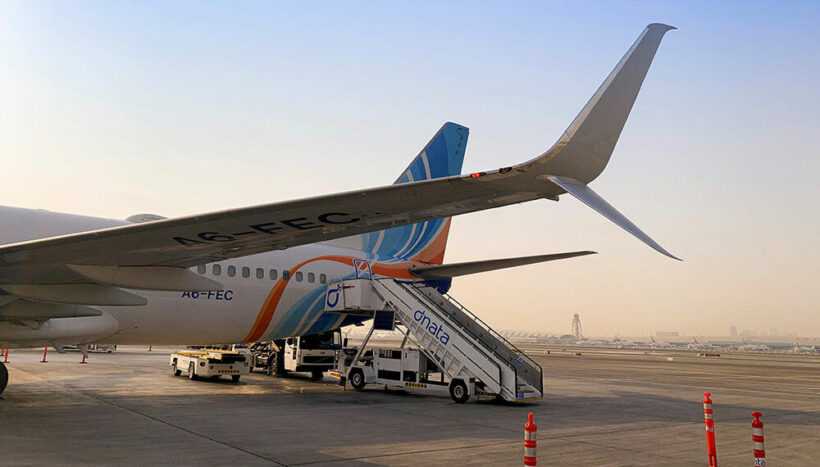 Keep in contact with The Thaiger by following our
Facebook page
.


Find more SE Asian News courtesy of The Thaiger.

Broke? Find employment in Southeast Asia with JobCute Thailand and SmartJob Indonesia. Rich? Invest in real estate across Asia with FazWaz Property Group or get out on a yacht anywhere with Boatcrowd. Even book medical procedures worldwide with MyMediTravel, all powered by DB Ventures.

Looking to jettison some items before jetsetting away or chartering a yacht? Look no further than Thaiger Classifieds where you can find and post items, work, property and more for free. Be sure to check out YonderTours for things to do in Thailand and tours across the country.

The rise of the e-bicycle in Thailand, a bit of motorised assistance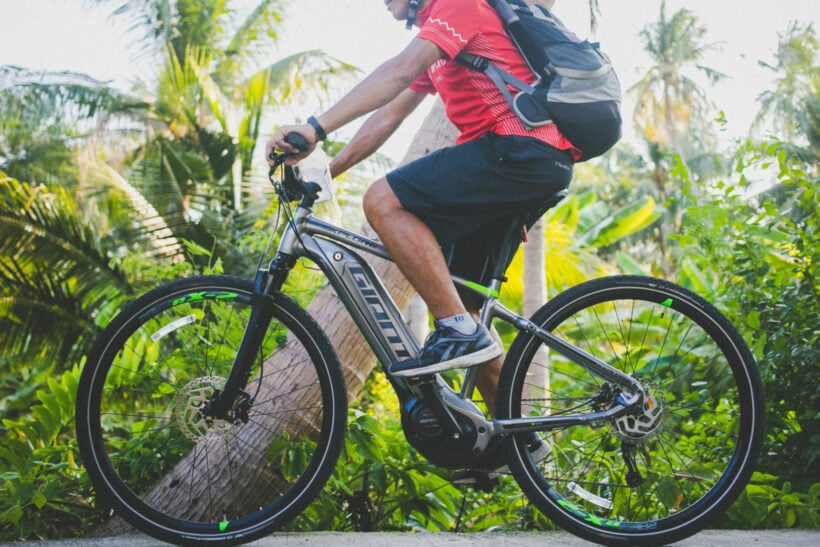 by Nicole Kash
Cycling tours offer a unique way to explore Thailand. Faster than walking but slower than driving, cycling tours cover plenty of ground while allowing cyclists to immerse themselves in the sights, smells, and culture of Thailand without the boundary of a car window.
Cycling tours can cover up to a heart-pumping 150 kilometre a day. Though exciting for many, some find longer distances daunting, especially newer cyclists or those out of practice. This is where the e-bike has begun filling a unique gap in Thailand's adventure tourism industry. Thanks to e-bikes, longer distance day tours and challenging multi-day cycling tours are no longer reserved for fitness fanatics. 
Popular in the US and Europe, the e-bike has made its way to Thailand is now thriving within the Kingdom's tourism industry. These motorised bicycles offer the option to assist cyclists with pedaling, which is especially useful for long distances and tough uphill climbs. Even with the help of the motor, cyclists still get plenty of exercise, as the pedal-assist system requires the rider to put some work in.
Unlike a scooter or motorbike, an e-bike does not run without the pedaling effort of the rider. They feature rechargeable batteries and an and off switch, allowing cyclists to challenge themselves as much as they'd like and get a little extra help when needed. 
The option of swapping our traditional bikes for e-bikes on cycling tours offer more tourists the opportunity to join in on cycling tours than ever before, growing the number of potential clients for Thai adventure tourism companies while fostering a climate of inclusivity.
Looking to join in on the fun? Here's a look into a few of the single-day and multi-day bicycle tours with e-bike options offered by Bangkok based SpiceRoads Cycling! 
Road Cycling Bangkok to Phuket (10 days)
Starting in bustling Bangkok and ending in along Phuket's sparkling coastline, this 10-day bicycle tour with e-bike options is the perfect mix of must-see sites and tucked away local spots all on smooth roads. Pedalling toward the scenic south, ride beyond the city lights and explore rural Thailand's rich culture and welcoming villages while making stops at the east and west coast's local beach spots along the way.
Rolling hills, golden sunsets, a real taste of local life, and of course serene sea views await you! This trip is fully supported with an air-conditioned van and riders can take a break and cool off while still enjoying the same views as the rest of the group. 
Phuket Highlights (½ day) 
Take a break from beach life to explore Phuket's unique and often overlooked old town on this ½ day bicycle tour with e-bike options. We start on the town's peripheral, exploring Koh Sirey's community of sea gypsies and on to see and smell the fresh catch of the day as locals bid for the best deals at the fishing port.
Then we head downtown to admire Phuket Old Town's Sino-Portuguese architecture, Jui Tui Shrine museum, and unique shops by bike. This leisurely 27 kilometre tour ends with a drive to stunning Khao Khad viewpoint for a scenic sea view and bird's eye view over where we have ridden. 
Kanchanaburi Explorer (3 days) 
Immerse yourself in Kanchanaburi's natural beauty and historic sites on this 3 day bicycle tour with e-bike options. Cycle along country roads and through local villages, enjoying mountain views and the thrill off jungle clad and dirt trails along the way.
Then explore off the bike, boarding a local train for a stunning train ride on Death Railway, visiting the historic and dark Hellfire Pass, and taking an optional boat trip to visit a Mon village. A diverse itinerary combining Kanchanburi's stunning natural sites with stops at historical must-sees on a mix of tarmac and dirt trails assures you will never get bored on this 102 kilometre bicycle tour!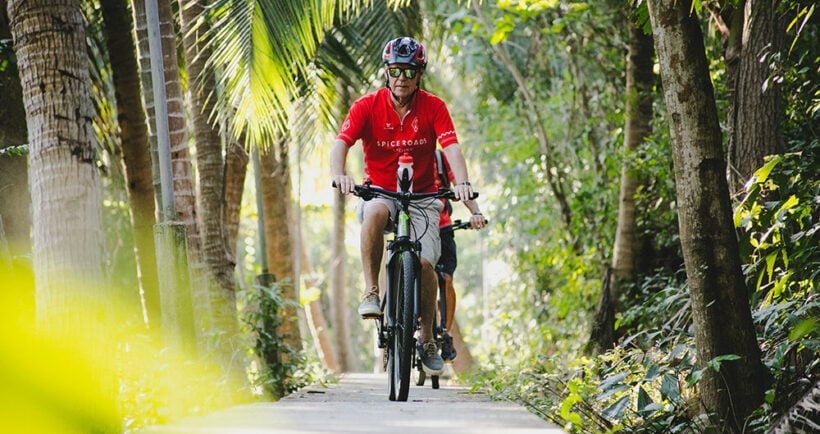 To find out more, and see more tours from the Spice Roads team, click HERE.
Keep in contact with The Thaiger by following our
Facebook page
.
Chinese scientists identify the 'Wuhan Virus'. Screening continues on Thai-bound flights.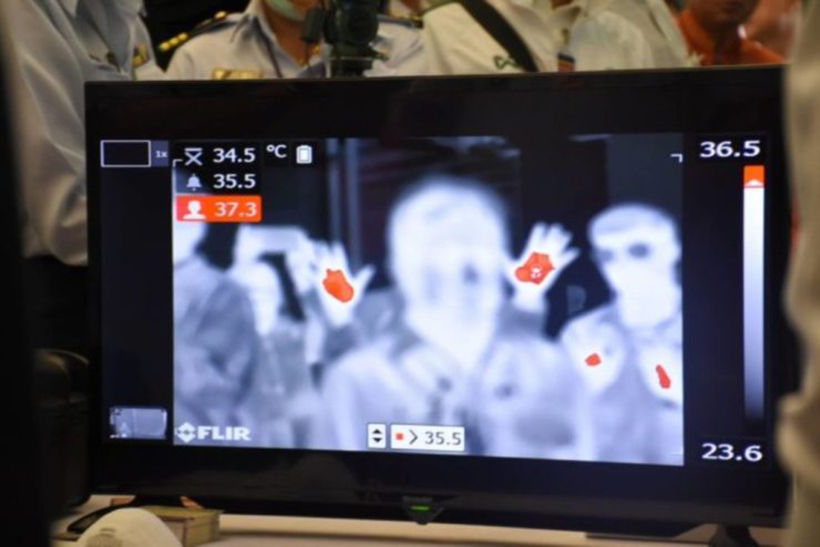 The mysterious pneumonia-like disease striking dozens of people in Wuhan, China, has now been identified as from the same family of viruses as the deadly SARS (severe acute respiratory syndrome). This news from Chinese scientists today.
Earlier today The Thaiger reported that three Thais and a Chinese citizen had been detected arriving from Wuhan in the Hubei province with suspected viral symptoms comparable with a flu or viral pneumonia.
The scientists say they've found a new "coronavirus in 15 of 57 patients with the illness in the central city of Wuhan, saying it has been preliminarily identified as the pathogen for the outbreak".
The news was reported on the Chinese state broadcaster CCTV.
"Coronaviruses" are a large family of viruses that can cause anything from the common cold (rhino virus) up to to SARS*. According to the WHO, some coronaviruses are able to transmit easily from person to person, while others can not.
The CCTV report went on to explain that the current 'Wuhan Virus', a coronavirus, appears to not be as lethal as SARS.
"Its symptoms are mainly fever, with a number of patients having difficulty breathing. Eight patients had recovered and been discharged from hospital as of Wednesday, and no deaths have been reported." (Translated from CCTV)
This new viral outbreak was first detected in the city of Wuhan on December 12 last year. A total of 59 people have been identified as contracting the illness. Seven patients have been in a critical condition at some stage, according to Chinese health authorities. Authorities report that no healthcare workers have been infected.
Some of the patients were reported to have been employed at a seafood market in Wuhan. Local media reported the market also sold "other live animals, including birds, rabbits and snakes". These reports sparked concerns that the virus might have been transmitted to humans from animals.
Six coronaviruses are known to infect humans — four of them typically cause the common cold, and the other two are SARS and MERS (the middle east respiratory syndrome, first identified in Saudi Arabia in 2012).
SARS infected more than 8,000 people and killed 774 in a pandemic that ripped through Asia and spread to 37 countries in 2002 and 2003.
In a statement today the World Health Organisation said that China's preliminary identification of a "novel virus" in such a short period since its earliest identification, "demonstrates the country's increased capacity to manage new outbreaks".
Across Asia governments are now stepping up preventive measures such as airport temperature screening and requirements for notification in the wake of what is being referred to as the "Wuhan outbreak".
Airports of Thailand says they are monitoring a the detection of any viral symptoms from Wuhan flights coming out of China. They say that six airports are now ready to cope with the situation by setting up international communicable diseases control checkpoints. Up to date four passengers – three Thai and one Chinese – have been detected and isolated pending further prognosis.
*World Health Organisation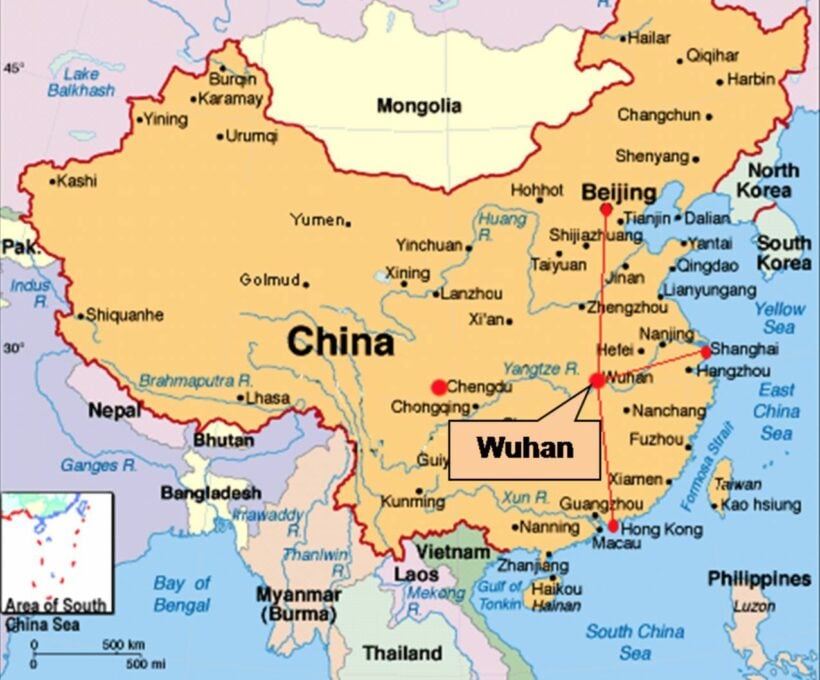 Keep in contact with The Thaiger by following our
Facebook page
.
Top 10 tips for riding a motorbike in Thailand (2020)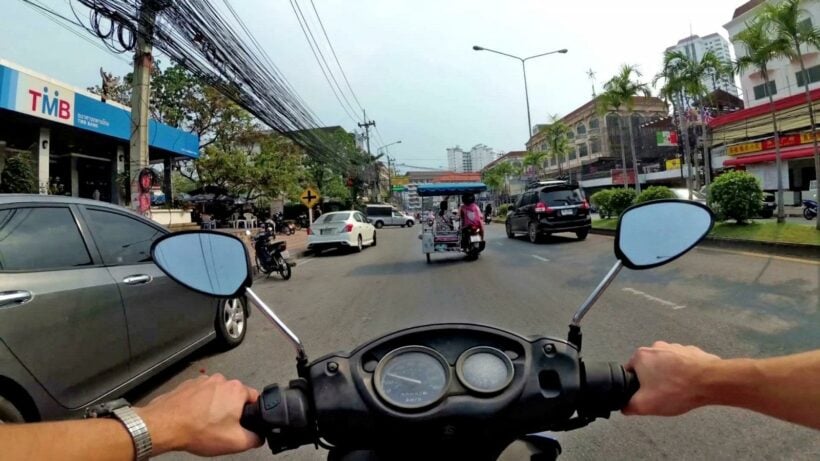 Motorbikes and scooters are the most popular mode of transport in Thailand, and most of south east Asia. Indeed, in many cases, they're the 'engine' for the local economies. The 110cc step-thru is ubiquitous. Most of them just go and go and go – they're astonishingly reliable. Whilst you're meant to change the oil once a month we suspect most don't get their oil changed once a year, if ever.
Getting around on a motorbike is easy enough and, especially in busy traffic, will get you to your destination faster whilst the cars and trucks are plodding along in the traffic.
But riding a motorbike in Thailand can also be very dangerous. But if you stick to the common sense basics – ride within the speed limits, wear a bike helmet, obey the traffic rules and don't drink and drive – it remains a perfectly reliable way to get around.
Make sure you have the correct insurance before you go anywhere near a motorbike or motorcycle!!
Here's our Top Ten tips to make your journey on the motorbike safer and more comfortable.
PLEASE NOTE: We're not recommending that you should ride a motorbike but, if you do, these tips will help…
1. Wear appropriate clothes
Whilst you'll see idiot tourists riding around on their rented motorbikes in their swimming shorts, and that's all, you're going to be much safer with a few clothes on. Falling off a motorbike without anything covering your knees or elbows is going to be painful enough – having at least some fabric between you and the road is going to reduce the painful grazes a bit. Long pants and a long shirt are a good start.
Always wear shoes for the same reason. And a motorbike helmet as well – it's the law and it could save your life. The flimsy plastic 'lid' type helmets cost around 200 baht and will get you through the checkpoints but spending a bit more on a better helmet will provide additional protection in the unlikely situation your head comes in contact with the road. You'll see the locals riding around with their jackets on the wrong way – they say it keep their clothes clean from the road muck and fumes.

2. Keep your bike in good condition
It goes without saying. But as hardy and reliable as the modern motorbikes are, they will run better and for longer if you keep up the service schedule and change the oil around once a month. You will wonder how they can produce these 110-125cc step-thrus for little more than USD$1,000 brand new, but they do and the ones floating around the roads of Thailand are almost all made in the land of smiles.
Apart from changing the engine oil keep an eye on the tyres as the road surfaces in much of Thailand, plus the heat and humidity, will wear down your tread quickly. Good tread and keeping your tyres at the prescribed pressure are your best bet for maintaining control at all times. Your brakes will also need checking although, like the rest of the part of these bikes, the brakes seem to last forever.
Whenever you're getting your oil changed get the service man to check the brakes, tyres and make sure nuts and bolts are all tight – they shake loose sometimes.And then there's the lights at the front and back which are your best way to inform other driver's what you're doing in the traffic. Indicators may not be used much by the locals but you should.

3. Make sure you have a proper license
Your car license in your home country isn't legal in Thailand to ride a motorbike. Your International Drivers License for cars issued in your home country isn't going to cut it either. Legally, the only document that will satisfy the Thai legal system, officially, is a Thai motorcycle license. It doesn't matter much until a situation arises where you're in an accident and the law comes crashing down on you.
If you live in Thailand you simply must get a proper motorbike drivers license of you want to ride a motorbike here. For tourists, the local bike hire shops will gladly rent you a bike, usually by simply showing your passport and giving them a deposit. Some will even tell you that their 'insurance' will cover you in the event of an accident – that's just not going to happen. YOU are responsible for your own health if you get onto a motorbike in Thailand. Check YOUR situation and YOUR health and travel insurance.
And whilst we're talking about a Thai Motorbike License, we're talking about the ones you get from the Land Transport Office, not Khao San road for 500 baht!
(Here's some info about getting a motorbike license in Bangkok, the same applies at the Land Transport Offices in most Thai cities).
We think you're insane getting on a motorbike in a foreign country without the correct documentation, which leads us to #4…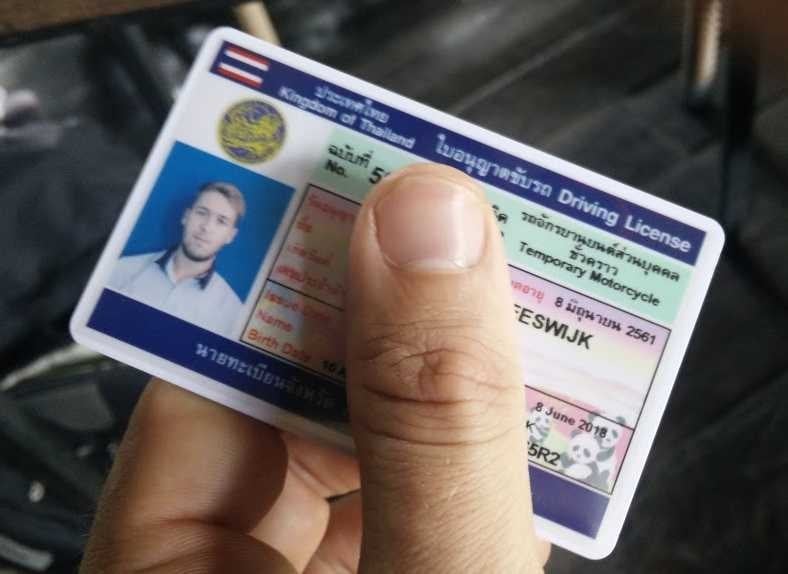 4. Check your travel and health insurance
Every week The Thaiger hears from tourists stuck in a Thai hospital with mounting hospital bills and an insurance company that won't pay out because they didn't have a proper drivers license. Or no insurance at all. And even if you have travel or health insurance, check the fine print because some insurance contracts preclude driving on motorbikes in Thailand.
In six years driving on Thai roads I've had one fall. It winded me badly and I got abrasions on my ankle and knee. But people ran to my assistance and helped me up. I didn't need to go to hospital but I was grateful, lying in the middle of the road gasping for breath, that I knew I had good health insurance and a proper license.
(The fine print on your insurance, different country's licences and the policeman that shows up at your accident will all play a part on how your accident will play out. The ONLY sure way you can prove your legal ability to drive on a Thai road is with a Thai motorbike license)

5. Driving is different in Thailand
Many of the rules are the same as countries that also drive on the left-hand side of the road. But you need to add 'Thainess' into the traffic mix. It is different. Apart from the lunatics that drive too fast, drink-drive or ghost ride (driving against the flow of traffic on the side of the road), there's just the different attitude to driving. We say it's a bit like swimming with a school of fish – if you just go-with-the-flow and keep in the stream of traffic you'll do well.
The western attitude of driving defensively will go against the grain of Thai traffic movement where 'personal driving space' isn't really honoured and people will cut in front of you as just a part of daily driving habits. It's not wrong, it's different and you're best to learn the subtleties of Thai traffic flow before you immerse yourself in the middle.

6. Green lights mean GO. Red lights also mean GO sometimes.
You'll see what we mean. Don't even think about trying it. It will either get you fined or dead.

7. Have a practice
If you're either new to driving a motorbike or new to driving a motorbike in Thailand don't thrust yourself into a busy stretch of road immediately. Try something a little calmer and slower to get a feel of the subtle differences in Thai traffic movement. You're sharing the road with trucks, cars, buses and passenger vans.
You're meant to stay on the left hand side and you'd be well advised to do so, despite the behaviour of some Thai motorbike drivers that want to mix it with the 'big boys'. Get some confidence with your motorbike and way it handles, and moving in and around traffic on a quiet road before you tackle the main roads.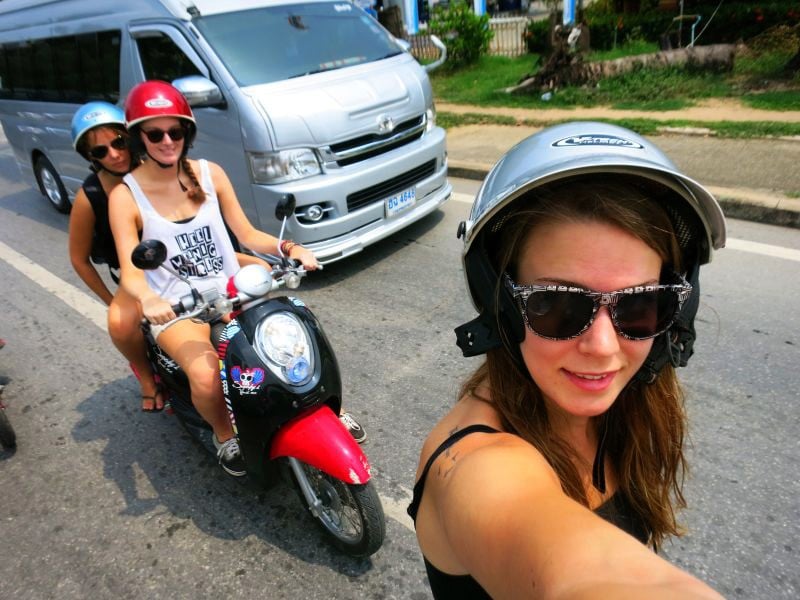 8. There's pot holes, then there's POT HOLES
The roads around Thailand have really improved in the past decade but you'll still find pot holes in places there wasn't one the day before. If you want a really good reason for giving plenty of distance between you and the car in front, it's to see the pot hole before you end up IN it. Whilst car tyres might glide over these holes in the road, your motorbike is likely to come to an abrupt halt, with you continuing over the front of the handlebars – something to do with Newton's first law of motion.

9. If you're not sure, don't
Never ridden a motorbike? Didn't ride a motorbike in your own country? There's two good reasons not to try it for your first time in Thailand.
It can be a bit of a challenge for even experienced motorbike drivers, well different anyway. There's plenty of other ways to get around and if you want THAT selfie for your Facebook page there's thousands of bikes parked by the side of the road where you can get a photo. Just because your friends did it when they travelled to Thailand doesn't mean you have to.

10. Police will often arbitrate on the spot at an accident
If you are in the wrong and damaged someone or someone else's bike you're probably going to have to pay up. Now, there's the 'official' way to sort things out in these case and the 'unofficial'.
The policemen will get to the scene soon enough and, often, decide there and then who was at fault. They'll often negotiate how much should be paid as well. The urban myth is that Thai police always side with the the locals – that's not the case although, if you are indeed in the wrong then you're IN THE WRONG!
If you are concerned that you're being rolled by the locals in sorting out a simple motorbike accident then call the Tourist Police or your consulate immediately. DON'T agree to pay any money to anyone until you've spoken to at least the Tourist Police.
Getting into an argument with the local police will almost certainly guarantee you'll come off second best. Demanding that you speak to the police chief, etc, will also usually end up in the situation not going well in your favour. Be patient and don't lose your cool. You are in a foreign country, you're a guest and they do things differently – end of sentence.

PHOTO: John Everingham
10a. If you have any doubts, just don't
Bottomline about riding a motorbike in Thailand is that, if you 1) wear a motorbike helmet 2) never drink and drive 3) wear appropriate clothing 4) have a Thai motorbike license and 5) be aware of the traffic around you and concentrate at all times… you'll probably have very few problems and be able to enjoy Thailand the way the locals do, au natural, with the wind through your hair and the insects up your nose.
Keep in contact with The Thaiger by following our
Facebook page
.