Trawler captains face fines after catching whale shark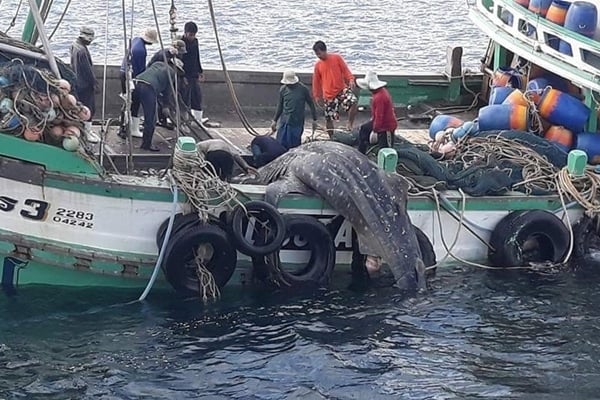 By Pratch Rudijanarom and Salinee Prab
The captains of two trawlers accused of having fished an endangered pregnant whale shark off the coast of Phuket potentially face a heavy fine of up to 3 million baht and confiscation of their vessels, according to authorities.
Fisheries Department and Marine and Coastal Resources Department yesterday promised to take swift action against the captains of Saeng Samut 2 and Saeng Samut 3 trawlers, for their alleged violation of the Fisheries Decree and Wild Animal Reservation and Protection Act by catching a whale shark. A tourist dive boat on Friday found the trawler Saeng Samut 3 carried on-board a whale shark, which later was found to be pregnant.
A video clip, which has been widely shared on social media, showed that after being pressured to release the shark, the fishermen used a crane to pick it up and push it over the vessel to dump it back to the sea. The witnesses aboard the dive boat said the mother shark was badly injured and her unborn shark baby was seen falling out of the mother's belly. It is unclear whether the sharks survived.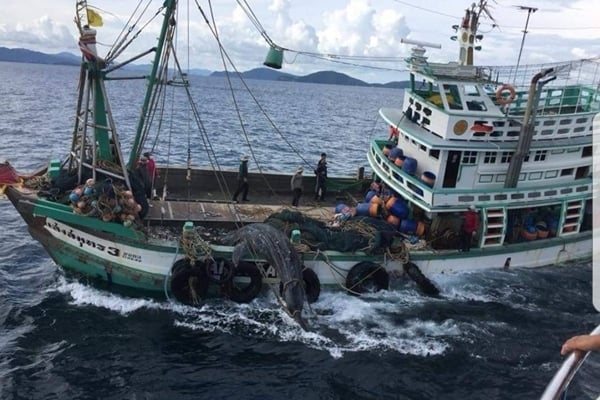 Fisheries Department director-general Adisorn Promthep said that based on the report of the event, officers had inspected the vessels after they tied up at the Phae Saeng Arun Phuket fishing pier and determined the identities of the trawler captains, Somsamai Meechom and Rattana Phromngam. The officers have filed complaints with the police against Somsamai, Rattana and other suspects, asking that they be charged with catching a whale shark and bringing it on-board, which is a violation of Article 66 of Fisheries Decree, Adisorn said.
"The offenders under this charge are subject to punishment of a 300,000 to 3 million baht fine, while the fishing licences for these vessels would be revoked and they are also permanently banned from applying for a new fishing licence," he said.
"Currently, the officers have already seized the trawlers and confiscated catches and fishing equipment, and if the vessels are found to have been used in a serious crime as per the Fisheries Decree, the court can order confiscation of the vessels as well." Marine and Coastal Resources Department director-general Jatuporn Buruphat said the vessels' location data from Port In–Port Out (PIPO) Control Centres in Phuket showed that the pair of trawlers did not fish in a restricted area. However, from the clear evidence of a whale shark having been caught, they not only violated the Fisheries Decree, but also the Wild Animal Reservation and Protection Act, since whale sharks are on the list of protected animal. The suspects are thus open to a four-year imprisonment and a 40,000 baht fine if convicted, Jatuporn said.
"Our agency has the power to file a complaint on the offence of killing a protected animal, and as of now I have ordered the officers to gather all evidence to sue this case with the police," he said.
He also said that the team of officers from Marine and Coastal Resources Department was working with the navy to search for the whale shark, while he will go to Phuket to carry out an inspection on the issue himself. Somsamai, the captain of Saeng Samut 3, said his trawler caught a very heavy marine animal, while fishing off the coast of Phuket on Friday afternoon, but they did not know that it was a whale shark, so the workers brought in aboard the vessel.
"After we found that it was actually a whale shark, we were trying to return it back to the sea. But it was too heavy to carry, so we had to use a crane to pick it up," Somsamai said.
"We all know that catching a whale shark is a criminal offence, but we caught it by accident and did not intend to harm it."
The whale shark is the world largest fish. It is harmless to humans, and consumes only plankton. The status of whale sharks around the world has raised concern as their numbers rapidly dwindle. It is listed as endangered by the IUCN Red List and it is internationally protected under CITES.
Banjong Nasae, Thai Sea Watch Association president, said it was not the first time trawlers had caught rare marine animals out at sea, and this incident clearly showed that trawlers are destructive to the marine ecosystem and need to be more tightly controlled. Banjong said that if no one had noticed that this trawler carried a whale shark, there was the possibility that the crew would not have returned it to the sea but instead sold it in the market as many parts of a whale shark are valuable.
"It is clear that our regulations to monitor fishing activities of trawlers are still weak and allow these destructive fishing vessels to cause damage to the ocean's ecosystem, so stricter control on trawlers is required to make sure that our fishing industry will be sustainable," Banjong said.
Video and stories HERE and HERE.
STORY: The Nation
Keep in contact with The Thaiger by following our Facebook page.
Never miss out on future posts by following The Thaiger.
Gunman kills mayoral candidate, injures 4 other municipal candidates at funeral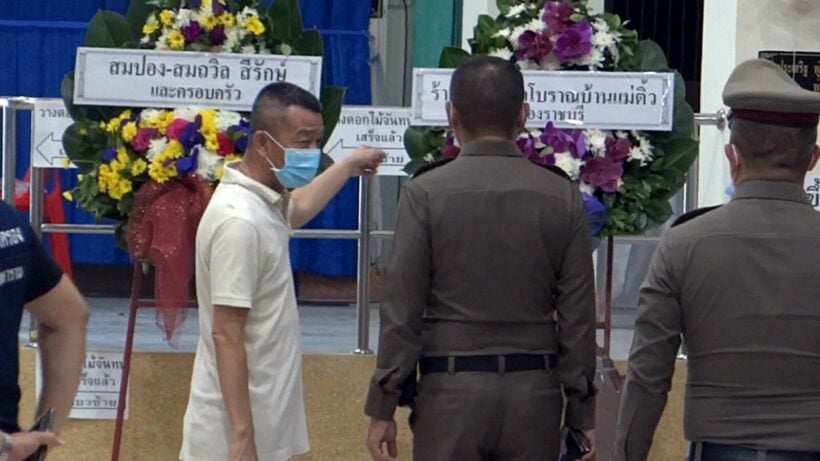 A gunman shot and killed a woman running for mayor and wounded 4 others at a funeral in Ratchaburi, a province west of Bangkok near the Myanmar border. Police say they suspect the shooting was politically motivated. Out of the 4 people injured, 3 were running in the March 28 municipal election while another was the kamnan, a government official of a tambon, which is a sub district.
The gunman is still at large, but police say they suspect the shooter is Wanchart Niamraksa, a member of the Ratchaburi provincial administration organisation.
The gunman opened fire just as the kamnan of tambon Don Sai, Yingpan Kanket, was lighting candles and incense sticks under a Buddha image to start the ceremony, witnesses say. Shots were fired from behind the main Buddha image at the temple's open prayer hall, witnesses say.
Bullets hit 5 people, including Yingpan who is in critical condition. Varaporn Niamraksa, who was running for mayor of the municipality, was shot and died at the hospital. Nakhon Wanpen, Somthawil Srirat and Monthien Jaitham, who are all running for the municipal council of tambon Don Sai, were shot.
Police found 2 spent .22 cartridges and a 11mm spent shell at the scene. The suspect faces charges of murder, attempted murder, carrying firearms and ammunition without permission and carrying them in public without a proper reason.
SOURCES: Nation Thailand | Bangkok Post
Keep in contact with The Thaiger by following our Facebook page.
Never miss out on future posts by following The Thaiger.
Thailand News Today | Covid passport talks, Thai Airways heads to court | March 2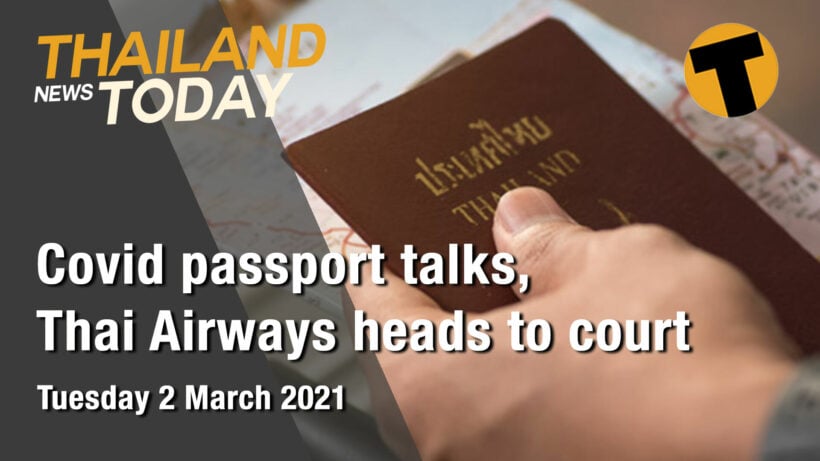 In today's Thailand News Today…. The island of Phuket has a firm plan to get its residents vaccinated leading up to an October opening for tourists, the Thai PM backs up his police over last Sunday's protest violence and Thai Airway's employee union criticises the changes to employee contracts.
But the plan must be approved by the national government by April, if the province wants to open tourism by October 1. Phuket has a resident population of around 300- 400,000 people.
Before you go rushing off to book your plane tickets we'd stress that this is another in a long list of proposals that have not come to fruition and we'd urge patience until the Government approves the plans.
Meanwhile the island has taken delivery of 4,000 doses of the Chinese Sinovac Covid-19 vaccine. Vaccinations started yesterday, with priority given to 1,500 healthcare workers and 500 "at-risk" officials exposed to Covid-19 patients.
On a broader note… Thailand's Tourism Minister says he has asked the Public Health Ministry to approve a vaccine passport scheme aimed at reviving Thailand's devastated tourism sector. According to the Minister, the government is looking to the World Health Organisation to issue a statement on vaccine passports before it makes a final decision on the matter.
The Thai PM, Prayut Chan-o-cha has defended police action against protesters taking part in Sunday's anti-government rally in Bangkok. Officers from the Metropolitan Police Bureau used tear gas, a water cannon and rubber bullets in an effort to drive protesters back from the PM's residence. The PM insists the actions were in line with international standards. He says that police did not violate the protesters' rights.
Thai researchers are claiming that horseshoe bats are not responsible for transmitting the Covid virus to humans. A researcher with the Thai Red Cross Emerging Infectious Diseases-Health Science Centre, says that even though the bats have tested positive for a coronavirus, it is not the strain that is transmissible to humans, and it's certainly not the virus that causes Covid-19.
As Thai Airways tries to sell new contracts and conditions to its remaining workforce, the labour union of the national carrier is challenging changes to the employment contracts, where Thai Airways employees are being asked to agree to changes as part of the bigger financial rehabilitation program.
But a union representative says the new contracts are unfair because it includes fewer leave days and shorter holidays. The union has filed a complaint with the Department of Labour Protection and Welfare.
Keep in contact with The Thaiger by following our Facebook page.
Never miss out on future posts by following The Thaiger.
Thai army medic accused of injecting troops with fake Covid-19 vaccine during UN mission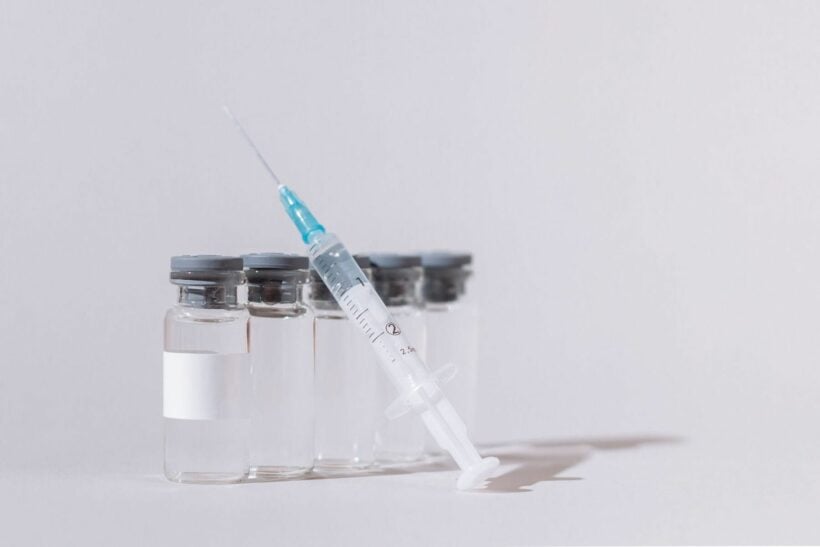 A medic for the Royal Thai Army was dismissed and his medical license revoked after injecting troops with fake Covid-19 vaccines during a United Nations peacekeeping mission in South Sudan. The "vaccine" was actually just water. The medic, who is also a lieutenant, apparently injected 273 Thai troops with the water shot and charged 607 baht, or around $20 USD, per injection.
A soldier noticed the bottles the medic was using for the injections were unlabelled. A superior then launched an internal investigation and found that the bottles were just filled with water. Under the UN's orders, the medic was dismissed and sent back to Thailand. His medical license was also revoked.
Thai media first reported the news, saying that a Thai army doctor at a South Sudan field hospital was suspended from duty due to an investigation into alleged fraud. The medic reportedly worked at the hospital from December 2019 to December 2020.
Following the news report, Thai Supreme Commander General Chalermphol Srisawat confirmed that a medic had been injecting troops with water and claiming it was a Covid-19 vaccine.
SOURCES: Thai PBS | Nation Thailand
Keep in contact with The Thaiger by following our Facebook page.
Never miss out on future posts by following The Thaiger.