Songkhla business man claims he was forced to sign dodgy drug test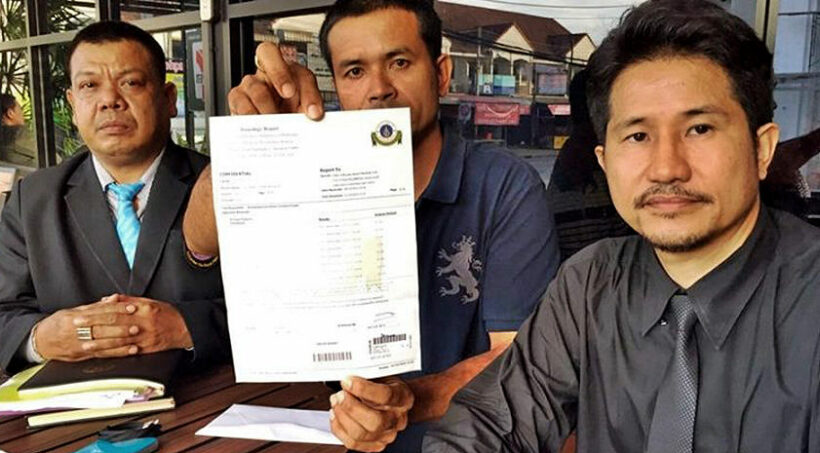 PHOTOS: Sanook.com
A Songkhla businessman is claiming that he was forced to sign a document admitting to using illicit drugs. 38 year old Somchai owns a banana business and is a special professor at the Songkhla Rajabhat University, and qualified electrical contractor, according to Sanook.
Somchai and his lawyer faced the media this week and presented documents from Ramathibodi Hospital in Bangkok as proof of his innocence. A drug test (Methamphetamine Urine Screening) from the Surat Thani Hospital also showed he had no traces of drugs in his system.
Somchai is demanding justice and says he is in the process of filing an official police report about the incident at a Phatthalung checkpoint on October 5.
The incident occurred around 10pm. Somchai says he was driving a Toyota SUV with Songkhla license plates. He had just delivered some bananas in Surat Thani and was heading back south to Phatthalung Province.
He arrived at a checkpoint where the officers made him take a urine test. He happily conceded to the test and returned the cup back to the officer. The officer told him to sit down while they do the drug test. The officer then took the cup to somewhere out of sight, according to the report from ThaiResident.com.
Somchai says, in his report that, while finding a seat to wait for the result of the tests, the officer held his cup and allegedly yelled… "you're not going home tonight for sure, you have to sleep at the police station".
The officers then got hold of him with two other persons. The police gave him an arrest document for him to sign as admitting to the drug test. At first, he denied signing, but the officer told him "just sign it so that the situation does not drag out".
Somchai says was afraid for his own safety so he signed the paper.
The officers then took him to Surat Thani Hospital for an official and confirmation drug test. Results showed he had drugs in his system, but Somchai denies and believes it was someone else's urine. He asked for another drug test at the hospital but the officers declined. Somchai was then placed in jail at the Surat Thani Police Station. His relatives were contacted and told to pay 50,000 baht bail to get him out of jail.
Somchai was later interrogated by another officer where he denied all charges. The officer asked him whether he believed in scientific evidence, Somchai answered he does but he doesn't believe it was his urine. He asked for another drug test that showed no traces of drugs in his system.
Somchai went to get another drug test this time by a blood test at the Phatthalung Lab on October 8 (three days later), the test was then sent to Ramathibodi Hospital in Bangkok on October 9 that confirmed that he had no traces of drugs at that time.
Somchai states that he has never taken drugs in his life. He told the media he will be suing and will do what he can to protect his reputation and fight the charges.
SOURCE: Thai Residents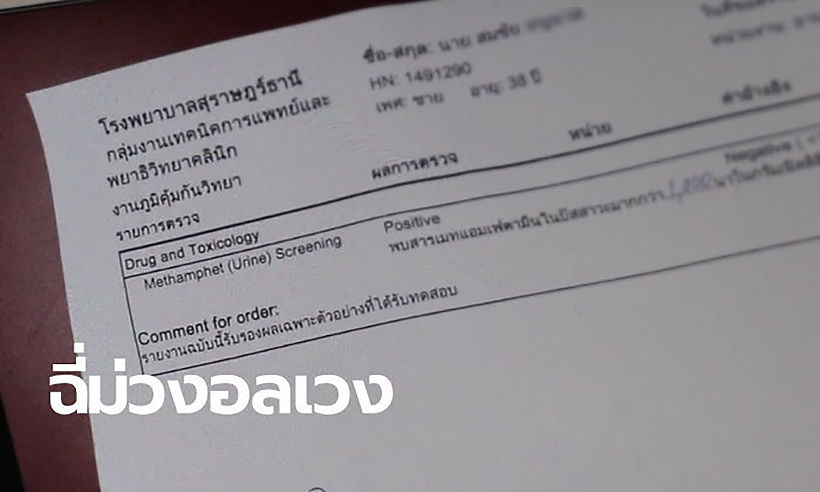 Keep in contact with The Thaiger by following our
Facebook page
.
Teacher arrested for death of twins who stole his limes in Phattalung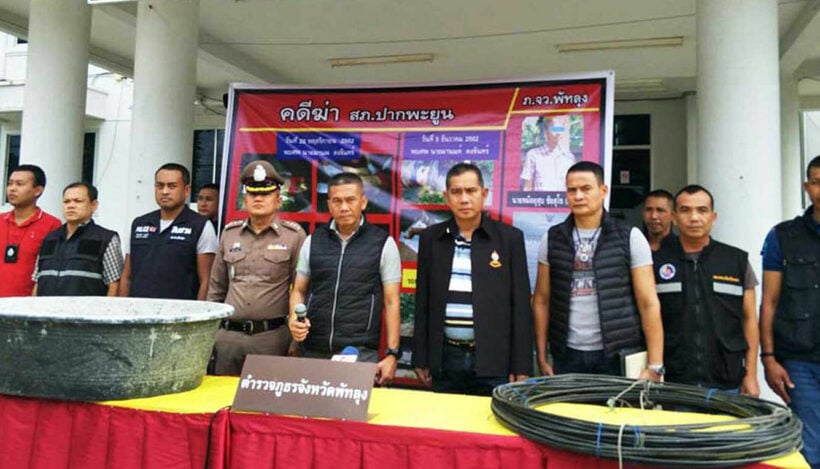 PHOTO: Assawin Pakkawan
A 55 year old teacher has been arrested for the murder of twin brothers who, according to the police report, stole limes (lemons) from his farm in Phatthalung Province, southern Thailand. Police announced the arrest of Madyusup Chaisukkho, an English teacher at a public school in Pak Phayun district, for the deaths of 31 year old Manop Khongchan and his twin brother Manon.
Madyusup has been charged with first degree murder and concealment of evidence. Electrical wiring, a metre-diameter fibreglass tank and a pickup truck were seized in the arrest, according to the provincial police chief. Police say Madyusup has confessed to all charges during interrogation.
He told police that thieves had been stealing limes from his farm almost every night. He said he laid electrified copper wire at ground level as a deterrent, never imagining that it would kill anyone.
In his statement Madyusup said he got scared when he found the two electrocuted bodies and dumped them far from the farm. But the victims were of large build, and investigators didn't believe Madyusup acted alone, or that he was providing police with the whole story. Police speculate up to six people could have been involved.
Madyusup's farm is about a kilometre from his house, according to police.
Local residents found Manop's body and motorbike in a local reservoir on November 28, about 2 kilometres from the farm. A week later, his twin brother Manon's body was found in a drain in the same area, about 600 metres away.
Police launched an investigation after the victims' parents reported them missing, fearing they'd been murdered.
SOURCE: Bangkok Post
Keep in contact with The Thaiger by following our
Facebook page
.
High winds, strong waves harm southern fishing businesses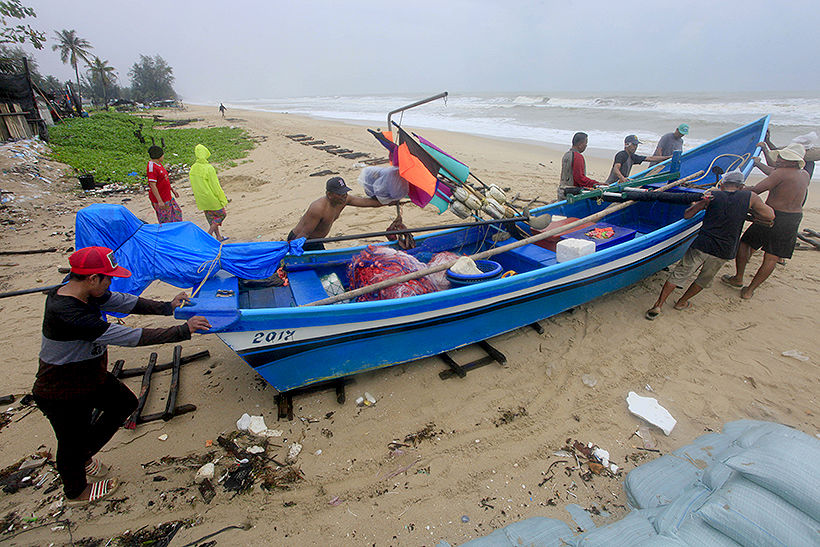 PHOTO: Sumeth Panpetch
Fishermen in the Ranot district of Songkhla province in southern Thailand, are struggling to make a living as strong winds and waves of three to five metres in height continue to batter the southern Gulf coast.
The Nation reports that dangerous conditions in the Gulf of Thailand have been preventing local fishermen from going to sea for several months now, meaning they're unable to support their families.
While there is no rain in the area, waves remain high, causing widespread disruption to the local fishing business. The northeast monsoon in the Gulf means high winds and waves of up to 2 metres northwards from Chumphon province, with 2 – 3 metre high waves in the lower Gulf south of Surat Thani, along with a risk of waves higher than 3 metres during thunder storms.
The Thai Meteorological Department is warning residents on the South's eastern coast to beware of inshore surges, issuing an advisory that all ships should proceed with caution, while small vessels in and around the Gulf should remain ashore.
Meanwhile, a strong high-pressure area means strong winds and cooler weather for northern parts of Thailand, with minimum temperatures ranging from 5 – 15 degrees Celsius, and frost at altitude.
In eastern and central Thailand, including Bangkok, minimum temperatures are from 12 – 22 degrees Celsius, with the TMD warning residents to beware of the risk of fires due to the dry and changeable weather.
SOURCE: The Nation
Keep in contact with The Thaiger by following our
Facebook page
.
Strong winds topple power poles in Prachuap Khiri Khan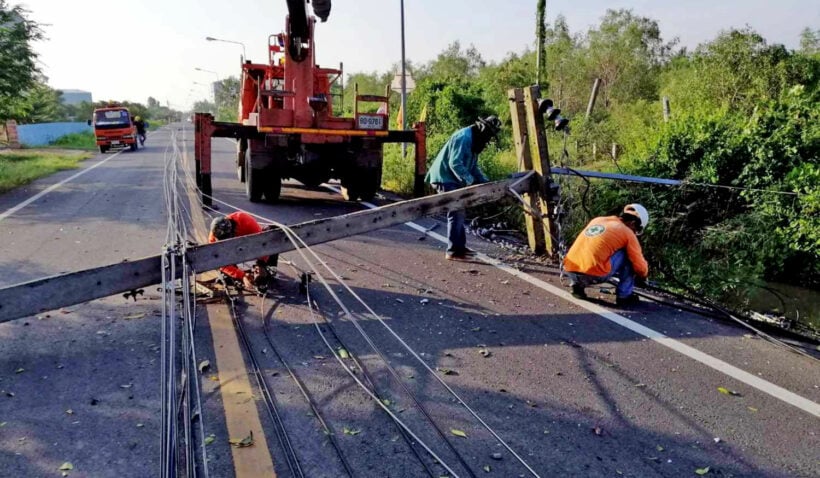 PHOTO: Chaiwat Satyaem
Strong winds have knocked down four high-voltage poles in the south-central province of Prachuap Khiri Khan, damaging roadside shops and buildings. The disruption damaged local power and electrical appliances in many homes in the Pran Buri district, south of Hua Hin, on Saturday. The damage happened whilst the Thai Meteorological Department was issuing more warnings of strong winds in the Gulf of Thailand.
The strong northeast monsoon prevails over the Gulf of Thailand and the South. The strong winds rise the waves about 2-3 meters high in the upper Gulf from Chumphon southwards and 2-4 metres high in the lower from Surat Thani downward. Residents along the Gulf's shore should watch for inshore surges. All ships should proceed with caution, and small boats in the Gulf keep ashore.
One of the poles fell onto the roof of a shop, forcing neighbours and relatives to rescue a woman, Chalinee Milintanut, who was trapped inside. Her younger sister, Ananya Suksamran, said strong winds had hammered the district all morning before the power pole fell onto her shop, trapping Chalinee inside.
The manager of the Provincial Electricity Authority's Pran Buri office said four power poles, a transformer and some cables were damaged by the winds. Authorities expected to finish removing the damaged poles and installing new ones late Saturday, according to The Bangkok Post. 400-500 homes were expected to lose power during the work.
SOURCE: Bangkok Post
Keep in contact with The Thaiger by following our
Facebook page
.