British diver found dead at cave site in Nakhon Si Thammarat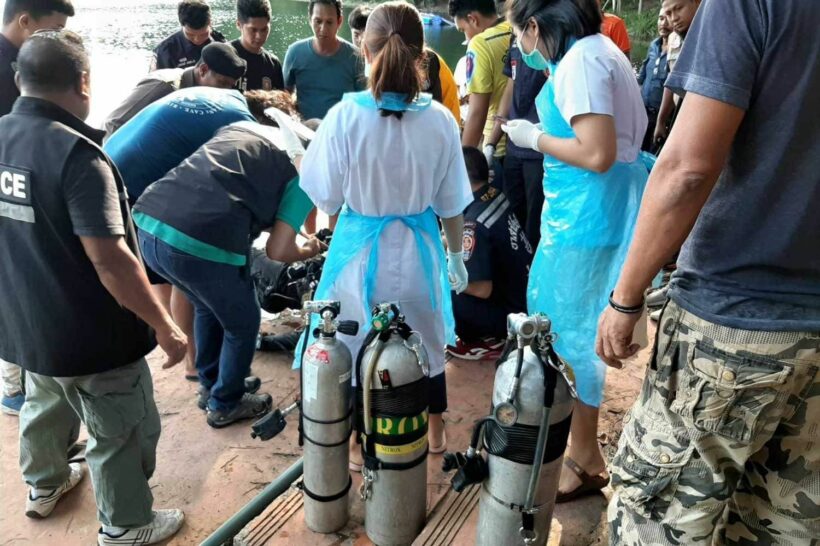 A British diver has been found dead at a popular diving site in Nakhon Si Thammarat, southern Thailand. The 60 year old British man was identified as Roger Matthew Smith, a resident of Thailand. Authorities confirm he was still wearing his diving gear when his body was found at Talay Songhong in the westernmost section of the province. Police say there were no signs of foul play.
Smith's friends were at the scene when police arrived. They told the Bangkok Post that they were often diving at the site due to the clear water and beautiful underwater caves.
Thai media report that Smith had been diving about 100 metres away from his friends when they noticed he had been underwater for an unusually long time. When his tank and body floated to the surface, they called local residents for help.
No cause of death has been established at this stage. Police say Smith might have become exhausted or passed out and drowned. His body is currently at a local hospital for an autopsy.
Police will continue to investigate the possible causes of death.
SOURCE: Chiang Rai Times
Keep in contact with The Thaiger by following our
Facebook page
.
Mother and baby killed in Nakhon Si Thammarat intersection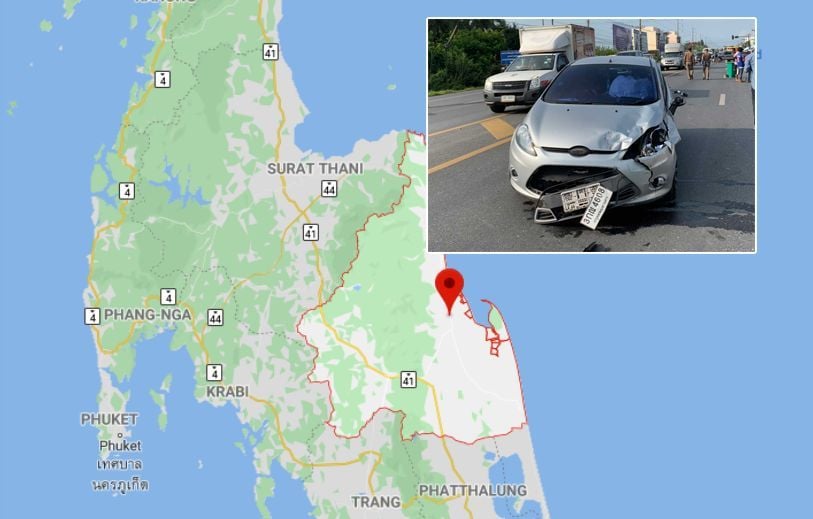 A mother and her 19 month old son have been killed after their motorcycle was struck by a car in a collision in Nakhon Si Thammarat, southern Thailand. The incident occurred at a three-way junction on Therdphrakiat road in the main city district this morning around 8am, according to police.
The 38 year old motorcycle rider, Supanrat Srisawang, was making a right hand turn at the intersection into Therdphrakiat road, heading for the main Nakhon Si Thammarat city area, and cut in front of an oncoming car. She was seriously injured in the collision. Her 19 month old son, Kongpop Tuankupong, was seated in front of her. He suffered a broken neck and head injuries and died at the scene.
The mother was rushed to Maharat Nakhon Si Thammarat Hospital where she was pronounced dead on arrival. The 32 year old driver of the silver sedan, Warissara Srisawang, who worked as a clerk at a nearby school, surrendered to police after the accident, according to the Bangkok Post.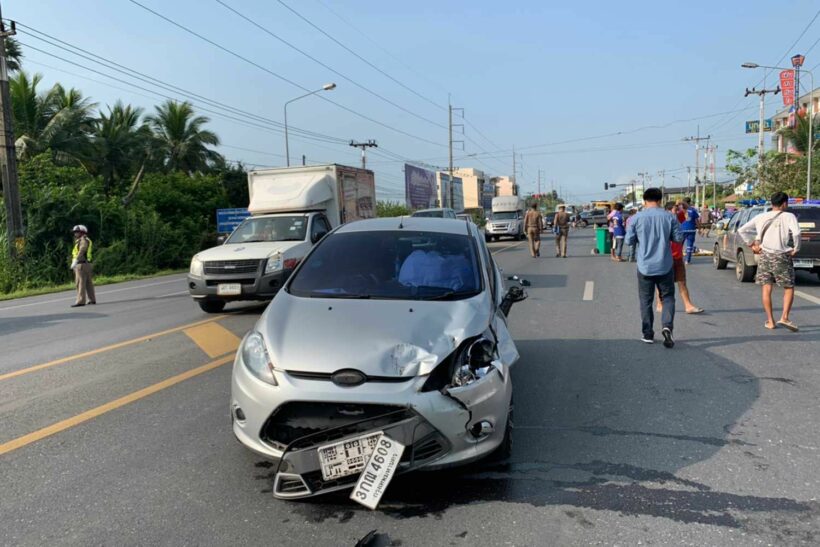 PHOTO: Nujaree Raekrun
Keep in contact with The Thaiger by following our
Facebook page
.
Fishermen catch albino dolphins on video playing in the Gulf of Thailand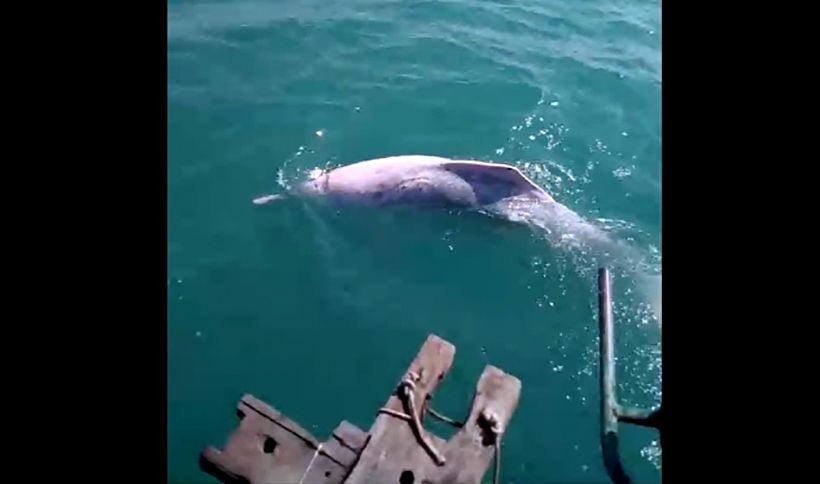 A group of albino dolphins have delighted guests and fishermen in a fishing vessel off Songkhla's Sathing Phra district in the Gulf of Thailand.
"SOS", a LINE group, has posted a video clip of the dolphins.
The LINE group's administrator related the story that three fishermen had seen the dolphins in the boundary area between Kradang Nga and Ja Ting Phra subdistricts last Sunday, according to The Nation.
"The fishermen discovered the group of albino dolphins while they pulled their fishing net onto their boat, believing that the dolphins followed the fish that were caught in the net."
"Some of the dolphins swam around the boat, appearing to ask for food. One of the fishermen grabbed his phone and recorded the video clip, while they kept throwing fish from a basket to the dolphins until their fish stock ran out."
Several SOS members posted comments appreciating the three fishermen's actions and the "cute" albino dolphins, which are reasonably rare and a sign of good luck for many Thais.
SOURCE: The Nation
Keep in contact with The Thaiger by following our
Facebook page
.
Base jumper rescued after dangling from cliff in Phattalung – UPDATE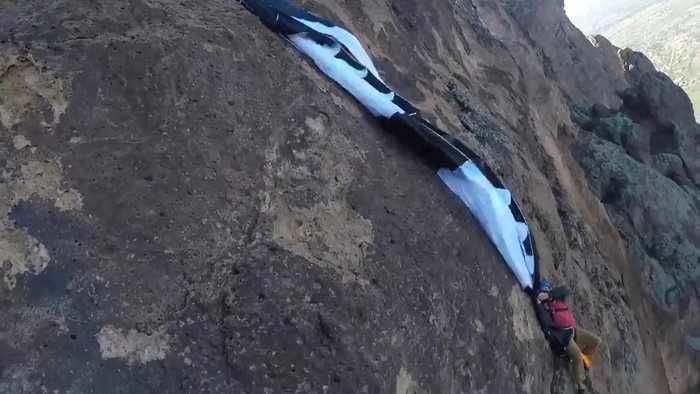 The Austrian BASE jumper was dangling a cliff for eight hours in Phattalung province, 175 metres above the ground when his open parachute snagged on a rocky outcrop of a mountain before being rescued.
'BASE' stands for building, antenna, span, and earth.
The base jumper, 28 year old Johannes Klauser, is safe after a harrowing rescue on Monday afternoon, when winds blew him onto a cliff face and left him dangling around 175 metres off the ground from his snagged parachute in the southern province of Phattalung. The man went with his wife to the top of 250 metre high Khao Ok Thalu mountain in the morning. After jumping, winds blew him back onto the cliff, where his parachute became caught on a rock, leaving him hanging.
The spectacle of a man suspended from a ledge enveloped in a billowing parachute drew many locals, while police and rescue workers tried to save him.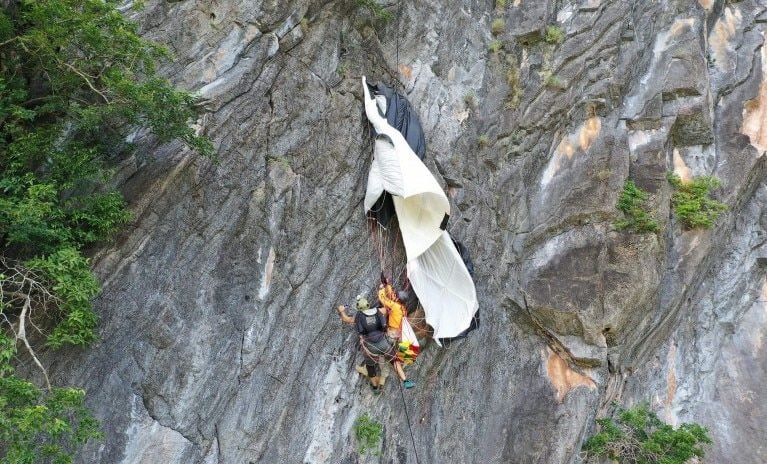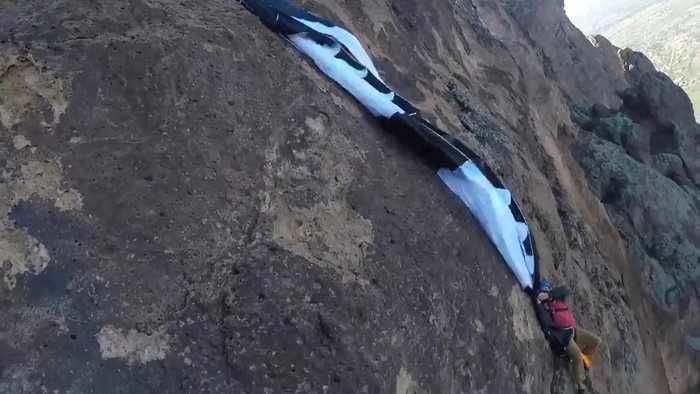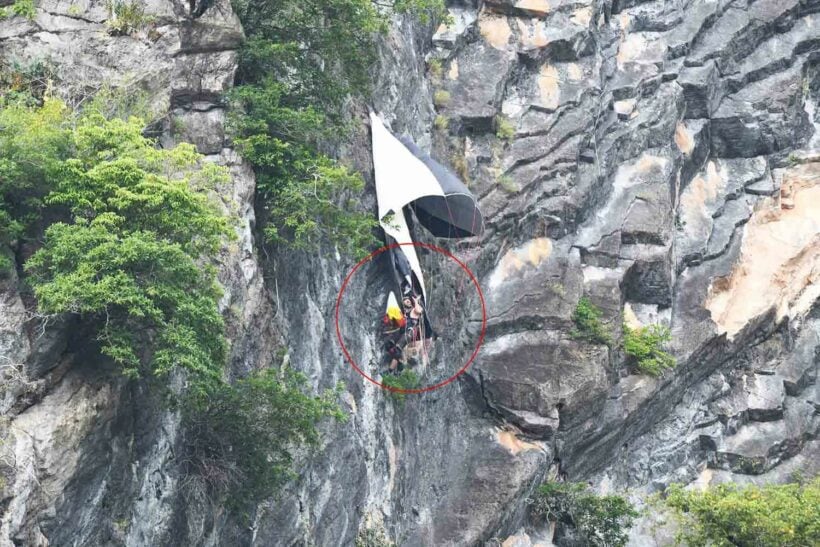 Eventually, last night, local Thai rock climber Santhiti Rompothong managed to climb down the near-vertical cliff to free the jumper.
The near-fatal jump was not Klauser's first. He and several friends performed jumps to mark National Children's Day on Saturday. Local media report that the Austrian had twice performed jumps from the same mountaintop without incident.
SOURCE: The Bangkok Post
Keep in contact with The Thaiger by following our
Facebook page
.